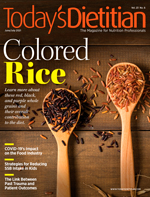 June/July 2021 Issue
Editor's Spot: Foodservice on the Rebound?
By Judith Riddle
Today's Dietitian
Vol. 23, No. 6, P. 6
Shortly after the pandemic hit last year in March, my husband and I immediately stopped eating out at restaurants and ordering takeout because we didn't know whether we could contract COVID-19 through outside food preparation. This went on for several months—we weren't taking any chances. Other people across the country did the same thing as states implemented social distancing restrictions and other mandates, forcing as many as 110,000 eating and drinking establishments to shut their doors—either temporarily or permanently, leaving many dietitians, consumers, and others questioning whether the food industry would ever bounce back. College and university students left campus living in droves, causing foodservice operations to change course.
According to the National Restaurant Association, restaurant and foodservice sales were $240 billion below 2020 prepandemic forecasts. The association is hopeful that sales will rebound in 2021 as restaurants expand on their off-premise dining and delivery business models, which have increased badly needed revenue streams and kept their businesses afloat. When my husband and I decided to dip our toes back into the waters of ordering takeout (with great trepidation, I might add), we turned to Olive Garden, which we discovered had a seamless online ordering setup and contactless, curbside delivery. Ordering and picking up our food without leaving our SUV was super convenient—and safe. Much to my chagrin, however, Olive Garden pared down its menu offerings, much like many other restaurants and food establishments, so it could focus only on its bestsellers, dishes that share common ingredients, and items best suited for delivery.
Dietitians working in foodservice who may have lost their jobs temporarily but are now back in the game probably have realized there's often opportunity amid the toughest of times. RDs have had to get creative to help revise menus while focusing on healthful ingredients to develop nutritious dishes whether plant-based, vegan, or gluten-, dairy-, or allergen-free. They've also had to help develop special promotions and programs to keep customers engaged so they can enjoy their dining experience—whether on- or off-premise.
In the article "COVID's Impact on the Foodservice Industry," on page 26, Today's Dietitian discusses the many changes foodservice operations in restaurants and on college campuses have made to keep their businesses flourishing, workers employed, and customers inspired during the COVID-19 pandemic.
Also in this issue are articles on the nutritional value of colored rice, reducing sugar-sweetened beverage intake in children, chronic kidney disease, and trauma-informed nutrition care. Please enjoy the issue!
— Judith Riddle, Editor
TDeditor@gvpub.com