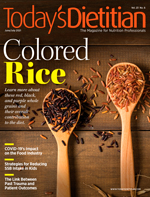 June/July 2021 Issue
COVID's Impact on the Foodservice Industry
By Mindy Hermann, MBA, RDN
Today's Dietitian
Vol. 23, No. 6, P. 26
The impact of COVID-19 on foodservice operations has been tough. Nearly overnight, consumers stopped going to restaurants, cutting off revenue streams that resulted in layoffs and temporary and permanent closings. College and university students disappeared from campus while social distancing mandates upended the relationships between foodservice operations and their front-of-house and back-of-house employees.
Financially, COVID-19 has devastated the food industry. According to the National Restaurant Association's (NRA) "2021 State of the Restaurant Industry" report, the restaurant and foodservice industry ended 2020 with total sales that were $240 billion below the prepandemic forecast for the year.1 Rapid growth is expected in 2021, but it won't be enough to make up for last year's losses.
The shifts in foodservice operations due to the pandemic have changed the trajectory of the industry. Whether streamlining menus, preparing items more conducive to delivery and outdoor dining, bundling meals, creating specials meant to feed families, or selling cocktails to go, foodservice will be different in the immediate months and years to come. According to the NRA report, a high percentage of restaurant operators plan to stick with the changes they've made going forward.
Consumers, too, have changed. The NRA report notes that more than one-half of consumers surveyed, including 64% of millennials and 57% of Gen Xers, say that takeout or delivery is essential to the way they live, and two-thirds are more likely to purchase takeout food from a restaurant than they were before the outbreak. What are some of the top pandemic-era hits in terms of menu choices? Bestsellers include burgers, sandwiches, seafood, pizza, chicken wings, and takeout cocktails. Comfort outweighed nutrition as well as diet-specific features such as gluten-free and vegan during the pandemic. Roughly 7 in 10 full-service operators who offer alcoholic beverages say they started selling them with takeout or delivery orders since the beginning of the pandemic, and these continue to be popular.
This article spotlights the changes several foodservice operations have made to adapt to the changing landscape created by COVID-19.
Comfort Food for Diners and the Community
Daniel Kedan, owner and executive chef of the restaurant Backyard, in Forestville, California, was always involved with the local community, including working with the Ceres Community Project to feed people with cancer and evaluate the effects of nutritious foods on healing. When the pandemic forced him to close his restaurant, Kedan realized his operation could keep his business afloat by preparing recipes for Ceres to support the program. The staff at Backyard also participated in an emergency food response program called Sonoma Family Meal, a network of chefs, farmers, and food producers fighting food insecurity in disasters, which enabled Kedan's restaurant to prepare up to 1,000 meals for older adults and members of the community. He credits these community involvements with keeping his restaurant alive. "We've always been farm-to-table and community-oriented, but now we showcase local farms," Kedan says. "We also farm our own garlic, kale, lettuce, tomatoes, peppers, and other vegetables on a small plot. Our menu includes more comfort food such as fried chicken and pot pie and less gourmet food than it did in the past, and we expect to keep comfort food on the menu for the time being. The COVID-19 pandemic provided a huge opportunity for my restaurant, as well as the industry, to reset in terms of the pricing of dishes on the menu relative to their real cost and also working conditions for employees."
Strengthening the Core
For a fast food chain like Culver's, access to resources enabled the company to adapt quickly to the changing foodservice environment. Quinn Adkins, director of menu development for the Culver Franchising System, in Prairie du Sac, Wisconsin, says the chain's restaurant support center shut down the third week in March 2020, so they had the entire support team work remotely. "Culver's immediately shifted to 100% off-premise dining during the first months of the pandemic, including eliminating traditional selfservice touch points for beverages and condiments," Adkins says. (Off-premise dining, also called off-premise ordering, can include online and mobile ordering, takeout, and third-party, curbside, and contactless delivery options.)
"Our team members accommodated guests by bringing everything, including beverages and condiments, directly to them. We also quickly established a rapid-response 'hotline' to address any and all questions, concerns, and requests for assistance from our system of restaurants," Adkins continues. "We also halted all planned menu promotions to allow the restaurant teams to focus their efforts on executing our core menu, which we did not change. By midsummer, each individual restaurant could decide what worked best for dine-in and off-premise dining based on their state and local guidelines." The chain also stepped up its commitment to minimize waste, coordinating with its suppliers, distribution network, and franchisees to use different products and ingredients, evaluate opportunities to freeze extra protein ingredients, and donate perishables when possible.
Streamlining for Better Efficiency
Taco Bell had to adjust its approach to operations and make major changes to its menu options in response to the pandemic. As the chain closed its dining rooms and shifted the majority of its business to the drive-thru, it simplified its menu offerings and removed ingredients and preparation methods that increased the time it takes to serve customers to make the ordering experience more efficient. The menu changes involved "removing some fan favorites," but the shift in operations was successful and gave the chain's "food innovation team the ability to create new, craveable menu items" and continue its progress in providing plant-based options and selections in other categories, says Missy Schaaphok, RDN, senior manager of global nutrition and sustainability for Taco Bell Corp, in Irvine, California.
The streamlined menu stems from months of analyzing the new ways Taco Bell had been running its restaurants since the start of the pandemic. Leaner operations have allowed the return of some menu classics as well as new menu innovations. Some items will no longer appear on menu boards, but customers can order them online or via the Taco Bell app. Like other fast food chains, Taco Bell is reevaluating its scope of breakfast offerings and breakfast serving hours.
Overall, the restaurant industry has been challenged to find a balance between pleasing its consumers and using production staff and resources efficiently. For example, to satisfy customers seeking plant-based options, Taco Bell labels vegetarian products on its menus, allows patrons to swap out any protein for beans, and has teamed up with Beyond Meat—a US food company that offers plant-based meats made without GMOs, hormones, antibiotics, or cholesterol to approximately 122,000 retail and foodservice outlets in more than 80 countries worldwide—to test a plant-based meat alternative later this year.
Curating a Culinary Experience for College Students
The pandemic also has proved a boon for Stanford University students in that it has forced the foodservice staff to be more intentional and creative when planning the dining experience. "Our culinary programs are stronger than they've ever been," says Jackie Bertoldo, MPH, RDN, assistant director of nutrition and food choice architecture at the university's Stanford Residential & Dining Enterprises, in Stanford, California. "We quickly realized how food brings students joy in a tough time and how a visit to the dining hall to pick up food can be the highlight of the day."
As a top priority during the pandemic, foodservice provided students with variety and choice while transitioning from customized meals to preplated options. The staff offered students opportunities to curate meal options in an effort to enhance their culinary experiences. "We had to limit the options to what was most valuable, popular, and core to our ethos, including health, sustainability, and culinary diversity," Bertoldo says. "Our goal is to create an inclusive atmosphere through special events, cultural themes, and celebrations so our students, staff, and chefs feel at home." The foodservice staff also developed a program called Mindful Meals that offers dishes free of the top nine allergens.
Power to the Patron
The moment the pandemic hit and people stopped eating out, foodservice operations at hundreds of campuses within the Chartwells Higher Education University of Houston System had to stock up on disposable dishware and utensils, portable containers, and other materials used for takeout dining since people stopped dining indoors. "As a company strategizing menus for more than 300 campuses, we had to be flexible, keep variety at the forefront, and ensure menus were adaptable to the different state and municipal guidelines on indoor dining, social distancing, and number of students for each campus," says Megan Dudczak, RDN, central support dietitian at the University of Houston System.
Using a three-tiered menu approach, foodservice operations switched to menu items that were portable, held up well in to-go packaging, and met a variety of dietary preferences regarding food allergies and other health concerns. "We created planograms to strategize social distancing between back-of-house and front-of-house team members. With fewer students on campus, we moved from two to one residential dining hall."
Making such a change gave the University of Houston team the opportunity to integrate and cater to those with various dietary preferences and needs in one space. The foodservice team rebuilt each station in the dining hall to provide a complete meal and sometimes two meals to pick up at once, such as breakfast and dinner, to allow for social distancing and avoid large gatherings while waiting for food. "Many of the retail operations on campus were temporarily shut down, shifting all traffic to the lone residential dining hall," Dudczak says.
To avoid menu fatigue, the team ran a Student Choice campaign that allowed students to have input and a sense of control over the menu planning process. "Responding to student feedback, the team set up a Starbucks stand and a limited time Chick-fil-A pop-up," she says. Many campuses feature other types of pop-ups that showcase grain bowl concepts, smoothie stations, or exclusive plant-based options. The university's Rooted Pop-Up station focuses on real, wholesome foods with minimally processed plant-based ingredients.
Also under Chartwells leadership, the University of Houston implemented secret menus and ghost kitchens to provide students with new and exciting menu options. Ghost kitchens operate as restaurants without the dining space and provide only takeout and delivery meals. They can operate as independent brands, customize menus to appeal to local preferences, and expand options to include hours convenient to students. Chartwells expedited the national rollout of its ghost kitchens program to give campuses more flexible, cost-effective, and varied dining options during the pandemic.
A press release from Chartwells quotes Lisa McEuen, CEO of Chartwells Higher Education, as saying, "Our goal is to continuously give students access to a variety of dining options and menus, and ghost kitchens are a great solution since [they offer] them a completely new and unique dining experience. A benefit to the program is that many of our campuses are already well equipped to implement ghost kitchens at a low cost. They don't have to replace any meal concepts or shut down a location; all they need is kitchen space and they can have a ghost kitchen up and running very quickly."2
What the Future Holds
In light of the many changes that have transpired in the foodservice industry, the editors of Restaurant Business magazine recently hosted a webinar titled "COVID Pandemic, One Year Later" to discuss their vision of the future of foodservice in the coming months.3 The editors expect continued innovation in technology to make takeout and delivery more efficient. Ghost kitchens and virtual brands are likely to remain a part of the foodservice experience, although a shakeout may occur. Chicken wings, the surprising star of the pandemic because they travel well and are customer favorites, may lose their status somewhat as consumers move toward more healthful food choices.
The days of the oversized menu may be over, since chefs are happy with pared-down offerings that are less labor intensive, enable them to focus on best sellers, and leave room for limited time offers and seasonal specials that encourage creativity and generate excitement. The editors anticipate renewed and growing consumer interest in nutrition, particularly immune-boosting foods and more healthful selections such as juices, bowls, and plant-based dishes made with whole food ingredients.
In a recent article in Nation's Restaurant News, senior food and beverage editor Bret Thorn says that home-meal replacement and curbside pick-up are here to stay.4 Geofencing technology allows delivery staff to know exactly when and where their customers' cars arrive, which reduces or eliminates delivery costs and is more profitable for restaurants. Thorn is less confident that the concept of family meals for four will continue; most don't sell well because family members seem to prefer their own personal meal choices.
Will ghost kitchens and virtual restaurants (concepts without buildings that operate in a different restaurant's kitchen) continue to thrive? Thorn says yes. Ghost kitchens save operators money and meet the needs of the growing number of consumers seeking food delivery. On the other hand, the NRA survey found that a high percentage of consumers prefer to have food delivered from a location they can visit in person.
Evolving Roles for Dietitians
The pandemic's lasting effects on foodservice offer opportunities for dietitians in various work settings. Dietitians working in foodservice at universities will continue to play a vital role in ensuring that menu options meet the nutrition and lifestyle needs of students. As restaurants and restaurant chains simplify their menus, dietitians can help diversify choices and customize options for consumers with specific dietary needs. And dietitians can lead the charge in helping clients and patients make healthful food and lifestyle decisions amid these changing times.
— Mindy Hermann, MBA, RDN, is a food and nutrition communications consultant based in metro New York.

References
1. 2021 State of the Restaurant Industry. National Restaurant Association website. https://www.restaurant.org/research/reports/state-of-restaurant-industry
2. Chartwells Higher Education implements flexible ghost kitchens at campuses nationwide. Chartwells Higher Education website. http://chartwellshighered.com/2021/02/22/chartwells-higher-education-implements-flexible-ghost-kitchens-at-campuses-nationwide/. Published February 22, 2021.
3. COVID pandemic, one year later. Winsight website. https://www.bigmarker.com/winsight/COVID-pandemic-one-year-later
4. Kruse N, Thorn B. Ghost kitchens, delivery, family meals, curbside pickup: will these bubbles burst, or just deflate? Nation's Restaurant News website. https://www.nrn.com/restaurants-ready/ghost-kitchens-delivery-family-meals-curbside-pickup-will-these-bubbles-burst-or. Published March 10, 2021.