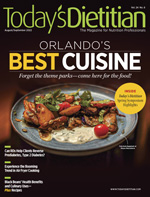 August/September 2022 Issue
Culinary Corner: Tart Cherries
By Liz Weiss, MS, RDN
Today's Dietitian
Vol. 24, No. 6, P. 66
Clients can try them in these snack cookies chock full of nuts, seeds, and whole grains.
Do you know the difference between tart (AKA sour) cherries and sweet cherries? I didn't until I traveled to Northern Michigan about 10 years ago on a sponsored trip with the US tart cherry industry.
I arrived in Travers City, Michigan, on a hot summer day in July. Located on the shores of Lake Michigan and known as the (tart) cherry capital of the world, this charming town was the ideal place to learn how tart cherries are grown and harvested, how they're used in various culinary applications, and how they may play a role in everything from promoting sleep to lowering heart disease risk.
Almost all the tart cherries grown in the United States are the Montmorency variety. They're bright red in color and are harvested in summer. Because they're a delicate fruit, it's unusual to find them fresh unless you live in a region where they're grown. Most tart cherries end up dried, frozen, canned, or juiced, so it's fair to say they're available year round. The majority of fresh cherries sold at US markets are the sweet variety—most commonly Bing—and you'll find them midsummer.
During my time in Michigan, I had the opportunity to visit a cherry grove and watch a harvester shake the fruit from the trees. (At the orchard we visited, they shake 40 million lbs of cherries—mostly tart—annually.) I also spent some leisure time shopping at a store called Cherry Republic, where I found shelves brimming with cherry salsas and jams, dark chocolate–covered dried cherries, cherry wine, and cherry-themed aprons and glassware.
Tart cherries are a staple in many kitchens. Canned cherries are popular in cherry pie, while dried tart cherries (both sweetened and unsweetened) can be added to cookies, snack bars, granola, and salads or consumed as an out-of-hand snack. The juice and juice concentrate, which gets mixed with water, have a tart-sweet flavor and work well as a thirst quencher over ice or in smoothies.
Dozens of studies tout the benefits of Montmorency tart cherries. They've been shown to reduce serum cholesterol levels and blood pressure and they also may soothe the symptoms of arthritis and gout.1-5 Interestingly, tart cherries contain melatonin, a hormone that helps with sleep regulation.6
Clients can try tart cherries in my recipe for snack cookies sweetened with honey and mashed banana. If your clients find unsweetened tart cherries at the market, they can be used instead.
— Liz Weiss, MS, RDN, is a mom of two grown boys with a specialty in family nutrition and wellness. She shares recipes and healthful living advice on LizsHealthyTable.com and her podcast, EAT, DRINK, LIVE LONGER. Weiss is a cooking instructor, frequent lifestyle guest on TV shows across the country, and a Have a Plant Ambassador for the Produce for Better Health Foundation.
References
1. Ataie-Jafari A, Hosseini S, Karimi F, Pajouhi M. Effects of sour cherry juice on blood glucose and some cardiovascular risk factors improvements in diabetic women. Nutr Food Sci. 2008;38:355-360.
2. Chai S, Davis K, Wright R, Kuczmarski M, Zhang Z. Impact of tart cherry juice on systolic blood pressure and low-density lipoprotein cholesterol in older adults: a randomized controlled trial. Food Funct. 2018;9(6):3185-3194.
3. Jacob RA, Spinozzi GM, Simon VA, et al. Consumption of cherries lowers plasma urate in healthy women. J Nutr. 2003;133(6):1826-1829.
4. Kuehl KS, Elliot DL, Sleigh AE, Smith JL. Efficacy of tart cherry juice to reduce inflammation biomarkers among women with inflammatory osteoarthritis. J Food Studies. 2012;1(1):14-25.
5. Zhang Y, Neogi T, Chen C, Chaisson C, Hunter DJ, Choi HK. Cherry consumption and decreased recurrent gout attacks. Arthritis Rheum. 2012;64(12):4004-4011.
6. Howatson G, Bell PG, Tallent J, Middleton B, McHugh MP, Ellis J. Effects of tart cherry juice (Prunus cerasus) on melatonin levels and enhanced sleep quality. Eur J Nutr. 2012;51(8):909-916.
Recipe
Tart Cherry, Walnut, and Sunflower Seed Snack Cookies
Serves 10
Ingredients
1 1/2 cups quick-cooking oats
1 cup almond flour
1/2 cup dried sweetened or unsweetened tart cherries, roughly chopped
1/4 cup unsalted, roasted sunflower seeds
1/4 cup unsalted, roughly chopped walnuts
1 tsp baking soda
1 tsp ground cinnamon
1/2 tsp salt
2 large eggs, beaten
1/4 cup vegetable oil
1/3 cup honey
1/2 ripe banana, mashed
2 tsp vanilla extract
3 T semisweet mini chocolate chips, optional
Directions
1. Preheat oven to 350˚ F. Line 2 large baking sheets with aluminum foil and spray lightly with nonstick cooking spray. Set aside.
2. Whisk together oats, almond flour, tart dried cherries, sunflower seeds, walnuts, baking soda, cinnamon, and salt in a large bowl until well combined.
3. In a separate bowl, whisk eggs, oil, honey, banana, and vanilla until well blended. Pour liquid ingredients over dry ingredients, and stir until just moistened. Stir in chocolate chips, as desired, to create more of a dessert-style cookie.
4. Working in batches, use a 1/4-cup measuring cup to scoop batter, and place on prepared baking sheets, flattening slightly with bottom of measuring cup to create circles, about 3 inches in diameter. Leave about 2 inches between each cookie. If batter starts to stick to inside of measuring cup, spray with cooking spray or simply wipe clean with a paper towel.
5. Bake, 1 sheet at a time, 10 to 12 minutes, or until golden brown on bottom. Cool slightly on baking sheet before transferring cookies to a wire rack.
Nutrient Analysis per serving
Calories: 192; Total fat: 12 g; Sat fat: 3 g; Cholesterol: 37 mg; Sodium: 258 mg; Total carbohydrate: 20 g; Dietary fiber: 2 g; Sugars: 14 g; Protein: 4 g