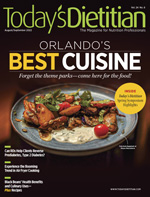 August/September 2022 Issue
Editor's Spot: Busy Months Ahead
By Judith Riddle
Today's Dietitian
Vol. 24, No. 6, P. 6
August and September will prove to be busy months for certified diabetes care and education specialists and dietitians from various health care specialties and settings as they prepare to attend important national conferences to learn more about the latest research, policies, technologies, trends, and issues impacting health care across the country and abroad.
One especially important topic in diabetes care and education is whether people with prediabetes and type 2 diabetes can reverse the disease or achieve remission—a period of time during which patients experience normoglycemia. Type 2 diabetes often is a complex chronic disease to understand and manage, and if you counsel people with this condition, they've probably asked, "Can I cure this disease?" "Is reversal or remission possible?" "What do these terms mean?" and "What can I do and what foods should I eat to achieve either of these goals?"
These are important questions for RDs to answer, as they require a thorough understanding of the pathophysiology of type 2 diabetes and the factors associated with its progression so they can administer optimal diet, nutrition, and lifestyle recommendations.
In the article "Are Prediabetes and Type 2 Diabetes Reversible?" on page 26, Today's Dietitian reviews the updated "Consensus Report: Definition and Interpretation of Remission in Type 2 Diabetes," discusses how remission is defined and why, and provides counseling strategies that can help clients and patients achieve a more healthful lifestyle in the years ahead.
Dietitians who are planning to travel to Orlando to attend FNCE® can check out our annual dining guide, "Orlando's Best Cuisine: Forget the theme parks—come here for the food!" on page 20. The guide features a plethora of award-winning, destination restaurants and smaller critically acclaimed eateries in several neighborhoods that offer plant-forward, sustainable, farm-to-table, casual, and fine dining experiences that will satisfy just about every palate.
And don't miss our recap of TD's 9th annual spring symposium that highlights our continuing education event held in Bonita Springs, Florida, at the Hyatt Regency Coconut Point Resort & Spa on May 22 to 25. We offered a wide variety of sessions and workshops, opportunities to interact and network with colleagues, morning fitness activities, breakfast and lunch presentations, and special events that attendees raved about. Turn to page 42 to read all about it and view the photo gallery. And don't forget to register for our 10th annual spring symposium in Savannah, Georgia, on May 14 to 17, 2023, at TodaysDietitian.com/SS23.
Please enjoy the issue!
— Judith Riddle, Editor
TDeditor@gvpub.com