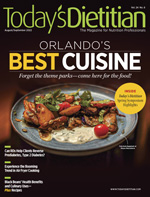 August/September 2022 Issue
Air Fryer Cooking
By Liz Weiss, MS, RDN
Today's Dietitian
Vol. 24, No. 6, P. 32
Clients can make healthful snacks and meals with this versatile kitchen tool.
Air fryers first appeared on the market more than a decade ago, touting the ability to "fry" foods like chicken wings without extra oil. Then, in early 2020, air fryers seemed to become an incredibly hot, ubiquitous item. The popularity of this countertop kitchen appliance really did explode, with more than 25 million sold from January 2020 to December 2021 alone, according to The NPD Group—an increase of 76% over the last two years compared with the two years before that.
And they're not just another trendy appliance now gathering dust; consumers are actually using them. NPD's National Eating Trends finds that air fryer use has increased by more than 60% at dinner occasions during the past two years.1
The rise of the air fryer coincided with the early pandemic, when millions of people were suddenly home and interested in cooking from-scratch recipes with nourishing ingredients for themselves. Now, there are air fryer cookbooks, air fryer social media accounts, and air fryer instructional videos spreading the word even further. People are learning how versatile this appliance can be, and how it can help support better-for-you eating choices, including a big range of delicious, homemade snacks.
What Is an Air Fryer, Exactly?
"An air fryer is a countertop appliance that cooks food quickly with little to no oil," explains Mona Dolgov, Greater Boston–based president and founder of You Live Right, LLC, who is also a cookbook publisher, culinary strategist, and author of The Perfect Portion Cookbook, satisfy: Delicious, Healthy, and Full-Filling Meals for 500 Calories or Less!, and satisFRY: The Air Fryer Cookbook. "Its heating elements are typically located on the top of the unit and paired with a large fan. It preheats quickly and starts cooking food right away. Food is placed on a perforated tray, usually inside of an air fryer basket, which promotes more air circulation."
The air fryer is sometimes confused with a convection oven, but there are key differences. "In an air fryer, the heat comes from the top, while it comes from the top and bottom in a convection oven," Dolgov says. "The top-down method style makes it more concentrated and cooks food faster. The fan is located on the top of an air fryer, directly below the heating element. In a convection oven, it's located in the back of the oven, either in the center or on the side. Air fryer fans are large and operate faster than convection fans."
The air fryer also comes with several handy accessories that help it cook quickly and evenly, with little flipping or tossing, making it an incredibly versatile tool. "They include air fryer baskets, trays, racks, spits for rotisseries, and skewers for kebabs," Dolgov adds. "Small baking pans or tin cans can also be placed on racks, if desired."
Highly Popular Tool
The air fryer's popularity is undeniable. It's captured major attention on social media platforms such as TikTok, where the account @AirFryerGuy has 1.7 million followers, and Instagram, where the account @airfryeraddicts has one-quarter million followers. According to Vice, TikTok videos with the #airfryer hashtag have more than 2 billion views, and the most viral include simple, health-focused recipes and keto snacks.2 And there's a bloom of instructional videos and cookbooks featuring the air fryer.
"I think during the pandemic, there was a trend toward easy at-home eating of comfort foods," Dolgov says. "The air fryer fits the bill in making this happen. You can cook simply [and] fast, and get great results. Plus, you get the health bonus of cooking with less oil." (With rising prices of cooking oil, there's now a budget bonus, too!)
Dana Angelo White, MS, RD, ATC, Fairfield, Connecticut–based owner of Dana White Nutrition, Inc, and author of the Healthy Air Fryer Cookbook and the Healthy Vegan Air Fryer Cookbook, is happy to see the growing popularity: "It's been amazing to see air fryers gain so much attention. When my first cookbook came out in 2017, few people had one; now just about every kitchen has an air fryer of some sort."
Why are they so well-loved? White says, "They allow for versatile, fast, easy meals—and, let's face it, fried foods are delicious. Making tasty versions of fried faves without a ton of oil is definitely a selling point."
Cooking With an Air Fryer
In fact, the air fryer can help with every single meal. Dolgov details a list of breakfast foods: "You can make frittatas, baked oatmeal, muffins, and the best French toast. You can even cook sausage and bacon." Her go-tos for lunch are grilled sandwiches, roasted veggies for salads, and hardboiled eggs. For dinner, she says you can cook up to a 4 1/2-lb chicken, veggies, and even pizza. "I love creating complete meals in the air fryer, which makes meal-making so easy," Dolgov says. "Some of my favorites are eggplant parm stackers, hummus chicken with roasted veggies, Thai tofu bowl, and, I even figured out how to make a paella!"
Veggie sides are great in the air fryer, too: "I also love preparing vegetables because they come out so perfectly crunchy and crispy, especially the Brussels sprouts, carrot fries, and crispy zoodles," Dolgov says. "It motivates you to easily cook veggies all the time … just a spritz of oil and they're ready fast. Asparagus only takes eight minutes. Can't beat that!"
RDs helping clients learn how to cook lean protein in more appetizing ways will find the air fryer a great tool; it's perfect for lean proteins, Dolgov says. "Lean proteins, like fish, tofu, and chicken, always come out crispy on the outside and juicy on the inside."
White agrees that the air fryer is great for a huge variety of foods: "The air fryer is clutch in the kitchen for a quick batch of veggies, a piece of salmon, or even just for reheating leftovers. There are fewer dishes or pans to fumble with, as most recipes are prepared right in the air fryer basket, plus the quick cook time is also great for getting things on the table fast."
She says there are some differences between, say, deep-fried or air-fried French fries: "You can definitely appreciate more of the potato (or sweet potato) flavor in an air fryer fry. The outside is crispy and golden and the inside is light and fluffy. As for nutrition, you can save a couple hundred calories per serving since there is little or no oil."
Healthy Air-Fried Snacks
So, the air fryer has meals covered. How about snacks? Snacking is an ever-increasing phenomenon, so it's vital RDs support clients to make healthful snacking choices.
Mintel reports that 95% of US adults snack daily, and 70% do so more than twice a day. The percentage of "super snackers" (people who snack four or more times per day) is increasing, and the way busy lifestyles lead to skipped meals, or meals replaced with snacks, indicates that snacking likely will grow further. Snacks tend to be planned and are as likely to be sought to satisfy hunger as they are to satisfy cravings.3
Mintel also shows that consumers want both indulgence and health from their snacks. Air fryer snacks, cooked with less added fat and excellent texture and flavor, can meet both these desires.
White is a big fan of healthful air fryer snacks and has plenty of suggestions on how RDs can counsel clients to add healthful snack foods to their diets: "Air frying is a great way to help patients mix up their snack routine. There are plenty of ways to incorporate fruits, veggies, whole grains, nuts, and legumes into air-fried snacks that can appeal to all ages and ability levels. For example—it's so easy to make spiced nuts and crispy chickpeas in the air fryer. Make a batch of apricot oatmeal bars for more whole grains and jazzed up versions of fruits and vegetables such as beet chips." Some of her favorite air fryer snacks are kale chips, potato skins, asparagus wrapped with prosciutto, spinach artichoke dip, and lemon poppy scones. Her whole family has jumped on the air fryer snack bandwagon: "My kids also make homemade corn or flour tortilla chips in the air fryer to serve with salsa and guacamole."
Dolgov is partial to veggie and bean snacks in the air fryer. "For beans, I love air-roasted chickpeas and edamame," she says. "I've come up with spice combos in my cookbook that are so savory. For veggie snacks, I love buffalo cauliflower bites—they are so savory, spicy, and crunchy. And the best part is, you can make them in 10 to 12 minutes. I also love to snack on carrot fries … I never eat regular French fries anymore. Other snacks and great entertaining ideas you can make in the air fryer are my orange meatballs, turkey wrapped asparagus, and even air fryer fruit."
Yes, even fruit! One surprising trend on air fryer TikTok has been to air-fry bananas. And according to Dolgov, they live up to the hype. "I love air fryer bananas," she says. "I've actually included a banana brûlée in my cookbook. You simply split a banana in half lengthwise (skin on), spritz with some avocado or coconut oil, add some cinnamon and a dash of brown sugar, and pop it in the air fryer for 7 to 8 minutes. I top it with a little dark chocolate drizzle and macadamia nuts—so good."
White loves bananas prepared in the air fryer too, especially her air fryer banana splits (see recipe below).
Future of the Air Fryer
Is there any downside to this wonder appliance? White has a couple of tips: "I would caution air fryer newbies to get to know their machine, as many have varying temperature controls. Some recipe temperature settings and cook times may have to be altered to accommodate their machine. The only other downside is the size of some units … If you are cooking for a large family, you may have to work in batches (which takes more time) or invest in a larger machine."
With delicious snacks like the recipes included here, and a whole world of flavors left to discover, the air fryer is here to stay. RDs can explore the world of air frying now and share new healthful recipes with clients—or old favorite recipes repurposed with less oil, less cook time, and less hassle.
— Liz Weiss, MS, RDN, is a mom of two grown boys with a specialty in family nutrition and wellness. She shares recipes and healthful living advice on LizsHealthyTable.com and her podcast, EAT, DRINK, LIVE LONGER. Weiss is a cooking instructor, frequent lifestyle guest on TV shows across the country, and a Have a Plant Ambassador for the Produce for Better Health Foundation.
References
1. Food consumption. NPD website. https://npd.com/industry-expertise/food-and-beverage/
2. Knapp MF. Air fryers have completely taken over food TikTok. Vice website. https://www.vice.com/en/article/xgdvmk/best-air-fryers-tiktok. Published January 28, 2022.
3. US snacking motivations and attitudes market report 2019. Mintel website. https://store.mintel.com/report/us-snacking-motivations-and-attitudes-market-report
Recipes
Air Fryer Spinach Artichoke Dip
Serves 4
This all-star appetizer is lightened with a few healthful swaps and served with fresh veggies to help keep the calories in check. For this dip, I recommend a round or square nonstick pan, but use any oven-safe pan that fits into your air fryer.
Ingredients
1 (14-oz) can artichoke hearts (packed in water), drained and chopped
1 (10-oz) package frozen chopped spinach, thawed and drained
1 tsp minced garlic
2 T mayonnaise
1/4 cup nonfat plain Greek yogurt
1/4 cup shredded part-skim mozzarella
1/4 cup grated Parmesan cheese
1/4 tsp black pepper
Carrot and celery sticks, for serving
Directions
1. Heat air fryer to 360˚ F.
2. Wrap artichoke hearts and spinach in a clean dish towel and squeeze out any excess liquid, then transfer to a large bowl. Add garlic, mayonnaise, yogurt, and cheeses, and mix well to combine.
3. Spray an air fryer baking pan with nonstick cooking spray. Transfer dip mixture to pan, place in air fryer basket, and cook for 10 minutes.
4. Remove pan from air fryer, and set aside to cool for 10 minutes before serving.
Nutrient Analysis per serving (3/4 cup)
Calories: 138; Total fat: 8 g; Sat fat: 2 g; Cholesterol: 12 mg; Sodium: 270 mg; Total carbohydrate: 6 g; Dietary fiber: 5 g; Protein: 8 g
— Recipe excerpted from Healthy Air Fryer Cookbook reprinted by permission of Alpha, a division of Penguin Random House LLC. Copyright © 2017 by Dana Angelo White
---
Air Fryer Banana Split
Serves 4
Craving a sweet snack? Look no further than the air fryer for this fun spin on the classic ice cream treat. Some of my favorite topping combinations are plain Greek yogurt and clementine segments with a sprinkle of cinnamon, or chopped pecans with strawberries, pineapple, and a squirt of whipped cream.
Ingredients
4 large bananas
4 T mini chocolate chips
Topping suggestions: plain Greek yogurt, chopped nuts, whipped cream, diced strawberries, finely chopped pineapple
Directions
1. Heat air fryer to 375˚ F.
2. Cut a lengthwise slice down each banana and pull gently to open slightly; be careful not to split the banana all the way through.
3. Add 1 T of mini chocolate chips into each banana, and then place in air fryer basket.
4. Air fry for 3 to 4 minutes or until peel is blackened and chocolate is melty.
5. Carefully remove bananas from air fryer, add desired toppings, and serve.
Note: Bananas can be balanced right in the fryer basket, but my favorite tool to use for this is an oven-safe taco holder.
Nutrient Analysis per serving (1 banana + 1 T each chocolate chips, strawberries, pecans)
Calories: 206; Total fat: 7.5 g; Sat fat: 2 g; Cholesterol: 2 mg; Sodium: 10 mg; Total carbohydrate: 35 g; Dietary fiber: 4 g; Protein: 3 g
— Recipe excerpted from Healthy Air Fryer Cookbook reprinted by permission of Alpha, a division of Penguin Random House LLC. Copyright © 2017 by Dana Angelo White
---
Ginger Caramelized Peaches With Pistachios
Serves 2
"This is my secret to achieving the luscious flavor of a peach cobbler without the extra fat and calories. Simply air fry the peaches with a light sweet-and-spiced coating of cinnamon, ginger, and a touch of brown sugar, and top with pistachios and yogurt for crunch and richness." — Mona Dolgov
Ingredients
2 peaches
3/4 tsp ground cinnamon
1/2 tsp ground ginger
1 T brown sugar
2 T chopped pistachios
Plain Greek yogurt, or almond or coconut whipped cream, optional
Directions
1. Heat air fryer to 400˚ F.
2. Slice peaches in half around pit, twisting to separate halves. Use a sharp spoon to remove pits.
3. Sprinkle each peach half evenly with cinnamon, ginger, and brown sugar. Transfer halves, cut-side-up, to air fryer basket. Cook until tender, 5 to 7 minutes.
4. Top each with pistachios and a dollop of yogurt or whipped cream, as desired.
Note: Nectarines or peaches can be used interchangeably in this recipe. For firmer fruit and less cleanup, line bottom of air fryer basket with parchment paper before placing peach halves on top. This will slow air flow and caramelize tops of peaches without fully baking bottoms.
Nutrient Analysis per serving (1 peach + topping)
Calories: 102; Total fat: 3.5 g; Sat fat: 0.4 g; Cholesterol: 0 mg; Sodium: 35 mg; Total carbohydrate: 17.6 g; Dietary fiber: 2 g; Protein: 2.4 g
— Recipe excerpted from satisFRY: The Air Fryer Cookbook reprinted by permission of You Live Right Publishers, a division of You Live Right, LLC. Copyright © 2022 by Mona Dolgov
---
Buffalo Cauliflower Bites With Blue Cheese Dressing
Serves 4
"I love using veggies to create nutritious comfort food snacks. While these cauliflower bites aren't the same as chicken wings, they're a delicious standby and they satisfy that same craving in a far, far healthier way. Just be sure to take them for a dip in my homemade blue cheese dressing!" — Mona Dolgov
Ingredients
1 small head cauliflower, cut into bite-sized pieces
1/4 cup gluten-free breadcrumbs
3 T buffalo sauce
2 T butter, melted
1/2 tsp garlic powder
Blue Cheese Dressing
1/2 cup nonfat plain Greek yogurt
1/2 cup blue cheese crumbles
1 T milk or plant-based milk
1/2 tsp Worcestershire sauce
1/4 tsp garlic powder
1/4 tsp salt
1/4 tsp pepper
Directions
1. Heat air fryer to 400˚ F.
2. Place cauliflower, breadcrumbs, buffalo sauce, butter, and garlic powder in a large mixing bowl, and stir to coat.
3. Transfer to air fryer basket and cook until cauliflower is crisp-tender and beginning to brown, 10 to 12 minutes.
4. Meanwhile, prepare blue cheese dressing by placing Greek yogurt, blue cheese crumbles, milk, Worcestershire sauce, garlic powder, salt, and pepper back into mixing bowl. Stir until well combined, and serve with cauliflower bites for dipping.
Note: When shopping for buffalo sauce, look for a brand with 0 g fat, as some higher-fat brands are more similar to a dressing than a hot sauce. For more heat, toss cooked cauliflower in extra buffalo sauce as soon as it comes out of air fryer.
Nutrient Analysis per serving (1 cup cauliflower + 2 1/2 T dressing)
Calories: 190; Total fat: 10 g; Sat fat: 6 g; Cholesterol: 30 mg; Sodium: 820 mg; Total carbohydrate: 13 g; Dietary fiber: 4.5 g; Protein: 9.5 g
— Recipe excerpted from satisFRY: The Air Fryer Cookbook reprinted by permission of You Live Right Publishers, a division of You Live Right, LLC. Copyright © 2022 by Mona Dolgov