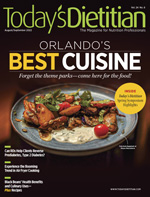 August/September 2022 Issue
Education: Distance Dietetic Internships — Are They Right for You?
By Brianna Tobritzhofer, MS, RD, LD
Today's Dietitian
Vol. 24, No. 6, P. 16
The path toward becoming an RD requires many steps, including the dietetic internship (DI). There are several ways students can obtain a DI, such as through the Dietetic Inclusive Centralized Application Service (DICAS) Match, or a coordinated undergraduate program. The preselect process is another path through which students can be admitted to DIs. Internships that offer the preselect option can grant early admission to select applicants, who must apply through DICAS but don't need to participate in computerized matching through the DICAS Match.
The DICAS Match is one of the most popular formats students use to obtain DIs. According to the Accreditation Council for Education in Nutrition and Dietetics (ACEND), 73% of applicants were accepted to DIs through DICAS in 2021. This is a more than 20% increase compared with 2016, when the acceptance rate was only 51%. One reason for the growth in acceptance rates is that there are more spots available for interns than there are applicants. For example, there were 3,723 DI openings in 2021 but only 3,676 applicants.1
There are several types of DIs available, and students can choose the format that works best for them and their situation. Distance DI programs are popular among students due to their flexibility, as they enable interns to tailor their rotations to their interests and live in the area of their choice. However, before applying to distance DIs, students should consider a variety of factors. While they can be a fantastic learning experience, distance DIs aren't the best fit for everyone.
What Is a Distance Internship Program?
Distance internships are programs through which interns can complete rotations in the geographical area of their choice. While programs are based in a set location, interns may reside in any part of the United States. These programs typically host a few in-person events throughout the year, whether for orientation, graduation, or other learning opportunities. They can be affiliated with universities or businesses, such as corporate wellness companies.
Each distance program is unique in its offerings and logistics. For example, some programs have their own concentrations and provide RD exam preparation tools. Distance internships also differ in cost, amount of communication with peers and faculty, curriculum, and many other factors.
Students may apply for distance internships in the same way they apply for traditional internships, whether through the DICAS Match or another format. Many distance programs participate in both the fall and spring match. Schedules for the application process vary by program, so students should visit their websites for accurate timing information.
As with any internship format, there are pros and cons applicants should consider before pursuing a distance DI.
Pros and Cons of Distance Programs
Before choosing a distance program, students must first decide if this format is right for their needs. The following are a few characteristics of distance DIs that students should keep in mind.
Potential Pros
• Flexible scheduling. Most distance programs give interns autonomy to make their own rotation schedules under certain parameters, such as the required hours and competencies. This is great for students who value flexibility in their lifestyle but may be challenging for those who find time management difficult.
• Live where you choose. Interns often have to switch locations for traditional DIs, which can be burdensome and costly. The distance option allows them to live where they choose. In addition, some interns like having the freedom to travel for their rotations.
• More choices available. The dietetics field is full of opportunity, and interns should be exposed to as many practice areas as possible while completing their internship. Through most distance programs, they are given the option to select preceptors and sites that are of interest to them. Since most distance DIs require rotation schedules upon application, this means students must start working on securing preceptors several months in advance.
• Networking opportunities. When students put together their rotation schedules for distance programs, they have the opportunity to make several connections with RDs before becoming an intern. Even if they can't secure a rotation with every person they reach out to, they finish the process with several professional connections who may be able to provide them with opportunities in the future.
Possible Cons
• Potential isolation. In distance programs, interns may not have peers or faculty close to them and may be the only intern at their chosen sites. Most of the collaboration with fellow interns and staff will be completed virtually, which many students don't prefer for learning.
• Self-motivation and independence. Most of the work in distance DIs is done independently on the interns' own time. For some, this can be challenging to manage if they prefer to work alongside others or require more guidance with time management. Distance internships require strong skills in these areas to be successful.
If aspiring interns opt for a distance DI, there are several programs they can choose from according to their interests and career goals.
5 Distance DI Programs
Students can select distance DIs from ACEND's list of available internships at eatrightpro.org/acend. It's important to note that programs frequently change based on ACEND requirements and other developments in the dietetics field. For up-to-date information on programs, students should go to the programs' websites or contact staff directly.
Listed below are five distance internships that students may consider. All of these programs participate in the DICAS Match.
Be Well Solutions Dietetic Internship
Be Well Solutions Dietetic Internship (BWSDI) is an eight-month, full-time distance program that has a corporate wellness and health promotion concentration. BWSDI interns have the option to complete four or five rotations, which gives them the opportunity to focus on an area of their choice through flex hours or an emphasis rotation. The program has a committed team of faculty advisors that prioritize community, ensuring interns never feel alone or unsupported. Once accepted to the program, BWSDI supports interns with finding preceptors, and it also accepts prior assessed learning, provides RD exam resources, and offers tuition payment plans and a scholarship to which interns can apply. More information about BWSDI may be found at bwsdi.com.
Lagniappe Wellness Dietetic Internship
Lagniappe Wellness Dietetic Internship (LWDI) is a seven-month, four-rotation (MNT, food service management, community, and outpatient), full-time program with a nondistance feel achieved through day, evening, and Saturday drop-in office hours, monthly individual meetings with directors, and weekly interactive RD exam review. In addition, monthly live discussion boards and participation in the LWDI blog Food for Thought provides intern interaction and creative, out-of-the-box immersion in their focus area of obesity and diabetes prevention and treatment. LWDI gives credit for prior assessed learning, provides guidance and limited assistance with securing sites and preceptors, and offers flexible payment plans. Visit lagniappewellness.com to learn more.
Garden to Table Nutrition Dietetic Internship
Garden to Table Nutrition (GTTN) trains aspiring dietitians to understand the food cycle from farm to table, including the planting, harvesting, storage, processing, preparation, and consumption of crops and foraged foods. GTTN offers affordable full- and part-time options as well as credit for prior learning to reduce the supervised practice hours, if warranted. Interns gather in person each summer in Washington State to get hands-on experience in wildcrafting, gardening, and clinical skills (required for spring but optional for fall match), and twice a month via Zoom. More information about GTTN can be found at gardentotablenutrition.com.
Keith & Associates Distance Dietetic Internship
Keith & Associates Distance Dietetic Internship (KADDI) gives interns flexibility to design and develop a program that fits their lifestyle. Their students design their own rotation calendar, enabling them to stay local, build their network, and choose experiences to fit their goals. They offer both full-time and part-time options and participate in spring and fall match. Even though they are distance DIs, they strive to build relationships with each of their students and support them throughout their internship experience. KADDI includes a business and entrepreneurship rotation where interns will work with a real business preceptor to write a business plan, develop a website page, and use social media. More information about KADDI can be found at kaddi-internship.com.
Wellness Workdays Dietetic Internship
Wellness Workdays Dietetic Internship (WWDI) is a program offering three unique concentrations in worksite wellness and health promotion, nutrition communications and marketing, and sports nutrition and entrepreneurship. WWDI enables interns to complete their supervised practice rotations on a full-time or part-time basis and provides the option to obtain an MS or MBA from one of their three affiliated universities. WWDI is unique in that each intern receives a full-time advisor who helps guide and support them through their program. Learn more about WWDI at wellnessworkdays.com.
Master's Degree Options for Distance Programs
With the master's degree requirement coming in 2024 for future RDs, distance programs have been working to ensure interns have the option to work on their masters while fulfilling their internship requirements.
Distance programs not affiliated with universities have established partnerships with master's programs so they can offer this as a part of their program. For example, BWSDI, GTTN, and KAADI have partnerships with the University of Alabama. Interns accepted into their programs may enroll in the University of Alabama's Master of Science in Human Nutrition program at a discounted tuition rate.
It's worth noting that interns who choose a distance internship for their path have the opportunity to select any master's program they like. Although distance internships have master's partnerships, these are not the only options. However, an online master's degree is likely the best fit for individuals pursuing a distance internship, depending on their situation.
Bottom Line
There are many different paths students can take to become RDs; distance programs are just one option. Before applying to distance DIs, students must consider their situation and needs. It's possible to be successful through a distance DI, which has the potential to foster unique learning opportunities and connections.
— Brianna Tobritzhofer, MS, RD, LD, is a faculty advisor and marketing manager for the Be Well Solutions Dietetic Internship.
Reference
1. ACEND data: 1993-2021 computer matching trends. ACEND website. https://www.eatrightpro.org/acend/about-acend/acend-data. Accessed May 19, 2022.