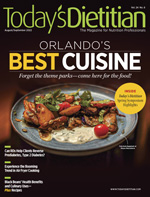 August/September 2022 Issue
Breakfast: Newcomers to the Frozen Breakfast Case
By Toby Amidor, MS, RD, CDN, FAND
Today's Dietitian
Vol. 24, No. 6, P. 10
Due to COVID-19–driven changes to restaurants and other foodservice operations, consumers began cooking more at home in 2020. For many, cooking fatigue set in quickly, resulting in unprecedented growth in the market for convenient, store-bought fare such as frozen foods.1 One of the biggest sales increases has been in the subcategory of frozen breakfasts, with three-quarters of US households consuming them. They're especially a favorite among parents and are found in 92% of households with children.2 According to a report by IRI, dollar sales of frozen breakfast foods increased 11% from 2020 to 2021.3
According to IRI, 67% of consumers prioritize healthfulness and 30% look for immunity benefits when choosing morning foods and beverages.3 To meet these demands, food manufacturers have been introducing new frozen breakfast items that are healthful, quick and easy to prepare, and can be eaten on the go. According to Acosta, consumers are choosing frozen breakfasts more often due to high availability, low prices, and the wide variety of options.4
On the other hand, IRI reports that 4 in 10 people skip breakfast often, including 56% of Gen Z and younger millennials, 43% of older millennials, and 41% of Gen X.3 Frozen breakfasts could be convenient options that help these consumers squeeze in a healthful morning meal.
Product Round Up
Categories in frozen breakfasts include waffles, pancakes, French toast, breakfast pastries, breakfast sandwiches, breakfast bowls, hash browns, oats, sausages, bagels and biscuits, smoothie bowls, and burritos and wraps. The following is an overview of newer products in the frozen breakfast category.
Waffles
According to The Insight Partners, the frozen waffle market size was valued at $2.78 billion in 2021 and expected to grow to reach $4.02 billion by 2028.5 New products in this category include the following:
• Kodiak Power Waffles: These frozen waffles are made with 100% whole grains and provide 10 to 14 g protein per serving. They are available in several varieties, including Blueberry Thick and Fluffy, Buttermilk & Vanilla Thick and Fluffy, Dark Chocolate, Cinnamon, Gluten-Free Frontier Oat, Chocolate Chip, Plant Based Classic, and Homestead Style.
• Nature's Path: This company offers a wide variety of frozen waffles, many of which are vegan and gluten-free. Varieties include Maple Cinnamon, Dark Chocolate Chip, Homestyle, Flax Plus, Buckwheat Wildberry, and Chia Plus. The company also offers frozen waffles for kids as part of its EnviroKidz line in Penguin Party (cinnamon) and Polar Beary (blueberry) varieties. A serving of two Flax Plus waffles contain 200 kcal, 5 g dietary fiber, 4 g protein, and 4 g added sugars; they also provide 4% DV for calcium and 10% for iron.
Burritos and Wraps
Burritos and wraps offer grab-and-go convenience, making them especially popular in the frozen breakfast category. A wide variety are available, and some more recent arrivals offer numerous plant-based options, including the following:
• Alpha Foods: Alpha Foods offers four varieties of plant-based breakfast burritos, including Bac'n Scramble, Protein Supreme, Rockin' Ranchero, and Meatless Sausage. The Protein Supreme includes tofu "scramble" (a common vegan substitute for scrambled eggs) and soy protein–based "steak" strips, "sausage" crumbles, and "bacon" bits, packing in 17 g protein. With coconut oil added to the tortilla and found in the dairy-free cheese substitute that's included, the burrito has a high saturated fat content (6 g). The burrito also contains 380 kcal, 3 g dietary fiber, and 440 mg sodium.
• Sweet Earth Foods: Plant-based meats are included in Sweet Earth Foods' breakfast burritos, which are available in three varieties: Baja, Big Sur, and Protein Lover's. The Protein Lover's burrito is made with plant-based sausage, cage-free eggs, quinoa, pinto beans, and cheddar cheese; it provides 430 kcal, 18 g fat, 7 g saturated fat, 6 g dietary fiber, 19 g protein, and 560 mg sodium.
Breakfast Sandwiches
Breakfast sandwiches have many offerings, including traditional breakfast sandwich ingredients (eg, sausage, bacon), better-for-you options with Canadian bacon and egg whites, and plant-based options.
• Sandwich Bros: This company offers four types of breakfast sandwiches, including Sausage & Cheese, Turkey Sausage & Cheese, Egg & Cheese, and Egg White & Turkey Sausage. The Turkey Sausage & Cheese sandwich provides 150 kcal, 5 g fat, 2.5 g saturated fat, 9 g protein, <1 g dietary fiber, and 480 mg sodium.
• Jimmy Dean: Offering a wide variety of breakfast options from breakfast nuggets to biscuit roll-ups to breakfast cups, Jimmy Dean also has numerous breakfast sandwich options. Both healthful and not-so-healthful options include Bacon, Egg & Cheese Biscuit; Delights Turkey Sausage Breakfast Sandwich; Delights Canadian Bacon Breakfast Sandwich; and Maple Pancake and Sausage mini breakfast sandwich. The Delights Canadian Bacon Breakfast Sandwich is made with Canadian bacon, egg whites, and cheese on a honey wheat English muffin and contains 230 kcal, 5 g fat, 2.5 g saturated fat, 14 g protein, 2 g dietary fiber, and 690 mg sodium.
Breakfast Bowls
Breakfast bowls are another category in the freezer section that has been growing, with plant-based bowls especially popular. The following are several newer plant-based bowl options:
• Daily Harvest: This company, which is online only, offers oat and chia bowls for breakfast in its line of Forager Bowls. Oat bowls include Apple + Cinnamon, Strawberry + Goji Berry, Cinnamon + Banana, and Mulberry + Dragon Fruit. Chia bowls include Vanilla Bean + Apple and Chocolate + Almond. The Apple + Cinnamon oat bowl is made with organic oats, apple, cauliflower, walnuts, pumpkin seeds, and cinnamon and provides 310 kcal, 14 g fat, 1.5 g saturated fat, 9 g protein, 7 g dietary fiber, 11 g total sugars (with no added sugars), and 190 mg sodium.
• Dr. Praeger's: Best known for its line of veggie burgers, Dr. Praeger's has expanded into frozen breakfasts, offering breakfast bowls and hash browns. Three varieties are offered each for bowls (Egg Whites & Kale Breakfast Bowl, Hearty Breakfast Bowl, and Huevos Rancheros Breakfast Bowl) and hash browns (Four Potato Hash Browns, Southwest Hash Browns, and Sweet Potato Hash Browns). The Hearty Breakfast Bowl is made from cage-free scrambled eggs with cheddar cheese and three vegetables and includes a side of oatmeal dipping sticks for whole grains. This bowl contains 270 kcal, 11 g fat, 2.5 g saturated fat, 12 g protein, 5 g dietary fiber, 3 g added sugars, and 350 mg sodium. A serving of three Four Potato Hash Browns contains 170 kcal, 9 g fat, 1 g saturated fat, 350 mg sodium, 5 g dietary fiber, and 2 g protein.
• Amy's Kitchen: Known for its robust vegetarian selection, Amy's offers several breakfast bowls including Tofu Scramble, Breakfast Scramble, Mexican Breakfast Bake, and Country Breakfast Bake. The Breakfast Scramble is made with tofu scramble with organic mushrooms, onions, and broccoli alongside country-style potatoes and meatless sausage. This bowl contains 360 kcal, 20 g fat, 2.5 g saturated fat, 18 g protein, 5 g dietary fiber, and 780 mg sodium.
Frozen Oatmeal
Oatmeal products such as the following now can be found in the freezer section:
• Good Food Made Simple: This company offers individually wrapped portions of Original Unsweetened Steel Cut Oatmeal made with organic oats, which are ready to be heated and eaten. One serving provides 170 kcal, 3 g fat, 0.5 g saturated fat, 6 g protein, 4 g dietary fiber, and 60 mg sodium. Good Food Made Simple also sells a wide range of frozen breakfast bowls, burritos, and sandwiches, and frozen French toast, pancake bites, and waffles.
• GoOats: These frozen oatmeal balls come in several varieties, including Blueberry, Maple Brown Sugar, Apple Cinnamon, Cran-Walnut, and Strawberry. Just heat them and eat. Each three-ball serving of the Blueberry variety provides 170 kcal, 7 g fat, 3.5 g saturated fat, 4 g protein, 2 g fiber, 11 g added sugars, and 330 mg sodium.
Recommendations for Clients
The frozen breakfast section is expanding rapidly, with many options available for those looking for more healthful grab-and-go options or for convenient foods that meet various dietary needs (eg, vegetarian, vegan, gluten-free).
However, not every innovation found in the frozen breakfast aisle is healthful. Some may be higher than necessary in added sugars, saturated fats, and/or sodium. RDs should review frozen breakfast options with clients to ensure they are selecting more healthful options that meet their needs and provide a well-rounded breakfast. Alternatively, dietitians can provide suggestions to ensure variety by complementing frozen breakfasts with a cup of yogurt, glass of milk, or piece of fruit. It's also helpful to provide clients with an updated list of better-for-you options available at local markets or online, as the frozen breakfast category is evolving at a fast pace.
— Toby Amidor, MS, RD, CDN, FAND, is the founder of Toby Amidor Nutrition (tobyamidornutrition.com) and a Wall Street Journal bestselling author. She's written nine cookbooks, including The Healthy Meal Prep Cookbook: Easy and Wholesome Meals to Cook, Prep, Grab, and Go and The Family Immunity Cookbook: 101 Easy Recipes to Boost Health. She's also a nutrition expert for FoodNetwork.com and a contributor to U.S. News Eat + Run and other national outlets.
References
1. IRI. How America eats: frozen food trends: strategies for success in a new consumer environment. https://www.iriworldwide.com/IRI/media/Library/webinar/Frozen-Food-Trends-Success-in-a-New-Consumer-Environment.pdf. Published August 3, 2021.
2. US frozen breakfast market report 2021. Mintel website. https://store.mintel.com/report/us-frozen-breakfast-market-report
3. Garwood G. IRI report: versatility key to winning breakfast category. The Food Institute website. https://foodinstitute.com/focus/iri-report-versatility-key-to-winning-breakfast-category/. Published February 11, 2022.
4. Acosta. Pandemic-fueled growth of frozen foods. Published 2021.
5. The Insight Partners. Frozen waffles market worth US$ 4,021.29Mn, globally, by 2028 at 5.4% CAGR - exclusive report by The Insight Partners. GlobeNewswire website. https://www.globenewswire.com/en/news-release/2022/05/02/2433574/0/en/Frozen-Waffles-Market-Worth-US-4-021-29Mn-Globally-by-2028-at-5-4-CAGR-Exclusive-Report-by-The-Insight-Partners.html. Published May 2, 2022.