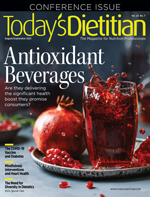 August/September 2021 Issue
Culinary Corner: Seasonal Zucchini — Summer's Versatile Vegetable
By Jessica Ivey, RDN, LDN
Today's Dietitian
Vol. 23, No. 7, P. 66
My grandfather grew summer squash row after row in his garden in South Georgia, and when my dad's friend caught wind of how much restaurants in the Atlanta area pay for squash blossoms, he came up with a plan to sell the edible flowers. Unfortunately, it was going to cost more to package and transport the delicate goods than they were worth. Granddaddy was pleased because he thought it was a ridiculous idea from the beginning, even though the blossoms have been a part of traditional diets for thousands of years. But it got me thinking about the myriad ways to enjoy this familiar vegetable.
Thought to have originated in Central America, zucchini is now the most popular summer squash and is grown throughout the world.1 Because it bears seeds and develops out of a flower, zucchini botanically is considered a fruit and specifically a type of berry called a pepo. It falls into the summer squash variety, which is harvested before the outer rind hardens, unlike some other squashes, such as butternut and pumpkin.2 The zucchini fruit as well as the flowers are edible and produce an average of 3 to 9 lbs of fruit per plant.3
Although zucchini has been in the spotlight in the past few years for its use as a lower-carb pasta substitute, there are numerous ways to use this versatile summer vegetable, including zucchini "boats," muffins, and baked zucchini fries. We prepared panko- and Parmesan-crusted baked zucchini fries in a kids cooking camp I taught last summer, and even the pickiest of eaters were gobbling up the crispy, crunchy vegetables dipped in tomato sauce.
Adding grated zucchini to quick breads, casseroles, scrambled eggs, and pancakes or fritters is a great way to boost nutrient intake. One cup of raw sliced zucchini contains just 20 kcal and provides 1 g fiber and about 35% DV of vitamin C.4 The dainty flowers can be stuffed with cheese and fried or baked for a seasonal appetizer.
These veggie-packed fritters are similar to a pancake in texture and taste best straight out of the pan. Place the first fritters on a baking sheet in a warm oven while finishing the remaining batches, or go ahead and eat one (or two) while you cook.
— Jessica Ivey, RDN, LDN, is a dietitian and chef with a passion for teaching people to eat healthfully for a happy and delicious life. Ivey offers approachable healthful living tips, from fast recipes to meal prep guides and ways to enjoy exercise, on her website, JessicaIveyRDN.com.

References
1. Courgettes: The Zucchini Squash. Delhi NCR, India: AGRIHORTICO; 2019:1.
2. Zucchini. Britannica website. https://www.britannica.com/plant/zucchini. Updated November 13, 2018. Accessed April 27, 2020.
3. Reader L. Zucchini: a treat in the heat. The University of Arizona Cooperative Extension website. https://cals.arizona.edu/maricopa/garden/html/pubs/0403/zucchini.html. Updated April 29, 2003. Accessed April 27, 2020.
4. Zucchini. Have a Plant website. https://fruitsandveggies.org/fruits-and-veggies/summer-squash/. Accessed April 27, 2020.

[Recipe]
Zucchini Fritters With Lemony Yogurt Sauce
Serves 8
(2 fritters and about 1 T sauce)
Ingredients
1 lb fresh zucchini, ends trimmed and grated
1/4 + 1/8 tsp salt, divided
1/3 cup all-purpose flour
1/4 cup grated Parmesan cheese
2 T thinly sliced green onions
1/2 tsp dried Italian seasoning
1/8 tsp black pepper
2 large eggs, beaten
2 cloves garlic, minced and divided
2 T olive oil, divided
1/4 cup nonfat plain Greek yogurt
1/4 cup olive oil mayonnaise
1/4 tsp grated lemon zest
1 tsp fresh lemon juice
Directions
1. Toss together zucchini and 1/4 tsp salt in a large fine mesh strainer or a colander lined with paper towels. Let stand 15 minutes. Press with a large spoon to drain some liquid. Transfer zucchini to a clean kitchen towel, and squeeze to remove all remaining liquid.
2. Stir together zucchini, flour, cheese, green onions, Italian seasoning, pepper, eggs, and 1 clove minced garlic in a medium bowl.
3. Heat 1/2 T oil in a large nonstick skillet over medium heat. Add zucchini mixture in heaping tablespoons to skillet to make 4 fritters. Flatten with the back of a spoon to create thin fritters. Cook until fritters are crisped around the edges and the bottoms are golden brown, about 2 minutes. Flip and cook 1 to 2 minutes longer or until done. Transfer to a paper towel-lined plate. Repeat 3 times with remaining oil and batter.
4. While fritters cook, stir together yogurt, mayonnaise, lemon zest and juice, 1 clove minced garlic, and 1/8 tsp salt. Serve sauce with fritters.
Note: Be sure to squeeze all of the excess moisture out of the zucchini before making the batter to ensure your fritters don't turn out soggy.
Nutrient Analysis per serving
Calories: 120; Total fat: 9 g; Sat fat: 1.5 g; Cholesterol: 50 mg; Sodium: 240 mg; Total carbohydrate: 7 g; Dietary fiber: 1 g; Sugars: 2 g; Protein: 4 g