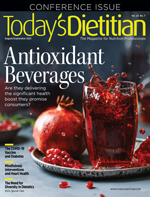 August/September 2021 Issue
Editor's Spot: The COVID Vaccine and Diabetes
By Judith Riddle
Today's Dietitian
Vol. 23, No. 7, P. 6
The COVID-19 vaccines officially became available in all 50 states to everyone aged 16 and older on April 19. Expanded use of the Pfizer-BioNTech vaccine, specifically, became available for those aged 12 to 15 on May 12. This certainly was great news!
Yet, despite the acceleration of the vaccine rollout, persistent challenges remain. At press time, 342 million vaccines had been administered and 162 million people had been fully vaccinated. Some people are declining the vaccines for medical or religious reasons. But there are millions who are refusing the vaccines out of fear and/or for a variety of unscientific reasons, putting themselves, their friends and family, and their communities at high risk of infection.
According to a recent CDC study, the Pfizer-BioNTech and Moderna vaccines reduce the risk of COVID-19 infection by 91% in fully vaccinated people.
Now more than ever, it's imperative that everyone get vaccinated, especially since the Delta variant (B.1.617.2) is running rampant across the globe and is now the predominant strain in the United States, putting the unvaccinated in even greater danger of severe illness, hospitalization, and death, and the vaccinated at high risk of developing breakthrough COVID-19 infections due to high community spread. The Delta variant is said to be more infectious and more deadly than the original COVID-19 strain.
Dietitians working with patients who have type 1 or type 2 diabetes have an important role to play in communicating the importance of vaccination. People with diabetes are at higher risk of severe disease, hospitalization, and death than those who don't have diabetes. High blood sugar weakens the immune system and therefore lowers the ability to fight infections. And COVID-19 in people with diabetes raises the risk of developing diabetic ketoacidosis and sepsis.
So, what should RDs do if they encounter patients with diabetes who are adamant "antivaxxers" or simply vaccine hesitant? How should RDs counsel patients who have questions about the vaccines' safety and efficacy? What strategies should they employ to help convince patients that the vaccines will help save their lives?
In this issue, Today's Dietitian answers these questions and more in the article "The COVID-19 Vaccine & Diabetes" on page 28. Dietitians will learn how the Pfizer-BioNTech, Moderna, and Janssen/Johnson & Johnson vaccines work, why the vaccines are so vital for people with diabetes, and how to answer questions about safety and efficacy. Also in this issue are articles on mindfulness and heart health, antioxidant beverages, atypical anorexia nervosa, and diversity in dietetics. Please enjoy the issue!
— Judith Riddle, Editor
TDeditor@gvpub.com