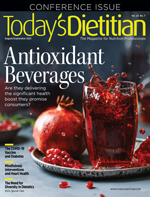 August/September 2021 Issue
Convenience Nutrition: Meal Replacement Bars
By Lindsey Getz
Today's Dietitian
Vol. 23, No. 7, P. 12
Are they good nutritional choices for clients?
As normal life somewhat resumes and schedules become hectic once again, many clients may turn to meal replacement bars as an option for on-the-go eating. In fact, meal replacement manufacturing revenue has grown to $5 billion in the past five years—including a 1.3% increase in 2021.1 As more consumers seek out these products for convenience and/or weight loss, this trend is expected to thrive—but it's important for consumers to remember that making wise choices still is key.
According to Lainey Younkin, MS, RD, of Lainey Younkin Nutrition in Boston, unlike protein bars or energy bars, which typically serve as a snack, a meal replacement bar is intended to stand in for a meal (as best as it can). Younkin says meal replacement bars usually have 200 to 400 kcal.
"For this reason, meal replacement bars contain all three macronutrients—carbohydrates, protein, and fat—and tend to be higher in calories than other bars," Younkin explains. "Look for at least 3 to 5 g of fiber per bar and 8 to 10 g of protein. Meal replacement bars also often contain micronutrients, such as iron or magnesium."
The different types of bars on the market can be overwhelming, but it helps to think of them in various categories. ConsumerLab, which recently performed a thorough analysis of a wide variety of bars, broke its categories down by energy bars, fiber bars, high-protein bars, fruit and nut bars, and meal replacement bars—though the company stated there could be some crossover. It defined a meal replacement bar as one that had a greater balance of proteins, fats, and carbs—thus, more calories.
Benefits: Nutrition and Satiety
Adrianne Delgado, RDN, LDN, owner of BodyMetrix Health and Wellness in Limerick, Pennsylvania, says that now more than ever, her clients are seeking quick, convenient options that still meet many of their nutritional needs. When recommending meal replacement bars, Delgado seeks out options that have a good balance of macronutrients, at least 3 g of fiber, limited added sugars, and ingredients that aren't hard to pronounce.
As with anything, the key is to read labels. Melissa Joy Dobbins, MS, RDN, CDCES, of Sound Bites, Inc, in the Chicago area, advises looking for protein, fiber, and healthful fats, as these are the three things that will provide nutrition and satiety. Because satiety is important in keeping clients full until their next meal, Dobbins suggests looking for bars containing nuts since they have those three key elements.
"If your clients are replacing a meal, it also makes sense that they think about how many calories are healthful for them to consume at that meal and compare that with what the bar provides," Dobbins adds.
Whether clients are in a bind or on the go, Dobbins says clients also may use these bars to cut calories on a meal if they want to lose weight. A study published in Diabetes Spectrum found that meal replacement bars can help support weight loss by providing a premeasured number of calories in one meal, reducing exposure to tempting foods, and offering convenience.1,2
Beware Certain Pitfalls
However, Delgado says a challenge she has witnessed is when clients begin using them too frequently or relying on them as an everyday staple.
"Meals are a great opportunity to eat produce, consume fiber and protein, and meet nutrient needs," she says. "But most bars do not match the full caloric value or macronutrient composition of what a meal can provide. What clients may consider to be a meal replacement bar may in fact be better suited as a snack."
Another drawback may include the possibility of gastrointestinal distress, Dobbins says. Many of these bars include sugar alcohols (eg, xylitol, isomalt, or mannitol), which are naturally resistant to digestion and can cause stomach upset and bloating in some people. Similarly, some of these bars may contain certain fibers, such as chicory root, Dobbins says. But while this prebiotic fiber is beneficial to the digestive system, it's another ingredient that can cause gastrointestinal distress. These are valuable reasons to advise clients to "ease in" to adding meal replacement bars.
In addition, Dobbins suggests telling clients not to put too much stock in marketing buzzwords like "organic," "natural," or "preservative-free." Ultimately, if clients are comparing two bars side by side, she suggests taking the nutrient satiety factors (ie, protein, carbs, and fiber), the calories, and fat content into account more than any marketing lingo.
Delgado says front-of-pack claims easily can be either validated or debunked by flipping the bar or box over and reading the Nutrition Facts panel on the back.
Younkin adds: "Meal replacement bars can be a great back-up option if you're in a pinch and don't have time to make a balanced meal with protein, high-fiber carbohydrates, and healthful fats. But eating a variety of different colored fruits and vegetables is key for a healthy gut and balanced diet, and living off of meal replacement bars will not provide that."
Making the Best Choices
In analyzing several nutrition bars, ConsumerLab's top pick for a meal replacement bar was PROBAR Meal Superfood Slam, which contains 370 kcal, 10 g protein, 47 g total carbohydrate, and 6 g fiber. According to ConsumerLab, this bar uses real, whole foods such as oats, rice, and seeds. And although it's higher in fat than some of the other choices, most of the fat isn't saturated. It also has minimal amounts of sodium, no cholesterol, and no sugar alcohols.
The GNC Total Lean Lean Bar in Salted Toffee also made ConsumerLab's approved list. It has 180 kcal, 15 g protein, 21 g total carbohydrate, and 6 g fiber.
ConsumerLab also looked at energy bars, fiber bars, and protein bars—many of which clients may consider a "meal replacement option." According to ConsumerLab, energy bars tend to provide more carbohydrates, protein bars are higher in protein, and fiber bars are higher in fiber. Dietitians may want to tailor their recommendations to clients based on their goals.
ConsumerLab's top pick for an energy bar was the Power Bar Performance Energy Bar in Peanut Butter, which has 230 kcal, 10 g protein, 44 g total carbohydrate, and 2 g fiber. Their top pick for protein bars was the Pure Protein Bar in Chewy Chocolate Chip, which has 200 kcal, 20 g protein, 18 g total carbohydrate, and 2 g fiber. Finally, their top pick for a fiber bar was the Fiber One Chewy Bars in Oats & Chocolate, which has 140 kcal, 2 g protein, 29 g total carbohydrate, and 9 g fiber.
Delgado suggests that when dietitians make bar recommendations, they also should think about what they can recommend eating with the bar if it's lacking in any nutrients or calories. Often, pairing a bar with a piece of fruit can make a more complete choice.
Finally, Dobbins says that flavor is of course a valid consideration. Clients can try some different flavors and find what bar works best for them when they're looking for a quick meal on the go.
Comparing Some Favorites
If you're thinking about recommending meal replacement bars to clients, review the table above for a list of the most popular choices and how they stack up to one another. The table will help dietitians begin their research to determine what may be best to recommend to clients and patients.
— Lindsey Getz is an award-winning journalist based in Royersford, Pennsylvania.

References
1. Meal replacement product manufacturing industry in the US- market research report. IBISWorld website. https://www.ibisworld.com/united-states/market-research-reports/meal-replacement-product-manufacturing-industry/. Updated April 26, 2021. Accessed June 14, 2021.
2. Craig J. Meal replacement shakes and nutrition bars: do they help individuals with diabetes lose weight? DiabetesSpectrum. 2013;26(3):179-182.