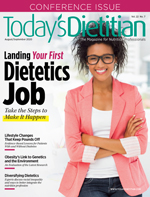 August/September 2020 Issue
Focus on Fitness: A Look Inside Fitness Franchises
By Jennifer Van Pelt, MA
Today's Dietitian
Vol. 22, No. 7, P. 62
In the United States, fitness is a $30 billion industry. More than $4 billion of that revenue comes from fitness franchises. According to global industry market research company IBISWorld, there are almost 10,000 individual businesses from 1,800 different fitness franchises in the United States, and fitness is one of the fastest-growing areas for franchise opportunities.1
Industry research from 2019 showed that fitness franchises had been growing at a rate of 6.3% annually for the last five years, and future growth rates were predicted to be higher due to the overall growth trend in fitness facilities and programs outside the traditional gym setting.
In its fitness franchise growth predictions, IBISWorld notes that franchises offering convenience for busy exercisers, 24-hour fitness services, cutting-edge fitness technologies (eg, wearables), online personal training, and nutrition and meal planning services are expected to attract more clients. Providing nutrition services in combination with fitness is an opportunity for new or expanded services for RDs.
For those looking to invest or become an owner/operator, fitness franchises range from brick-and-mortar physical locations to individual licenses to deliver a product/service, and require investments ranging from millions of dollars to less than $10,000.
Depending on the franchise, it may be co-owned by the umbrella company and franchise owner or independently owned, and revenue may be shared or the franchise owner may keep all revenue (usually after paying ownership, licensing, and other upfront, monthly, or annual fees). The benefits of owning/operating a fitness franchise include the following:
• capitalizing on a known name or trademarked brand in a competitive industry;
• receiving guidance on setting up a business, training materials, and business technology provided by or associated with the franchise;
• gaining access to proven marketing materials and strategies; and
• having workouts, equipment, administrative support, and other operational needs offered by the franchise company.
Fitness franchises fall into one of three different categories: traditional fitness, specialty or "boutique" fitness, and individual licensing.
Traditional Fitness
Traditional fitness franchises include brick-and-mortar gymlike settings requiring a greater investment, given the costs associated with a physical location. These franchises offer the typical gym exercise activities, such as cardiovascular equipment, resistance training machines, free weights, and group fitness classes. Some may offer personal training services. These are the most expensive franchises for investors and owners, with initial franchise fees ranging from $20,000 to more than $50,000, plus investment/startup costs from $100,000 to several million, depending on the franchise.
Examples include Gold's Gym, Anytime Fitness, and Planet Fitness. Founded in 1960, Gold's Gym is one of the oldest fitness brands in the United States and is a traditional gym-based franchise. Franchising began in 1980 and grew rapidly during the 1990s. However, with strong competition from local nonfranchise fitness facilities and newer, growing franchises that capitalize on convenience, such as Anytime Fitness, and/or offer inexpensive memberships, such as Planet Fitness, Gold's Gym has been declining in franchise locations compared with others.
Anytime Fitness has grown to more than 4,000 franchise locations since 2002. Offering 24-hour keycard access, workout planning, and virtual on-demand fitness classes for members, it's ranked in the top 25 of Entrepreneur magazine's Franchise 500, which includes all types of franchise opportunities, not just fitness.2
Planet Fitness, ranked as one of the top 10 franchises by Entrepreneur, has grown to more than 1,600 locations since it started franchising in 2003. With the lowest gym membership fees in the United States, Planet Fitness franchises are expected to continue to compete successfully in the overall fitness industry.
Specialty or Boutique Fitness
Specialty or boutique fitness franchises usually have a physical location with workout equipment and/or group classes and tend to focus on one type of activity—cycling, Pilates, yoga, or high-intensity interval training/circuit workouts.
This franchise type also may focus on a specific population of exercisers, such as children or women. For example, the women-focused Curves franchise, founded in the early 1990s, set the stage for the current rapid growth in small, specialty fitness franchises. At the height of its popularity in the early 2000s, Curves had more than 10,000 locations worldwide. However, that number has dropped to less than 1,000 due to competition from other franchises, local gyms, and introduction of a variety of more appealing workout formats than the original Curves 30-minute strength training/aerobic circuit format for women.
Newer fitness franchises in this category include the following:
• OrangeTheory Fitness: This franchise offers 60-minute group classes that include cardiovascular training on treadmills and rowing machines combined with strength training. Participants sign up for a workout timeslot, receive personalized coaching, and wear heart rate monitors during workouts to track intensity and progress. OrangeTheory is ranked as a top 50 franchise by Entrepreneur.
• Club Pilates: These facilities provide private and group training using Pilates Reformer equipment and other fitness tools (eg, weights, resistance bands, foam rollers). Considered one of the fastest-growing fitness franchises, Club Pilates began franchising in 2007; there are now more than 600 locations worldwide.
• Pure Barre: Growing to more than 550 studios since 2001, this franchise has taken advantage of the high level of interest in ballet-based barre workouts and is experiencing rapid growth.
Other types of franchises in this category include martial arts and boxing fitness (eg, Title Boxing), yoga (eg, CorePower Yoga, YogaWorks), and indoor cycling (eg, CycleBar). All of these franchises face strong competition from local boutique fitness facilities and gyms that offer fitness classes in these formats.
Individual Licensing
Individual licensing franchises typically are branded workouts delivered by a trained instructor who pays an upfront franchise fee and/or monthly licensing fees. The most well-known and long-lasting of these franchises is Jazzercise, created by Judi Sheppard Missett in 1969.
The company views every certified instructor as a franchisee; no physical location is necessary to license the franchise. Instructors generally rent space in community facilities and other businesses to teach classes. According to the Jazzercise website, there are more than 8,300 franchisees teaching more than 32,000 classes weekly worldwide.
Jazzercise gained its fame in the 1970s and 1980s as a provider of traditional dance aerobics, with all-female instructors and participants wearing leotards and legwarmers. It has successfully evolved with the fitness industry, and while it still attracts primarily female instructors and participants, its class offerings are more varied and appealing across genders, fitness abilities, and ages.
Jazzercise franchisees can choose to teach different class formats that include dance-based aerobics, strength training, Pilates, yoga, and kickboxing. Initial franchise fees are $1,250, plus costs for traveling for training.
Other franchises in this category include Stroller Strides and Baby Boot Camp, both of which focus on fitness programs for new mothers designed to enable them to bring their infants to a workout session. Instructor franchisees generally use space in local communities, such as outdoor parks, or rent indoor open spaces such as gymnasiums.
In 2019 and early 2020, the outlook for all fitness franchises was positive. However, the COVID-19 pandemic may slow growth, affecting profits and future expansion. Franchises that have adapted to offer virtual live and on-demand video workouts, such as Anytime Fitness, Club Pilates, and most yoga franchises, are expected to weather the pandemic economic storm better than those that rely solely on in-person exercise.
— Jennifer Van Pelt, MA, is a certified group fitness instructor and health care researcher in the Lancaster, Pennsylvania, area.

References
1. Gym & fitness franchises industry in the US – market research report. IBISWorld website. https://www.ibisworld.com/united-states/market-research-reports/gym-fitness-franchises-industry/. Published May 2019.
2. Entrepreneur Franchise 500 2020: our 41st annual Franchise 500 ranking. Entrepreneur website. https://www.entrepreneur.com/franchise500/2020