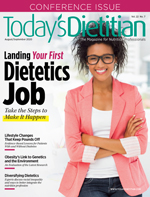 August/September 2020 Issue
Landing Your First Dietetics Job
By Densie Webb, PhD, RD
Today's Dietitian
Vol. 22, No. 7, P. 26
Take the Steps to Make It Happen
So you made it through the gauntlet of nutrition education and the RD exam (which you passed with flying colors), and you're officially an RD. Now it's time to land that first job.
Dietetics is a small field, making the job market competitive. Still, armed with invaluable advice, self-confidence, and perseverance, you can get your dream job and launch your career.
Today's Dietitian speaks with heads of university nutrition departments and clinical programs, recruiters, and freshly minted RDs to find out what it's like out there in the job-hunting trenches. Here are their tips and insights to help you start your job search on the right foot and land the position and the salary you hope for.
Network and Volunteer
Volunteering at organizations you'd like to eventually work for may help you get a foot in the door. Lauri Wright, PhD, RDN, LD, chair of the department of nutrition and dietetics at the University of North Florida and spokesperson for the Academy of Nutrition and Dietetics (the Academy), says, "Volunteering can help fill the gap in your résumé until you land that first job. [And] it can help build skills that may add to your hireability, and you may prove yourself as invaluable and have it lead to a paid position."
However, Jenny Westerkamp, RD, CSSD, nutrition consultant for the Chicago Bulls and founder of All Access Dietetics, a Chicago-based business that offers coaching, courses, and free resources to help RDs get their first job, recommends volunteering for nonprofit organizations rather than for-profit entities. "Otherwise," she says, "you are undervaluing yourself right from the start. Most dietitians feel undervalued, so it's better to set the bar high from the beginning for the value and the worth they can bring [rather than giving your services away to for-profit organizations]."
Nancy Farrell Allen, MS, RDN, FAND, owner of Farrell Dietitian Services in Fredericksburg, Virginia, and spokesperson for the Academy, says, "The No. 1 way that people find a job is through networking referrals. Become active in social groups and networks with like-minded persons."
Westerkamp agrees. She always reminds her RD clients that finding that first job is all about who you know. She suggests new dietitians do the following:
• Start researching organizations or dietitians you want to work for. Be clear about your goals and narrow them down as much as possible.
• Let individuals within your professional network know what your ideal position might be and who you'd like to work for. Also, ask for introductions.
• Ask your connections, even outside of the dietetics field, whether they have any connections.
• From there, start to reach out by setting up an informational phone call with prospective employers about what you could bring to their organization. Get their advice on how to apply for a position.
Zoe Halbert, RDN, LD, a new dietitian with I Live Well Nutrition in Austin, Texas, sums up the importance of connections: "Networking, networking, networking. Connections were very important for finding my first job." Halbert was advised in her program to join local organizations for dietitians and establish good working relationships with mentors and preceptors.
Josephine Dudzik, MSCN, RD, a clinical dietitian at New York University Langone Hospital in Brooklyn, New York, agrees: "Although I did not end up at my internship site, many friends and classmates did, so be sure to maintain good relationships with all your preceptors and clinical managers."
Join the Academy
The Academy is the world's largest organization of food and nutrition professionals representing dietitians, dietetic technicians, and other dietetics and nutrition professionals holding undergraduate and advanced degrees in nutrition and dietetics, as well as students.1 During the first five years of membership, the organization offers reduced "career starter dues" for those just getting started.
Belonging to the Academy gives dietetics job hunters access to a vast treasure trove of resources on its website's Career Toolbox, which range from a résumé template to media training. Even before you become a member, you can post your résumé to search for employment opportunities for free and sign up for job alerts to receive automatic notifications when a new job is posted that meets your specifications. Access to articles on career development in the Journal of the Academy of Nutrition and Dietetics also is free.
Check Out Job Recruiters
Recruiters that specialize in finding jobs for RDs are few, but they do exist and may provide extra handholding and guidance when needed. Missouri-based Harper Associates handles full-time, permanent positions for dietitians and dietitians eligible for registration nationwide.2 Dietitian Pros Premier Dietitian Staffing can help RDs find either part-time or full-time positions in the dietetics field across the United States.3 Virginia-based Dietitians on Demand recruits nationally for dietitian positions in corporate, clinical, and community settings.4 All Access Dietetics, Westerkamp's firm, works to place RDs with organizations, facilities, and businesses that require nutrition expertise.5 Healthcare Services Group (HCSG) is an employer of dietitians in the health care industry who receive education and experience working in a variety of environments. HCSG provides RDs the opportunity to connect with its wide network of dietitians—what the organization considers the largest in the country.
If you're looking for remote or flexible work in nutrition, NutriGig.com, a new agency, is the first to offer placements for vetted nutrition freelancers. The agency also promises to help find paid experience opportunities for dietetics students. Susan Stalte, MBS, RD, founder of NutriGig.com, says the new venture works in partnership with All Access Dietetics to offer one-on-one career mentorship to help students and new dietitians clarify their career goals.
Also available from All Access Dietetics is a new Get Hired Course, which features guidance on how to create your elevator pitch, help with developing job search and networking strategies, and tips on how to handle salary negotiations.6
LinkedIn isn't a recruiting company, but with LinkedIn Premium you can direct message individuals even if you're not connected to them. On Facebook, check out the Dietitian JOB Portal page, where there's much chatter about available positions.7
And don't forget about the more general job posting sites, such as ZipRecruiter, Glassdoor, Monster, Indeed, and USAjobs.gov, as well as job boards for specific hospitals, clinics, and private practices.
Keep It Professional
It might be tempting to vent job-hunting frustrations online, but it's best to keep them to yourself and remain professional on Facebook, Instagram (if you make it public), Twitter, and, yes, Reddit. If you're going to discuss politics, religion, or sex, don't—unless you use an online alias. Put your best professional foot forward on LinkedIn, where almost all employers will go to view your profile. But, just remember, they're also likely to search for your other social media accounts. Don't post anything you wouldn't want a potential employer to see.
The Academy offers free tips and steps for "Creating a Professional Online Image" on everything from your headshot to your domain name.8
Follow These Interview Tips
Let's say you've lined up interviews. You want them to go well and end with a job offer—or two. Here's what to keep in mind before you show up. These tips may seem like common sense, but they're worth repeating.
Westerkamp says when you're asked the inevitable question, "Tell me about yourself," or "Can you tell me about a difficult situation you encountered and how you handled it?" she recommends following the STAR style of interviewing.
Situation: Give an example of a situation you were involved in that resulted in a positive outcome.
Task: Describe the tasks involved in that situation.
Action: Talk about the various actions involved in the situation's task.
Results: What results directly followed because of your actions?
Westerkamp also suggests checking out subreddits on Reddit that are created specifically for dietitians. You may find advice about a company's interview process or get some insider information about an organization that you won't find on its website.9
Halbert says new dietitians should think of interviews as a two-way street—they're being interviewed to see whether they're the best fit for a position, and they're interviewing a potential employer to determine whether the organization and work environment is a good fit for them.
Not all interview experiences are positive. Dudzik says she had an interviewer tell her, "I don't really hire people from your program and don't really know anything about it, so I have no idea what I would be getting. I'm not sure if it's worth the risk."
Looking back, she wishes she had been more confident in presenting her skills and abilities and everything her program had taught her.
Dudzik says asking good questions also is important. "It shows you have genuine interest in the organization, that you did your research beforehand, and that you are not going to settle for a job that is not right for you," she notes.
Be Prepared for the Unknown Wait
Once your job search is underway and you've started scheduling interviews, how long can you expect to wait before you're offered "the one"? Wright says, "It really depends on the geographic area and your area of practice." But, she adds, you can expect the wait to be three to six months.
Westerkamp knows many people who lined up jobs before they ended their internships, while some programs set a goal of having their interns employed within a year. Like Wright, Westerkamp believes the wait time for job offers depends on the geographic location and the specific field in which dietitians are seeking work. If you have yet to take the RD exam, some employers will hire with the agreement that you will pass the exam within six months of employment.
Conversely, some new RDs don't wait long for a job offer. Dudzik started tracking job postings in her area of interest about three months before graduating from her program at Rutgers University and began applying for positions after completing her coursework. "I started applying for jobs in mid-November, did my in-person interview for my current job on December 31, 2019, and was offered a position at the end of January."
Jesse Riddle, MS, RD, a cystic fibrosis dietitian at the University of Cincinnati, says it took him only two weeks to get his first job offer. He completed his internship on November 21 and was offered a job on December 9. He decided, however, that the job wasn't a good fit. He then applied for two other positions in December and January and received job offers for both. He accepted the position at the University of Cincinnati three months after completing the nutrition and dietetics program.
It took Halbert about a month to get her first part-time job. The full-time job she holds now at I Live Well Nutrition also took about a month to secure.
Not everyone will be as lucky as these three new RDs, but it does show that it's not impossible to find a job quickly after graduation—sometimes even before you've taken the RD exam. Dudzik says that after being hired, she was allowed to study full-time and pass the RD exam before starting the job.
Negotiate Your Salary
Probably one of the most intimidating parts of the interview process is salary negotiation. If you want a better idea of what you can expect to make in your first job, Academy members can use the online interactive salary calculator, which offers an estimate of what practitioners in similar positions with comparable qualifications can expect.
In addition, the Academy conducts a salary survey every two years. In the report 2019 Compensation and Benefits Survey of the Dietetics Profession, available to members, the median salary was found to be highest for those employed by a trade or professional organization; a pharmaceutical or nutrition products manufacturer, distributor, or retailer; a college, university, or academic medical center; or a food or equipment manufacturer, distributor, or retailer.
Farrell Allen says a starting salary depends on many variables, including education level, specialty certifications, job setting, budget responsibility, and geographic locations. With those caveats, she estimates that a first-time RD can expect a starting salary of approximately $45,000 per year.
Dudzik says she's happy with where she's started and that there are great opportunities for pay increases and additional benefits. Riddle's starting salary is just what he expected for someone coming out of a master's program with no previous work experience while Halbert says both her part-time and full-time jobs met her salary expectations. She hopes to increase her salary in the coming years, but didn't expect a high salary in the beginning.
Westerkamp says the golden rule of salary negotiation is to always ask for more—more pay, more time off, more benefits. Value yourself and your skills and your employer will do the same.
Job hunting experiences vary widely, so don't let setbacks and rejections discourage you. Dietetics jobs are out there, and so is extra help in landing one if you need it.
— Densie Webb, PhD, RD, is a freelance writer, editor, and industry consultant based in Austin, Texas.

References
1. Academy of Nutrition and Dietetics eatrightPRO website. https://www.eatrightpro.org/. Accessed May 4, 2020.
2. Dietetics. Harper Associates website. https://www.harperjobs.com/dietetics. Accessed May 4, 2020.

3. We love hearing from you. Dietitian Pros website. https://www.dietitianpros.com/contact-us. Accessed May 4, 2020.
4. Dietitians on Demand website. https://dietitiansondemand.com/. Accessed May 4, 2020.
5. All Access Dietetics website. https://www.allaccessdietetics.com/. Accessed May 4, 2020.
6. Get Hired course. All Access Dietetics website. https://www.allaccessdietetics.com/get-hired-course. Accessed May 4, 2020.
7. Dietitian JOB portal. Facebook website. https://www.facebook.com/groups/1445092335711823/. Accessed May 4, 2020.
8. Academy of Nutrition and Dietetics. Creating a professional online image. https://www.eatrightpro.org/-/media/eatrightpro-files/career/career-development/career-toolbox/online-professional-image-tip-sheet.pdf. Accessed May 4, 2020.
9. A place for nutrition professionals. Reddit website. https://www.reddit.com/r/dietetics/. Accessed May 4, 2020.