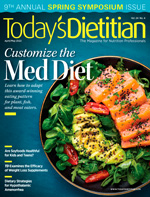 April/May 2022 Issue
Ask the Expert: The GOLO Diet
By Toby Amidor, MS, RD, CDN, FAND
Today's Dietitian
Vol. 24, No. 4, P. 9
Q: Clients have been asking me about the GOLO diet. Can you explain what the diet entails and the research surrounding it?
A: As dietetics professionals, it's imperative to stay abreast of upcoming diet plans. GOLO for Life is a weight loss plan that's been growing in popularity since 2016. GOLO's motto is "GoLose Weight, GoLook Great, GoLove Life." According to its website, GOLO has reached more than 2 million people worldwide.1 The following is an explanation of the diet plan, along with how to advise clients who want to give it a try.
The Plan
GOLO president and cofounder Jennifer Brooks is a board-certified holistic nutritionist and chef. The developers include a team of doctors, pharmacists, and researchers. The theory behind the GOLO diet is that unhealthful insulin levels lead to insulin resistance, prediabetes, and type 2 diabetes, as well as other health conditions such as CVD and Alzheimer's disease.2
The GOLO website states that insulin resistance also results in dysfunctional metabolism, which it claims can trigger stress, anxiety, fatigue, hunger, and other symptoms that drive overeating and cravings for high-sugar and high-fat foods.2 GOLO claims that followers will lose weight at a rate of 1 to 2 lbs per week and keep it off while increasing their metabolic efficiency, boosting immunity, and preventing or reversing health conditions.3
GOLO's website features numerous blog posts of recipes including butternut squash pudding, homemade sourdough bread, and broth recipes. There also are numerous posts on topics such as fitness, meal prep, and portion control.4
One prominent icon on the website is a "SHOP GOLO" button that leads to a page for the company's supplement, Release, a proprietary blend that GOLO claims confers "increased energy and reduced fatigue, healthier immune function, reduced hunger and cravings, balanced blood sugar and insulin levels, and reduced stress levels and anxiety." The minerals included provide 4% DV of magnesium, 91% DV of zinc, and 200% DV of chromium, along with undisclosed amounts of herbs such as extracts of Rhodiola rosea L. and berberine.5 All ingredients are on the FDA's Generally Recognized as Safe list, and the GOLO website claims individuals can take Release safely with most prescription medications. However, under its website's FAQ section, GOLO recommends consumers proceed with caution when taking Release with any class of oral antidiabetes medication, as Release may lower blood glucose. It states that people with diabetes should consult a doctor before using the supplement.6
Consumers can choose to buy one to three bottles of Release at a time. One bottle (at $59.95) is recommended for weight loss of 10 to 20 lbs, two bottles (at $99.90) for weight loss of 21 to 40 lbs, and three bottles (at $119.85) for weight loss of 41 to 60 lbs. In addition, consumers receive the following three-pronged "GOLO for Life" program free with the purchase of any quantity of Release: GOLO Metabolic Solution, which shows users "how to focus on what your body needs rather than depriving yourself"; myGOLO, which involves access to GOLO's online resources and support, including one-on-one coaching, meal plans, and recipes; and Overcoming Diet Obstacles, which promises to help users "defeat emotional eating and learn how to enjoy food again without the fear of gaining weight."1
In purchasing Release and the accompanying membership, consumers are mailed more information on allowable vs prohibited foods, but there's limited information on what these foods are on the website. Users also are sent a restaurant guide for following the plan while dining out.
How to Counsel Clients
There's limited information on how the GOLO diet was established. The GOLO website features several pilot studies conducted in the United States and South Africa between 2009 and 2019 that show efficacy; however, all studies are funded by GOLO, so results aren't independently verified.7 In addition, the company recommends individuals take Release for three to six months for weight loss, but weight maintenance isn't addressed.
The lack of information on the website about the actual diet plan and multiple links to the Release supplement is a red flag for this plan, and clients who speak with RDs about the GOLO plan should be informed of this. In addition, the cost of the Release supplements plus membership is rather expensive, especially when the exact food plan is unclear.
Clients should understand that supplements such as Release may be unsafe for some and that it may have side effects or interact with other medications. The claimed rate of weight loss is safe; however, the lack of scientific evidence to support this plan and a lack of weight maintenance after finishing the supplements makes this weight loss plan one that dietitians should discourage. If clients are adamant about taking the Release supplement and following the plan, encourage them to ask their physician before moving forward.
— Toby Amidor, MS, RD, CDN, FAND, is the founder of Toby Amidor Nutrition (tobyamidornutrition.com) and a Wall Street Journal bestselling author. She's written several cookbooks, including The Best Rotisserie Chicken Cookbook and The Family Immunity Cookbook: 101 Easy Recipes to Boost Health. She's also a nutrition expert for FoodNetwork.com and a contributor to U.S. News Eat + Run and other national outlets.

References
1. SHOP GOLO. GOLO website. https://www.golo.com/pages/shop-golo
2. Your metabolic health. GOLO website. https://www.golo.com/pages/metabolic-health
3. How GOLO works. GOLO website. https://www.golo.com/pages/how-golo-works
4. GOLO blog. GOLO website. https://www.golo.com/blogs/golo
5. GOLO Release Supplement. GOLO website. https://www.golo.com/pages/golo-release-supplement
6. FAQs. GOLO website. https://www.golo.com/pages/golo-faq
7. Studies. GOLO website. https://www.golo.com/pages/golo-studies