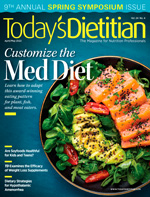 April/May 2022 Issue
Weight Loss Supplements
By Mindy Hermann, MBA, RDN
Today's Dietitian
Vol. 24, No. 4, P. 30
The category flourished in 2021, but are promises of losing unwanted pounds more hype than truth?
Overweight and obesity continue to be major health concerns in the United States. In 2017–2018, 42.4% of US adults were categorized as obese, according to data from the Centers for Disease Control and Prevention (CDC).1 That percentage represents a dramatic jump from 1999–2000, when the prevalence of obesity was 30.5%.
Losing weight is top of mind for many consumers. In 2013–2016, approximately one-half of US adults tried to lose weight.2 The increased prevalence of overweight and obesity, combined with generally low success rates of weight management, supports the ongoing availability and popularity of over-the-counter weight loss supplements. Launches of over-the-counter weight loss supplements in North America tripled in 2021 compared with 2020, according to proprietary data from Innova Market Insights.3
The FDA oversees dietary supplements that promote weight loss, but their regulation is less stringent than that of medications. Because they aren't considered drugs, dietary weight loss supplements don't require FDA premarket review or approval. Supplement manufacturers are held responsible for ensuring product safety and avoiding misleading claims that their products can treat, cure, or prevent disease. Despite this responsibility, claims and suggested benefits are widespread, and the mere use of terms such as "weight," "weight loss," and others in the product name or description can mislead consumers to believe a product is effective.
The science on weight loss supplement efficacy in humans tends to be weak. In fact, the Office of Dietary Supplements' (ODS) weight loss fact sheet says scientific information on weight loss ingredients can be inconsistent, based on animal studies, or of poor quality.4 Moreover, many weight loss supplements contain more than one active ingredient, so isolating each of their effects and determining specific dosing is difficult.
Importantly, weight loss supplements typically don't result in clinically significant weight loss, says Laura Andromalos, MS, RD, CSOWM, CDCES, a clinical nutrition manager at the University of Minnesota Medical Center in Minneapolis. "I tell clients who are interested in weight loss supplements that while I support their spending time and money on approaches that will work, supplements are not among those approaches. Most are not supported by human studies, and some supplements can be dangerous," she says.
Efficacy of Popular Weight Loss Ingredients
The following ingredients were the most commonly used in weight loss supplements launched in the United States in 2021. Learn about each of them and whether their supposed benefits are backed by research.
Apple Cider Vinegar
Concentrated apple cider vinegar was the featured ingredient in approximately one-third of US weight loss supplements launched in 2021. Its purported weight loss benefits are highly touted on social media.3 Overall, studies supporting the efficacy of apple cider vinegar for weight loss have been called into question.
In 2009, a team of researchers in Japan randomly assigned 175 study subjects to ingest 15 mL, 30 mL, or no apple cider vinegar. After 12 weeks, body weight was significantly lower in both apple cider vinegar groups.5
A 2018 study randomized 39 participants to follow a reduced-calorie diet with and without 30 mL of apple cider vinegar daily for 12 weeks. The apple cider vinegar group lost more weight and had a lower BMI, hip circumference, visceral adiposity, and appetite score at the end of the study.6 However, a more recent 2020 review article of 13 human studies, including the 2009 and 2018 studies, and 12 animal studies on the effects of apple cider vinegar on metabolic parameters and body weight concluded that "due to inadequate research of high quality, the evidence for the health effects of apple cider vinegar is insufficient."7
Moreover, it's important to note that the acidity of apple cider vinegar can cause stomach upset. Large oral doses over time also can damage teeth and the throat and cause potentially dangerous drops in serum potassium.8,9
Caffeine- and Stimulant-Containing Ingredients
Caffeine and ingredients that contain caffeine or other stimulants, such as green tea leaf extract, green coffee bean extract, guarana, kola nut, and yerba mate, have a long history of use in weight loss supplements. These ingredients and the stimulants they contain may increase thermogenesis and fat oxidation by stimulating the central nervous system, heart, muscles, and colon. Clinical trials on the effects of caffeine on weight loss generally don't show significant results and tend to include caffeine in combination with other ingredients. Long-term studies suggest a potential relationship for modulating weight gain. In the Nurses' Health Study and Health Professionals Follow-Up Study of 18,417 healthy men and 39,740 healthy women, participants who increased their caffeine intake over the 12-year study period gained slightly less weight than did their counterparts.10
The labels and ingredient lists of supplements that contain one or more sources of caffeine and related naturally occurring stimulants may or may not state the amount of caffeine per serving, so consumers may not know how much caffeine they're ingesting. According to ODS, caffeine generally is safe at intakes less than 400 to 500 mg per day for adults, but it can cause nervousness, jitters, and rapid heart rate at lower doses in some adults.4
Capsaicinoids/Capsicum/Cayenne
Capsaicinoids, including capsaicin, are bioactive compounds that confer heat and spice to chili peppers. They have a long association with weight loss supplements for their purported ability to increase metabolism, boost fat oxidation, reduce postprandial insulin release, increase satiety, and reduce energy intake.4
A meta-analysis of eight randomized, placebo-controlled clinical trials that used varying doses of capsaicinoids in participants with normal or moderate body weight found a mean reduction of 74 kcal per meal, but changes in body weight weren't measured.11 A 2021 review of the effects of red pepper on energy metabolism concluded that while red pepper and capsaicin demonstrate potential for reducing appetite and increasing metabolism, additional research is needed to understand the mechanisms of action on energy metabolism.12 The ODS notes few safety concerns for doses up to 33 mg per day for four weeks or 4 mg per day for 12 weeks.4 Reported adverse effects include gastrointestinal distress, increased insulin levels, and lower HDL levels.
Carnitine/L-Carnitine
Carnitine is naturally present in many animal-based foods and is manufactured in the body from the amino acids lysine and methionine. Carnitine is involved in transporting fatty acids into cell mitochondria and plays a role in fatty acid oxidation. A meta-analysis of 37 randomized controlled clinical trials with dose-response analysis showed that L-carnitine supplementation significantly decreased body weight, BMI, and fat mass, but not waist circumference or body fat percentage, especially among adults with overweight or obesity.13
Carnitine supplements have been shown to be safe in doses up to 4 g per day, although they may cause nausea, vomiting, abdominal cramps, diarrhea, and changes in body odor.4
Chromium/Chromium Picolinate
Chromium is an essential trace mineral nutrient that plays a role in carbohydrate and fat metabolism. It's also associated with glucose tolerance and maintenance of normal blood glucose levels.
Chromium picolinate is the form most used in weight loss and other supplements. As summarized by the ODS, data are lacking to support popular claims that chromium supplements curb hunger and cravings, reduce food intake, increase lean muscle mass, and promote fat loss.4 A 2013 Cochrane review of nine randomized controlled trials of chromium picolinate supplements in 622 participants with overweight or obesity showed that while supplementation was associated with average weight loss of 1.1 kg, the amount of weight lost didn't correlate with chromium dosage.14
A second systematic review and meta-analysis of 11 randomized controlled trials, including many that overlap with the latter review, concluded that daily doses of 137 to 1,000 mcg of chromium for eight to 26 weeks reduce body weight by an average of 0.5 kg and percent of body fat by 0.46%. Results are described as small and uncertain.15
Although no safety concerns are reported for intakes of 20 of 45 mcg per day for adults, headache, watery stools, constipation, weakness, vertigo, nausea, vomiting, and hives are among the reported side effects.4
Cissus Quadrangularis
Cissus quadrangularis (CQR) is a member of the grape family whose common names include veldt grape and devil's backbone. It's a widely used medicinal plant in Thailand and in traditional African and Ayurvedic medicine. Its potential mechanisms of action aren't yet well understood.
The few studies conducted to date generally have been of short duration and low quality. An eight-week double-blinded, placebo-controlled pilot study of 67 participants that examined metabolic changes from a daily 300 mg dose of CQR found significantly greater reductions in body weight, waist circumference, and hip circumference in the treatment group compared with controls.16 An earlier study on the effects of CQR-300, a proprietary extract of CQR, and CORE, a proprietary formulation containing CQR-300, on weight, blood lipids, and oxidative stress in individuals with overweight and obesity resulted in significant reductions in weight, body fat, and various metabolic measures in both the CQR-300 and CORE groups.17 However, additional research is limited and little is known about potential side effects.
EGCG
Epigallocatechin gallate (EGCG) is a bioactive compound in green tea that's highly promoted in weight loss supplements as an isolated ingredient or as a component of green tea extract. Studies suggest there's a relationship between EGCG and weight loss via its effects on the gut microbiome and metabolism that may be potentiated in combination with caffeine.18,19 EGCG also appears to reduce inflammation. Nonetheless, more human research is needed on efficacy and potential side effects.
Garcinia Cambogia
Garcinia cambogia is a tropical tree whose fruit contains the active compound hydroxycitric acid (HCA). Animal studies suggest G cambogia inhibits lipogenesis, suppresses food intake, and reduces weight gain, but evidence of its efficacy in humans isn't well substantiated. A 2011 review and meta-analysis using data from nine randomized controlled trials showed that two to 12 weeks of supplementation with G cambogia (with the equivalent HCA of 1,000 to 2,800 mg per day) reduced body weight by a mean 0.88 kg compared with placebo.20 However, study methodologies were described as flawed.
Mild side effects of G cambogia and HCA can include headache, nausea, and gastrointestinal symptoms. Liver damage was reported regarding a fitness supplement that contained G cambogia in combination with other ingredients.4
Hoodia Cactus
The succulent plant Hoodia, native to southern Africa, was widely promoted for weight loss in the early 2000s based on its use by Indigenous hunters to suppress appetite. It maintains a presence in some weight loss products today, but little research has been conducted.
Researchers in a randomized, blinded, placebo-controlled trial randomly assigned 30 patients with overweight and obesity into two groups: one received Hoodia plus fructooligosaccharides supplements twice daily; the other group received a placebo. After four weeks, weight loss increased significantly and satiety improved in the Hoodia supplement group compared with the placebo group.21 Possible adverse effects of Hoodia include headache, dizziness, nausea, and vomiting; increased heart rate and blood pressure are other safety concerns.4
Raspberry Ketone
Raspberry ketone is an aromatic compound found in red fruits and berries. In the absence of strong scientific evidence, the appeal of raspberry ketone, which is widely promoted on television and social media, can be attributed to the presence of the word "ketone" in its name.
Raspberry ketone hasn't been widely studied for efficacy or side effects in humans. In vitro and animal studies suggest it may help increase fatty acid oxidation, suppress lipid accumulation, stabilize blood glucose, reduce inflammation, and act as an antioxidant. A 2022 study on the potential metabolic activities of raspberry ketone says its effect on weight loss is controversial and the mechanism is "largely unknown." The researchers acknowledge the lack of information and propose future areas of study.22
7-Keto DHEA
The dehydroepiandrosterone (DHEA) supplement, known as 7-keto or 7-keto DHEA (3-acetyl-7-oxo-dehydroepiandrosterone) has become popular in fitness-related weight loss supplements for helping to reduce body fat and boost metabolism. Unlike pure DHEA, 7-keto DHEA doesn't undergo conversion to androgens or estrogens. The supplement 7-keto DHEA hasn't been studied for weight loss, and potential side effects are unknown.
Xylooligosaccharides
Prebiotic fibers such as xylooligosaccharides and other oligosaccharides are being studied more because of their potential role in the relationship between a healthy microbiome and body weight. Products range from single prebiotic fibers to prebiotic/probiotic combinations that may be marketed as synbiotics. An Italian research team recently examined the efficacy of prebiotic supplements for weight loss and noted that various prebiotics impact weight differently.23 A 2020 literature review concluded that synbiotics appear to benefit weight reduction and metabolism by modulating the gut microbiome but that large-scale randomized controlled trials are needed to determine ideal dose, duration of supplementation, benefits, and safety in weight management.24
Yohimbine
Yohimbine is an indole alkaloid and the active ingredient in yohimbe bark from a West African evergreen tree. It's touted in supplements for promoting fat burning, body building, and weight loss. According to ODS, little research has been conducted on the effects of yohimbine or yohimbe on weight loss and body mass.4 Adverse effects that have been associated with yohimbine include elevated blood pressure after ingesting small doses, headaches, hypertension, anxiety, agitation, tachycardia, myocardial infarction, cardiac failure, and death at higher doses. Close medical supervision is advised for individuals using products containing yohimbe.
Recommendations for RDs
Based on the current evidence, scientifically backed results regarding the efficacy of most weight loss supplements is weak. As a result, the marketing claims often overpromise and are disappointing for many consumers desperate for weight loss solutions.
"I do not recommend or advise taking weight loss supplements because very few, if any, have credible science behind them," says Amy Goodson, MS, RD, CSSD, LD, a board-certified specialist in sports dietetics in Dallas-Fort Worth. "Furthermore, weight loss supplements often contain ingredients that are potentially dangerous and may not be listed on the label."
Goodson recommends considering only supplements that have been third party–tested by NSF Certified for Sport or Informed Choice and are supported by science.
"It's important for clients to understand that supplements are not a replacement for healthful food choices or eating habits," says Leslie Bonci, MPH, RDN, CSSD, LDN, owner of Active Eating Advice by Leslie Bonci in Pittsburgh. "A supplement-heavy, nutrient-poor eating plan is not the way to nourish to flourish. Customized food and lifestyle plans are the key to healthy weight management."
— Mindy Hermann, MBA, RDN, is a food and nutrition communications consultant in metro New York.

References
1. Adult obesity facts. Centers for Disease Control and Prevention website. https://www.cdc.gov/obesity/data/adult.html. Updated September 30, 2021.
2. Martin CB, Herrick KA, Sarafrazi N, Ogden CL. Attempts to lose weight among adults in the United States, 2013–2016. Centers for Disease Control and Prevention National Center for Health Statistics website. https://www.cdc.gov/nchs/products/databriefs/db313.htm. Updated July 12, 2018.
3. Innova Market Insights website. https://www.innovamarketinsights.com. Accessed February 7, 2022.
4. Dietary supplements for weight loss: fact sheet for health professionals. National Institutes of Health Office of Dietary Supplements website. https://ods.od.nih.gov/factsheets/WeightLoss-HealthProfessional/. Updated July 28, 2021.
5. Kondo T, Kishi M, Fushimi T, Ugajin S, Kaga T. Vinegar intake reduces body weight, body fat mass, and serum triglyceride levels in obese Japanese subjects. Biosci Biotechnol Biochem. 2009;73(8):1837-1843.
6. Khezri SS, Saidpour A, Hosseinzadeh N, Amiri Z. Beneficial effects of apple cider vinegar on weight management, visceral adiposity index and lipid profile in overweight or obese subjects receiving restricted calorie diet: a randomized clinical trial. J Funct Foods. 2018;43:95-102
7. Launholt TL, Kristiansen CB, Hjorth P. Safety and side effects of apple vinegar intake and its effect on metabolic parameters and body weight: a systematic review. Eur J Nutr. 2020;59(6):2273-2289.
8. Smith M. Apple cider vinegar. Nourish by WebMD website. https://www.webmd.com/diet/apple-cider-vinegar-and-your-health. Updated September 13, 2021.
9. Apple cider vinegar. Medline Plus website. https://medlineplus.gov/druginfo/natural/816.html. Updated March 7, 2022.
10. Lopez-Garcia E, van Dam RM, Rajpathak S, Willett WC, Manson JE, Hu FB. Changes in caffeine intake and long-term weight change in men and women. Am J Clin Nutr. 2006;83(3):674-680.
11. Whiting S, Derbyshire EJ, Tiwari B. Could capsaicinoids help to support weight management? A systematic review and meta-analysis of energy intake data. Appetite. 2014;73:183-188.
12. Icer MA, Tek NA. Effects of red pepper, ginger, and turmeric on energy metabolism: review of current knowledge [published online March 31, 2021]. Altern Ther Health Med. PMID: 33789250.
13. Talenezhad N, Mohammadi M, Ramezani-Jolfaie N, Mozaffari-Khosravi H, Salehi-Abargouei A. Effects of l-carnitine supplementation on weight loss and body composition: a systematic review and meta-analysis of 37 randomized controlled clinical trials with dose-response analysis. Clin Nutr ESPEN. 2020;37:9-23.
14. Tian H, Guo X, Wang X, et al. Chromium picolinate supplementation for overweight or obese adults. Cochrane Database Syst Rev. 2013;2013(11):CD010063.
15. Onakpoya I, Posadzki P, Ernst E. Chromium supplementation in overweight and obesity: a systematic review and meta-analysis of randomized clinical trials. Obes Rev. 2013;14(6):496-507.
16. Nash R, Azantsa B, Kuate D, Singh H, Oben J. The use of a stem and leaf aqueous extract of Cissus quadrangularis (CQR-300) to reduce body fat and other components of metabolic syndrome in overweight participants. J Altern Complement Med. 2019;25(1):98-106.
17. Oben JE, Enyegue DM, Fomekong GI, Soukontoua YB, Agbor GA. The effect of Cissus quadrangularis (CQR-300) and a Cissus formulation (CORE) on obesity and obesity-induced oxidative stress. Lipids Health Dis. 2007;6:4.
18. Zhu M-Z, Zhou F, Ouyang J, et al. Combined use of epigallocatechin-3-gallate (EGCG) and caffeine in low doses exhibits marked anti-obesity synergy through regulation of gut microbiota and bile acid metabolism. Food Funct. 2021;12(9):4105-4116.
19. Rondanelli M, Riva A, Petrangolini G, et al. Effect of acute and chronic dietary supplementation with green tea catechins on resting metabolic rate, energy expenditure and respiratory quotient: a systematic review. Nutrients. 2021;13(2):644.
20. Onakpoya I, Hung SK, Perry R, Wider B, Ernst E. The use of garcinia extract (hydroxycitric acid) as a weight loss supplement: a systematic review and meta-analysis of randomised clinical trials. J Obes. 2011;2011:509038.
21. Perna S, Infantino V, Peroni G, et al. Effects of Hoodia Parviflora on satiety, abdominal obesity and weight in a group of overweight subjects: a randomized, blinded, placebo-controlled trial. Minerva Gastroenterol Dietol. 2020;66(3):211-218.
22. Li X, Wei T, Wu M, et al. Potential metabolic activities of raspberry ketone. J Food Biochem. 2022;46(1):e14018.
23. Bertuccioli A, Cardinali M, Biagi M, et al. Nutraceuticals and herbal food supplements for weight loss: is there a prebiotic role in the mechanism of action? Microorganisms. 2021;9(12):2427.
24. Vallianou N, Stratigou T, Christodoulatos GS, Tsigalou C, Dalamaga M. Probiotics, prebiotics, synbiotics, postbiotics, and obesity: current evidence, controversies, and perspectives. Curr Obes Rep. 2020;9(3):179-192.