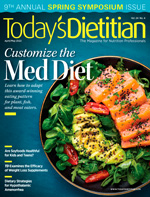 April/May 2022 Issue
Children's Health: What's New in Organic Baby Foods?
By Joanna Foley, RD
Today's Dietitian
Vol. 24, No. 4, P. 10
For many parents, the topic of what to feed their children creates much confusion and elicits questions. Wanting what's best for their children, parents of babies and toddlers continue to desire more healthful food items that will support their rapid growth and nourish them at each stage of development.
Because making baby and toddler foods at home isn't practical for many moms and dads, choosing premade organic baby food with simple ingredients is a great way to support their children's health and development. For those parents interested in pursuing this option, RDs can help make them aware of high-quality brands that make foods they can trust.
Why Organic Matters
The USDA imparts strict guidelines on what foods can be certified as organic. Foods carrying the USDA Organic seal can't contain GMOs or any artificial preservatives, colors, or flavors. Organic produce and other plant foods are required to be grown in soil that hasn't been treated with synthetic fertilizers or pesticides for at least three years. Organic meats must be from animals raised in living conditions suitable for engaging in their natural behaviors (eg, grazing); they also must be fed 100% organic feed and not given antibiotics or hormones.1
While eating foods grown and prepared with these practices is beneficial for anyone, it's especially so for young children. Babies and toddlers have immature immune systems and developing brains, making them more susceptible than adults to toxins such as pesticides, which have been linked to several human diseases.2
However, organic doesn't automatically equal a more healthful or nutrient-dense product. Some studies show organic crops contain higher antioxidant and polyphenol compounds than conventionally grown crops, yet other evidence hasn't shown any meaningful nutritional benefits from eating organic compared with conventionally grown foods.3,4
In addition, many foods with less healthful ingredients still may be certified as organic. Katie Ferraro, MPH, RDN, CDE, founder of the online baby-led weaning community Baby-Led Wean Team (@babyledweanteam on Instagram), says, "I like to remind parents when it comes to the junk food category, that organic junk food is still junk food."
Parents should read nutrition labels and check ingredient lists before buying any prepackaged foods. "Typically, you want to see the actual food products on the ingredient label (eg, a fruit, vegetable, grain)," says Rachel Rothman, MS, RD, CLEC, a pediatric dietitian and owner of Nutrition in Bloom. "I tend to shy away from foods that have extra sugar or salt especially, as babies don't need these additives."
Organic Baby Food Brands
There's no shortage of organic baby foods and brands from which to choose. What's more, they can be found in many places, including traditional grocery, department, and drug stores. In 2020, the worldwide organic baby food market was valued at $5.97 billion and is projected to grow at an annual rate of 11.32% from 2020 to 2027, with an estimated value of $12.65 billion by 2027.5
Many organic baby food brands categorize their foods by stages or milestones, which serves as a guideline for choosing foods based on a child's age and level of development. However, these labels aren't standardized by the American Academy of Pediatrics and some children will be ready for each product at different times.
There are other considerations parents should keep in mind when choosing organic baby foods. "One of the most important aspects of starting solids is offering variety," Rothman says. "I love brands that contain many different ingredients in their baby food, especially those ingredients that busy parents may not otherwise make, such as pumpkin or bone broth. A greater diversity of ingredients helps expose little ones to new foods, which in turn assists in the formation of taste preferences and a healthy relationship with food."
While there are many quality brands of organic baby foods from which parents can choose, the following are five good choices based on quality, availability, and convenience.
1. Earth's Best
Some consider Earth's Best the most versatile brand. It has been around since 1985 and claims to have led the organic baby food movement. The brand focuses on using high-quality ingredients with products available online and in a variety of stores. Featuring reasonable prices, the products are a good choice for just about any household.
Products include the following:
• Stage 1: Organic infant cereal includes Whole Grain Oatmeal Cereal, Rice Cereal, and Whole Grain Multi-Grain Cereal varieties;
• Stage 2: Organic puréed foods in glass jars and BPA-free resealable pouches include Carrots, and combination foods include Sweet Potato & Chicken;
• Stage 3: More advanced puréed foods in glass jars and pouches focus on different flavors and chunky textures such as Tender Chicken & Stars, Apple Cinnamon Oatmeal, Chicken Casserole With Vegetables & Rice, and Pumpkin Cranberry Apple.
2. Once Upon a Farm
This brand is set apart from others with its use of a cold-pressing method to extract juices from fruits and vegetables and create food blends, helping increase the nutrient density of its products.6 The brand uses whole food ingredients and includes no added sugars, preservatives, dairy, or artificial additives, and some contain added probiotics. What's more, there are whole food meals that are finger food–friendly for older babies and toddlers. Clients can find Once Upon a Farm in many grocery and department stores as well as online via a subscription-based option, although its products cost slightly more than other organic brands.
The products must be kept refrigerated and include the following for babies (6 months and older) and toddlers:
• Baby Fruit & Veggie Blends and Plant-Rich Meals: Baby Fruit & Veggie Blends include Apple Carrot Beet & Ginger and Apple Banana, Spinach & Avocado, and Plant-Rich Meals include Sweet Potato, Mango & Coconut Milk; Quinoa, Banana, Spinach & Coconut Butter; Black Beans, Sweet Potato, Red Pepper & Cilantro; and Broccoli, Pea & Navy Beans;
• Fruit & Veggie Blends: Products include Farmer Jen's Pumpkin Oatmeal Cookie and Green Kale & Apples;
• Immunity Blends: These include Mango, Banana & Spirulina; and Pineapple, Banana & Dragon Fruit;
• Dairy-Free Smoothies: Varieties include Strawberry Banana Swirl, Berry Berry, and Go-Go Greens; and
• Overnight Oats: Flavors include Apple & Cinnamon and Blueberry.
3. Yumi
In addition to being organic, this subscription-based brand is free from all major allergens and contains no gluten, dairy, preservatives, or added sugars, making it appropriate for just about any child. What also sets it apart is that it has received the Clean Label Project Purity Award, which means the products have been third party–tested to ensure they contain no contaminants such as heavy metals and other toxins.
Yumi offers the following seven stages of baby foods plus snacks:
• Stage 1 First Food Singles: Single-ingredient first food purées in a variety of flavors include Zucchini, Split Pea, Peach, Lentil, and Butternut Squash;
• Stage 2 Graduated Singles: Thicker single-ingredient purées include Blackberry, Mango, Kale, and Cauliflower;
• Stage 3 Duos: Two-ingredient blended purées include Dragon Fruit & Pear, Adzuki Bean & Pumpkin, and Chickpea & Carrot;
• Stage 4 Mashables: Smooth multi-ingredient purées include Beet Hummus, Ratatouille, Strawberry Shake, and Banana Cream Pie;
• Stage 5 Mashables: Textured multi-ingredient purées with seeds and grains include Beet Berry Banana Bowl, Broccoli Mash Bowl, and Bell Pepper Apple Bowl;
• Stage 6 Pinchables: Small pieces of whole fruit include Succotash Combo, Root Medley Combo, and Pea Carrot Combo;
• Stage 7 Bites: Nutrient-dense bites include Lemon Macaroon, Zucchini Bread, and Carrot Spinach Millet; and
• Snacks: Whole food snacks include Mixed Berry, Strawberry, and Mango Fruit & Veggie Leathers.
4. Gerber Organic
Gerber, which is one of the most-recognized baby food brands in the country, has evolved greatly since it was established in 1927. In addition to focusing on nutrient-dense ingredients, the company uses reusable packaging and sustainable agriculture and advocates for zero waste.
Gerber offers a variety of organic products suitable for babies and young children, including organic cereals, puréed food in jars, snacks, and beverages. It's an affordable brand that can be found just about anywhere food is sold.
Gerber categorizes its foods by the following milestones:
• Supported Sitter: Products in this category include Banana, Oatmeal, Pea, and Single-Grain Rice Cereal.
• Sitter: This category offers several products sold in pouches, such as Banana Mango and Banana Acai Berry Mixed Grain, and in jars, including Sweet Potato Apple Carrot & Cinnamon and Apple Spinach Kale.
• Crawler: Varieties include Grain & Grow Morning Bowls for breakfast in Oats, Red Quinoa & Farro with Tropical Fruits and Oats, Barley and Red Quinoa with Banana & Summer Berries varieties, as well as snacks, including Puffs, Yogurt Melts, and Teethers teething wafers.
• Toddler: Products include several varieties of purées sold in pouches (eg, Mango Peach Carrot Sweet Potato Oatmeal), snacks, including Lil' Crunchies baked puffs and Soft-Baked Grain Bars, and a beverage, Strawberry Infused Water.
5. Happy Family Organics
Happy Family Organics is a brand comprising a team of parents, pediatricians, and nutritionists on a stated mission to "change the trajectory of children's health through nutrition."
The company covers all stages of early childhood by offering a variety of foods and product types. Some of the items Happy Family Organics offers are available in the following three stages:
• Baby: The company's Happy Baby line includes purées containing ingredients such as fruits, vegetables, meats, grains, and nut butters; Oatmeal and Oats & Quinoa Baby Cereals; and snacks and finger foods, including Blueberry & Purple Carrot Greek Yogis, bites made with Greek yogurt.
• Tot: Products for toddlers aged 12 months to 3 years include a wide variety of bowls (eg, Oatmeal & Sprouted Quinoa with Bananas & Strawberries and Mac & Cheese with Lentil Pasta & Veggie Sauce), snacks (eg, Mango & Pumpkin with Amaranth Teether Crackers and Apple & Broccoli Superfood Puffs), pouches (eg, Apples & Butternut Squash + Super Chia and Bananas), and toddler bars (eg, Bananas & Carrots and Blueberries & Oatmeal).
• Kid: Foods for children aged 3 and older, which comprise the Happy Kid line, include pouches (eg, Apple, Kale & Mango and Apple, Blueberry & Pomegranate) and Gluten-Free Fruit & Oat Bars (eg, Blueberry & Raspberry and Banana & Chocolate).
Happy Family also offers products purported to support digestive health, immunity, and more, many of which are gluten- and/or dairy-free, while others are free from the top allergens. Products can be purchased online and in department stores and supermarkets, with a variety of coupons available on the company's website.
Recommendations for RDs
A baby and young child's diet has a tremendous impact on their overall health in both the short and long term. The benefits of and increased demand for organic baby food have made them widely available to consumers.
However, because buying organic isn't practical for everyone, RDs should emphasize to parents that what's most important is for young children to eat a wide variety of healthful foods, including fruits, vegetables, whole grains, legumes, lean meats, fish, poultry, and dairy, to optimize nutrient density. The American Academy of Pediatrics agrees that this is the priority, regardless of whether the foods are organic.7 The Environmental Working Group provides an annual list known as the "Dirty Dozen," which highlights the 12 fruits and vegetables that have the highest exposures to pesticides, which may serve as a guide to help clients determine which items they'd like to purchase as organic or conventional for their families.8
— Joanna Foley, RD, is a freelance writer and author of two cookbooks based in San Diego. Learn more about her writing services at joannafoleynutrition.com/press.

References
1. McEvoy M. Organic 101: what the USDA organic label means. United States Department of Agriculture website. https://www.usda.gov/media/blog/2012/03/22/organic-101-what-usda-organic-label-means. Published March 13, 2019.
2. Human health issues related to pesticides. United States Environmental Protection Agency website. https://www.epa.gov/pesticide-science-and-assessing-pesticide-risks/human-health-issues-related-pesticides. Updated November 4, 2021.
3. Barański M, Srednicka-Tober D, Volakakis N, et al. Higher antioxidant and lower cadmium concentrations and lower incidence of pesticide residues in organically grown crops: a systematic literature review and meta-analyses. Br J Nutr. 2014;112(5):794-811.
4. Forman J, Silverstein J, Committee on Nutrition; Council on Environmental Health; American Academy of Pediatrics. Organic foods: health and environmental advantages and disadvantages. Pediatrics. 2012;130(5):e1406-1415.
5. The worldwide organic baby food industry is expected to reach $12+ billion by 2027. Cision PR Newswire website. https://www.prnewswire.com/news-releases/the-worldwide-organic-baby-food-industry-is-expected-to-reach-12-billion-by-2027-301403545.html. Published October 19, 2021.
6. Webster A. Cold-pressed juice: hipster hype or health hero? Food Insight website. https://foodinsight.org/cold-pressed-juice-hipster-hype-or-health-hero/. Published October 13, 2015.
7. American Academy of Pediatrics weighs in for first time on organic foods for children. ScienceDaily website. https://www.sciencedaily.com/releases/2012/10/121022145334.htm. Published October 22, 2012.
8. Dirty Dozen: EWG's 2021 shopper's guide to pesticides in produce. Environmental Working Group website. https://www.ewg.org/foodnews/dirty-dozen.php