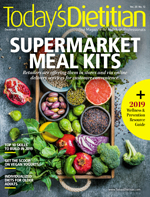 December 2018 Issue
Top 10 Skills to Build in 2019
By Carrie Dennett, MPH, RDN, CD
Today's Dietitian
Vol. 20, No. 12, P. 32
What professional resolutions will you make for the new year?
Now that 2018 is coming to a close, have you started thinking about your personal goals for 2019? What about your professional goals? What skills do you want to acquire? What knowledge do you want to gain? What would make you more effective—and satisfied—as a dietitian? Even if you think making personal New Year's resolutions is so 2009, taking the time to assess where you are professionally—and where you want to be—will help you set thoughtful professional resolutions that can prevent you from spinning your wheels. Here are 10 ideas that may help guide you.
1. Get into the kitchen. Whether you're doing MNT or corporate wellness, getting hands-on with food can help you help your clients and patients find realistic—not idealistic—ways to nourish themselves better. Being competent and confident in the kitchen can help dietitians understand the time requirements for planning, shopping, prepping, and cooking, allowing them to make better recommendations.
"People eat food, not nutrients. While dietitians are skilled at presenting recommendations in the form of nutrients, it means little if the client cannot translate the meaning of the nutrition prescription into what is on their plate," says Jeanne Petrucci, MS, RDN, owner of Living Plate and Living Plate Rx in New Jersey.
Chef Michele Redmond, MS, RDN, of The Taste Workshop in Scottsdale, Arizona, says that after 14 years of teaching culinary nutrition cooking classes, she finds that people tend to crave basic techniques that save time, money, and frustration—and help them eat more veggies. They also enjoy stories about food and cooking that relate to these topics. "Good culinary skills give dietitians the confidence and tools to teach clients and patients that cooking healthful foods can be easy and quick," she says. To hone skills and increase kitchen confidence, Redmond recommends online or in-person cooking classes, but also cooking with friends and family because it's both fun and collaborative.
"As a dietitian who works with my clients in their own kitchens, I find that so many people get discouraged because cooking 'takes too long' or it doesn't turn out how they expect," says Jane Calvert, RD, owner of Food Focused Nutrition in Buffalo, New York. "My favorite parts of cooking with my clients are showing them how to be more efficient, like the quickest way to chop a pepper or onion, and then getting them to taste new ingredients and keep trying the recipe as it progresses to make sure it turns out exactly how they want."
2. Boost your digital presence. Dietitians talk about licensure, but they also should be talking about marketing, especially if they want to compete with "nutrition coaches" who have less education but stronger websites, marketing skills, and social media savvy. A 2016 Academy of Nutrition and Dietetics (Academy) practice paper points out that if dietitians aren't proficient in communicating via social media and other digital technologies, it's a missed opportunity that less-qualified individuals will grab: "Social media has allowed individuals without any nutrition credentials to communicate broadly and build large audiences."1
For 2019, develop a thoughtful social media strategy if you've previously been winging it—and create more video or live stream content on YouTube, Vimeo, Facebook, or Instagram. "Improving my social media strategy has been incredibly effective for driving greater interest in my services, and, thus, increasing conversions to clients and partnerships," says Kansas City, Kansas–based dietitian Cara Harbstreet, MS, RD, LD, owner of Street Smart Nutrition and founder of Libre Connections. "In the beginning, I thought it was enough to simply post frequently. But improving my images and graphics, writing captions that sounded authentic and informative, and keeping my audience in mind (instead of what I wanted to post) has made a big difference. It's a really saturated space, so as dietitians we have to learn how to be more effective at getting our voices heard."
Beth Rosen, MS, RD, CDN, owner of Goodness Gracious Living Nutrition in Southbury, Connecticut, says she hired a marketing professional to help her more effectively share her message on her website and in e-mails to her audience. "I think it's important to share what dietitians do and what makes us experts. There are so many coaches, fitness experts, and health 'gurus' who share nutrition information that most likely is not backed by science," she says. "We need to stand out as the only nutrition experts because of the depth of our education and training."
3. Learn to spot an eating disorder. An estimated 30 million Americans will have an eating disorder at some point in their lives. Odds are their first encounter with a dietitian won't be with one who specializes in eating disorders. Not all dietitians need to become eating disorder experts, but Marci Evans, MS, CEDRD-S, LDN, owner of Marci RD Nutrition in Cambridge, Massachusetts, says a little knowledge can go a long way. A simple starting point? Include eating disorder history on nutrition assessments, along with other questions related to health history. "Make it as routine as asking about digestive, bone, and cardiovascular health," she says.
Evans says it's also useful to ask patients how much mental space and emotional energy their eating takes. "I also try to connect the dots between their food habits and sense of self-worth: 'Do you notice that your self-esteem changes based on how your food is going that day?'" While this doesn't diagnose an eating disorder, a patient's answers could raise a red flag. She also suggests using care with language. "Framing foods as good and bad sets up an unhelpful dichotomy. But talking about nutrition with big-picture concepts that include balance, pleasure, and satisfaction is inspiring and positive."
Finally, get to know eating disorder specialists in your area, along with any local treatment center options, in case you suspect a patient needs specialized care. (To learn more about eating disorders, read "Eating Disorders in Pregnancy" on page 42.)
4. Put the patient in the driver's seat. Dietitians are the nutrition experts, but patients are experts on themselves. Learn to listen to what patients want and ask permission before offering suggestions. Better to leave them with one thing they will actually do rather than suggest 10 things they won't. This is where cultivating motivational interviewing skills can help.
"Clients often have the very best solutions for making sustainable, enjoyable behavior changes. They just need to be given the chance to verbally process them with a compassionate listener," says Dawn Clifford, PhD, RD, author of Motivational Interviewing in Nutrition and Fitness. "With motivational interviewing, we empower clients to take the lead in coming up with solutions to their personal barriers to change, which increases their self-efficacy in making health-supporting changes in the future."
Clifford says motivational interviewing is a game-changer for client and patient interactions. "Clients feel cared for, respected, and accepted, instead of judged or shamed," she says. "They're much more likely to return for follow-up sessions when a collaborative patient-provider relationship is formed. It's hard to believe that by simply inviting your clients to voice all of their personal motivators for change, that they will actually experience increased motivation, but it truly works!"
5. Expand your network. From FNCE® to Facebook, there's no shortage of ways dietitians can connect with each other. Not only can this help you stay fresh in your current job, but it may just lead to your next opportunity. Converse with fellow dietitians on social media, join dietetic practice groups, and check out the growing number of private Facebook groups that focus on various niches and interests in the nutrition and dietetics world. Following are a few more ideas.
"Joining a mastermind group in the early days of my private practice helped me establish a form of accountability and support that I wasn't receiving from anywhere or anyone else," Harbstreet says. "I think having both the camaraderie of those 'in the trenches' with you as well as tangible action items and real-life examples to learn from helped me transition away from my corporate job much more quickly than if I had attempted to grow my practice alone."
Sonja Stetzler, MA, RDN, CPC, founder of www.effectiveconnecting.com in Charlotte, North Carolina, says, "It's not about who you know; it's about who knows you." She recommends becoming known for the content you provide by regularly posting on social media or listservs, and volunteering time on state or local boards. "You have to give before you get to become recognized for your expertise."
6. Increase food literacy. Food doesn't just magically appear on the plate. When dietitians can help interested patients learn about the origins of their food, the conditions under which it's produced, and its impact on both personal health and environmental health, it can help them develop a better food relationship. "Whenever we can connect people to their food in personal and positive ways, they're more likely to prioritize cooking food and eating well," Redmond says.
"The main benefit that food literacy brings is trust in our food supply," says Isabel Maples, MEd, RDN, a Washington, D.C.-based spokesperson for the Academy. "Though critics like to point out what's wrong with food today, the reality is that our food supply is one of the safest in the world. Today, only 2% of Americans work in agriculture-related jobs. That statistic was much different just two or three generations ago. Because we don't have that agricultural base, it's hard to separate fact from fiction to accurately identify food misinformation."
Gualala, California–based Jill Nussinow, MS, RDN, owner of www.theveggiequeen.com, says she thinks that food literacy strengthens the food supply and is better for the health of people and the planet. "I think that a key point in this process is teaching people about the difference between 'industrial' organic and small-scale organic so that they want to choose to support local food and farmers' markets."
7. Honor global traditions. A knowledge of and respect for food traditions and the cultural context of food can be a powerful motivator for better eating. Dietitians who make a point to learn about global and American regional food cultures and traditions can help patients from these cultures and traditions improve nutrition while retaining familiar foods.
"Becoming more 'fluent' in diverse food cultures and traditions is not just a [skill that's] 'nice to have'—it's essential if we want nutrition therapy to be effective and lead to behavior change among our patients," says Washington, D.C.–based dietitian Amaris Noguera Bradley, MPH, RDN, senior director of partnerships at the Partnership for a Healthier America, adding that patient populations that could most benefit from seeing a dietitian often are minority groups that are disproportionately impacted by diet-related diseases. "As RDNs, we know that food isn't simply food; there's an emotional, traditional, generational, and cultural connection that in part defines the food choices we make each day for ourselves and our families."
For a must-read perspective, Bradley recommends the article Tamara Melton, RDN, wrote for Self.com in July: "Our Idea of Healthy Eating Excludes Other Cultures, and That's a Problem."2 She also points out that while a dietitian's awareness of this cultural gap can be the difference between making a breakthrough with a client or appearing culturally tone-deaf, "food culture training" will only go so far, because of "the very real and serious need to diversify the RDN workforce, at a time when 70% of RDNs identify as white."3
Beyond cultural relevancy, St. Louis-based Roberta L. Duyff, MS, RDN, FAND, food and nutrition consultant and author of the Academy of Nutrition and Dietetics Complete Food and Nutrition Guide, 5th edition, says, "For those clients who want to 'stretch their food experience,' introducing foods of other cultures provides opportunities to introduce new flavors that deliver good nutrition—and joy at the table."
8. Meet consumers' needs. Consumers want their food to be convenient, but they're also concerned about health and, increasingly, sustainability. Redmond says she's found that the most effective way to encourage all three has been to connect people to food in ways that make them want to prioritize it in their life. "They would begin to select better foods—often more sustainable—and spend more time on shopping and cooking because it was enjoyable and they felt better physically," she says. "We put too much emphasis on 'make it fast/quick'; when food is your priority, it shifts where you spend your time."
Petrucci incorporates food experience into the nutrition care process. "Our nutrition education modules always include cooking demonstrations, and we select a no-cook, assembly, and cook option," she says. "All recipes consider low culinary literacy, which is important. When we hear, 'That was easy—this is delicious!' we know we've been successful and attendees are more likely to replicate the recipes at home."
Nussinow teaches people about preparing fast meals and batch cooking. "My tool of choice is the pressure cooker, and many people now have an Instant Pot," she says. "Buying one makes sense for people if they buy a lot of prepared and convenience foods, as the pot will pay for itself quickly and often the food quality will improve."
9. Consider graduate school. Beginning January 1, 2024, to be eligible for the RD exam, dietetics students will have to have completed a minimum of a graduate degree—in any topic area, not necessarily in nutrition. Accordingly, many current bachelor-level dietetics programs are choosing to convert to master-level programs. Students completing bachelor-level curricula who don't have a graduate degree in another area will be able to become a Nutrition and Dietetics Technician, Registered (NDTR) but not an RD.4 One of the main distinctions between a bachelor-level NDTR and a master- or graduate-level RD is that only RDs can perform MNT. However, this may not be the only distinction, depending on the practice setting, state licensure, and other regulations.
According to the Academy and the Commission on Dietetic Registration, this change was prompted by numerous factors, including a need for the expansion of knowledge since the bachelor's degree requirement was established in 1927, as well as the necessity for enhanced critical thinking skills.5,6 So should current dietitians with a bachelor's degree consider going back to school for a master's? It's not a requirement, but the Academy states that it has always supported life-long learning, whether it's degree-based or includes other continuing professional education.
10. Hone business skills. Whether dietitians work for themselves or someone else, they're in business. Top skills to consider for the new year include learning principles of effective marketing and learning how to negotiate your worth, whether for salary or speaking fees. But also consider business fundamentals. "I think that RDNs should be learning basic business skills as part of the requirements for a [bachelor of science] degree," Rosen says. "These skills are much needed in our field, and if I could go back and do it again, I would have minored in marketing/communications/business administration or the like."
Harbstreet says she's working on her systems for record keeping and organization. "I don't want to take time away from the work I enjoy simply to get organized and reorient myself at the end of the year," she says. "I've learned that investing a small amount of time up front to create a system that works well for me is very much worth the effort for the efficiency it creates later. Now, I only need to commit to it and actually do it!"
— Carrie Dennett, MPH, RDN, CD, is the nutrition columnist for The Seattle Times, owner of Nutrition By Carrie, and author of Healthy for Your Life: A Holistic Guide to Optimal Wellness.
References
1. Helm J, Jones RM. Practice paper of the Academy of Nutrition and Dietetics: social media and the dietetics practitioner: opportunities, challenges, and best practices. J Acad Nutr Diet. 2016;116(11):1825-1835.
2. Melton T. Our idea of healthy eating excludes other cultures, and that's a problem. Self website. https://www.self.com/story/our-idea-of-healthy-eating-excludes-other-cultures-and-thats-a-problem. Published July 31, 2018.
3. Data USA: dietitians and nutritionists: diversity. Data USA website. https://datausa.io/profile/soc/291031/#demographics
4. Academy of Nutrition and Dietetics, Commission on Dietetic Registration. Student option scenarios — January 1, 2024 graduate degree registration eligibility requirement. https://www.cdrnet.org/vault/2459/web/files/Graduate%20Degree%20Requirement%20
Student%20Options%20923%20mg.pdf
5. Academy of Nutrition and Dietetics. Visioning report: moving forward — a vision for the continuum of dietetics education, credentialing and practice. https://www.cdrnet.org/pub/file.cfm?item_type=xm_file&id=10369. Published September 5, 2012.
6. Academy of Nutrition and Dietetics, Commission on Dietetic Registration. Graduate degree registration eligibility requirement: frequently asked questions (FAQ). https://www.cdrnet.org/vault/2459/web/files/GraduateDegreeFAQJan2017.pdf. Published July 2013.