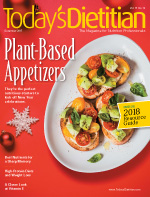 December 2017 Issue
Editor's Spot: Media's Impact on Health Care
By Judith Riddle
Today's Dietitian
Vol. 19, No. 12, P. 4
If you're a fan of Sanjay Gupta, MD, the critically acclaimed neurosurgeon turned Emmy-award winning broadcast journalist and chief medical correspondent for CNN, you probably were captivated—and a bit star struck—if you attended his keynote presentation at the opening session of the Food & Nutrition Conference & Expo™ in October. His presentation, "How Media Influences Healthcare Today," was a very relatable topic for dietitians, especially for those working in the communications field who broadcast nutrition messages to their clients and patients and the public at large via blogs, podcasts, network and cable TV, YouTube, and other social media platforms, as well as at speaking engagements in communities across the country and abroad.
Like Gupta, who has traveled around the world (eg, Japan, Haiti, Pakistan, Sri Lanka, Iraq, and Kuwait) to areas ravaged by hurricanes, earthquakes, tsunamis, floods, and war to tend to the medical needs of survivors and report on their various health crises, many dietitians have met the health care needs of survivors in the recent disaster areas of Florida, Texas, New Orleans, and Puerto Rico.
During his presentation, Gupta discussed how using media to report on health care has a huge impact on people's lives and, subsequently, public health. He said dietitians can have an even greater impact if they share not only that food can prevent disease but also the ways in which food can make people feel good. "We want to show people what's happening with their bodies, and this tends to make a difference," Gupta said to a crowd of thousands. "We need to demonstrate what the healthful foods are doing to their bodies."
Gupta went on to say that medicine and media aren't disparate. "They are one," he said. "Medical reporting creates change in people's lives; sometimes it's big change, and sometimes it's small change."
He said, "Food and nutrition aren't always part of the conversation, but they should be part of the conversation, because the basic ways we nourish ourselves is so important." And because of the technological innovations at our disposal, the medical community has the capability of "getting the right food to the right people to the right place at the right time," he said, and developing personalized diets for individuals certainly is possible.
Gupta's inspiring message confirmed what so many media RDs are already doing and hopefully will inspire others to use media to spread nutrition messages that will greatly improve the health of our nation—and world.
In this issue, Today's Dietitian features articles on nutrients for a sharp memory, high-protein diets and weight loss, and plant-based holiday appetizers. Please enjoy the issue!
Judith Riddle
Editor
TDeditor@gvpub.com