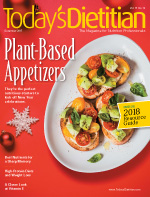 December 2017 Issue
Plant-Based Holiday Appetizers
By Jessica Levinson, MS, RDN, CDN
Today's Dietitian
Vol. 19, No. 12, P. 18
They're the perfect nutritious meal starters to kick off New Year celebrations.
The holiday season is in full swing, and it's the perfect time to visit with family and friends. While the holidays should be relaxing and provide us with a chance to unwind, schedules are easily filled to the brim with parties, potlucks, and other festivities to celebrate the end of one year and the beginning of the next. Whether your clients are hosting a holiday gathering or attending one as a guest, spending a little extra time planning and preparing can keep stress at bay and increase the odds of having more healthful dishes on the holiday table.
Menu Planning
When it comes to healthful eating, menu planning and advance meal preparation are key, since time is more limited during the busy holiday season. Setting aside an afternoon or even a couple of hours to plan and prepare healthful meals and snacks, including special holiday recipes, can lead to greater success in maintaining a healthful, well-balanced diet. Planning ahead also helps reduce the temptation to prepare less healthful options often found at holiday parties and happy hours.
To be sure, celebrations during the holidays come with an abundance of decadent meals and treats, which can lead to increased intake of calories, fat, and added sugars. While clients should enjoy their favorite foods of the season, it's important they continue to make healthful choices. Incorporating nutritious options in both everyday meals and celebratory ones is the best way for them to keep their health on track.
As mentioned, the key to sticking with health goals this time of year is to plan ahead. Healthful choices are easier to make when thought through in advance, no matter how busy or chaotic the schedule. Packing lunch the night before, making and freezing meals to enjoy throughout the week, and modifying holiday recipes with more healthful ingredient swaps are ways clients can prepare.
One of the best ways for clients to know there will be healthful options available at any party is to bring their own. Any host will be happy to have one dish fewer to prepare, and guests will delight in knowing they're enjoying food that's nutritious and satisfying. It's even easier to ensure that health is at the forefront of the holiday menu when hosting the party. Advise clients who are hosting to plan their menus in advance. This will give them the opportunity to serve well-balanced meals that all guests will enjoy.
Nutritious Starters
Appetizers often are what holiday parties are made of and can run the gamut in terms of nutritional content. Calorie-laden dips made with heavy cream and full-fat cheese are easy to overindulge in, and bottomless bowls of nuts can be problematic for mindless munchers.
Serving plant-based appetizers is one way to boost the fiber and vitamin and mineral content of the holiday plate, while leaving room for favorite treats, which are higher in saturated fat and added sugars.
Seasonal fruit and vegetable platters, bean-based dips, and lightened-up casseroles and desserts are all delicious ways to add extra servings of produce, plant-based protein, and healthful fats without sacrificing flavor.
If serving a sit-down meal, help guests fill up on vegetables by starting with a fresh seasonal salad, vegetable-based soup, or simple raw vegetable dish such as shaved Brussels sprouts or sauerkraut. Offer a vegetarian option or a variety of veggie-filled side dishes to accommodate guests' meal preferences and add more vegetables to the entire meal. End the meal with fruit-focused desserts such as poached pears, cobblers, or compotes made with seasonal fruits—a delicious way to add a little extra fiber and nutrition while satisfying guests' sweet tooth.
Based on these examples and the recipes that follow, making the holiday plate more plant based doesn't mean sacrificing flavor. These plant-focused and holiday-inspired recipes are easy ways to incorporate more nutrition into a celebratory spread.
— Jessica Levinson, MS, RDN, CDN, is a New York-based culinary nutrition expert, recipe developer, and founder of Small Bites by Jessica. You can read more of her articles and find her recipes at SmallBitesbyJessica.com.

Recipes
Roasted Eggplant Hummus
Serves 6 to 8
Ingredients
1 medium eggplant
3 T olive oil, divided
1 T tahini
2 cloves garlic
1 tsp lemon zest
1 lemon, juiced
1 can garbanzo beans, rinsed and drained
Salt and pepper, to taste
Fresh chopped parsley, for garnish
Pomegranate seeds, optional for garnish
Directions
1. Preheat oven to 420° F.
2. Cut eggplant in half. Rub the cut side of the eggplant with 1 T of olive oil and place on a roasting pan, cut side down.
3. Roast the eggplant until the interior is tender, 25 to 30 minutes. Let cool.
4. Cut the eggplant in half and scoop the inside out, tossing the skin.
5. In a food processor, combine the roasted eggplant "meat" with the remaining 2 T olive oil and other ingredients.
6. Purée to desired consistency and serve.
Nutrient Analysis per serving
Calories: 135; Total fat: 7 g; Sat fat: <1 g; Sodium: 164 mg; Cholesterol: 0 mg; Total carbohydrate: 14 g; Dietary fiber: 4 g; Sugars: 2 g; Protein: 3 g
— Recipe and photo courtesy of Chef Katie Cavuto, MS, RD, of Nourish.Breath.Thrive.
---
Creamy Puréed Mushroom Soup
Serves 10
Ingredients
1/2 cup dried mushrooms
2 T olive oil
1/2 cup finely chopped shallots
3 cloves garlic, minced
1 1/2 lb sliced baby bella (crimini) mushrooms
2 Portobello mushroom caps, chopped
3 cups low-sodium vegetable broth
3 cups water
1/2 cup evaporated skim milk
6 oz Yukon Gold or russet potatoes, peeled and diced
1 1/2 tsp kosher salt
Freshly ground pepper, to taste
Truffle oil or crème fraîche, optional for garnish
Minced chives, optional for garnish
Directions
1. Soak dried mushrooms in water for 20 minutes. Drain and set aside.
2. In a large soup pot, heat olive oil over medium heat. Add shallots and cook until tender, about 3 to 5 minutes. Add the minced garlic and stir for 30 seconds.
3. Add the baby bella and Portobello mushrooms to the pot and sauté until the mushrooms are mostly cooked down, about 8 minutes.
4. Add the drained dried mushrooms, vegetable broth, water, evaporated skim milk, and potatoes to the pot. Bring to a boil; cover and simmer for 45 minutes.
5. Working in batches, transfer soup to a blender and puree until smooth. Return the puréed soup to the pot and season with salt and pepper to taste.
6. Serve hot, garnished with a drizzle of truffle oil or a dollop of crème fraîche and a sprinkling of minced chives, if using.
Nutrient Analysis per serving
Calories: 80; Total fat: 3 g; Sat fat: 0 g; Cholesterol: 0 mg; Sodium: 360 mg; Total carbohydrate: 11 g; Dietary fiber: 2 g; Sugars: 4 g; Protein: 4 g
— Recipe and photo courtesy of Jessica Levinson, MS, RDN, CDN, culinary nutrition expert and recipe developer. Find more of her recipes at SmallBitesbyJessica.com.
---
Lemongrass and Ginger Butternut Squash Soup
Serves 8
Ingredients
1 butternut squash (~3 lb)
1/2 acorn squash (~1 lb)
2 tsp olive oil or coconut oil, divided
1 tsp sea salt
1/2 tsp ground black pepper
1 T curry
1/2 onion, chopped (~1/2 cup)
2 large carrots, chopped (~1/2 cup)
2 celery stalks, chopped (~1/2 cup)
1 T fresh ginger, chopped
1 T chopped garlic
1 lime
1 T dried lemongrass (or 1 fresh lemongrass stalk, skin removed and diced)
1 cup water
1 cup light coconut milk
1 1/2 tsp cumin
Pinch cayenne pepper
Chili flakes, cilantro, tarragon, optional for garnish
Directions
1. Cut butternut squash and acorn squash in half and scoop out seeds. Brush flesh of both squashes with 1 tsp oil. Season with salt, pepper, and curry.
2. Roast squash on a baking sheet at 350° F for about 40 minutes, flesh side down. When done, set aside to cool.
3. Add remaining 1 tsp oil to a sauté pan over medium heat. Once oil has warmed, add onion, carrots, celery, ginger, and garlic.
4. Quarter the lime and squeeze juice over the vegetables, then add the limes to the pan. Sauté for about 10 minutes.
5. If using dried lemongrass, add 1 T to a pot with 1 cup of water. Bring to a boil, then simmer for about 10 minutes. Strain and set aside lemongrass water.
6. Scoop roasted squash flesh and add to a food processor or high-powered blender along with the sautéed vegetables (minus the lime rind), lemongrass water (or 1 cup water and freshly diced lemongrass), coconut milk, cumin, and cayenne pepper. Purée until smooth and creamy.
7. Adjust salt and cayenne, to taste.
8. Garnish with chili flakes, cilantro, or tarragon.
Nutrient Analysis per serving
Calories: 81; Total fat: 3 g; Sat fat: 1 g; Sodium: 478 mg; Cholesterol: 0 mg; Total carbohydrate: 15 g; Dietary fiber: 3 g; Sugars: 3 g; Protein: 1 g
— Recipe and photo courtesy of Whitney English, MS, RDN, CPT, of WhitneyERD.com
---
Cauliflower Cranberry Superfood Salad
Serves 6
Ingredients
1 small head of cauliflower (about 31/2 cups florets)
1 cup finely chopped lacinato kale
3/4 cup dried cranberries
1/2 cup finely diced red onion
1 15-oz can garbanzo beans, drained and rinsed
3 T raw pumpkin seeds
2 T olive oil
2 T balsamic vinegar
1 garlic clove, minced
Pinch of salt
Black pepper, to taste
Directions
1. Place the cauliflower florets in the bowl of a food processor until three-quarters full. Use the pulse button to process the cauliflower until it's broken down into rice-sized pieces. Using a spatula, remove cauliflower from food processor and place in a large mixing bowl.
2. Add the kale, dried cranberries, red onion, garbanzo beans, and pumpkin seeds to the cauliflower. Mix well.
3. In a small bowl, whisk together the olive oil, balsamic vinegar, and garlic. Pour over the cauliflower salad and mix well.
4. Season the salad with a pinch of salt and add black pepper to desired taste. Serve chilled. Salad will keep for up to three days in the refrigerator.
Nutrient Analysis per serving
Calories: 220; Total fat: 8 g; Sat fat: 1 g; Sodium: 240 mg; Cholesterol: 0 mg; Total carbohydrate: 32 g; Dietary fiber: 6 g; Sugars: 13 g; Protein: 7 g
— Recipe and photo courtesy of Karman Meyer, RDN, LDN, founder of TheNutritionAdventure.com
---
Sweet Potato Cauliflower Cakes With Dairy-Free Cashew Sour Cream
Serves 4 to 5
Ingredients
Dairy-Free Cashew Sour Cream
1 cup raw cashews
1 T orange juice, preferably fresh squeezed
1 T lemon juice, preferably fresh squeezed
1 tsp apple cider vinegar
1/4 tsp salt
5 T (2 1/2 oz) water
Sweet Potato Cauliflower Cakes
1 large or 2 medium sweet potatoes (1 lb total)
1 16-oz bag frozen cauliflower florets
2 T ground flaxseed
1 tsp herbs de provence (or other savory seasoning)
1/2 tsp salt
1/8 tsp freshly ground pepper
1 1/2 T coconut oil
Fresh parsley and lemon zest for garnish
Directions
1. To make the Dairy-Free Cashew Sour Cream, boil two cups of water and soak the cashews in the hot water for 10 minutes. Drain and add to a blender along with the orange juice, lemon juice, apple cider vinegar, salt, and 5 T water. Process until you have a smooth, thick cream.
2. Preheat oven to 400° F. Prick the sweet potatoes all over with the tines of a fork and wrap tightly in aluminum foil. Place on a baking sheet and bake on the bottom rack of the oven for one hour or until they can be easily pierced with a toothpick through the foil. (This could take anywhere from 45 minutes to 1 1/2 hours depending on the size and thickness of the sweet potato. Start testing after 45 minutes.) Once the sweet potatoes are cool enough to handle, remove the aluminum foil and cut away the skin.
3. Place the frozen cauliflower in a ceramic flat bottomed, covered casserole dish and microwave on high for 12 minutes.
4. Add the sweet potatoes, ground flaxseed, herbs de provence, salt, and pepper to the still hot cauliflower, and using a potato masher, mash all the ingredients together. (The mixture will be slightly lumpy but everything should be well mixed.) Set aside for 15 minutes to cool.
5. Once the mixture is cool enough to handle, preheat a nonstick skillet over medium-high heat along with a heaping teaspoon of coconut oil. Using a 1 1/2-oz ice cream scoop, form the mixture into small patties about 2 1/4 to 2 1/2 inches in diameter and cook them, in batches, for 5 minutes per side until golden brown, adding more coconut oil with each new batch.
6. Serve with Dairy-Free Cashew Sour Cream and garnish with parsley and lemon zest if desired.
* Note: You'll need only about one-third of the Dairy-Free Cashew Sour Cream for this recipe.

Nutrient Analysis per serving (three cakes and 1 1/2 T cashew cream)
Calories: 202; Total fat: 11 g; Sat fat: 5 g; Cholesterol: 0 mg; Sodium: 374 mg; Total carbohydrate: 24 g; Dietary fiber: 4 g; Sugars: 5 g; Protein: 4 g
— Recipe and photo courtesy of Mona Guercia, founder of QueenOfMyKitchen.com
---
Spicy Chocolate Cherry Bites
Makes ~20 snack bites
Ingredients
1 1/2 cups pitted Medjool dates
1 cup roasted, unsalted whole almonds
2 T Navitas Naturals cacao powder (if needed, regular cocoa will sub fine)
1/4 tsp cayenne pepper
3/4 cups dried cherries
3 T mini chocolate chips
Directions
1. Soak pitted dates in hot water for 3 to 5 minutes; drain.
2. While dates are soaking, place almonds in food processor for 10 to 15 seconds until broken into small pieces.
3. Add drained dates (it's OK if they're fairly wet), cacao powder, and cayenne pepper to food processor. Blend for 30 to 45 seconds until well incorporated. If ingredients are sticking to side or bottom, add 1 to 2 tsp of water and process until well incorporated.
4. Add dried cherries and process for additional 20 seconds. Stir in mini chocolate chips.
5. Using your hands, roll mixture into 1-inch size balls and place on parchment paper.
6. Store in an airtight container in the refrigerator for up to one week.
Nutrient Analysis per serving
Calories: 110; Total fat: 4.5 g; Sat fat: 0.5 g; Sodium: 5 mg; Cholesterol: 0 mg; Total carbohydrate: 18 g; Dietary fiber: 2 g; Sugars: 14 g; Protein: 2 g
— Recipe and photo courtesy of Shannon A. Garcia, MDS, RD, LD, of Kiss in the Kitchen