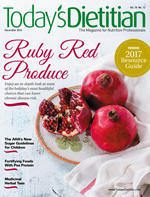 December 2016 Issue
Culinary Corner: Brussels Sprouts
By Jessica Fishman Levinson, MS, RDN, CDN
Today's Dietitian
Vol. 18, No. 12, P. 66
Little Cabbages With Big Flavor and Nutrition
In the past, Brussels sprouts didn't get the positive attention they deserve, but that has finally changed over the past few years as they've made an appearance on trendy restaurant menus and food blogs everywhere. And thank goodness, because everyone deserves to enjoy the nutritional benefits of this cute little cruciferous vegetable.
Brussels sprouts are part of the cabbage family and look like little baby cabbages themselves. Like other cruciferous vegetables, which include kale, broccoli, and cauliflower, Brussels sprouts are a good source of fiber and potassium, and they're an excellent source of vitamin C, vitamin A, vitamin K, and folate.1 Research shows that cruciferous vegetables may help protect against cancer and cardiovascular disease and reduce oxidative stress.2,3
Preparing Brussels sprouts at home can be daunting to some, so help clients by sharing with them a few key pointers. Cut off the tough, woody bottom, which was previously attached to the stem. If cooking them whole, remove any wilted outer leaves; if cutting in half before cooking, discard any wilted leaves that fall off, but keep the ones that look good—they'll make for delicious Brussels chips.
My favorite way to cook Brussels sprouts is to roast them with some olive oil and salt and pepper. Roasting brings out their sweetness and makes the exterior leaves nice and crispy. Brussels sprouts also can be sautéed, steamed, or cooked in the microwave. It's not recommended to boil Brussels sprouts, as they'll lose most of their vitamin C in the process. Clients also can enjoy them raw, shaved into a vegetable salad, and tossed with vinaigrette dressing.
This recipe for Roasted Brussels Sprouts With Pomegranate Glaze is a beautiful one for the holiday season. The sprouts are roasted in the oven and then tossed with a glaze made with 100% pomegranate juice and maple syrup, which adds a hint of sweetness, perfect for a joyous celebration.
— Jessica Fishman Levinson, MS, RDN, CDN, is a New York-based nutrition consultant, writer, and recipe developer, and the founder of Nutritioulicious (www.nutritioulicious.com).

References
1. US Department of Agriculture, Agricultural Research Service, National Agricultural Library. National Nutrient Database for Standard Reference, Release 28. https://ndb.nal.usda.gov/ndb/foods/show/2122?manu=&fgcd=. Accessed October 11, 2016.
2. Bosetti C, Filomeno M, Riso P, et al. Cruciferous vegetables and cancer risk in a network of case-control studies. Ann Oncol. 2012;23(8):2198-2203.
3. Pollock RL. The effect of green leafy and cruciferous vegetable intake on the incidence of cardiovascular disease: a meta-analysis. JRSM Cardiovasc Dis. 2016;5:2048004016661435.
Recipe
Roasted Brussels Sprouts With Pomegranate Glaze
A simple and delicious side dish perfect for the holidays, Brussels sprouts are roasted and then tossed with a sweet pomegranate glaze. Top with fresh pomegranate seeds for a burst of flavor in every bite.
Serves 8
Ingredients
2 lbs Brussels sprouts, trimmed and halved lengthwise
2 T olive oil
1/2 tsp kosher salt or more to taste
1/2 cup 100% pomegranate juice
2 T maple syrup
1/2 cup pomegranate seeds
Directions
1. Preheat oven to 400° F. Line large baking sheet with aluminum foil.
2. Toss Brussels sprouts with olive oil and salt and spread on baking sheet. Roast 30 to 40 minutes, stirring occasionally, until crisp and browned on the outside and tender on the inside.
3. While the Brussels sprouts are roasting, make the pomegranate glaze. In a small saucepan, bring pomegranate juice and maple syrup to a boil, reduce heat and simmer until reduced by half and glaze mixture coats the back of a spoon, about 8 minutes.
4. Toss roasted Brussels sprouts with pomegranate glaze and pomegranate seeds. Serve.
Nutrient Analysis per serving
Calories: 110; Total fat: 4 g; Sat fat: 0 g; Trans fat: 0 g; Cholesterol: 0 mg; Sodium: 160 mg; Total carbohydrate: 16 g; Dietary fiber: 4 g; Sugars: 10 g; Protein: 3 g