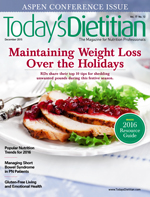 December 2015 Issue
Culinary Corner: Celebrate the Holidays With Cranberries
By Jessica Fishman Levinson, MS, RDN, CDN
Today's Dietitian
Vol. 17 No. 12 P. 66
The holiday season is upon us. While everyone's sipping eggnog and delighting in gingerbread cookies, I like to celebrate one of the most nutritious fruits of the season—cranberries. While cranberries are most often associated with a sauce or their sweeter dried form, fresh and frozen cranberries will make your mouth pucker with their tartness. Although many of your clients may feel intimidated to work with fresh and frozen cranberries, they're actually easy to cook and bake with, and their nutritional qualities are impressive.
One of the most well-known benefits associated with cranberries, especially as juice, is that they can help maintain a healthy urinary tract and prevent urinary tract infections.1,2 But the benefits go well beyond urinary tract health. Research over the years has shown an association between cranberry consumption and lower levels of C-reactive protein, an indicator of inflammation in the body; inhibition of bacteria associated with gum disease and stomach ulcers; and protection against cardiovascular health risks including hypertension and dyslipidemia.3-7 These benefits mainly are due to the high phytochemical content in cranberries, particularly proanthocyanidins, a subclass of flavonoids with antioxidant properties.

Cranberries are native to North America and are grown on low vines in sunken beds called bogs. Cranberries are harvested in the fall, which is when clients will find them fresh in the produce aisle, but they're sold year round frozen, dried, canned, or as juice. One cup of fresh chopped cranberries is a good source of fiber and vitamin C. When buying dried and canned cranberries, clients should look for added sugars and adjust their total daily sugar intake accordingly.
Inspire your clients to try cranberries in other ways besides dried as part of their trail mix. Fresh, frozen, or dried cranberries can be added to whole grains like quinoa and wild rice for a side dish, stirred into oatmeal for breakfast, or baked with chicken or beef for dinner. They also can be added to baked goods like this Cranberry Orange Bread, perfect for celebrating the holiday season.
— Jessica Fishman Levinson, MS, RDN, CDN, is a New York-based nutrition consultant, writer, and recipe developer, and the founder of Nutritioulicious (www.nutritioulicious.com).
References
1. Blumbery JB, Camesano TA, Cassidy A, et al. Cranberries and their bioactive constituents in human health. Adv Nutr. 2013;4(6):618-632.
2. Foxman B, Cronenwett AE, Spino C, Berger MB, Morgan DM. Cranberry juice capsules and urinary tract infection after surgery: results of a randomized trial. Am J Obstet Gynecol. 2015;213(2):194.e1-8.
3. Duffey, KJ, Sutherland, LA. Adult consumers of cranberry juice cocktail have lower C-reactive protein levels compared with nonconsumers. Nutr Res. 2015;35(2):118-126.
4. Bodet C, Chandad F, Grenier D. Inhibition of host extracellular matrix destructive enzyme production and activity by a high-molecular-weight cranberry fraction. J Periodontal Res. 2007;42(2):159-168.
5. Mukherjee M, Bandyopadhyay P, Kundu D. Exploring the role of cranberry polyphenols in periodontitis: a brief review. J Indian Soc Periodontol. 2014;18(2):136-139.
6. Tipton DA, Hatten AA, Babu JP, Dabbous MK. Effect of glycated albumin and cranberry components on interleukin-6 and matrix metalloproteinase-3 production by human gingival fibroblasts [published online July 14, 2015]. J Periodontal Res. doi: 10.1111/jre.12302.
7. Novotny JA, Baer DJ, Khoo C, Gebauer SK, Charron CS. Cranberry juice consumption lowers markers of cardiometabolic risk, including blood pressure and circulating C-reactive protein, triglyceride, and glucose concentrations in adults. J Nutr. 2015;145(6):1185-1193.
Cranberry Orange Bread
Celebrate the holiday season with this sweet and tart bread made with antioxidant-rich cranberries and vitamin C-rich oranges.
Makes 16 one-slice servings
Ingredients
Cooking spray
2 cups (250 g) white whole-wheat flour
3/4 cup sugar
1/2 tsp baking soda
1 tsp baking powder
1/2 tsp table salt
1/2 tsp cinnamon
1/2 cup canola oil
2 large eggs
3/4 cup freshly squeezed orange juice
1 T orange zest
1 cup fresh or frozen cranberries, halved
Directions
1. Preheat oven to bake at 350° F. Grease a loaf pan with cooking spray and set aside.
2. In a large mixing bowl, whisk together flour, sugar, baking soda, baking powder, salt, and cinnamon.
3. In a small mixing bowl, whisk together oil, eggs, orange juice, and orange zest.
4. Pour wet ingredients into dry ingredients and whisk until just combined. Do not overmix. Fold in the cranberries and let batter stand about 10 minutes.
5. Pour batter into greased loaf pan and bake 55 minutes to 1 hour. Loosely cover the loaf pan with foil about halfway through baking to ensure the top doesn't get too well done.
Nutrient Analysis per serving
Calories: 172; Total fat: 7 g; Sat fat: <1 g; Trans fat: 0 g; Cholesterol: 0 mg; Sodium: 150 mg; Total carbohydrate: 24 g; Dietary fiber: 3 g; Sugar: 11 g; Protein: 3 g; Vitamin C: 7 mg