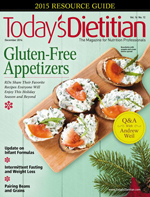 December 2014 Issue
Apples and Butternut Squash — A Dynamic Pairing in This Naturally Creamy Holiday Soup
By Grace Dickinson
Today's Dietitian
Vol. 16 No. 12 P. 66
This time of year high-calorie foods are in abundance, so it's important to ensure there are enough fruit and veggie options on the table for family and friends. The following soup recipe serves as an appetizer that includes both fruit and veggies. It contains roasted apples and butternut squash as its center to create a creamy dish without having to use full-fat dairy cream.
Like a good friend who brings out the best in you, apples are common sidekicks to butternut squash that always enhance its natural sweetness. Apples and butternut squash are ready for harvesting in early fall, so you'll often see them together on the dinner table. Fortunately, this friendship extends well into winter, given each produce item's impressive shelf life.
Squash can retain its freshness for three months or more when kept in a cool (unrefrigerated), dry, well-ventilated area. For this reason, it has been a dietary staple in the Americas for more than 5,000 years, dating back to its initial origins in Mexico.
American Indians would scoop out and eat the interior flesh of the squash and eat the squash's blossoms as well. Letting no part go to waste, they would let the hard outer shell dry and repurpose it as a bowl.
Like squash, apples have a rigid, though not quite as hard, skin that protects their flesh from the air and any external contaminants. Their skin enables them to remain in an edible state long after they're picked and be ubiquitous and popular in supermarkets worldwide. They're ranked second, behind bananas, as the most popular fruit consumed in the United States.
Roasted in the oven together, the apple and butternut combination makes for a robust-tasting soup. The apples add a subtle, sweet yet tangy undertone to compliment the squash's nuttiness. And the sage gives the soup a holiday feel. Pair the soup with a slice of crusty bread if you choose to serve it as a meal, or serve it as an appetizer at your next holiday gathering.
— Grace Dickinson is a photo enthusiast, food blogger, and recipe developer for FoodFitnessFreshAir.com.
Roasted Apple Butternut Squash Soup With Sage
Autumn produce meets holiday herbs for a simple soup you and your clients will want on the table. Creamy yet light, this makes for the perfect appetizer. Feel free to double the recipe if serving a crowd.
Serves 4 to 6
Ingredients
1 large butternut squash, cut in half lengthwise, seeds removed
2 large shallots, quartered
2 medium-large apples, cores removed, quartered (use an eating variety)
3/4-inch piece of ginger, peeled and cut into thirds
2 T olive oil
8 oz light coconut milk
8 medium leaves of sage
1/2 tsp salt
Directions
1. Preheat oven to 400° F. Line a 9 X 13-in baking pan with aluminum foil. Place squash, shallots, apples, and ginger in the pan, keeping the apples to one side. Toss with 2 T olive oil. Arrange squash so that the skin side is up. Seal pan with a top layer of aluminum foil.
2. Bake 25 to 35 minutes, depending on the variety of apples chosen. Remove from heat, and transfer apples, once tender, to a bowl and set aside. Reseal and return remaining ingredients to oven. Cook another 20 to 30 minutes, or until squash is soft.
3. Once apples and squash are cool enough to handle, scoop out flesh into a food processor and discard skins. Add the rest of the baked ingredients, coconut milk, sage, and salt. Blend until smooth. If mixture is thicker than desired, add a few extra tablespoons of coconut milk or a splash or two of warm water. Adjust salt, if needed, to taste. Serve.
Nutrient Analysis per serving
Calories: 161; Total fat: 9 g; Sat fat: 4 g; Trans fat: 0 g; Cholesterol: 0 mg; Sodium: 232 mg; Total carbohydrate: 22 g; Dietary fiber: 5 g; Sugar: 7 g; Protein: 1 g