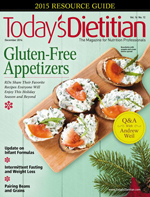 December 2014 Issue
Meals That Heal — A Dynamic Program That Ensures Proper Nutrition for Ill Children and Their Families
By Leesha Lentz
Today's Dietitian
Vol. 16 No. 12 P. 18
HealthBarn Foundation, a nonprofit organization dedicated to kids' healthfulness, has launched Healing Meals, a food-gifting program that provides fresh, organic meals to pediatric patients undergoing treatments for cancer and blood disorders at Hackensack University Medical Center (HackensackUMC) in New Jersey. Since its debut in March, the program has produced more than 3,000 meals for ill children and their families.
HealthBarn founder Stacey Antine, MS, RD, who has more than 20 years of experience in food and nutrition, developed the program's concept after her father was diagnosed with cancer almost two years ago. After undergoing chemotherapy treatments, her father suffered from common side effects, such as loss of appetite. But with Antine's nutrition background and her mother cooking meals, they were able to provide him with the support he needed for a full recovery, Antine says.
Recognizing that not all patients and their families have access to this level of nutritional support, Antine wanted to combine her work with children and her background in nutrition to help pediatric patients and their families. Through her work, she teaches kids how to grow and cook healthful foods and the importance of these foods in restoring or maintaining health, which is essential for pediatric patients.
"Everything has its place. The medicine has to treat the child, but it's not nourishing the child back to health," she says. "It's helping to solve the problem, but then there's the whole healing process, and that's when nutritious food and rest are critical."
Community Collaborative
HealthBarn partnered with community organizations, students, and food producers to create Healing Meals in a four-month period.
Antine first enlisted the aid of Lynn Hoffman, executive director of Tomorrows Children's Fund (TCF), an organization located at HackensackUMC that provides a warm environment for children in treatment, a full scope of services to relieve families' emotional and financial stress, and medical care.
"Stacey wanted to come in and do some smoothies for the kids, and we usually get quite the audience," Hoffman says. "I think she was blown away by the reaction of the families and how they were so excited to participate. We had one 3-year-old girl that was helping her to make the smoothies. Afterwards, Stacey came up to me and said, 'I want to cook for these kids. I want to do something.' And she asked if we would be interested in having her make meals for these kids, and we sat down and talked about how we could do this and make it work."
With a partnership established, Antine still needed to determine who would help prepare the meals and where. While this task seemed daunting, she enlisted help from culinary students from the Bergen County Academies' SkillsUSA Club, who volunteered to make the meals, and Joe Blythe, executive director of Meals With a Mission, a nonprofit commercial kitchen, which provided its space for meal preparation. In addition, Whole Foods Markets located in Edgewater, Paramus, and Ridgewood, New Jersey, agreed to provide fresh organic foods for the program, donating $3,500 worth of food to date.
TCF purchased a freezer to store the meals until they were ready to be distributed to patients, while HealthBarn covered the cost of transportation and packaging.
How It Works
Antine provided the recipes for the healthful meals, many of which are found in her cookbook Appetite for Life. The recipes were chosen based on a taste testing at TCF.
"Stacey came in with the students from the culinary class, and we sampled all this different food," Hoffman says. "We had parents and patients come in to sample it and they filled out a questionnaire about what they liked and what they didn't like. The families were so excited about it." Antine also collaborated with Lynda Rosini, MA, RD, CNSC, CDE, a pediatric dietitian at HackensackUMC, to obtain support for the ingredients and menu selections for the patients.
Antine and Blythe oversee the culinary volunteers, who help prepare the kid-approved meals every Thursday between 5 and 9 PM. Some favorites include sweet potato pancakes and chicken fiesta fajitas, which are made with a cinnamon rub, not an oil-based marinade.
"The meals get frozen fresh, without preservatives, and then they get transported on Monday by Meals with a Mission to refill the freezer at Tomorrows Children's Fund," she says. "Then the social workers, who are working with the families, give them a menu after their child's treatment and ask if they would like a healing meal to take home."
Families are given entrées for breakfast, lunch, and dinner, and they're family-style portions, meaning they can feed up to four. The meals are free, and they're available to any family that wants one, regardless of income.
Families also can take home a signed copy of Antine's cookbook, which may inspire them to make the meals or other recipes themselves at home.
Feedback
TCF recently received another freezer by donation to keep up with the demand for the frozen meals, which is a testament to Healing Meal's success, according to Antine. "We go to outings and the parents are in tears, saying 'This is the best gift you could give us.'"
Healing Meals helps ensure that patients and their families are receiving proper nutrition after a long day of treatment, which can sometimes take up to eight hours. Antine says parents don't go home to cook after such a long day. Instead, they may order pizza or depend on fast foods, which is why the meals are so important. The meals take the guesswork out of what to serve for dinner and the most parents need to do to prepare these meals is to turn on the oven.  
Hoffman agrees: "To be able to go home and take something and put it into the oven and to have this nourishing meal for your family is unheard of. I'm a parent of a child who went through the program here at TCF, and I can tell you that on the way home, we'd go to McDonald's or Burger King, right through the drive-in. I wasn't going home to cook after sitting in the hospital for eight hours. And for our families to be able to go home and heat up Healing Meals with very little effort, and you have a great home-cooked, nutritious meal to serve your families is just amazing. And you have breakfast and lunch to serve the next day."
The program gives parents peace of mind because they can serve fresh, wholesome meals to their families and receive proper nutrition themselves. "I've heard from the families and learned that their health has really taken a turn for the worse because they're so concerned about their kids, and they themselves aren't exercising or eating properly, so this actually helps them, too," Antine says.
Aside from its popularity with the patients and their families, the program also is gaining attention on a wider scale. A dietitian in California contacted Antine to discuss strategies on how to begin such a program in her area, and a dietitian in Massachusetts is working with Antine to start a HealthBarn in her state.
With a business model that's easy to execute, Antine hopes there will be more programs developed in the future, because as she sees it, there's a great opportunity for dietitians to get involved. "I really feel like when you're sick and when you're in those situations, the most important thing is that gift of food. And who better to do that than dietitians?" she says. "As a dietitian, I think there's a significant opportunity to get involved with food banks and soup kitchens to improve the health of the community at large."
— Leesha Lentz is an editorial assistant at Today's Dietitian.
Resources
Interested in learning more about how to set up your own Healing Meals program?
Contact Stacey Antine at stacey@healthbarnfoundation.org. Visit HealthBarn's website at www.healthbarnusa.com to learn more about the foundation or to donate. You also can visit Tomorrows Children's Fund's website at www.tcfkid.org.
— LL
Chicken Fiesta Fajitas
Stacey Antine, MS, RD, founder of HealthBarn Foundation, a nonprofit organization dedicated to kids' healthfulness, uses a cinnamon dry rub to season the chicken instead of a vegetable oil marinade to reduce saturated fat and keep the chicken tasty and tender. She uses traditional corn tortillas, which are a good source of fiber. Serve this dish, which is loaded with vitamin C, with guacamole.
Serves 12
Ingredients
1 T ground cinnamon
1/4 tsp sea salt
1/4 tsp freshly ground black pepper
11/2 lbs skinless, boneless chicken breasts
1 medium green bell pepper
1 medium red bell pepper
1 large sweet onion, such as Vidalia
2 T canola oil
1 clove garlic, minced
Juice of 2 limes
12 (6-inch) corn tortillas, warmed
Directions
1. Preheat oven to 400° F. Grease baking sheet.
2. In bowl, combine cinnamon, salt, and black pepper. Add chicken to bowl with seasonings and toss to coat evenly.
3. Place chicken on prepared baking sheet. Bake chicken 25 to 30 minutes or until no longer pink. Cool slightly, then pull into shreds with two forks.
4. Meanwhile, slice green and red peppers lengthwise into thin slices. Cut onion in half, then cut each half into thin slices. In large skillet, heat oil over medium heat. Add peppers and onions and cook 7 to 10 minutes or until tender-crisp, stirring occasionally. Stir in garlic; cook 30 seconds.
5. Add chicken and lime juice to skillet with peppers; heat through.
6. Spoon chicken mixture into serving bowl. Place tortillas on plates, and let everyone make his or her own fajitas.
Nutrient Analysis per serving (1 fajita)
Calories: 310; Total fat: 6 g; Sat fat: 4 g; Trans fat: 0 g; Cholesterol: 35 mg; Sodium: 160 mg; Total carbohydrate: 46 g; Dietary fiber: 4 g; Sugar: 2 g; Protein: 17 g
— Recipe courtesy of Stacey Antine, MS, RD, From Appetite for Life, HARPERONE