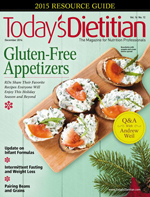 December 2014 Issue
Fabulous Fungi — Here's Why Your Clients Should Be Trading Meat for Mushrooms
By Lindsey Getz
Today's Dietitian
Vol. 16 No. 12 P. 14
Studies show that substituting mushrooms for meat has a range of health benefits.

Besides being packed with nutrients, there's evidence to suggest that mushrooms may possess disease-fighting abilities. Plus, eating less meat in favor of mushrooms and a well-planned plant-based diet leads to less consumption of fat, calories, and cholesterol and a higher intake of fiber, vitamins, minerals, and phytochemicals.
Overall, there are good reasons to boost the number of mushrooms consumed in one's diet. While some clients may be reluctant to incorporate more mushrooms into their diets, with the right recipes or simple, creative cooking ideas, they may be more likely to embrace these earthy, chewy fungi.
Classic Substitutes
"Mushrooms have a wonderful, savory, umami flavor—and a meaty texture," says Sharon Palmer, RDN, author of The Plant-Powered Diet. "These are unique attributes in the plant world. They make a powerful contribution to trimming meat in dishes. You can substitute chopped mushrooms for meat in a number of dishes such as tacos, lasagna, casseroles, loaves, burgers, spaghetti sauce, and scrambles."
This "blendability" technique is an excellent way to increase both flavor and nutritional value of meals. In this culinary application, mushrooms are finely chopped to match the consistency of meat and blended into traditional recipes alongside ground beef or other proteins. A study from the Culinary Institute of America and University of California, Davis, recently published in the Journal of Food Science found that a traditional ground meat recipe prepared with 50% mushrooms and 50% meat has several key benefits, including reduced calorie intake, increased nutrients such as vitamin D and potassium, and added flavor while reducing sodium intake by 25%.
"The 'blend' has become the cornerstone of our industry's efforts to help change the way America eats," says Kathleen Preis of the Mushroom Council, a California-based group that nationally promotes mushrooms and communicates research through consumer public relations, foodservice communications, and retail communications. "Mushrooms can make the healthy choice an easier choice as we help to bring more nutrients and vegetables to the plates of American families." 
Blending meat and mushrooms also makes mushrooms more tolerable for those who have an issue with the consistency or the taste. But there are other ways to make mushrooms more appealing as well. Ruth Frechman, RDN, author of The Food Is My Friend Diet and a past spokesperson of the Academy of Nutrition and Dietetics (the Academy), admits that she's a person who picks mushrooms off pizza. She was never a fan of the earthy flavor and rubbery texture. But after learning how to roast them, she says she gobbles them up.
"I like to quarter them and roast them in a pan at 350˚ F for 15 minutes with the gill side up," Frechman says. "Then I heat them in a hot pan with a little butter, salt, and pepper, and sauté for a few minutes."
Palmer says portabellas are great mushrooms to substitute for meat. "They have a dark brown color and a very rich flavor," she says. "You can even grill them whole as a 'burger.' They're also good chopped into fillings, sauces, and casseroles."
Portabella may be one of the better-known varieties but there are many choices. Palmer says shiitake mushrooms are delicious in stir-fries and sauces while enoki (a tiny, mild, crunchy mushroom) are delicious raw in salads. Palmer also recommends chanterelles simply sautéed and served over toast.
Essentially, when it comes to mushrooms, the choices are vast. There are more than 2,000 varieties of edible mushrooms, says Vandana Sheth, RDN, CDE, a spokesperson for the Academy. Agaricus (white or button) are among the most common and least expensive mushrooms. "They're mild and can be used in salads, enjoyed raw, or cooked in sauces. Since their flavor intensifies when cooked, they're ideal for sautéing and grilling."
Sheth also suggests crimini, which look much like white button mushrooms. "However, they're darker in color and have a stronger taste," she says. "Crimini mushrooms are actually young portabella mushrooms and are often referred to as 'baby bellas.' They taste good raw or sautéed and pair well with garlic or balsamic vinegar."
Benefits Abound
Certainly, substituting mushrooms for meat can help clients and patients eat more of a plant-based diet. But ongoing research gives people even more reasons to consider adding more mushrooms to their diet. For instance, a study from the University at Buffalo, The State University of New York, found that portabellas can lower glycemic responses when consumed with food. When subjects consumed mushrooms with glucose, there was a significant decrease in glucose responses compared with those who consumed glucose alone. As a result, it appears that consumption of mushrooms may be useful in regulating glucose levels. The study was published in the April 2014 edition of The Journal of the Federation of American Societies for Experimental Biology.
Other research shows mushrooms' potential cancer-fighting abilities. Shiuan Chen, PhD, a professor and chair of City of Hope's department of cancer biology, has found in his research that phytochemicals—naturally occurring plant chemicals—in mushrooms can block the activity of the enzyme aromatase. Aromatase helps the body produce the hormone estrogen, which many breast cancers need to grow.

Mushrooms' natural aromatase-inhibiting properties may offer a dietary, nondrug intervention to help prevent the recurrence of hormone-dependent breast cancers.

"It was very interesting to see this ability in food," Chen says, adding that the mushroom studied was the white button—the most common form. "But even for those who don't have cancer and are just looking to consume more mushrooms in their diet, I would say there's a benefit. It certainly can't hurt. The mushroom is safe to consume, and there were no major side effects from our trials."   
Their everyday nutritional benefits make them a great dietary addition. "Besides being low in calories and sodium, mushrooms can provide a decent amount of fiber," Frechman says.
They also pack a nutrient punch, with the amount of vitamins and minerals varying based on mushroom type. "For example, a serving size of cooked white, crimini, and cooked shiitake mushrooms provide high amounts of copper," Frechman says. "While enoki, oyster, and maitake mushrooms provide high amounts of niacin, shiitake mushrooms contain high amounts of pantothenic acid."
And simply put, they make a great meat substitute, which can help clients make the switch to a plant-based diet or simply consume more vegetables and less meat. Sheth sums it up best: "Mushrooms can be an easy, healthful, flavorful, and cost-effective way of enjoying more plant-based foods while cutting back on meat."
— Lindsey Getz is a freelance writer based in Royersford, Pennsylvania.
Recipes
Tofu Mushroom Tacos
Serves 8 (1 taco each)
Ingredients
8 oz extra-firm tofu, drained and pressed for best results
1 tsp extra-virgin olive oil
11/2 cups finely chopped mushrooms (eg, white, baby portabella)
2 green onions, white and green parts, diced
1 medium garlic clove, minced
2 T prepared salsa, plus 1/2 cup for serving
1 tsp low-sodium taco seasoning
1 tsp reduced-sodium soy sauce
1 15-oz can black beans, no salt added, rinsed and drained (or 13/4 cups cooked)
2 cups packed leafy greens
2 medium tomatoes, diced
1 medium avocado, peeled, cored, and sliced into 8 pieces
8 6-inch whole grain tortillas
1 cup shredded plant-based cheese, optional
Plant-based sour cream, optional
Directions
1. Shred the tofu with a grater or in a food processor (with shredding attachment).
2. Heat the olive oil in a large skillet over medium heat and add the shredded tofu, mushrooms, green onions, and garlic. Sauté for 2 minutes.
3. Add salsa, taco seasoning, and soy sauce. Sauté for an additional 5 to 7 minutes, until the mushrooms are tender.
4. Meanwhile, heat the black beans in the microwave or on the stovetop over medium heat until warm.
5. Arrange the greens, tomatoes, and avocado on a platter.
6. Warm the tortillas in the microwave or in a hot skillet for 30 seconds.
7. To assemble the tacos: fill each tortilla with about 1/4 cup of the tofu-mushroom mixture, 1/4 cup of black beans, 1/4 cup of greens, 3 T of chopped tomato, 1 slice of avocado, 2 T of plant-based cheese, a dollop of plant-based sour cream (if desired), and 1 T of salsa.
Note: Store the leftover taco filling in an airtight container in the refrigerator for up to two days. Reheat for a few minutes in the microwave or a small skillet and serve with the remaining ingredients, as suggested.
Nutrient Analysis per serving (1 taco)
Calories: 244; Protein: 10 g; Carbohydrate: 31 g; Total fat: 10 g; Sat fat: 2 g; Dietary fiber: 7 g; Sugar: 2 g; Sodium: 430 mg
— RECIPE COURTESY OF SHARON PALMER, RDN, AUTHOR OF THE PLANT-POWERED DIET
Shanghai Stir-Fry With Forbidden Rice
Serves 8
Ingredients
11/3 cups uncooked forbidden (black) rice
21/3 cups water
1 T sesame oil
1 medium carrot, sliced (see note)
1 medium onion, coarsely sliced
3 medium garlic cloves, minced
11/2 tsp minced fresh ginger
1 T black sesame seeds
1 medium green bell pepper, coarsely sliced
1 15-oz can (13/4 cups) baby corn, drained
1 8-oz can water chestnuts, drained
1 8-oz can bamboo shoots, drained
3 cups sliced Chinese (Napa) cabbage
1 cup sliced mushrooms
1 cup fresh bean sprouts       
1/4 cup chopped fresh cilantro
3 T reduced-sodium soy sauce
1/2 tsp rice vinegar
1 T agave nectar
1/4 cup reduced sodium vegetable broth
1 T cornstarch
2 green onions, white and green parts, sliced
1/2 cup coarsely chopped cashews
Directions
1. Place the rice and water in a small pot, cover, and simmer over medium-low heat for about 30 minutes, until tender, with all of the water absorbed.
2. Meanwhile, heat the sesame oil in a large sauté pan or wok over medium heat.
3. Add the carrot and onion and sauté for 3 minutes.
4. Add the garlic, ginger, and sesame seeds, and sauté for an additional 5 minutes.
5. Add the bell pepper, corn, water chestnuts, and bamboo shoots, and sauté for an additional 3 minutes.
6. Add the cabbage, mushrooms, sprouts, and cilantro, and sauté for an additional 3 minutes.
7. Mix the soy sauce, vinegar, agave, broth, and cornstarch in a small dish until smooth. Add to the pan with the vegetables and continue to sauté for about 3 minutes, until the sauce has thickened and the vegetables are crisp-tender.
8. Garnish the stir-fry with the green onions and cashews, and serve with the rice.
Note: A food processor may come in handy for slicing the fresh vegetables in this recipe.
Variation: Add 12 oz of sliced extra-firm tofu with cabbage.
Nutrient Analysis per serving
Calories: 272; Protein: 10 g; Carbohydrate: 44 g; Total fat: 9 g; Sat fat: 1.5 g; Dietary fiber: 6 g; Sugar: 9 g; Sodium: 279 mg
— RECIPE COURTESY OF SHARON PALMER, RDN, AUTHOR OF THE PLANT-POWERED DIET