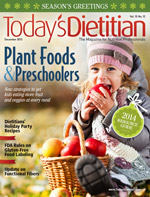 December 2013 Issue
Catering to Cancer Patients
By Leesha Lentz
Today's Dietitian
Vol. 15 No. 12 P. 10
A food company provides meals and snacks that help boost treatment and mitigate side effects.
The Hippo Kitchen, a prepared foods company specializing in meals for cancer patients, quickly has gained the reputation for delivering wholesome foods to its customers' kitchen tables in no time. The Houston-based company launched in June after Angela Anderson, executive chef and CEO, noticed the need for such a service for cancer patients at Texas Medical Center, especially those who relocated to the area for treatments and therapies.
"They're living in hotels, apartments, or with family members; are in an unfamiliar city; and are spending all day at the hospital and likely don't have the time or means to cook for themselves," Anderson says. "Even Houstonians being treated will likely spend long days in treatment and not have the energy to prepare the appropriate foods for themselves."
Anderson also says that, while patients may have access to dietitians and their knowledge of healthful foods for pre- and posttreatment support, sometimes patients need the ready-made meals to put their advice into practice. "Basically, just knowing the right foods to eat doesn't get them on the plate," she explains. "So The Hippo Kitchen exists to fill that gap between knowledge and action in relation to a cancer patient and the food he or she eats."
Ordering Online
While the company has participated in hospital-run events such as Memorial Hermann Hospital's Caring for Cancer seminar and MD Anderson's annual oncology training conference, The Hippo Kitchen doesn't sell its foods in hospitals. Accessing the meals is as simple as a few mouse clicks. Patients can log on to the company's website (www.thehippokitchen.com) and choose from items such as Miso Soup, Quinoa Carrot Cake Oatmeal, Shepherd's Pie, and even Zucchini Brownies.
The Hippo Kitchen offers 14- and 28-day meal packages with either two or three meals provided daily. Orders can be picked up or delivered to patients living inside Beltway 8.
Boosting Treatment With Nutrition
Each snack or meal is listed with its calories, protein, and fat content displayed next to a helpful description about each item and how it may best serve patients during their treatment process. For example, the company labels its Quinoa Kale Slaw as beneficial for cancer patients "pre- and posttreatment." Anderson says that "pre- and posttreatment meals incorporate many cancer-fighting foods such as cruciferous vegetables such as kale, cabbage, and cauliflower, and other foods such as mushrooms and kombu [a sea vegetable]."
The Hippo Kitchen not only focuses on foods that help support patients' health but also considers the many side effects that can occur during or after cancer treatments. The Quinoa Kale Slaw, for example, also is listed as "alleviation for constipation," informing customers that this item aids digestion, which may have been affected by treatments such as chemotherapy.
"It's important to nourish your body during treatment, and this can be difficult based on side effects such as nausea, vomiting, oral sores, constipation, diarrhea, fatigue, and difficulty chewing or swallowing," says Ali Miller, RD, LD, CDE, a member and consulting dietitian on The Hippo Kitchen's advisory board and owner of Naturally Nourished in Houston.
The Hippo Kitchen offers "Banana Pancakes, which are oatmeal based, or our Blueberry Muffins, a combination of flax, almonds, bananas, and berries," Anderson says. She notes that many of the snacks and meals are made with both brown rice protein and nondenatured whey protein powder to help patients boost and restore energy.
Miller also suggests that patients try the Creamy Carrot Soup With Ginger, an ingredient known for its potential to stem nausea and produce anti-inflammatory effects.
By having the meals and snacks labeled with their health benefits, Anderson hopes to take the guesswork out of what patients think they can and can't eat and when. "We aim to ease that uncertainty by identifying the meals according to what they're most suitable for," she says. "This way, the patient and the caregiver can order to their specific needs and feel confident in their selections."
Give. Care. Share. Program
While Anderson estimates that The Hippo Kitchen has served between 60 and 75 customers thus far, she hopes those numbers will grow, especially with the introduction of the Give. Care. Share. (GCS) program that allows users' friends and family members to contribute funds to their accounts. Anderson says she created this program for two reasons: to make healthful foods affordable and to provide an easy way for loved ones to help cancer patients during this difficult time.
"We all know someone who has been inundated with casseroles and soups during an illness, right? The issue is that so often these foods aren't the most beneficial for the person at the time," she says. "So people want to help and they like to help through food. GCS is the absolute perfect way for them to do just that."
The Hippo Kitchen has received e-mails from customers about the GCS program and its overall effect not only on health but on building a sense of community and support. "I spoke with a woman who said her pastor set up an iPad at the front of the church, and everyone formed a line and, one by one, made a contribution to her GCS account," Anderson explains.
Friends and family members can feel good about adding funds to a cancer patient's account, especially considering the positive customer feedback about one of the most important aspects of The Hippo Kitchen: the food. "A woman recently wrote to us and said our Banana Nut Muffins helped get her mom through chemotherapy," Anderson says.
Future Plans
The Hippo Kitchen plans to offer ready-made foods and smoothies in the Texas Medical Center, with a bigger goal of gaining retail space in hospitals outside of the Houston area. Anderson suggests that The Hippo Kitchen could become a national brand, providing a nutritional swap with the processed fast foods offered in hospital cafeterias. But for now, the company is focused on meeting the needs of local and visiting cancer patients.
Anderson is delivering the message that cancer patients can take back some control by choosing the right foods for them: "As professionals in the food and health industry, we're aware that the food we put into our body does have an impact on the way we feel. Certain foods make us energetic or sleepy or even gassy. It's no different for a person undergoing cancer treatment. They need to eat; food has an impact on how they feel, so choosing the right foods makes a difference. Does it mean they're going to feel as though they aren't undergoing chemo or radiation? No. But I have had a customer tell me these foods made him feel as close to normal as possible. I think that's a success."
— Leesha Lentz is an editorial assistant at Today's Dietitian.
Banana Nut Mini Muffins
These tasty snack-sized muffins are definitely a customer favorite. They're small, satisfying, and packed with protein from nuts, eggs, and additional protein powder. We use a blend of pea and rice protein, but any unflavored protein powder will work. These make a great grab-and-go snack for a cancer patient because they're easy to eat and portable, which is important during long days at the hospital.
Yields 24 mini muffins
Ingredients
1/3 cup chopped walnuts
4 T raw local honey, divided
1 1/2 cups almond flour
2 T coconut flour
1/4 cup ground flaxseeds
46 g unflavored protein powder
1/2 tsp mineral salt
1 1/2 tsp baking soda
2 tsp cinnamon
2 bananas
3 free-range chicken eggs
1/4 cup melted coconut oil
1 T apple cider vinegar
Directions
1. In a small bowl, mix the chopped walnuts with 1 T of honey. Set aside.
2. Place almond flour, coconut flour, ground flaxseeds, protein powder, salt, baking soda, and cinnamon in the bowl of a food processor and mix. Or place these ingredients in a bowl and stir well to combine.
3. Leaving the banana peels intact, mash the bananas by squeezing them in your hands until very soft. Add eggs, oil, remaining honey, and vinegar to the food processor. Peel the bananas and add to the batter. Process until the batter is smooth, about 10 seconds. If not using a food processor, whisk eggs, oil, honey, and vinegar together and then stir in the mashed bananas. Add wet mixture to dry and stir vigorously.
4. Spoon batter into prepared mini muffin tins so that each tin is three-quarters full. Bake at 350˚F for 8 minutes, and remove from oven. Top each muffin with 1 tsp of the honey and walnuts mixture, and bake an additional 4 minutes, or until lightly golden brown.
Nutrient Analysis per serving (2 muffins)
Calories: 225; Total fat: 16 g; Sat fat: 5 g; Trans fat: 0 g; Cholesterol: 52 mg; Sodium: 175 mg; Total carbohydrate: 14 g; Dietary fiber: 4 g; Sugar: 7 g; Iron: 1 g
— Recipe courtesy of The Hippo Kitchen