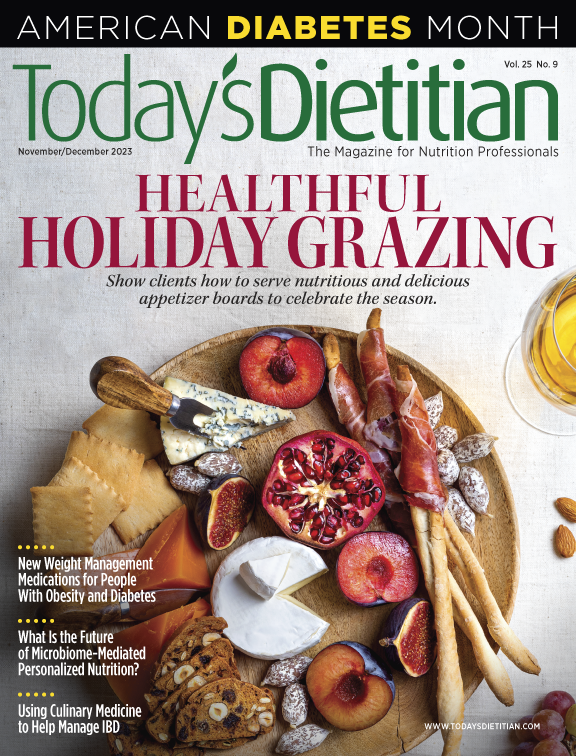 Editor's Spot: New Weight Loss Meds for Diabetes Care
By Judith Riddle
Today's Dietitian
Vol. 25 No. 9 P. 4
Medical advances in the prevention, diagnosis, treatment, and management of diabetes continue to evolve at a rapid pace. Advancements in technology-enabled continuous glucose monitoring (CGM) and insulin delivery systems have lifted much of the burden off of clients and patients engaged in daily diabetes self-care.
Smart algorithms connect CGMs with insulin delivery systems, allowing for their integration and intercommunication to produce diabetes-related data (eg, glucose levels, insulin doses and adjustments) in understandable formats for users and their doctors. Evidence shows use of these devices improves A1c, reduces hypoglycemia, and leads to longer periods of time in range—the percentage of time over a 14-day period when a person's glucose levels, based on CGM, are within a defined range.
In other developments, pharmaceutical companies have developed medications to prevent severe hypoglycemia, such as BAQSIMI and Gvoke.
Late last year, the American Diabetes Association released updated practice guidelines in Standards of Care in Diabetes—2023, some of which focused on the diagnosis and treatment of youth and adults with type 1, type 2, and gestational diabetes; strategies to prevent or delay diabetes comorbidities; and the support of greater weight loss up to 15% based on the efficacy of new medications.
In fact, new weight management medications for the treatment of overweight and obesity are being studied and recommended for people with type 2 diabetes. Studies show that many of these drugs lower A1c and lead to impressive weight loss.
These new drug innovations come at a time when more than 37 million Americans are living with diabetes, and nearly 90% of people with diabetes are overweight or have obesity.
At present, researchers are evaluating the efficacy and safety of the latest versions of glucagonlike peptide 1 (GLP-1) receptor agonists (ie, dual agonists and triple agonists) for the treatment of type 2 diabetes and obesity. One medication under development is survodutide, a dual glucagon receptor and GLP-1 receptor agonist, which showed up to a 19% weight loss in people with obesity and improved management of type 2 diabetes.
Also under research and development is the triple-hormonereceptor-agonist retatrutide, a once weekly injectable glucosedependent insulinotropic polypeptide, GLP-1, and glucagon receptor agonist for the treatment of type 2 diabetes and obesity. And more drugs are coming down the pike.
To learn more about these drugs, turn to "The New Weight Management Meds" on page 24. Also in this issue are articles on culinary medicine for inflammatory bowel disease, cultivated meat, personalized nutrition and the microbiome, and healthful holiday grazing boards.
Please enjoy this month's edition!
— Judith Riddle, Editor
TDeditor@gvpub.com