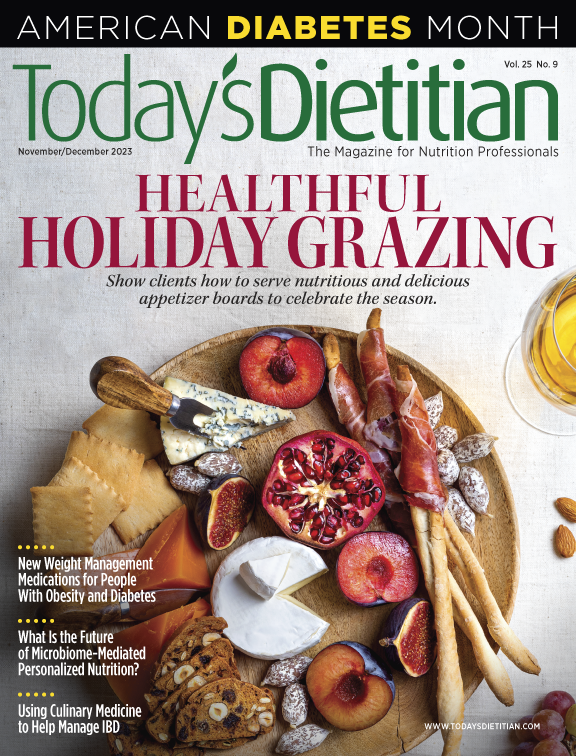 Healthful Holiday Grazing Boards
By Kristy Del Coro, MS, RDN, LDN
Today's Dietitian
Vol. 25 No. 9 P. 18
RDs can help clients serve tasty, nutritious foods and let their creativity shine.
For many people around the world, the holidays are synonymous with a time of year that brings family and friends together to enjoy two of the greatest things in life—the human connection and delicious food. What better way to reminisce about the good times of the past and create new memories with loved ones than over a holiday grazing board?
Also known as holiday appetizer boards or snack boards, grazing boards are the ultimate shareable meal. Whether they're served at a small intimate gathering or large holiday bash, grazing boards have a special place at the table, as they bring guests together and spark good conversation before the main course. The grazing board concept isn't new, as it's a spinoff from traditional charcuterie boards that primarily are centered around processed meats and cheeses. Grazing boards are likely to include few or no processed meats and cheeses but more plant-based protein sources as well as a wide variety of fruits and vegetables.
Frances Largeman-Roth, RDN, a nutrition expert and author of Everyday Snack Tray (Revell, 2023), says, "Snack boards and trays are a wonderful way to entertain. I often feel overwhelmed by the idea of a traditional dinner party, but snack trays take the stress out of the situation for me." She emphasizes that one of the advantages of serving a grazing board is that nearly every type of food can fit on it, and you can "offer guests a wide variety of foods at once." They're a great way for people to dip their toes into entertaining even if they're not confident in the kitchen, she says. Plus, they're a good option for introducing children to new foods in a fun way, which is a win-win for busy clients.
In terms of nutritional value, grazing boards have an advantage over traditional charcuterie boards since they're more inclined to include more produce, whole grains, and healthful fats. Clients who believe the holidays are a time of celebration, and not deprivation, have a wealth of healthful food options from which to choose to make grazing boards more nutritious, and yes, delicious.
Here are some expert strategies to ensure grazing boards are centered around nutrient-dense foods that clients can enjoy during the holiday season.
Blueprint for Grazing Boards
Robin Plotkin, RDN, founder of Board Mama, a charcuterie board, grazing table, and barkcuterie board company in Dallas, Texas, says she likes to include the following essential ingredients when planning and assembling boards:
• fresh cheeses;
• meats or other protein, such as smoked salmon, hard boiled eggs, or a protein-based dip;
• fresh fruit, such as grapes, berries, apples, pears, or other seasonal fruits;
• dried fruit, including apricots, figs, dates, or cranberries;
• salty, oily, or briny ingredients, such as pickles, olives, artichokes, and/or roasted red peppers;
• sweet selections like honey, jam, jelly, preserves, or dark chocolate;
• unsalted nuts;
• whole grain bread, breadsticks, or crackers; and
• fresh herbs for garnish.
If these nine items are too much, Plotkin's rule of thumb is to incorporate "a variety of flavors, colors, and textures" above all else.
Make Produce the Star
Fruits and vegetables often are included on grazing boards as garnishes, but clients can make them the star players. Encourage clients to take advantage of the different colors and textures that fruits and vegetables offer. Clients can serve them whole, dried, pickled, roasted, air-fried, and blended into dips. Including a variety of year-round and seasonal produce in different ways boosts nutrient density, adds more interesting dimensions of flavor and texture, and makes the board more visually appealing to guests.
During the holidays, there are many citrus fruits available, such as mandarin oranges, as well as apples, pears, and pomegranate arils for pops of color. Liz Weiss, MS, RDN, a cookbook author and founder of lizshealthytable.com and the podcast, EAT, DRINK, LIVE LONGER, likes to include dried fruits year-round and hearty vegetables such as carrot sticks and bell peppers, greenhouse tomatoes, like the small Campari tomatoes on the vine, and English cucumber, "because they're so colorful, and you can include a variety." Largeman-Roth says, "Fruit always adds color, freshness, and fun to any tray, and there's always something seasonal to feature, from kiwi to berries to figs."
Add Whole Grains
In addition to incorporating colorful fruits and vegetables, a grazing board almost always will include different varieties of bread and crackers since they pair well with many components. This is an opportunity to include whole wheat or sourdough bread and crackers made with a variety of grains, nuts, and seeds to add a mix of micronutrients and another dimension of flavor and texture. Clients also can include gluten-free bread and crackers for guests who may need these options.
Switch Up the Protein
Instead of adding processed meats and cheeses as the only sources of protein, include seafood options such as smoked salmon, gourmet tinned fish (eg, mussels, sardines, rainbow trout, octopus), a white fish salad, or even caviar.
Seafood contains omega-3 fatty acids, vitamin D, vitamin B12, potassium, zinc, iodine, iron, and more.
Clients also can include plant-based sources of protein such as unsalted nuts, roasted edamame, or a bean dip.
Reduce Portions of Energy-Dense Ingredients
One of the challenges of keeping grazing boards healthful and nutritious is that it's easy to consume several portions of energy-dense ingredients that often are high in sodium and saturated fat.
To reduce sodium, Plotkin suggests clients choose unsalted nuts and lower-sodium varieties of processed meats and cheeses if they want to include them. She recommends including a greater mix of nutrient-dense ingredients, such as grape tomatoes and dried fruit, with not-so-nutrient-dense options to offer balance. Weiss recommends serving thinly sliced meats so guests will pile on less per bite.
Have Some Fun
With so many food options from which to choose, the sky's the limit for clients to create holiday grazing that's fun and festive for the season. They can choose edible or inedible garnishes, for example, to present the boards as stand-out centerpieces.
For Thanksgiving, the colors of autumn can inspire clients to use mini pumpkins, heirloom corn, or fallen leaves as garnishes. For Christmas, they can use holly leaves, pine, and boxwood, as well as vibrant pomegranate arils and cranberries or ornaments and tinsel to garnish their boards. Weiss likes to make a candy cane board with sliced tomato, mozzarella, basil, and a drizzle of balsamic vinegar laid out in the shape of candy canes. For New Year's Eve, clients can create a numerical shape of the incoming year in the center of the board or decorate the board with party decorations. Because the options are endless, clients can let their creativity shine.
What follows are four recipes for holiday grazing boards that RDs can share with clients to give them inspiration during this festive season.
— Kristy Del Coro, MS, RDN, LDN, is a culinary nutritionist, consultant, and freelance food and health writer based in southern Maine. She's cofounder of the Culinary Nutrition Collaborative, which offers culinary focused nutrition education for health professionals. As a professionally trained chef and dietitian, Del Coro frequently shares her expertise in various media outlets, including as a medical board reviewer for VeryWellFit and Real Simple.
Recipes
Thanksgiving Charcuterie Board
Serves 8
Ingredients
White Bean Pumpkin Dip (see recipe below), garnished with pepitas
1 red pear, sliced
1 green apple, sliced
1 head of orange cauliflower, cut into florets
1 orange bell pepper, sliced into strips
1 yellow bell pepper, sliced into strips
1/2 cup pecan halves
1/4 cup dried cranberries
1/2 cup pistachios, shelled
1 bunch of red grapes
5 to 6 black mission figs
20 to 24 whole grain crackers (gluten-free, if desired)
Directions
Assemble ingredients around the board as desired.
Nutrient Analysis per serving (Board components with White Bean Pumpkin Dip)
Calories: 350; Total fat: 14 g; Sat fat: 1.2 g; Sodium: 360 mg; Total carbohydrate: 54 g; Dietary fiber: 10.5 g; Protein: 9 g
White Bean Pumpkin Dip
Serves 8
Ingredients
1/2 lemon, juiced and zested
2 T tahini
1 clove garlic, crushed
11/2 cups of white beans, canned, drained and rinsed
2 T olive oil
1/2 15-oz can pumpkin puree
1/2 tsp cayenne pepper
1/2 tsp salt
1 tsp fresh sage, chopped
Directions
1. Zest and juice lemon.
2. Place the lemon juice, zest, tahini, garlic, white beans, olive oil, pumpkin puree, cayenne pepper, salt, and sage in a food processor. Pulse until smooth.
3. Transfer to a bowl and allow to sit for 15 minutes before garnishing with pepitas and serving.
Nutrient Analysis per serving (White Bean Pumpkin Dip without board components)
Calories: 141; Total fat: 6 g; Sat fat: 0.5 g; Sodium: 335 mg; Total carbohydrate: 18 g; Dietary Fiber: 5 g; Protein: 6 g
— Source: Recipe and photo courtesy of Betsy Ramirez, MED, RDN, on behalf of Living Plate, LLC.
Latke Tray
Serves 4
Ingredients
8 traditional potato latkes (see recipe below)
1/4 cup sour cream or crème fraîche
4 oz lox
2 sprigs fresh dill
1/4 cup applesauce
1/4 cup beet hummus
1 small red onion, sliced into rounds
2 small lemons, sliced into rounds
1 large cucumber, sliced into rounds
4 tsp capers
4 tsp spicy ketchup
Traditional Potato Latkes
Makes 8 latkes
Ingredients
1 lb Idaho potatoes, peeled
1/2 of a yellow onion
1 large egg, beaten
1/4 tsp salt
1/4 tsp pepper
1/2 cup olive oil
Directions
1. Using a box grater, coarsely grate the potatoes into a large bowl.
2. Transfer the shredded potatoes into a fine mesh sieve. Place the sieve over a bowl and press the potatoes with a wooden spoon, squeezing the excess water into the bowl. Discard the liquid and transfer the potatoes back to the original bowl.
3. Using a separate bowl, grate the onion and squeeze out the excess water like you did with the potatoes, then transfer the onions to the bowl with the potatoes. (If you have sensitive eyes when chopping onions, place the onion in the refrigerator or freezer for 15 to 20 minutes before handling.) Add the egg, salt, and pepper, and combine.
4. Heat the oil in a large skillet over high heat until the oil is shimmering. Place a piece of grated potato in the pan. If it sizzles, you're ready to fry. Working in batches, add the potato mixture 1/4 cup at a time to the pan, squeezing out any remaining liquid first. Flatten the tops of the latkes slightly with a spatula. Reduce heat to medium and cook about 5 minutes, until latkes are golden. Flip and cook an additional 4 minutes.
5. Drain the latkes on a paper towel-lined plate. Latkes can be made a few hours in advance and reheated in a 200˚ F oven for 10 minutes. Arrange on a tray with all of the grazing board ingredients and serve.
Nutrient Analysis per serving
Calories: 380; Total fat: 21 g fat; Sat fat: 2.25 g, Sodium: 450 mg; Total carbohydrate: 29 g; Dietary fiber: 2.5 g; Protein: 10.5 g
— Source: Used by permission, ©2023, Revell, a division of Baker Publishing Group, https://www.bakerpublishinggroup.com
Christmas Board
Serves 6
Ingredients
1/2 cup pomegranate arils
3 oz Manchego cheese, sliced
3 oz Parmesan cheese, chunked
3 oz low-sodium hard salami
3 oz prosciutto, sliced thin
1/4 cup dried apricots
3 dried figs, sliced in half
1/2 cup multicolored cherry tomatoes
1/2 cup gooseberries
12 whole wheat crackers
1 oz dry roasted, unsalted almonds
Garnish with fresh rosemary, gummy candies, or starshaped or other holiday iced cookies, if desired
Directions
1. Fill a small bowl with the pomegranate arils. Decide on the placement of the bowl and then create balance on the board by placing the cheeses and the meats on opposite corners of the board.
2. Fill in remaining spaces with apricots, figs, and almonds.
3. Add tomatoes and gooseberries.
4. Add crackers.
5. Garnish the board with fresh rosemary, iced cookies, and gummy candies if desired. Enjoy!
Nutrient Analysis per serving
Calories: 330; Total fat: 19 g; Sat fat: 8 g; Sodium: 770 mg; Total carbohydrate: 22 g; Dietary fiber: 4 g; Protein: 19 g
— Source: Recipe and photo courtesy of Robin Plotkin, RDN
New Year's Eve Board
Serves 4
Ingredients
1 red bell pepper, cut into planks
5 figs
1/4 cup cornichons
1/2 lb large shrimp, cooked
2 oz smoked salmon
4 whole grain Wasa crackers
1/3 cup pitted Kalamata olives
2 cups grapes
1 2-oz wedge herbed goat cheese
2 T homemade cocktail sauce (2 T ketchup, 2 tsp prepared horseradish, and 1/2 tsp Worcestershire sauce)
Creamy dill cheese (2 T Neufchâtel cheese and 1 T chopped fresh dill)
Directions
Assemble ingredients around the board as desired.
Nutrient Analysis per serving
Calories: 280; Total fat: 7g; Sat fat: 3.5 g; Sodium: 600 mg; Total carbohydrate: 40 g; Dietary fiber: 7 g; Protein: 20 g
— Source: Recipe and photo courtesy of Sara Haas, RDN, LDN