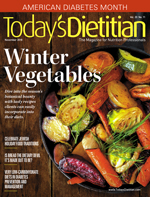 November 2018 Issue
Ask the Expert: Moringa — The Newest Superfood
By Toby Amidor, MS, RD, CDN
Today's Dietitian
Vol. 20, No. 11, P. 8
Q: Clients have been asking me about moringa. What is it, and what does the research say about it?
A: Moringa (Moringa oleifera), or horseradish tree, is a plant native to the Himalayan foothills in South Asia. It has been touted to help conditions such as arthritis, high blood pressure, diabetes, thyroid disorders, and kidney stones. Although there are numerous animal studies on moringa and health, only a handful of human studies have been conducted.
About Moringa
Moringa grows best in tropical climates and is cultivated for export in tropical and subtropical regions around the globe. The entire moringa plant, including the leaves, bark, flowers, fruit, seeds, and root, is edible. The leaves, the form most commonly consumed in the United States, are a good source of calcium and iron per 1 T of powder and contain some fiber, protein, vitamin A, magnesium, potassium, zinc, and copper. Moringa also is known for its phytonutrients including flavonoids and saponins.
In the United States, Kuli Kuli's Organic Pure Moringa Powder, which can be added to dishes or smoothies, is a popular moringa product. Other moringa products include smoothie mixes, bars, shots, teas, and kombucha.
Research
Jed W. Fahey, ScD, an assistant professor of medicine and of pharmacology and molecular sciences at the Johns Hopkins School of Medicine and director of The Lewis B. and Dorothy Cullman Chemoprotection Center, claims there are five promising disease applications for moringa in both animal and human studies: antibiosis, chemoprevention (of cancer and other noncommunicable diseases), diabetes, hypertension, and asthma.
According to a 2018 review, moringa was found to have anti-inflammatory and antioxidative properties.1 Several animal studies found decreases in fasting blood glucose and postprandial blood glucose when moringa leaf extract was administered to rats with diabetes.1-3 Anticancer properties also have been studied, but the review notes that the bioavailability of the moringa compounds need to be established before exploring their anticancer role in humans.1
Studies also have shown moringa's potential in regulating blood pressure. One study found that moringa leaf extract administered to hypertensive rats reduced systolic, diastolic, and mean arterial blood pressure.1 Other research has examined the use of moringa in antimicrobial and hepatoprotective roles, which both have shown to be promising.1 However, much of the research has been done on animals and in small studies in humans.
Safety
According to a 2015 review of moringa's safety and efficacy, no adverse effects have been reported in humans using powdered whole leaf preparations of moringa.4 However, moringa sourcing can be an issue, and finding a reputable supplier that provides powder made from 100% moringa leaves is important, says Lisa Curtis, founder and CEO of Kuli Kuli Foods. "If the moringa is grown in soil high in heavy metals or industrial toxins, those metals and toxins will go up the tree and end up in the powdered leaves," she says. Industrial areas tend to have more heavy metals in the final product; this is an issue with moringa sourced from India.
Recommendation for Clients
Moringa has some potential health benefits, but more research is needed. If clients choose to take moringa, RDs should be aware of any additional herbs or supplements it contains that may interact with health conditions or medications, as well as advise clients of safe sourcing. In addition, practitioners should be aware of product accessibility, as moringa can be expensive. If clients want to take moringa to help with medical conditions, dietitians should address primary disease management methods that the Academy of Nutrition and Dietetics has established before they use this supplement.
— Toby Amidor, MS, RD, CDN, is the founder of Toby Amidor Nutrition
(http://tobyamidornutrition.com) and a Wall Street Journal best-selling author. Her cookbooks include Smart Meal Prep for Beginners, The Easy 5-Ingredient Healthy Cookbook, The Healthy Meal Prep Cookbook, and The Greek Yogurt Kitchen. She's a nutrition expert for FoodNetwork.com and a contributor to US News Eat + Run, Muscle&Fitness.com, and MensJournal.com.
References
1. Udechukwu MC, Abbey L, Nwodo UU, Udenigwe C. Potential of Moringa oleifera seeds and leaves as functional food ingredients for human health promotion. J Food Nutr Res. 2018;57(1):1-14.
2. Yassa HD, Tohamy AF. Extract of Moringa oleifera leaves ameliorates streptozotocin-induced diabetes mellitus in adult rats. Acta Histochem. 2014;116(5):844-854.
3. Tende JA, Ezekiel I, Dikko AAU, Goji T. Effect of ethanolic leaves extract of Moringa oleifera on blood glucose levels of streptozocin-induced diabetics and normoglycemic Wistar rats. Br J Pharmacol Toxicol. 2011;3(1):1-4.
4. Stohs SJ, Hartman MJ. Review of the safety and efficacy of Moringa oleifera. Phytother Res. 2015;29(6):796-804.