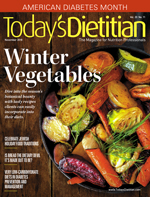 November 2018 Issue
Culinary Corner: Apples — Diverse and Appealing
By Chef Julie Harrington, RD
Today's Dietitian
Vol. 20, No. 11, P. 66
Walk into any produce section in the supermarket, and you'll see a vast array of colorful apples in various shapes and sizes. Some are stacked high on sloped display tables and merchandised in bins and decorative wicker baskets. If you were to sample them all, you'd notice the differences in sweetness, tanginess, and texture just as much as their varied physical appearance. It doesn't stop there. Their distinct textures and flavor profiles dictate their culinary uses. Yet despite the many varieties available today, there was a time when there were thousands more.
In 1905, the USDA published a catalog of 17,000 apple varieties in the United States.1 That's in stark contrast to the estimated 2,500 varieties grown in the United States today, only 100 of which are commercially grown.2
Why did the number of apple varieties rapidly decline from the 20th century to current day? In the 1920s, commercial growers homed in on a few varieties they could cultivate efficiently, resulting in the loss of thousands of apple types.
Luckily, the apple varieties that remain are diverse and appealing and are the No. 2 best-selling fruit in the United States.3 And that's good news, because one medium apple with skin includes almost one-fifth of clients' recommended fiber intake and is a good source of vitamin C.4 Apples also contain potentially beneficial flavonoids such as quercetin.5
With many varieties available, RDs can help clients choose the best apple type for the following culinary uses.
• Best apples for making applesauce: Pink Lady, Granny Smith, Braeburn
• Best apples for baking: Granny Smith, Pink Lady, Golden Delicious, Fuji
• Best apples for salads: Honeycrisp, Pink Lady, Fuji, Jazz, Empire
• Best apples for making galettes: Golden Delicious, Pink Lady, and Honeycrisp, varieties one can use to make the following recipe.
— Chef Julie Harrington, RD, is a professionally trained chef and RD specializing in culinary nutrition. Follow her on Instagram, Twitter, and Facebook @ChefJulie_RD.
References
1. Ragan WH; US Department of Agriculture. Nomenclature of the apple: a catalogue of the known varieties referred to in American publications from 1804 to 1904. https://www.biodiversitylibrary.org/ia/nomenclatureofap00raga#page/7/mode/1up. Published January 25, 1905.
2. Apple facts. University of Illinois Extension website. https://extension.illinois.edu/apples/facts.cfm
3. Top 20 fruits and vegetables sold in the U.S. Produce Marketing Association website. https://www.pma.com/content/articles/2017/05/top-20-fruits-and-vegetables-sold-in-the-us

4. USDA Food Composition Databases. US Department of Agriculture, Agricultural Research Service website. https://ndb.nal.usda.gov/ndb/. Updated April 2018.
5. Webb D. Quercetin in the spotlight. Today's Dietitian. 2018;20(7):22-25.
Recipe
Rustic Apple Galette
Serves 8
Ingredients
Crust
3/4 cup white whole wheat flour
2/3 cup all-purpose flour
1/2 T sugar
1/2 tsp salt
1/3 cup unsalted butter (5 T), cut into 1/2-inch pieces
3 T low-fat milk
1/4 cup plain Greek yogurt
Filling
3 apples, peeled and thinly sliced (choose a firm, sweet, and tart variety, such as Pink Lady)
2 T white whole wheat flour
2 T maple syrup
2 T lemon juice
1 tsp lemon zest
1/2 tsp ground cinnamon
1/8 tsp ground nutmeg
1/8 tsp ground ginger
1 large egg white, lightly beaten
1 tsp sugar, optional
Directions
1. To make crust, combine white whole wheat flour, all-purpose flour, sugar, and salt in a food processor. Pulse a few times to combine.
2. Add butter; pulse 10 times until mixture resembles coarse meal.
3. Add milk and yogurt; pulse 15 to 20 times, until pea-size lumps form and the dough begins to pull away from the sides of the bowl. Scrape the sides down with a spatula, if needed.
4. Turn dough out onto a work surface. Shape into a 6-inch disc. Cover with plastic wrap and refrigerate for at least 2 hours or overnight.
5. To make filling, in a large bowl, combine apples, white whole wheat flour, maple syrup, lemon juice, lemon zest, cinnamon, nutmeg, and ginger.
6. Preheat oven to 425° F. Line a large baking sheet with parchment paper.
7. Unwrap dough and place on a floured surface. Roll out dough to a 15-inch circle. Place the dough on the baking sheet. Evenly spoon the apple mixture onto dough, leaving a 2-inch border around the edges.
8. Fold the edges of the dough over the apples. Brush edges with the whisked egg white. Sprinkle with sugar, if using.
9. Bake for 25 to 30 minutes until the crust is golden brown. Let cool for at least 20 minutes before cutting. Cut into 8 wedges.
Nutrient Analysis per serving
Calories: 280; Total fat: 7 g; Sat fat: 4 g; Cholesterol: 35 mg; Sodium: 130 mg; Total carbohydrate: 49 g; Dietary fiber: 5 g; Sugars: 9 g; Protein: 7 g