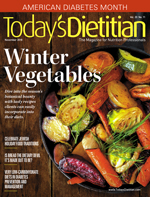 November 2018 Issue
Live Streaming in 3, 2, 1 …
By Deanna Segrave-Daly, RDN
Today's Dietitian
Vol. 20, No. 11, P. 38
The guide will help you learn how to use this powerful communications medium to build your brand and promote sound nutrition messages.
Just as blogs have created a platform for anyone to get published, social media outlets such as Facebook, Twitter, and Instagram have given us the power to broadcast to targeted audiences whenever we want. Dietitians can position themselves as savvy and relevant health professionals by taking advantage of these free publicity channels. Now live streaming—or broadcasting in real time over the internet—has become an accessible and rapidly growing way to join the online video revolution.
This article will help RDs understand the importance of using live streaming to communicate actionable and appealing nutrition messaging, determine which live streaming platform is appropriate for their outreach efforts, and provide specific steps on how to successfully execute a video live stream from start to finish.
Power of Live Streaming
The main purpose of live streaming is to provide a unique, real-time experience that encourages an audience to interact with you, which then can turn individual followers into a community. While television broadcasts and standard video are essentially a passive means of communication, live streaming immediately invites participation. Live streaming also can build trust and loyalty as you become more accessible and authentic to your audience.
Why is it important to embrace live streaming communications now? For one, it's the simplest way to produce video content without having to shoot and edit traditional video. Nowadays, social media outlets place more importance on video than photographs and emphasize posts that provoke engagement and interaction vs audience reach (ie, the numbers of people that simply view your posts). Facebook is a prime example—with its algorithms, an interactive video (eg, a Facebook Live video) will get put in front of more of its users than a basic post with a photo. And it's becoming more common for people to watch live streaming video than short-form and long-form online video.
Another reason for the appeal of live streaming is that you control the broadcast. Dietitians decide when they want to go live, where they want to broadcast from, how long they want to be live, and what they want to say. And RDs can do all of this easily from their smartphones (or laptops) for free.
It's exciting to see more and more dietitians consistently embracing this powerful means of communication. In fact, many are using it to promote their online presence, provide engaging and accessible instruction, deliver science-based evidence in a sea of misinformation, and further reach and grow their communities.
Choosing a Live Stream Platform
As the popularity of this medium grows, more and more live streaming platforms have become available. But this doesn't mean dietitians need to—or should—be on multiple platforms. It's best to find out which social media outlets your target audience uses and choose accordingly. Some of the most common platforms dietitians are using and that have the most reach include the following:
• Facebook Live. With more than 2.2 billion active users, Facebook has the largest reach, so this is where you have the potential to get the most eyes on your live broadcast. Also, your live posts become a permanent part of your feed, allowing you to easily promote them for weeks after airing. Facebook also has a robust analytics program, not to mention the platform is among the most familiar and easy to use.
• Instagram Live. Growing in popularity, this is a great option if you have an engaged Instagram audience. After streaming, you can save the video to your phone, but it will disappear from your Instagram feed after 24 hours.
• Twitter Live. Periscope, formerly a standalone live streaming app, has merged with the Twitter platform, so live broadcasts can reach both audiences. Twitter Live often is used for quick or spontaneous broadcasts such as behind-the-scenes or on location.
• YouTube Live. While your broadcast will be exposed to an impressive search potential—as YouTube is owned by Google and has advanced live streaming features including broadcast delay—YouTube has about one-half the number of users as Facebook. But it's a sensible option for those with a growing YouTube channel.
Deciding on Your Format
In preparation for your first live stream, think about the ways in which you want to conduct your live stream or convey various types of information to your audience. The following are examples of different types of formats dietitians can use in the nutrition field in various situations:
• sharing or commenting on new nutrition research, popular trends, and fad diets;
• interviewing or doing a Q&A with experts, colleagues, or patients;
• seeking information from your audience or community;
• highlighting a recipe, seasonal foods, or culinary tips;
• answering a question clients often ask;
• marketing something that already exists (eg, an e-course, cookbook, or webinar), or announcing a new product;
• reporting from live events or conferences; and
• doing a giveaway.
Deciding on the format will help dictate the appropriate setting for your live stream—eg, a kitchen, work office, conference room, home office, or on location.
Key Equipment Needed
As long as you have a smartphone (or laptop) and a Wi-Fi connection, you can start recording immediately, but having some basic gear, such as the following, on hand can help make your live stream go from good to great: 
A tripod for your phone. A tripod is a must to keep a steady shot and to free up your hands. Many models for smartphones cost $20 or less.
A power cord or portable charger. Live streaming saps your phone's battery fairly quickly, so either charge it beforehand or plug it in, making sure viewers can't see the cord on screen.
Lights. A simple LED light (for photography and videography) in front of your face can make a world of difference in your appearance and the stream's clarity. Look for an O-Ring or "selfie" light, or an inexpensive light kit. Don't rely on indoor lighting.
A microphone. If you're live streaming more than a few feet away from the camera or in a location with background noise, a lavalier mic will improve the audio. You also can use your smartphone earbuds.
Setting Up for the Live Stream
(Note: Facebook Live will be the point of reference for the remainder of the article, but many of the tips can be applied to all live streaming platforms.)
To begin the setup for your live stream, place your tripod where you want your phone to record you head on, or position it from a slight angle above. If you want to read the comments during your broadcast and see the screen, put your phone in selfie mode. You can shoot using the reverse camera (with the back of the phone facing you), but you won't be able to interact with your audience unless you use a laptop that's logged in to your Facebook page so you can see the comments, which aren't always in sync.
When shooting in selfie mode on an iPhone for Facebook Live, you can unmirror the camera so printed words don't appear backwards. Before you go live, click on the following icons in this order: live video, wand, tools, and horizontal flip. Then, touch the screen to get back to the box where you can type in a title for your live stream before hitting the "start live video" button.
You have the option to shoot horizontally or vertically, but choose before going live or you run the risk of shooting sideways or upside down. Horizontally works well when you want a wider shot, eg, in a kitchen, while vertically is a good choice for a close-up conversation with your audience when you're the only one on camera. If shooting horizontally, remember to look at your camera lens (now on the side of your phone) instead of the screen to prevent your eyes from looking as though they're off camera.
Consider the following details before going live:
• Do a test run. This is an option from your personal Facebook page, as you can change the privacy settings to "only me" and then hit the "go live" button. This way, when you are live, it will only be visible on your feed. Once you hit stop, post and review the video for lighting, framing of the shot, etc. You can then delete the video.
• Create teasers. You can generate some buzz before your live stream by posting on your Facebook page when you'll be going live and what you'll be talking about. You can promote your upcoming live stream by doing a simple behind-the-scenes Instagram Story or tweeting a link to your Facebook page right before going live, inviting followers to watch. Posting teasers also holds you accountable for going live at a certain time and date if you've been hesitant to get started.
Once you click the "go live" button, do the following:
• Start immediately. Start smiling during the countdown so you're not caught off guard when the broadcast goes live. Begin with a key message, a question, or another hook and then do a brief intro of yourself. While live viewers might not see the first few seconds of your broadcast, replay viewers will.
• Ignore the numbers. Don't worry if you only have a few people watching live. Unless you have a large number of dedicated followers, you'll get a lot more engagement afterward when you promote the replay, a topic we will visit shortly.
• Look in the right direction. Look at the screen if you're set up vertically, or look at the camera lens on the side if you're set up horizontally. That way, you'll be talking directly to your audience.
• Enlist a viewer. Consider having a friend or colleague watch your live broadcast to start engaging with viewers or troubleshoot via the comment section in case something looks different on their end.
• Invite viewers to leave comments and ask questions. Make sure you broadcast for at least 10 minutes so people can find you while you're live. Give viewers a call to action by asking them to follow your Facebook page, share the live broadcast with their Facebook friends, sign up for your e-newsletter, comment on topics they want you to cover in the future, and visit your blog via a link added to the comments section. In addition, acknowledge the comments and questions from live viewers. 
Troubleshooting During a Live Stream
No matter how often you live stream, technical difficulties can happen—but that's the reality of a live stream vs posting a prerecorded video. The good news is audiences expect to see and want to see authenticity vs perfection. Think of how many videos go viral because of the unexpected. The following are some strategies for handling various technical issues and other awkward moments:
• Lost connection. Do a test run to make sure you have a good Wi-Fi connection. If your stream drops while you're live, you can either start over (and not post the original broadcast) or post it and start again with a "part two" broadcast.
• Unable to answer a question. Be honest and say you don't know but will find out. Follow up in the comment section after the broadcast.
• Background noise. For sudden sounds that end quickly, such as a barking dog, or a lasting annoyance such as a lawn mower, simply acknowledge them and move on. But if the noise is truly disruptive and unyielding, you can stop the broadcast and start over.
• Trolls. Viewers who start arguments or post derogatory remarks (otherwise known as trolls) may make an appearance. Either ignore the troll or delete him or her during the broadcast by clicking on the profile picture and block option, or do so after you post your broadcast on Facebook or other social media outlets.
Once Your Live Stream Ends
When you're finished recording, hit "end live video" and breathe a sigh of relief. However, what you do after your live stream is equally as important as the content you just created. The following "after" steps will help maximize reach and engagement.
• Save and upload. Immediately after recording, click the download icon (the arrow in the box pointing down) so you can save the video to your phone, should you want to post it elsewhere. Then tap the blue "post" button to publish the broadcast to your Facebook page so it appears as a replay video post on your page and in your followers' feeds.
• Clean up the post. As needed, edit the title and add key words to the video post. You have the option to change the thumbnail (the still photo viewers see before playing the replay video). If you referenced links during your broadcast, go back and add them in the comment thread so replay viewers can easily access them.
• Promote the replay. The beauty of Facebook Live is that your broadcast stays on your page and you can promote it on Facebook and other social media channels by sharing the link. You also can promote it in your e-newsletter or anywhere else you share your content to increase engagement and audience reach for weeks to come.
• Continue engagement. Monitor your Facebook notifications so you can answer questions and address comments in a timely manner from those watching on replay. This increases the chance of getting more eyes on your content.
• Review analytics. Take advantage of all the data Facebook has about your live stream. Under insights and videos, you can view the number of peak live viewers, people reached, reactions, minutes viewed, and much more. Get familiar with these statistics to hone your future live streams.
Executing a Sponsored Live Stream
What's also important is following the rules for how to handle sponsored content. Any broadcast for which you have received money or samples from a third party, brand, or sponsor should be considered sponsored content. Consider these steps when doing a sponsored Facebook Live video:
• Disclosure. Both Facebook and the Federal Trade Commission (FTC) expect disclosure. Facebook requires tagging the broadcast with their branded content tool (handshake icon). Read the Facebook branded content policies before broadcasting any sponsored content on the platform. The FTC requires broadcasters to use the hashtag #ad or #sponsored in any written content and also address sponsorship vocally during the broadcast in case viewers don't see the written disclosure.
• Boost. Beyond your usual promotion on social media channels, you also can boost your post by targeting Facebook users by age, gender, location, and interests to help increase exposure of your live stream post. You select the budget and length of time for the boost (even a few dollars can go a long way).
• Analyze. Use the analytics from Facebook Insights to report the live stream's metrics back to the sponsor. Do this at least two weeks after you broadcast so the numbers capture the replay traffic as well.
Remember that similar to any new means of technology, you can read how-to guides and talk to experts, but you'll learn best by jumping in and experiencing the medium yourself. So, go put a date on the calendar for when you will go live and stick to it.
— Deanna Segrave-Daly, RDN, is a food-loving culinary dietitian and co-owner of Teaspoon Communications. She blogs at TeaspoonofSpice.com and regularly appears live on the Teaspoon of Spice Facebook page as well as other clients' pages. She's also the coauthor of the newly released The 30-Minute Mediterranean Diet Cookbook.