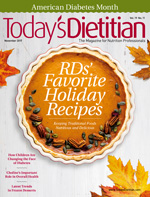 November 2017 Issue
Frozen Dessert Innovations
By Juliann Schaeffer
Today's Dietitian
Vol. 19, No. 11, P. 42
The freezer aisles are showcasing more healthful and special diet-friendly versions of favorite indulgences.
Frozen desserts such as ice creams and fruit pops are American staples for both after-dinner treats and midday snacks. According to industry stats from Statistica, ice cream and other frozen novelties had combined sales of $2.6 billion in 2016, making it the largest segment of the frozen food category.
But the big business of frozen desserts hasn't always been the best for Americans' bellies, with ice creams and other frozen treats traditionally containing lots of calories, fat, and sugar. As consumers demand more healthful, less processed foods, frozen dessert manufacturers are taking notice and responding in novel ways.
In this article, Today's Dietitian delves into the frozen dessert case to see what's new and what's trending, offering RDs' takes on a sampling of products on which clients may seek your guidance as they decipher how best to indulge a sweet tooth while staying healthful during the holiday season and beyond.
Trends and Factors at Play
According to nutrition experts interviewed, consumers are demanding higher health quotients from the foods they purchase—and desserts are no exception.
"People are focused on filling their carts with cleaner, more natural foods, and it's not surprising that this trend has found its way to the frozen foods section, too," says Joy Bauer, MS, RDN, CDN, health and nutrition expert for NBC's TODAY show, bestselling author of From Junk Food to Joy Food: All the Foods You Love to Eat … Only Better, and founder of Nourish Snacks. "As a result, manufacturers are looking to remove preservatives, [artificial] colorings, artificial sweeteners, and other junk from ice creams, ice pops, and other chilly treats. Instead, food companies are incorporating more wholesome ingredients in their products."
Michelle Dudash, RDN, Cordon Bleu-certified chef and author of Clean Eating for Busy Families, also has noticed this trend. "Manufacturers have really cleaned up the ingredients lists, and I have no doubt this is in response to consumer demand for clean labeling," she says.
Products geared toward modified diets free of gluten, dairy, and the top eight allergens, also are trending, says Neal Malik, DrPH, MPH, RDN, CHES, EP-C, who leads the Master of Science in Nutrition for Wellness program and teaches core courses at Bastyr University in California.
Malik offers his take on what's behind this recent expansion of "free from" frozen novelties: "Given the increased awareness of food allergies and food sensitivities, I've seen a spike in the number of dairy-free, gluten-free, and vegan frozen dessert options. Many companies also have begun labeling their products as non-GMO.
"Some of these desserts may have been vegan and dairy- or gluten-free to begin with (eg, frozen fruit bars made with real fruit), but companies are now making sure the consumer sees these claims front and center," Malik adds.
Bauer says she wouldn't be surprised to see "cleaner" versions of frozen desserts continue to gain popularity. "Sweet, frozen treats are a huge draw for people," she says. "If food companies continue to market a health or good-for-you angle, they'll definitely appeal to a larger group of health-conscious consumers."
New and Noteworthy
Glance in your local grocery store's frozen dessert case, and you'll likely find dairy-free, gluten-free, low-sugar, and vegan options. In addition, there are portion-controlled varieties of the more indulgent treats. Here's a sampling of what's trending, with nutritional info and dietitian perspectives to help guide clients toward the best dessert options for them.
Nondairy and Vegan Options
Bauer has seen a recent surge in plant-based frozen dessert options. "Companies are using coconut milk, almond milk, and other nondairy milks to create a creamy experience without using cow's milk. This is good news for vegans and lactose-intolerant folks," she says.
One of Dudash's favorites in this vein is Luna & Larry's Coconut Bliss, which she says looks, tastes, and feels like ice cream but is made with coconut milk.
"This is still a very calorically rich product and is high in saturated fat," she explains. "This is geared toward someone who wants to go more plant based or dairy-free. If neither of those is your goal, you're better off with a light ice cream."
A 1/2-cup serving of Luna & Larry's Cinnamon Chocolate Fusion flavor provides 240 kcal, 18 g fat (16 g saturated fat), 1 g protein, and 13 g sugar.
More mainstream brands also are getting in on the nondairy game. Häagen-Dazs introduced four nondairy ice cream flavors in the summer of 2017. A 1/2-cup serving of its Coconut Caramel nondairy ice cream is coconut cream based and totals 240 kcal, 11 g fat (all saturated), 1 g protein, and 19 g sugar. Popular low-calorie, low-sugar ice cream brand Halo Top recently released vegan and soy-free ice cream varieties including Chocolate Covered Banana, Cinnamon Roll, Peanut Butter Cup, and Oatmeal Cookie. These nondairy varieties contain 280 to 360 kcal, 12 g protein, and 16 to 24 g sugar per pint.
Ben & Jerry's also bent to consumer demand, offering a nondairy line (expanded with three more flavors in 2017) made with almond milk. A 1/2-cup serving of its nondairy Cherry Garcia provides 240 kcal, 12 g fat (8 g saturated), 2 g protein, and 25 g sugar.
Low-Sugar Ice Creams
Bauer sees low-sugar frozen treats as another way companies are trying to offer consumers a less indulgent way to treat themselves. "That's because people want to satisfy the urge in a healthier way," she says.
Two low-sugar ice cream options available today include Halo Top and Enlightened Snacks.
Since 2012, Halo Top has offered a range of low-calorie, high-protein, and low-sugar ice cream flavors, averaging 20 to 24 g protein and 240 to 360 kcal per pint (with five servings per pint). Halo Top cuts sugar by using organic stevia and erythritol while using egg whites to rival traditional ice cream's creamy, decadent texture.
With more than a dozen flavors available, Halo Top recently announced seven new flavors, including Pancakes & Waffles, Cinnamon Roll, and Green Tea Mochi.
Enlightened is another brand seeking to sway consumers with low-sugar ice cream options using monk fruit extract and erythritol. Launched in 2013, Enlightened offers high-protein, low-sugar ice cream bars and pints. The brand's 22 flavors include Bananas Foster, Birthday Cake, Black Cherry Chocolate Chip, and Sea Salt Caramel. Pints range from 240 to 400 kcal (or 60 to 100 kcal per serving). Its Sea Salt Caramel has 7 g protein and 5 g sugar per serving, similar to Halo Top's 5 g protein and 7 g sugar per serving for the same flavor.
Portion-Controlled Bites and Bars
Want a frozen treat that's portioned for you? "Portion-sized or bite-sized desserts are also a big sell with consumers—they want to enjoy their favorite foods without the temptation of overdoing it," Bauer says.
A favorite of Dudash's is Diana's Bananas Banana Babies, which are banana halves dipped in dark chocolate. "It's just a whole banana dipped in chocolate, which counts toward your fruit servings and also provides nutrients like fiber, vitamin C, and phytonutrients," she says.
Dole Dippers are another take on chocolate-covered fruit, available in pineapple, banana, and strawberry varieties. Four of the dark chocolate-covered banana slices contain 100 kcal, 4.5 g fat (3 g saturated), 4 g fiber, and 7 g sugar.
Another bite-sized frozen snack is My/Mo Mochi Ice Cream, a snack made with a scoop of ice cream wrapped in a soft dough. The new six-pack boxes are available in seven flavors, including mango, strawberry, and green tea, and each ball contains 110 kcal. The green tea flavor has 3 g fat (2 saturated) and 11 g sugar.
"I'm also seeing mini versions of favorites, like Lil' Drums being less than half the size of the original Drumstick," says Dudash of another portion-controlled option for little hands. "I buy the Lil' Drums for my daughters, since I feel better knowing they'll have more room left in their tummies for nutrient-rich foods."
Fresh Takes on Indulgences
While some companies reformulate ingredients to offer more healthful frozen treats, others take a different tack, embracing the concept of indulgence in new ways.
Drew Harrington, cofounder of Yasso Frozen Greek Yogurt, admits the pendulum of consumer demand is shifting toward healthfulness, and nutritional benchmarks for calories, protein, and sugar are important purchase motivators. But he admits taste reigns supreme.
That sentiment is illustrated in Yasso's new Frozen Greek Yogurt Sandwiches in Mint & Vanilla; each sandwich (a round, dark chocolate wafer that holds a thick layer of Greek yogurt) contains 120 kcal and 5 g protein. Yasso expanded its line of frozen Greek yogurt bars, with similarly indulgent flavors such as Toffee Caramel Chocolate Chip. One bar provides 100 kcal, 2.5 g fat, 5 g protein, and 14 g sugar.
Marlene Schmidt, nutrition health and wellness manager for Nestlé USA, says Nestlé's answer to changing consumer demands isn't avoiding the indulgence factor. "A huge number of shoppers still head to the ice cream aisle looking for pure indulgence," she says. Schmidt recognizes that shoppers seek this indulgence looking for simpler, more natural ingredients. "Our consumers' preferences guide our recipe work," she says. "Many of our products now feature fewer ingredients that consumers are likely to find in their own kitchens, which we know consumers are seeking more and more."
Dudash likes Edy's Slow Churned Light Ice Cream for those reasons. "It has been out for a number of years, but it remains a great-tasting product, with half the fat and a third fewer calories than regular ice cream," she says.
One of Nestlé's newer offerings includes the Skinny Cow Protein Packed Indulgence ice cream line.
The four flavors, including Mint Chip Mashup and Oh My! Vanilla Bean, range from 330 to 370 kcal and contain more than 22 g protein in the full 14-oz container, or 6 g protein and around 3 g fat per serving. While these products will be part of a more limited launch in 2017, Schmidt says they'll become more widely available in 2018.
Another of Nestlé's newer indulgences: Skinny Cow Greek Frozen Yogurt Bars. Two indulgent flavors include Salt-Kissed Caramel and Chocolate Fudgetastic Swirl. One bar of the Salt-Kissed Caramel totals 100 kcal, 2 g fat, 13 g sugar, and 5 g protein.
Better-for-You Fruit Pops
Adding more real fruit to frozen pops is another way brands are boosting healthfulness in their frozen desserts. "Icy fruity pops favored by children now have a whole new crop of options," Dudash says. "The one I buy my kids that they love is Nestlé's Outshine Fruit Bars, which are made with mostly just cane sugar and real fruit. Plus, they got creative with coloring them with real foods, not artificial food dyes."
According to Schmidt, the Outshine brand has improved the ingredients in eight of its popular Fruit Bar flavors, now made with an average of 77% more real fruit or fruit juice and 11% less sugar. The brand also has launched a new Watermelon flavor that has fruit as the first ingredient. One Watermelon bar comes in at 50 kcal, 0 g fat, and 13 g sugar.
Bauer likes Outshine for fruit pops as well as GoodPop, which recently introduced new Orange N' Cream and Organic Freezer Pops. One Orange N' Cream pop totals 80 kcal, 4.5 g fat, and 9 g sugar. The Organic Freezer Pops are USDA Certified Organic, non-GMO, Certified Kosher, and each contain 100% fruit juice, 40 to 45 kcal, 0 g added sugars, 8 to 9 g total sugars, and are fat-free, gluten-free, and free from the top eight allergens.
Nutrition Takeaways
With so many trends and new products to consider, dietitians are well positioned to help consumers make sense of it all. Sometimes the best option may well depend on a person's biggest nutrition challenges. "Individually wrapped items are perfect for someone who's challenged by controlling their portions, or someone who isn't going to take the time to portion their ice cream into a dish," Dudash says.
Malik recommends dietitians caution clients who want to choose "free from" desserts. "We need to be careful when manufacturers are removing ingredients from their products because sometimes other less desirable nutrients are added to make up for this deficit," he says. "For example, a dairy-free product may be higher in sugar and lower in calcium depending on the type of milk substitute used. If gluten is removed, we need to ask what's being added in its place. In some cases, this may include additives and preservatives that we may want to avoid. If a product is sugar-free, then it may not be fat-free, and vice versa."
Malik believes one of the fastest and most effective ways to evaluate whether a product is nutritious is to focus on the ingredients list. "Because ingredients are listed by weight, by looking at the first five ingredients, we can quickly determine whether the food is a nutritious option. For example, if someone is purchasing a fruit popsicle, the first ingredient should ideally be fruit, not high-fructose corn syrup. And if a product has more than five ingredients, we can probably assume that it contains some additives or artificial preservatives."
When it comes to frozen desserts, Dudash says the biggest nutritional offenders can be added sugars, saturated fat, and total calories. Having clients focus on those nutrition markers can lead them to more healthful options.
"Considering 22 g is the daily limit for saturated fat for someone on a 2,000-kcal diet, I would say that anything over 5 g saturated fat per serving in a frozen treat is probably too high for your daily budget," she says. "For added sugars, until the new labeling laws come into play, it's hard to tell how much added sugars a treat contains since the total sugar on the label includes the naturally occurring sugars from milk and fruit.
"Like anything else, frozen treats can run the gamut from totally healthful to a diet disaster, so choose wisely," Bauer advises consumers. "It's important to look at the ingredients list and the Nutrition Facts panel to see whether a product deserves a spot in your cart and freezer."
— Juliann Schaeffer is a freelance food and health writer based outside of Allentown, Pennsylvania, and a frequent contributor to Today's Dietitian.