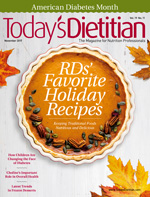 November 2017 Issue
Editor's Spot: Time to Up the Ante
By Judith Riddle
Today's Dietitian
Vol. 19, No. 11, P. 4
As a journalist, editor, and author who's covered a wide variety of health care topics for many years, I've learned time and again that increased risk of CVD, dental problems, dementia, and nerve, kidney, and eye diseases are common complications associated with diabetes. But I didn't know that hearing loss also was a common complication that certified diabetes educators can help patients avoid by consistently using screening and evaluation tools in practice to identify hearing impairment and balance issues.
In August, at the American Association of Diabetes Educators (AADE) conference, I sat in a room packed with RDs/CDEs to listen to the presentation "The Diabetic Ear: Collaboration of the Audiologist and Diabetes Educator."
Most diabetes educators know that hearing loss is a common complication and have had training in this area, but many rarely or never refer patients for hearing screening, and most don't use hearing screening tools, according to presenter Kathryn Dowd, MEd, AuD, FNAP, audiologist and president of Hearing Solution Center, Inc, in Charlotte, North Carolina.
Dowd discussed the association between diabetes and hearing loss, screening and evaluation tools diabetes educators can use, diagnosis and treatment options, making referrals, and patient comanagement strategies. If you didn't attend the session, I urge you to download the PowerPoint presentation on the AADE website and begin thinking about implementing these tools and making more patient referrals if you haven't already. According to the American Diabetes Association, hearing loss is twice as common in people with diabetes and 30% higher in those with prediabetes. So the need for prevention and treatment is great in this population.
In honor of American Diabetes Month, Today's Dietitian is featuring the articles "Children Changing the Face of Type 2 Diabetes" on page 32, and "Caring for Patients' Psychosocial Needs" in the Dynamics of Diabetes department on page 12.
Also in this issue are articles on dietitians' favorite holiday recipes, choline, the DASH diet, and frozen desserts.
Please enjoy the issue!
Judith Riddle
Editor
TDeditor@gvpub.com