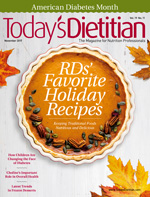 November 2017 Issue
RDs' Favorite Holiday Recipes
By Judith C. Thalheimer, RD, LDN
Today's Dietitian
Vol. 19, No. 11, P. 24
Nutrition experts offer tips for keeping traditions both delicious and nutritious.
The winter holiday season is a time full of family and feasting, tradition, and temptation. Holiday meals often are built around family-favorite recipes that are comforting in their familiarity but aren't necessarily the most healthful of choices. "Growing up back in the 1960s and '70s, I have fond memories of my nana's luscious lemon spongecake and my mom's super-sweet sweet potato casserole," says Liz Weiss, MS, RDN, creator of the family food podcast, blog, and website Liz's Healthy Table, author of the new coloring book series Color, Cook, Eat!, and coauthor, with Janice Newell Bissex, MS, RD, of the cookbooks No Whine With Dinner and The Moms' Guide to Meal Makeovers.
Carolyn O'Neil, MS, RDN, who was born in her mother's native Scotland but grew up on the gulf coast of Florida in a family that loved to throw big dinner parties (even though they didn't have a dishwasher), recognizes that excess comes with the territory at holiday time. "Holidays are times for indulgence, but as a registered dietitian nutritionist I like to treat family and friends to comfort foods with a twist," says O'Neil, an award-winning food and travel writer, television personality, blogger at TheHappyHealthyKitchen.com, and author of The Slim Down South Cookbook and The Dish on Eating Healthy and Being Fabulous! "Smart ingredients can lighten a dish a bit, and big flavors add enjoyment to sensible portions."
Other nutrition professionals try to create new healthful traditions for their family and friends. "I always try to make something simple, seasonal, delicious, and vibrantly healthy," says Maggie Moon, MS, RDN, associate director of nutrition communications at The Wonderful Company in southern California and author of The MIND Diet. "Ultimately, I want my loved ones to live long and healthy lives, so tasty yet ridiculously healthful food is my love language."
Mixing lighter versions of comfort foods with healthful choices may satisfy all tastes. "I like to have the right balance of indulgent and healthfulness throughout the holidays," says Michelle Dudash, RDN, a Cordon Bleu-certified chef and author of Clean Eating for Busy Families. "I don't believe in going all or nothing. If everything is drenched in butter, you may feel a little nauseous afterward. If you go too 'low' or 'no' across the board, the meal isn't as special and satisfying."
Planning is key to striking the right balance. "I find I really do have to plan my menus and recipes carefully," O'Neil says. "Usually everything that everyone else brings isn't healthful, so I concentrate on bringing a healthful harvest of dishes to the holiday table."
Planning also can ensure the hosts get to enjoy the celebration along with their guests. "If you choose simple dishes, you won't be stuck in the kitchen (or getting in anyone's way) for long," Moon says.
Janis Jibrin, MS, RD, author of The Pescetarian Plan and an adjunct professor of nutrition at American University in Washington, D.C., says that the stove and oven tend to be overflowing when preparing a large meal. "Finding dishes that can be made ahead or that don't require heating, like a cold vegetable side, can free up cooking space and save time," Jibrin says.
Time for Traditions
No matter what holiday is being celebrated, or what cultural background the celebrants bring to the table, most people can point to traditions (food and nonfood) that define the holidays for them. "Growing up as a kid with my great-grandmother, we were always surrounded by her Lebanese dishes during special occasions, including Thanksgiving and Christmas," Dudash says. "Raw kibbe, tabouli, chopped salad with lemon vinaigrette, and unleavened bread were staples."
A theme that resonated with all of the RDs interviewed for this article was the importance of both reliving and creating childhood memories. "I loved sitting between my mother and nana and assisting them with the Thanksgiving meal," says Weiss, who grew up outside of New York City and now lives in Massachusetts.
For O'Neil, it's the togetherness that resonates. "The holidays bring to mind one thing first: setting and sitting at a very big table. As a child, I remember the job of finding chairs around the house to fit as many guests as possible at the dining room table. The best part was setting up the folding chairs for the kids' table. We had our own flowers and fancy plates too."
Cooking for large gatherings is a great time to involve children in food preparation. "Weeks before Christmas, my girls love baking Christmas cookies," Dudash says. "I am always in search of the perfect Christmas cut-out cookie recipe, trying a different one each year. And now that my daughter is 8 years old, I let her take the reigns with rolling out, cutting, and decorating, and my toddler helps, too. It was somewhat trying for me at first, with my five-star restaurant background where everything has to be perfect. But my girls love doing everything on their own. So the cookies don't turn out perfect, but the girls are so proud of their efforts. And they still taste good."
— Judith C. Thalheimer, RD, LDN, is a nutrition writer and speaker based outside Philadelphia, Pennsylvania.
Recipes
Brussels Sprouts Marinated With Sesame and Rice Wine Vinegar
"Thanks to my father's job with the State Department, I grew up in Greece, Lebanon, and Italy, so my food influences are firmly Arab/Mediterranean," says Janis Jibrin, MS, RD, "but on holidays, my Iowan mother's traditions trumped those of my Syrian father. We had turkey, Waldorf salad, sweet potatoes, and the like." Many dishes served at holiday meals tend to be heavy and fatty, so Jibrin offers this light side dish to provide balance. "While I love roasted or sautéed Brussels sprouts, eating them raw with just a little vinegar and sesame seeds is so refreshing." This cold, no-cook dish also frees up stovetop space. "It's not just the stovetop that overflows," Jibrin says, "there's also no room in the oven. So, last Thanksgiving I bought an electric turkey roaster that promised to roast the turkey in three hours. Well, five hours later we got so hungry we sat down to a table laden with vegetarian options (including these Brussels sprouts) and had the turkey for dessert!"
If eating raw Brussels sprouts sounds odd to you, just think "baby cabbage." Also try this same recipe with other thinly sliced or shredded vegetables such as carrots, kale, cabbage, celery, cucumber, or turnips.
Serves 4
Ingredients
4 cups Brussels sprouts, ends removed and thinly sliced
2 T sesame seeds
2 tsp sesame oil
1 T seasoned rice vinegar
1/8 tsp salt
Directions
1. Place the Brussels sprouts, sesame seeds, sesame oil, vinegar, and salt in a bowl and mix thoroughly.
2. Cover and let sit at room temperature for at least 15 minutes and up to three hours. Serve immediately or refrigerate and serve chilled.
Nutrient Analysis per serving
Calories: 88; Total fat: 5 g; Sat fat: <1 g; Cholesterol: 0 mg; Sodium: 97 mg; Total carbohydrate: 9 g; Dietary fiber: 4 g; Sugars: 2 g; Protein: 4 g
— Recipe used with permission from The Pescetarian Plan (Ballantine 2014); photo by Kate Headley
---
Chopped Salad With Israeli Couscous, Smoked Salmon,
and Creamy Pesto
For Michelle Dudash, RDN, Christmas is a time of togetherness. "I love seeing Christmas through the lens of my children," Dudash says. "They get so excited about all of the traditions and activities." Dudash's submission proves that a recipe doesn't have to meet a narrow focus of so-called traditional holiday foods to be a favorite. "I started making this recipe for our Christmas Eve party buffet five years ago," Dudash says. "One year I brought a different dish and people asked where it was. So it has become a delicious tradition. It's a very substantial salad, so it still catches guests' attention among even the most decadent and classic of holiday dishes."
Serves 4
Ingredients
Salad
11/3 cups cooked Israeli (pearled) couscous (whole-grain preferred) (or you may use quinoa)
3 tsp expeller-pressed grapeseed or canola oil, divided
1 ear of corn (or 1 cup frozen corn, thawed)
4 cups arugula, chopped (or use baby spinach)
1 cup diced tomatoes (about 1 large)
1 (4-oz) package smoked wild Alaskan salmon, diced 1/4 inch (about 1 cup)
1/2 cup golden raisins, chopped through twice
1/4 cup shredded Asiago cheese (or use Parmesan)
1/4 cup roasted pepitas (shelled pumpkin seeds, or use chopped roasted almonds)
Dressing
3 T low-fat milk
2 T olive oil or sunflower oil mayonnaise
2 T nonfat plain Greek yogurt
1 T + 1 tsp basil pesto
1 T minced shallots or red onion
1 tsp lemon juice
1/4 tsp freshly ground black pepper
Directions
1. Prepare couscous according to package directions. Toss with 2 tsp of the oil to prevent sticking and spread mixture on a plate to cool it quickly.
2. Heat a medium sauté pan over medium heat and add 1 tsp of oil. Place the ear of corn into the pan and blister on one side, about 1 minute. Continue to cook and turn corn until all sides are blistered; remove pan from heat and let cool slightly. Stand the cob up on a cutting board and, holding it firmly, cut the kernels off the cob.
3. Whisk together all of the dressing ingredients.
4. When ready to serve, combine the couscous, corn, and remaining salad ingredients and pour the dressing on top. Toss well. Salad may be served immediately and will stay fresh for a few hours.
Tip: Corn and tomatoes peak in summer and fall. Substitute 1 cup frozen, canned, or freeze-dried corn (no need to blister) and 1/4 cup sun-dried tomatoes in oil, drained, during the off season.
Nutrient Analysis per serving (2 cups)
Calories: 379; Total fat: 18 g; Sat fat: 3 g; Cholesterol: 20 mg; Sodium: 524 mg; Total carbohydrate: 41 g; Dietary fiber: 4 g; Protein: 18 g
— Recipe and photo reprinted with permission from Clean Eating for Busy Families: Get Meals on the Table In Minutes With Simple and Satisfying Whole-Foods Recipes You and Your Kids Will Love by Michelle Dudash, RD (Fair Winds Press, December 2012)
---
Coconut Almond Pizzelles
"For as long as I can remember, my dad made pizzelles at the holidays," says Janice Newell Bissex, MS, RDN, a family nutrition expert, blogger at janicecooks.com, and cookbook author who grew up outside of Boston in a close-knit family of seven. "Always patient, he would fire up the pizzelle iron, spoon the batter onto the hot iron, set his timer, and then gently transfer the soft pizzelles to a cooling rack. A couple of years ago, I spent the afternoon with him and he taught me how to make this special treat. My first several attempts resulted in torn and misshapen cookies, but under his patient and watchful eye I managed to figure out the proper technique. My dad passed away this year, so it will be up to me to continue the pizzelle tradition with my family."
Serves 30
Replacing one-half of the all-purpose flour in a traditional pizzelle recipe with almond flour and decreasing the sugar results in a cookie with twice the fiber and protein and one-third less sugar … but all of the flavor!
Ingredients
3 large eggs
1/2 cup granulated sugar
1/2 cup coconut oil, melted and cooled
11/2 tsp anise extract
1 tsp vanilla extract
1 cup almond flour
1 cup all-purpose flour
2 tsp baking powder
1/8 tsp ground cinnamon
Directions
1. Lightly oil or coat the pizzelle iron with nonstick cooking spray and plug it in to preheat.
2. Combine eggs and sugar in a medium bowl and beat on medium speed or whisk by hand until well blended. Add the coconut oil, anise, and vanilla, and beat until blended. Scrape down the sides of the bowl if necessary.
3. In a separate bowl, whisk together the almond flour, flour, baking powder, and cinnamon.
4. At slow speed, gradually beat the flour mixture into the liquid mixture until just combined.
5. Place one heaping teaspoon at a time in the center of each of the grids of the pizzelle iron and clamp the handles together with the handle clamp.
6. Cook for about 40 seconds, until the cookie is lightly browned. Remove with a spatula and transfer to a wire rack to cool.
Nutrient Analysis per serving (1 cookie)
Calories: 90; Total fat: 6 g; Sat fat: 3.5 g; Cholesterol: 25 mg; Sodium: 8 mg; Total carbohydrate: 8 g; Dietary fiber: 1 g; Sugars: 4 g; Protein: 2 g
— Recipe and photo courtesy of Janice Newell Bissex, MS, RDN, cookbook author at Janice Cooks, www.JaniceCooks.com
---
Pecan-Topped, Slightly-Sweet Sweet Potato Casserole
"Thanksgiving is my favorite holiday of the year," says Liz Weiss, MS, RDN, a mom of two with a specialty in family nutrition. "I was a foodie from an early age and was always seated between the other two foodies at the table: my mom and my nana." Now that she's all grown up, Weiss is a big contributor to the holiday meal. "As a dietitian, I'm always asked to bring a vegetable side dish to Thanksgiving dinner," she says, "so naturally, I bring three: roasted baby carrots with fresh thyme, Brussels sprouts gratin made with low-fat milk instead of heavy cream, and this modern (no marshmallow) version of sweet potato casserole. At Thanksgiving dinner, many people like to take a little bit of this and a little bit of that. So even though I say this casserole serves eight, at the holidays it likely will yield 10 servings."
Serves 8
Ingredients
3 lbs sweet potatoes
2 T extra virgin olive oil or melted virgin coconut oil, divided
3 T orange juice
2 T brown sugar, divided
1 tsp orange zest
1/2 tsp ground cinnamon, divided
1/4 tsp kosher salt
1/8 tsp ground ginger
1/2 cup roughly chopped pecans
Directions
1. Preheat oven to 400° F.
2. Place the sweet potatoes on a foil-lined baking sheet. Pierce each potato several times with the tip of a sharp knife. Brush the potatoes with 1 T of oil and sprinkle with a pinch of kosher salt.
3. Bake until very tender, 45 minutes to an hour. Remove from the oven and reduce the heat to 350° F.
4. When the potatoes are cool enough to handle, cut them in half, scoop out the flesh into a bowl, and mash until smooth. (You will have about 4 cups.) Stir in the orange juice, 1 T of the brown sugar, orange zest, 1/4 tsp of the cinnamon, salt, and ginger. Place in an 8 X 8-inch baking dish and smooth the top with a rubber spatula.
5. To make the topping, place the remaining brown sugar, oil, cinnamon, and the pecans in a bowl and stir to combine. Sprinkle the mixture over the sweet potatoes. Bake until the nuts are toasted and the casserole is heated through, about 30 minutes.
Nutrient Analysis per serving (1/2 cup)
Calories: 207; Total fat: 8.5 g; Sat fat: 1 g; Cholesterol: 0 mg; Sodium: 120 mg; Total carbohydrate: 31 g; Dietary fiber: 5 g; Sugars: 12 g; Protein 3 g
— Recipe and photo courtesy of Liz Weiss, MS, RDN, the voice behind the family food podcast Liz's Healthy Table and the blog and website of the same name. Liz has written several cookbooks including No Whine With Dinner: 150 Healthy Kid-Tested Recipes From the Meal Makeover Moms; The Moms' Guide to Meal Makeovers: Improving the Way Your Family Eats, One Meal at a Time!; and the playful new coloring book series Color, Cook, Eat!
---
Jeweled Holiday Acorn Squash
"Come Christmastime, my family gathers at my parents' home in southern California," says Maggie Moon, MS, RDN, a first-generation Korean American who was raised in southern California where her mother and grandmother ruled the kitchen. They had traditional Korean food made from scratch and encouraged Moon to learn about the fruits and vegetables of California. Today, their table is a meld of fresh California produce and traditional Korean flavors. "There's a single pomegranate tree in our backyard, and every winter my mom saves the best one for me. This simple side dish is a way to honor those precious jewels of winter."
Serves 6
Ingredients
2 small acorn squash, 2-3 lbs each, cut into 1-inch rings (about three rings per squash)
2 T extra virgin olive oil
1 tsp curry powder
Salt and pepper, to taste
1/2 cup pistachio kernels
1/2 cup pomegranate arils (1 small pomegranate; you may have extra)
Directions
1. Preheat oven to 400° F.
2. Remove pomegranate arils by quartering the pomegranate and loosening arils from the skin underwater in a large bowl; drain.
3. On a large baking sheet, arrange acorn squash rings in a single layer. Drizzle with olive oil, curry powder, and salt and pepper to taste. Toss to combine.
4. Bake for 20 minutes or to desired doneness (fork should easily pierce the skin). Allow to cool for at least 10 minutes, season to taste.
5. Transfer to serving platter and generously garnish with pistachios and pomegranate arils. Serve immediately.
Tip: Use a circular ravioli or cookie cutter to remove seeds from each squash ring. This makes it easy to have a visually pleasing center cut out with clean edges.
Nutrient Analysis per serving
Calories: 240; Total fat: 10 g; Sat fat: 1.5 g; Cholesterol: 0 mg; Sodium: 10 mg; Total carbohydrate: 38 g; Dietary fiber: 11 g; Sugars: 7 g; Protein: 5 g
— Recipe and photo courtesy of Maggie Moon, MS, RDN, author of The MIND Diet, owner at MINDDietMeals.com, and a health communications manager for POM Wonderful
---
Baked Smokin' Mac & Cheese
"My favorite holiday tradition is the unwritten rule of dressing up, using the good china, eating together, eating the same foods, and eating at the same time," says Carolyn O'Neil, MS, RDN. "When I was a child, everyone assembled around a big table with napkins in laps ready to begin the mad passing of gravy and cranberry sauce. In the busy, schedule-crazy world of today, that unfortunately doesn't happen very often anymore." For many people, that big family meal wouldn't be complete without certain (not-so-healthful) dishes. Finding ways to tweak those recipes to make them more nutritious without sacrificing taste can help families keep their traditions and their health. "This recipe from my Slim Down South Cookbook brings traditional taste to the table with a contemporary eye on nutrition," O'Neil says.
Serves 8

Creamy, cheesy, a crunchy topping, and plenty of carbs—no wonder mac and cheese is the ultimate comfort food. It's even made appearances as a side on Southern meat-and-three plates. Not only is this version lighter but it's got a little ham, too. Use elbow pasta if you can't find cellentani.
Ingredients
1 lb uncooked cellentani (corkscrew) pasta
2 T butter
1/4 cup all-purpose flour
3 cups fat-free milk
1 (12-oz) can fat-free evaporated milk
1 cup (4 oz) shredded smoked Gouda cheese
1/2 cup (2 oz) shredded 1.5% reduced-fat sharp Cheddar cheese
3 oz fat-free cream cheese, softened
1/2 tsp salt
1/4 tsp ground red pepper, divided
1 (8-oz) package chopped smoked ham
Vegetable cooking spray
11/4 cups cornflakes cereal, crushed
1 T butter, melted
Directions
1. Preheat oven to 350° F. Prepare cellentani pasta according to package directions.
2. Meanwhile, melt 2 T butter in a Dutch oven over medium heat. Gradually whisk in flour; cook, whisking constantly, 1 minute. Gradually whisk in milk and evaporated milk until smooth; cook, whisking constantly, 8 to 10 minutes or until slightly thickened. Whisk in Gouda cheese, next three ingredients, and 1/8 tsp ground red pepper until smooth. Remove from heat, and stir in ham and pasta.
3. Pour pasta mixture into a 13 X 9-inch baking dish coated with cooking spray. Stir together crushed cereal, 1 T melted butter, and remaining 1/8 tsp ground red pepper; sprinkle over pasta mixture.
4. Bake at 350° F for 30 minutes or until golden and bubbly. Let stand 5 minutes before serving.
Nutrient Analysis per serving
Calories: 447; Total fat: 10 g; Sat fat: 4 g; Cholesterol: 42 mg; Sodium: 903 mg; Total carbohydrate: 62 g; Dietary fiber: 2 g; Sugars: 14 g; Protein 26 g
— Recipe and photo courtesy of Carolyn O'Neil, MS, RDN, and Southern Living's The Slim Down South Cookbook