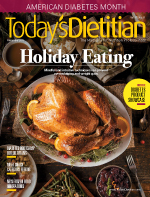 November 2016 Issue
Frozen Food Innovations
By Juliann Schaeffer
Today's Dietitian
Vol. 18, No. 11, P. 36
Food companies are introducing entrées made with fruits, vegetables, and whole grains, and fewer artificial ingredients and preservatives to meet consumer demand for healthier frozen fare.
RDs accustomed to warning clients about the dearth of fruits, vegetables, and whole grains (or abundance of salt and fat) in frozen entrées may want to give this food segment a second look because things are heating up in the frozen food aisle.
According to Mintel data from May 2016, prepared foods (an aggregate that includes single- and multiserve frozen meals) represented $10.1 billion in sales in 2015. And while Mintel's market research data show three consecutive years of decline in this category, prepared foods may be making a comeback—with more "natural" frozen foods at the helm, "natural" meaning the foods boast more simplified ingredient lists, and contain fewer artificial preservatives and fillers and more organic ingredients.
"Prepared foods showed growth of 1% vs the prior year, with the turnaround being driven by the growth in the natural segment within the frozen meals category," says Samantha Cassetty, MS, RD, vice president of nutrition and dietitian for Luvo, one of the newer food companies to enter grocers' frozen cases.
Cassetty points out that when surveying the previous 52 weeks, recent SPINSscan data showed that while total category growth remained around 1%, the natural frozen meals segment grew more than 17%.
"Frozen lunch and dinner entrée sales hit close to $1.9 billion in the US in 2015," says Marci Clow, MS, RDN, senior nutritionist at Rainbow Light, citing this year's State of the Specialty Food Industry report, produced by the Specialty Food Association and Mintel, which showed a 21.4% increase from 2013 to 2015.
As companies strive to meet increasing consumer demand for more natural meal options that offer as much flavor as convenience, today's grocery stores brim with newer and more boutique brands that continue to push the envelope with organic and whole foods, fewer additives, and ethnic flavors. Of course, the main caveat here: RDs know full well that "natural" doesn't always mean healthful.
"It's critical to recognize that many of these premium offerings are getting the health halo of natural, non-GMO, or organic, but they aren't all that nutritious," Cassetty says. "It's important to educate clients and shoppers that a nutritious meal is one that has fruits and veggies, whole grains, quality proteins, and healthful fats. Starchy carbohydrates like white rice and potatoes are inexpensive ingredients so you see a lot of entrées that are heavy in these foods and light on fruits and veggies, which are the basis of a healthier meal. It's the same story with sodium and sugar. An organic entrée is a wonderful way to support the environment, but if it's low in produce and high in sodium, sugar, and refined carbs, it's not doing your body a lot of favors."
Lisa Ellis, MS, RDN, CDN, CEDRD, a dietitian in private practice in New York, says, "As a nutritionist, I naturally prefer meals that are freshly prepared from raw, organic foods. But as a busy mom myself, I really understand that people want to—and often need to—rely on frozen meals to feed themselves and their families."
While Ellis laments that most frozen meals used to contain an overabundance of sodium, fat, high-fructose corn syrup, trans fats, and unappealing additives, she, too, is noticing a move toward more healthful options. "More and more, I have been noticing that there are fairly healthful products to be found in the frozen food aisles."
Amy's Kitchen has been a heavyweight in the organic arena, but brands such as Luvo, Saffron Road, and Good Food Made Simple also seek to stand out in the frozen case. Even legacy brands such as Stouffer's, Lean Cuisine, and Schwan's are noticing the demand and making changes, whether by simplifying ingredient lists or remodeling their image.
In this article, Today's Dietitian looks at what's new and noteworthy in frozen entrée options—and finds out what dietitians are saying about what's been deemed "Frozen 2.0."
Changing Consumer Attitudes
New packaging and positioning (such as standup pouches that enable customers to see what products look like more clearly) may play a part in the increased interest in frozen foods. But product and nutrition experts interviewed agree that the biggest player in frozen foods' recent growth—and burgeoning natural choices—is a shift in consumer attitudes.
"While convenience is still important, people are beginning to place more value on brands that also help them control portion size, limit sodium intake, and increase their consumption of fruits, vegetables, fiber, and protein," says Cassetty, noting the potential for more growth in the future.
"While the natural segment is currently only 6% of the total frozen meals category, some projections estimate it could grow to be nearly one-quarter of the category over the next 10 years," Cassetty says.
"I have definitely noticed an expansion of options in frozen entrées, a wider variety of flavors, main dish proteins, and ethnic dishes," says Michelle Dudash, RDN, Cordon Bleu-certified chef and creator of Clean Eating Cooking School, an online recipe and nutrition guide. "Consumers want fast, easy-to-prepare meals that taste good, too. And more consumers are demanding healthful, clean labels. The frozen foods category is catching up with those demands, and frozen foods are getting sexy."
"We are all incredibly overscheduled, and yet at the same time, health has become a huge priority for so many of us," says Joy Bauer, MS, RDN, CDN, health and nutrition expert for NBC's TODAY show and author of From Junk Food to Joy Food: All the Foods You Love to Eat … Only Better. "We're concerned about how a product is made and what it contains. So it's no surprise to me (and I'm extremely grateful) that frozen food companies old and new are coming out with better-for-you formulations. And I'm betting (and hoping) they taste as good as—or even better than—the originals!"
The eating culture today is about exploration and discovery, Dudash says, no doubt, in part, due to millennials' footprint on the food market. The 18-to-34 crowd seeks food fusion, creativity, and smaller meals, according to "Millennial Menus: Culinary Trend Tracking Series," a report by Packaged Facts. So it's no surprise many of the product innovations in frozen meals center on perfectly portioned burritos and ethnic-flavored bowls.
"Now you can get delicious Italian, Indian, Thai, and Mexican food from a single-serve frozen entrée," Dudash says.
What's New and Trending
Following is a roundup of some of the companies in the marketplace that have introduced more healthful, innovative frozen food products that are fueling the category.
• EatingWell. Made with whole grains and vegetables (but without preservatives or artificial flavorings or fillers), EatingWell offers eight meals with innovative flavors, including Korean Inspired Beef and Moroccan Inspired Chicken.
Fresh-Seal packaging helps maintain freshness and allows for a window into the box so customers can see what's inside. Dudash says she's new to the brand but would recommend them based on the nutrient content she's seen thus far.
For the Korean Inspired Beef, one serving (283 g) includes 280 kcal, 11 g total fat, 2 g saturated fat, 13 g protein, and 4 g fiber. Sodium is 750 mg, but most others in the line are closer to 500 or 600 mg.
• Good Food Made Simple. Known more for breakfast than later meals (the No. 1 brand in the natural and organic breakfast burrito segment), Good Food Made Simple is now expanding into lunch and dinner options with entrée burritos, café wraps, and macaroni and cheese. Relying on antibiotic-free meats, farm-fresh cheese, brown rice, whole wheat tortillas, and organic sautéed veggies, the company stresses "less is more," which is in line with the demand for simplicity.
The Chicken & Black Bean Burrito, which combines chicken with pico de gallo, black beans, steamed brown rice, Cheddar cheese, sweet peppers, and scallions, is 350 kcal per 6-oz serving. It offers 18 g protein and 3 g fiber, with 420 mg sodium. Other intriguing flavors include Meatball Marinara (400 kcal) and Root Beer BBQ Pulled Pork (360 kcal).
• Red's Natural Foods. Currently the fastest-growing brand in the frozen natural Mexican category, Red's is also cashing in on consumers' affection for the burrito. Paying special attention to increasing demand for specific dietary considerations, Red's recently introduced its first vegan product, the Organic Bean & Rice Burrito (270 kcal per burrito, or 143 g, with 9 g protein, 7 g fiber, and 640 mg sodium). Another new introduction is the nondairy Chicken & Rice Burrito, aimed at consumers with milk aversions or allergies. For the same serving size, each burrito is 250 kcal and provides 11 g protein, 3 g fiber, and 620 mg sodium.
According to Mike Adair, founder and CEO of Red's Natural Foods, Red's only uses meat that's raised without the use of antibiotics or hormones and never uses artificial preservatives or cheese made with milk from cows that have been treated with artificial hormones.
• Luvo. Another innovator in the frozen food aisle, Luvo offers a variety of healthful breakfasts, entrées, and burritos based on whole foods and fresh flavor combinations, including Kale Ricotta Ravioli. Luvo uses whole foods, whole grains, and herbs and spices to keep sodium and calorie counts down. All meals have less than 500 mg sodium and are between 250 and 370 kcal.
"At Luvo, we're seeing a lot of interest in plant proteins and meatless options," Cassetty says.
To that end, the Canada-based company recently introduced its Planted Power Bowls, which also are under 500 kcal and bank on whole foods and chef-inspired flavors. Hawaiian Un-Fried Rice with Forbidden Rice, shiitake mushrooms, and pineapple is 360 kcal, with 10 g protein, 7 g fiber, and 330 mg sodium.
Great Karma Coconut Curry with brown jasmine rice, garbanzo beans, and butternut squash is 330 kcal with 10 g protein, 9 g fiber, and 390 mg sodium. Each bowl is around 300 g, or 10 oz, and offers two to three servings of fruits and/or vegetables, less than 500 mg sodium, and 5 g sugar.
• Saffron Road. "The consumer's palate is opening up to the flavors of world cuisine," explains Jack Acree, executive vice president of Saffron Road Foods, another frozen food option that's offering ethnic flavor combinations, such as Vegetable Pad Thai and Chicken Tikka Masala. According to Acree, Saffron Road has been focusing keenly on consumer demands, particularly on increasing protein and decreasing sodium counts in their product offerings.
Now branching out from chicken, lamb, and beef entrées, Saffron Road recently launched a new line of fish bowls that use only wild-caught fish, including a Lemongrass Basil Fish With Rice Noodles Bowl (240 kcal, 14 g protein, 4.5 g total fat, 2.5 g saturated fat, and 400 mg sodium) and Sesame Ginger Salmon With White Rice Bowl (280 kcal, 17 g protein, 6 g total fat, 1 g saturated fat, 410 mg sodium); both are 9-oz servings.
"There is little to no wild-caught fish in the entrées category now," Acree says. "Fish is naturally low in fat while still being a good source of protein. Our Sesame Ginger Salmon also contains a good amount of omega-3 fatty acids," says Acree, noting that these products were presently becoming available.
Ellis likes Saffron Road's offerings, particularly its fish dishes, such as the Lemongrass Basil Fish Bowl. "I prefer frozen foods like this because it isn't too high in sodium; it doesn't appear to be highly processed, and the list of ingredients displayed on the package isn't overly long."
• Blake's All Natural Foods. Another boutique brand making inroads in healthful frozen cuisine is Blake's All Natural Foods. All of Blake's meals "are made completely from scratch in small batches using organic and natural ingredients," according to the company. For Blake's, "natural" is akin to "whole," as the company prides itself on sticking to the basics of old family recipes, no matter how much the company grows. For consumers looking for less-processed remakes of old classics, Blake's offers its classic Chicken Pot Pie and Gluten-Free Chicken Pot Pie, as well as Shepherd's Pie and Macaroni & Beef.
Particularly new to the brand is an all-natural Turkey Pot Pie and Beef Pot Pie, both made with antibiotic-free meat and garden vegetables. Both include 550 mg sodium, while the turkey pot pie has 360 kcal, 20 g total fat, 9 g saturated fat, and 13 g protein per 8 oz, and the beef pot pie has 440 kcal, 25 g total fat, 11 g saturated fat, and 21 g protein for the same size.
While the calories per serving and/or grams of saturated fat may not differ significantly compared with other brands, Ellis likes the fact there are more than a half-dozen organic choices, that the milk component is synthetic growth hormone-free, and that the ingredients are whole foods vs artificial alternatives.
• Amy's Kitchen. Family-owned Amy's Kitchen, which uses ingredients that are sourced from organic-certified farms (with an emphasis on local), and Non-GMO Project Verified, has been a trailblazer in its healthful frozen options since its introduction decades ago. With no hydrogenated fats, meat, fish, shellfish, poultry, eggs, or peanuts, the company remains popular not just among consumers (it has maintained double-digit growth every year since its founding, according to a 2015 article in Food Business News) but dietitians as well.
One of Dudash's picks is Amy's Light & Lean Quinoa & Black Beans With Butternut Squash & Chard, because it's made with all whole grains, plant protein, and vegetables. An 8-oz serving has 240 kcal, 10 g protein, and 11 g fiber.
Legacy Brands Take Note
While more boutique brands may house the most innovative flavors, it should be noted that this trend has some of the mainstay frozen entrée companies rethinking their lines as well.
For example, in 2015 Stouffer's introduced Fit Kitchen, a frozen meal line with higher protein counts (at least 25 g per serving) and complex carbs. More recently, in August the company (a Nestlé brand) announced its Kitchen Cupboard initiative to renovate and simplify its recipes across new and existing meal lines. The ingredient changes will come over the next few years and include "using ingredients that consumers trust and recognize, like what they would use in their own home kitchens, with no artificial flavors, colors, or preservatives," according to a company press release on the initiative. First up: its Lasagna With Meat and Sauce.
Ellis is encouraged by the initiative and looks forward to what it will mean for the brand's more nutritious offerings, particularly its sodium counts. For example, Stouffer's single-serve Salisbury steak with gravy and macaroni and cheese exceeds 1,000 mg sodium. For clients who are fans of Stouffer's, Ellis currently suggests they read labels and choose the lower-sodium options.
Last fall, Schwan's announced a similar endeavor: its Simplicity Initiative, in which it seeks to eliminate all artificial ingredients from its products by the end of 2017. According to Karen Wilder, Schwan's senior director of health and wellness, the company already has eliminated all partially hydrogenated oils—the main source of trans fat—and artificial food dyes from its foods.
"In addition, we're well on our way to eliminating high-fructose corn syrup and artificial flavors from our product portfolio," says Tamara Schryver, PhD, principal nutrition scientist for Schwan's.
To meet consumer demand for ancient grains, Schwan's launched its Freschetta Artisan Crust (and a gluten-free pizza) earlier in 2016. With a blend of three whole grains (whole wheat, brown rice, and oat flour), Wilder says it's the only retail-distributed pizza with a 51% whole grain crust.
"This line features a sauce made with three tomatoes on every pizza; 100% real cheese; a naturally rising, preservative-free crust; and 21 g of whole grains per serving," she says.
Last year the legacy Lean Cuisine brand went through a major overhaul, as the company (another Nestlé brand) introduced 10 new recipes. This year the company also introduced a line of limited-edition entrées promoted as offering higher protein counts and ethnic flavors, including Chicken Tikka Masala (18 g protein and 310 kcal) and Thai-Style Ginger Beef (17 g protein and 320 kcal). Containing no artificial preservatives, some of the dishes are made with organic ingredients, according to a product fact sheet.
"When we relaunched the brand in 2015, we spoke with hundreds of women and found their eating preferences vary significantly from one woman to the next," says Rhonda Richardson, nutrition manager at Nestlé. "In addition to learning that dieting is gone, we found that there's an increasing consumer desire for fresh and less-processed food, and an increased interest in new attributes, such as organic, high-protein, gluten-free, and non-GMO ingredients."
Richardson says the latest Lean Cuisine recipes deliver what people said they wanted, including gluten- and preservative-free recipes, dishes high in protein, and dishes made with organic and non-GMO ingredients.
As Ellis says she hasn't been particularly impressed with Lean Cuisine's generally long ingredient lists that include a high percentage of artificial ingredients and preservatives, she welcomes this move toward less-processed offerings.
Nutrition Take-Aways
Whether the healthful innovations in frozen entrées will continue (and for how long) remains to be seen. But as long as consumers clamor for more—and better-for-you—options, it's safe to say food companies will push themselves to give customers what they want.
For now, Cassetty says it's crucial for dietitians to do their homework to give clients the scoop on the best of the best of what frozen has to offer, as "premium" doesn't always mean "healthful." While noting that dietitians clearly recognize this, she says it's up to RDs to help consumers cut through the clutter of what's organic or non-GMO vs what's nutritious.
"Check the saturated fat content on the label, keeping in mind the 20 g limit per day on a 2,000-calorie diet," Dudash suggests. "So if a meal contains more than 10 g saturated fat, keep looking for other options. Sodium also can get high with frozen meals, so check the label for sodium: 700 mg sodium or less per serving could be considered reasonable for a frozen entrée serving for healthy populations."
In general, Clow says consumers should know there are options in the frozen category that are healthful choices to have on hand when they're busy and can't make it to the market to get fresh ingredients—or if they happen to be lacking in culinary skills.
So if dietitians haven't perused the frozen food aisle lately, they should. "Dietitians should spend time looking at the new items that appear in grocery stores, especially the frozen foods aisle," says Sonya Angelone, MS, RDN, CLT, a spokesperson for the Academy of Nutrition and Dietetics. "As with most any category, shoppers need to be knowledgeable about the items they purchase since good nutrition begins with the foods you buy, as most people don't grow or raise the foods they eat."
Even if all frozen entrées aren't quite stacking up to nutritious, freshly made meals, Dudash says many are much more healthful than fast food—at about the same price. "If you have patients who can't or aren't willing to cook, frozen entrées are a good option," she says.
— Juliann Schaeffer is a freelance food and health writer based outside of Allentown, Pennsylvania, and a frequent contributor to Today's Dietitian.