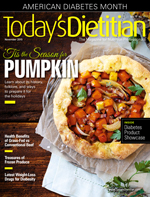 November 2015 Issue
'Tis the Season for Pumpkin
By Juliann Schaeffer
Today's Dietitian
Vol. 17 No. 11 P. 20
Learn about the history and folklore of this humble fall fruit and ways to prepare it for the holidays.
Spooky jack-o'-lanterns that line doorsteps during Halloween and pumpkin pies that grace Thanksgiving tables are American traditions during the fall holiday season. But Americans aren't the first to showcase pumpkin in their celebrations, as their usage can be traced back thousands of years to the pre-Columbian hunter-gatherers from nearly 10,000 years ago.
In recent years, however, pumpkin has morphed from a fall adornment to a fall flavoring du jour, with food manufacturers answering consumer demand for countless pumpkin desserts, breads, snacks, and beverages. LÄRABAR has a pumpkin pie bar (a seasonal favorite); Planters offers limited-edition pumpkin spice almonds every fall; and Rudi's Organic Bakery recently launched a new Pumpkin Sandwich Bread. And almost every coffee shop highlights a pumpkin beverage on its menu.
For the fall 2015 season, Dancing Deer Baking Co. introduced a Pumpkin-Palooza gift set that includes Pumpkin Chewy Cookies, Pumpkin Shortbread Cookies, and Pumpkin Spice Dessert Bites.
Yes, pumpkin is everywhere. And it turns out that it's not such a bad thing. Not only is this fall fruit one of the most versatile in cooking but it also offers an impressive nutrient profile. This holiday season, Today's Dietitian takes a closer look at the humble but ever-so-popular pumpkin to review where this autumn favorite's roots stem from as well as what research says about the health benefits it provides.
Botany and a Brief History
Pumpkin is an annual vine that belongs to the Cucurbitaceae family, which also includes squash, cucumbers, watermelons, and gourds. The large, round, orange-colored fruit that most people recognize as pumpkins (a plant with long, fast-growing vines, and a fruit with a more rigid, squarer stem than squash) are likely from the Cucurbita pepo species.
In addition to the C. pepo species, there are the Cucurbita maxima, C. moschata, and C. argyrosperma species. Of the many shades and sizes of pumpkin, some are better suited for jack-o'-lanterns, such as the many ornamental pumpkins of C. pepo or the gigantic varieties from C. maxima. Others have a sweeter flesh and are more suited for pies, such as varieties from the C. moschata species.
In addition to the flesh, which often is cooked and used for pies or soups, the seeds of many pumpkin varieties are enjoyed roasted or sautéed. Pumpkin blossoms also are edible, whether stuffed with cheese and lightly fried or served raw in salads. They have a mild pumpkin taste.
The C. pepo species (ie, wild squash) has been cultivated for thousands of years—so long that its exact origin is debated. But it's largely thought that squash first surfaced somewhere in Central America or Mexico thousands of years ago, and was one of the chief crops the pre-Columbian Native Americans cultivated.
It should be noted that though they're closely related, the terms squash and pumpkin often are used interchangeably, with no real botanical distinction. Many foods Americans refer to as winter or summer squash are known as pumpkin in other parts of the world.
According to a 1997 New York Times article, archeologists discovered C. pepo squash seeds in Mexico that dated back 8,000 to 10,000 years. While from the same species that includes many common pumpkin varieties of modern farming, these squash draw little resemblance to the large, sweet, bright orange varieties cultivated today. Much smaller and of a harder, more bitter flesh, archeologists theorize that pre-Columbian ancestors were more likely hunter-gatherers than true farmers at this time. If they ate the squash at all, they probably enjoyed just the seeds. And they could have cultivated the squash for their gourds alone, to be used as cups or fishing floats.
Sweeter varieties were found and developed across the Americas over time, according to the book Pumpkin: The Curious History of an American Icon by Cindy Ott. In fact, Christopher Columbus is believed to have brought pumpkins to Europe, hence introducing the fruit to another continent. Today, pumpkins are grown on six continents—all except Antarctica.
A Native American staple, pumpkins were used not just for food but also for storage. The Native Americans fashioned them into bowls to hold other foods, such as grains and beans. Pumpkin was one of the crops Native Americans taught the colonists to cultivate in the 17th century and was enjoyed at the early harvest celebrations we now know as Thanksgiving. Today, pumpkins have become a staple during this American holiday.
In other parts of the world, people have a love for pumpkins, too. According to a 2013 article by Mackensy Lunsford, pumpkin is seen as a harvest symbol and is used in various celebrations in many different ways around the world.1 For example, during India's Pongol, which celebrates the season of abundance, pumpkin curry is a common celebratory food. Japan's version of pumpkin (small, green-skinned varieties called kabocha) is celebrated during the country's harvest moon festival through decorations and is used to make soups and curries. Pumpkin is so beloved in Japan that local Burger King restaurants have been known to offer pumpkin burgers.
In South America, where pumpkin originated, people enjoy it year-round in various ways—puréed or cut up into chunks in soups or stews and as a filling in empanadas. In Mexico, it's candied and enjoyed as a popular sweet snack.
China, India, and Mexico are among the top global producers of pumpkin. The United States also ranks in the top five, though pumpkin is seen as a seasonal food here, largely grown for processing to produce canned pumpkin or pumpkin pie filling. Illinois gets the grade for the "pumpkin-est" state, as it grows 90% of the pumpkins in the country, according to the University of Illinois. That's because the town of Morton in central Illinois houses a Libby's Pumpkin processing plant that Nestle owns—where 85% of the world's pumpkin is canned every year. That's also why Illinois calls itself the Pumpkin Capital of the World.
Real (and Perceived) Health Benefits
Besides the famous jack-o'-lantern tradition of Halloween (which actually originated in Ireland where they used turnips, not pumpkins, to ward off evil spirits), pumpkin has been the focus of interesting folklore surrounding its perceived health benefits.

For example, Maine folklore contends that pumpkin seeds (either in tea, eaten whole, or ground up in a mash) were once used as a traditional healing method. In a tea, it was once thought to cure parasites. According to the Maine Folklife Center at the University of Maine, which conducts research to document Maine's traditional culture, countries around the world thought pumpkin seeds could remedy gout, impotence, a variety of bladder problems, and prostate ailments. Pumpkin was even recommended for removing freckles and curing the aftereffects of snakebites.

Parasites and freckles aside, pumpkins do contain several nutrients that offer health benefits. Pumpkins are 90% water and low in calories. One cup of canned pumpkin contains 83 kcal and less than 1 g fat.
"In comparison, the same serving size of sweet potato has triple the calories," says Anne M. Davis, PhD, MS, RDN, FAND, an assistant professor of nutrition and dietetics and director of the didactic undergraduate program in dietetics at the University of New Haven in Connecticut.
However, calorie and fat content can vary depending on whether clients buy unflavored canned pumpkin or canned pumpkin pie filling. Canned pumpkin is similar to pumpkin you boil or roast on your own (1 cup cooked pumpkin contains only 49 kcal and 0.2 g fat). On the other hand, the same amount of canned pumpkin pie filling has 193 kcal.
When it comes to nutrients, pumpkin contains more fiber than kale and is full of iron and heart-healthy magnesium, Davis says. The fiber "helps you feel full and promotes digestive health for weight control and prevention of constipation," she says. One cup of cooked pumpkin contains 3 g fiber.
Pumpkins also are rich in vitamin A, which is key for healthy vision, proper cell growth, and a strong immune system, Davis says. One cup of cooked pumpkin provides 245% of the recommended dietary allowance of vitamin A.
The fall fruit's vitamin A content comes from its wealth of carotenoids, one of which is beta-carotene. Beta-carotene is a provitamin A carotenoid. Unlike preformed vitamin A (such as retinol and retinyl ester, which come from animal products), the body has to convert provitamin A carotenoids into vitamin A, where it's then metabolized intracellularly in the body into the active forms of vitamin A, retinal and retinoic acid. It should be noted that some carotenoids, such as lycopene, aren't converted into vitamin A. The National Institutes of Health Office of Dietary Supplements calls beta-carotene "by far the most important provitamin A carotenoid." Beta-carotene in particular has been the focus of much health research, and current evidence suggests it may help protect against cancer, fight inflammation, and improve skin appearance, Davis says.
One cup of cooked pumpkin also provides 1/3 DV of vitamin C, offering antioxidant support. Pumpkin also has B-complex vitamins such as folate, niacin, vitamin B6, thiamin, and pantothenic acid, says Lauren Blake, RD, LDN, a sports nutrition dietitian at the Ohio State University Wexner Medical Center, noting that pumpkin also contains copper, calcium, potassium, and phosphorus.
Moreover, pumpkin seeds offer their own benefits. In addition to being high in protein (7 g per 1-oz serving), they contain omega-6 fatty acids as well as tryptophan, an amino acid that helps the body produce mood-uplifting serotonin. The seeds also contain fiber, heart-healthy polyunsaturated fatty acids, monounsaturated fatty acids, minerals, and vitamin K.
Researchers also have looked into the potential health benefits of pumpkin seed oil, which is high in zinc, vitamin E, and magnesium.2,3 "The main benefit of pumpkin seed oil is in supporting the urinary and reproductive areas of the body, especially in the prostate," says Matthieu Kohlmeyer, CEO and founder of La Tourangelle, which produces toasted pumpkin seed oil.2,3
"Pumpkin seed extract inhibits the conversion of testosterone to dihydrotestosterone or DHT, which causes benign prostatic hyperplasia [BPH], and male-pattern hair loss," says Linda B. White, MD, coauthor of 500 Time-Tested Home Remedies and the Science Behind Them, who notes that studies show pumpkin extract and pumpkin seed oil can improve symptoms of BPH, such as easing urination.2,3 "There's also very preliminary research suggesting pumpkin seed oil may increase hair in men with male-pattern hair loss."4
Cooking With Pumpkin
Though pumpkin may be most known as the main ingredient in pumpkin pie, there's no reason clients can't spice up tradition with a new take on an old favorite.
For example, Davis says Jewish clients can make a pareve version (without milk or its derivatives) of pumpkin pie by using soymilk or a nondairy creamer. Or, they can prepare a vegan-friendly version by substituting tofu for the milk and eggs. Individuals also can have some fun with the traditional pumpkin piecrust, and instead use graham crackers in lieu of dough. If they're feeling even more adventurous, they can search Pinterest and find many pumpkin cheesecake recipes.

There's so much more to pumpkin than pie, says Andrew Ruga, a corporate chef for Fitlife Foods. Whether pumpkin is baked, boiled, or canned, Ruga says people can use the many varieties in dishes such as curries, stews, and soups that would normally include a squash such as zucchini. "It's very versatile and can take on many flavor profiles," he says.
One of Ruga's favorite ways to use pumpkin is to roast it with sweet potatoes. He then mashes both together for a healthier holiday version of the traditional candied sweet potatoes.
After Thanksgiving, since pumpkin is so much more than a one-night meal, he also enjoys pumpkin seeds roasted with honey and chili powder. Tossed with dried fruit of your choice, he says it makes a great on-the-go spicy snack.
Pumpkin is a versatile food that clients can incorporate in a variety of recipes. Following are four pumpkin recipes for breakfast, lunch, dinner, and even a snack that dietitians can share with clients.
— Juliann Schaeffer is a freelance health writer and editor based in Alburtis, Pennsylvania, and a frequent contributor to Today's Dietitian.
References
1. Lunsford M. Great global pumpkin: harvest traditions and recipes from around the world. Coca Cola Company website. http://www.coca-colacompany.com/food/great-global-pumpkin-harvest-traditions-and-recipes-from-around-the-world. Updated October 10, 2013.
2. Shirvan MK, Mahboob MR, Masuminia M, Mohammadi S. Pumpkin seed oil (prostafit) or prazosin? Which one is better in the treatment of symptomatic benign prostatic hyperplasia. J Pak Med Assoc. 2014;64(6):683-685.
3. Friederich M, Theurer C, Schiebel-Schlosser G. Prosta Fink Forte capsules in the treatment of benign prostatic hyperplasia. Multicentric surveillance study in 2245 patients. Forsch Komplementarmed Klass Naturheilkd. 2000;7(4):200-204.
4. Cho YH, Lee SY, Jeong DW, et al. Effect of pumpkin seed oil on hair growth in men with androgenetic alopecia: a randomized, double-blind, placebo-controlled trial. Evid Based Complement Alternat Med. 2014;2014:549721.
---
Recipes
Vegetarian Pumpkin and Kale Pasta Bake
Serves 8 to 10
Ingredients
1 16-oz package of rigatoni pasta
1 T extra virgin olive oil
1 medium onion, diced
4 cloves of garlic, minced
8 oz cremini mushrooms, chopped
1 bunch of kale (about 3 cups), roughly chopped
1/2 cup dry white wine
1/2 to 3/4 cup fresh basil, chopped
Salt and pepper, to taste
1 (15-oz) can pumpkin purée
1 large egg
15-oz container of part-skim ricotta
2 cups shredded mozzarella cheese
2 cups favorite tomato sauce (I use spicy marinara sauce)
Directions
1. Preheat oven to 350° F.
2. Bring a large pot of salted water to a boil. Add pasta and cook until almost al dente. Drain and set aside.
3. In the meantime, heat 1 T of oil in a large saucepan over medium-high heat. Add onion and sauté until translucent, approximately 5 to 7 minutes. Add garlic and cook until fragrant, 2 minutes. Add mushroom and kale and cook for 5 to 7 minutes, or until slightly cooked down. Pour in wine and cook until reduced. Stir in basil, season with salt and pepper, and turn off heat.
4. Combine pumpkin, egg, ricotta cheese, 11/2 cups mozzarella cheese, tomato sauce, kale mixture, and pasta in a large bowl. Stir until well combined. Season with salt and pepper.
5. Spray a 9 X 13-in baking dish with cooking spray. Pour in mixture and spread evenly. Top with remaining mozzarella.
6. Cover with aluminum foil and bake for 25 to 30 minutes. Remove foil and bake for an additional 5 minutes, or until cheese is melted on top. Remove from oven and serve warm.
Nutrient Analysis per serving
Calories: 418; Total fat: 12 g; Sat fat: 6 g; Sodium: 498 mg; Total carbohydrate: 57 g; Fiber: 6 g; Sugars: 6 g; Protein: 22 g
— RECIPE AND PHOTO COURTESY OF MIN MARY KWON, MS, RDN, AUTHOR OF THE BLOG MJ AND HUNGRYMAN (MJANDHUNGRYMAN.COM).
---
Pigeon Peas With Pumpkin and Sofrito
Serves 8
Puerto Rican cuisine boasts vibrant Latin and Caribbean flavors, with a reverent nod to local foods available on the island, such as pigeon peas and calabaza—a pumpkin commonly used in many dishes. Puerto Rican food wouldn't be complete without sofrito—a traditional flavorful cooking base that includes herbs, spices, peppers, onions, and cilantro.
Ingredients
Beans and Pumpkin Mixture
1 lb dried pigeon peas
1/2 medium calabaza (Latin pumpkin) or Kabocha pumpkin (about 11/2 lbs)
5 cups water
Sofrito
2 T extra virgin olive oil
1 T annatto seeds
1 medium green pepper, seeded and quartered
2 small sweet chili peppers, seeded and quartered
1 medium yellow onion, peeled and quartered
2 cloves garlic
1 cup fresh cilantro sprigs, packed
1/2 tsp dried oregano
1/2 cup tomato sauce
Black pepper, as desired
Pinch of sea salt, optional
Directions
1. Cover dried pigeon peas with water and soak overnight.
2. Discard water and place peas in a large pot.
3. Peel and slice pumpkin into large chunks. Add to pot with 5 cups water. Cover and simmer for one hour.
4. To make sofrito: In a skillet, heat olive oil. Add annatto seeds and toast for 3 to 5 minutes over medium heat, until oil turns dark golden red. Remove seeds with slotted spoon and discard.
5. Place green pepper, chili peppers, onion, garlic, and cilantro in the container of a food processor. Process until finely chopped. Pour into skillet and sauté for 10 minutes.
6. Add oregano and tomato sauce and combine well.
7. When peas and pumpkin mixture have been cooking for one hour, add sofrito. Stir well.
8. Cover and cook for an additional 50 to 60 minutes, until thick and peas are tender. Add black pepper and sea salt as needed.
Nutrient Analysis per serving (11/8 cups)
Calories: 242; Protein: 13 g; Carbohydrates: 40 g; Total fat: 5 g; Sat fat: 1 g; Dietary fiber: 10 g; Sugars: 2 g; Sodium: 96 mg.
— RECIPE COURTESY OF SHARON PALMER, RDN, AUTHOR OF PLANT-POWERED FOR LIFE (SHARONPALMER.COM).
---
Pumpkin 'n' Apply Yogurt Parfait
Serves 2
Ingredients
2 small Fuji apples, cored and sliced into 1/4- to 1/2-inch thick slices
21/4 tsp pumpkin pie spice mix (or 1/4 tsp cloves, 1 tsp nutmeg, 1 tsp cinnamon)
2 tsp sugar
1/2 cup canned pumpkin without added salt
2 6-oz cups nonfat vanilla yogurt (look for one with 120 kcal or less per 6 oz to keep sugar in check)
1/4 cup cooked quinoa, optional
Directions
1. Place sliced apples in a microwave-safe bowl and mix well with 2 tsp pumpkin pie spice mix. Microwave on high for 5 minutes.
2. While apples are cooking, add sugar and 1/4 tsp pumpkin pie spice to pumpkin and stir thoroughly. Once pumpkin is thoroughly combined with sugar and spice, fold in the yogurt until evenly mixed throughout.
3. Fill the bottom of two tall tumbler glasses each with 3 oz of yogurt and pumpkin mixture.  
4. When apples finish cooking, remove from microwave and place a quarter on top of each pumpkin mixture in the parfait tumblers. Repeat by layering yogurt and pumpkin mixture with apples. Top with quinoa, if desired.
Nutrient Analysis per serving without quinoa (1 parfait)
Calories: 204; Total fat: 1 g; Sat fat: 0 g; Cholesterol: 3 mg; Sodium: 135 mg; Total carbohydrates: 41 g; Dietary fiber: 5 g; Sugars: 33 g; Protein: 11 g
— RECIPE AND PHOTO COURTESY OF TAMMY LAKATOS SHAMES, RDN, CDN, CFT, AND LYSSIE LAKATOS, RDN, CDN, CFT, NATIONALLY RECOGNIZED DIETITIANS AND PERSONAL TRAINERS, AND AUTHORS OF THE NUTRITION TWINS' VEGGIE CURE, THE SECRET TO SKINNY, FIRE UP YOUR METABOLISM. AND THE NUTRITION TWINS' BLOG AT WWW.NUTRITIONTWINS.COM.
---
Oven Baked Pumpkin Protein Pancakes
Serves 4
Ingredients
2 ripe bananas
1 cup pumpkin
1 T pumpkin pie spice
1 T vanilla extract
4 eggs
2 cups egg whites (I used liquid)
Directions
1. Preheat oven to 375° F.
2. Mix together bananas, pumpkin, pumpkin pie spice, and vanilla extract well. (I use an electric hand mixer to get the job done.)
3. Whisk together with eggs and egg whites. (I mix mostly by hand then give it one final swirl with the electric mixer.)
4. Spray two 8 X 8-in pans (or one 9 X 13-in pan should suffice) with cooking oil.
5. Using a measuring cup or scoop of some sort, divide mixture evenly among pans. If you're using two pans, it's important to go back and forth between each one. (The pumpkin/banana may hang out at the bottom so you don't want all eggs in one pan and pumpkin in the other. To avoid dividing mixture, use one large pan.)
6. Bake at 375° F until pancakes are fully set, about 30 minutes.
7. To crisp up the top like a traditional pancake, broil on low for 4 to 6 minutes.
8. Let stand 10 minutes before serving.
Nutrient Analysis per serving
Calories: 195; Total fat: 5 g; Sat fat: 1.5 g; Sodium: 269 mg; Total carbohydrates: 19 g; Dietary fiber: 4 g; Sugars: 10 g; Protein: 20 g
— RECIPE AND PHOTO COURTESY OF KELLI SHALLAL, MPH, RD, OWNER OF AN ONLINE NUTRITION COUNSELING PRACTICE, AND AUTHOR OF THE HUNGRY HOBBY BLOG AT WWW.HUNGRYHOBBY.NET.
---
RESOURCES
• Pumpkins and more. University of Illinois Extension website. http://extension.illinois.edu/pumpkins/facts.cfm
• Pumpkin seed tea cure. Maine Folklife Center website. http://umaine.edu/folklife/programs-and-events/maine-song-and-story-sampler-map/places/bangor-pumpkin-seed-tea-cure/
• Pumpkins. Agricultural Marketing Resource Center website. http://www.agmrc.org/commodities__products/vegetables/pumpkins/
• Wildford JN. The seeds of history: a find in Mexico. The New York Times. http://www.nytimes.com/1997/05/09/world/the-seeds-of-history-a-find-in-mexico.html
• Gambino M. What was on the menu at the first Thanksgiving? Smithsonian website. http://www.smithsonianmag.com/history/what-was-on-the-menu-at-the-first-thanksgiving-511554/?no-ist
• Squash, pumpkins and gourds. Purdue University department of horticulture and landscape architecture website. https://www.hort.purdue.edu/rhodcv/hort410/squash/sq00001.htm
• Anderson CR. Pumpkins. University of Arkansas division of agriculture website. https://www.uaex.edu/publications/PDF/FSA-6074.pdf
• Pumpkin facts. History Channel website. http://www.history.com/topics/halloween/pumpkin-facts
• Avey T. History of pumpkins and recipe roundup. PBS website. http://www.pbs.org/food/the-history-kitchen/history-pumpkins-recipes/