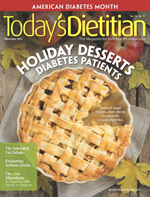 November 2014 Issue
High-Tech Diabetes Care
By Judith Riddle
Today's Dietitian
Vol. 16 No. 11 P. 5
As time progresses, so do ingenious technological advances in diabetes self-management. Mobile health companies continue to launch handheld, mobile-enabled devices, apps, and services to help people better monitor blood sugar, insulin, healthful eating, exercise, weight, fitness goals, medications, and trends in real time.
Blood glucose meters can connect to iPads, iPods, iPhones, Blackberries, and Android smartphones so people can view results and share them with health care practitioners and family members. More sophisticated, integrated insulin pump and continuous glucose monitoring systems allow patients to receive the exact amount of insulin needed and monitor glucose levels all day. Many of these systems enable clinicians to observe these data remotely in real time so they can better counsel patients. Insulin pump and meter-remote technologies are available, allowing people to test blood sugar, calculate a bolus, and tell the pump to deliver it up to several feet away. One particular cellular glucose meter transmits each test result to a secure server, gives feedback to patients, and provides practitioners with real-time information. There's even a new glucose meter available that calculates the precise amount of insulin needed based on a person's glucose reading and projected carbohydrate intake.
In July, what really caught my eye (no pun intended) was the announcement that Alcon, Novartis' eye care division, entered into an agreement with Google to develop a smart contact lens designed to continuously measure the body's glucose levels in tear fluid using noninvasive sensors and microchips embedded within the lens and connecting it wirelessly to a mobile device to show the results. Today's Dietitian will cover the high-tech world of diabetes self-management more in-depth in a future issue.
This month, the Dynamics of Diabetes article, "The Role of Food Diaries in Diabetes Self-Care," in on page 14 discusses the different food diaries available, including some of the most popular apps that track healthful eating and more. The Feature story "The Gut Microbiota" examines the association between gut bacteria and type 2 diabetes development.
Be sure to read the other articles on the saturated fat controversy; the 3,500-calorie-per-pound rule; and the best holiday desserts for diabetes patients. Please enjoy the issue!
TDeditor@gvpub.com