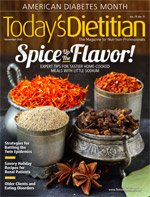 November 2013 Issue
The Allure of Exergaming — Studies Demonstrate Numerous Health Benefits for All Ages
By Jennifer Van Pelt, MA
Today's Dietitian
Vol. 15 No. 11 P. 62
Declining fitness levels and increasing body weight in children and adolescents have been attributed to the large amount of time spent on computers and playing video games instead of engaging in outdoor activities. To get game-addicted kids moving, several years ago, manufacturers introduced video games that required movement, beginning with the popular Dance Dance Revolution.
The term "exergaming" officially entered our vocabulary in 2007 when it was added to popular dictionaries. Since then, the interactive gaming market has exploded and created a new fitness phenomenon. In 2009, the American Council on Exercise (ACE) listed exergaming as a trend to watch for in 2010, noting that fitness-based video and computer games would expand from the home to the fitness club.
That prediction was correct, as YMCAs, community recreation centers, and other family-friendly fitness facilities now offer exergaming stations next to traditional exercise equipment. Children can interact with the fitness game and each other by playing and competing in dance fitness, virtual sports, and virtual obstacle courses. Exercise bike manufacturers even have integrated exergaming with stationary cycles. Cyclists are motivated to ride by interactive computerized terrain that incorporates finding prizes and accumulating points like those in video games. Exergaming also has been added to school physical education programs.
For Adults and Elders
Exergames range from the original dance-based games to boxing/martial arts to baseball and football. And the virtual fitness frenzy isn't just for kids. Plenty of options for adults are available as well, even for those who dislike standard video games.
For those who prefer to exercise in a manner similar to a fitness DVD or exercise class, products that mimic a personal trainer or fitness class instructor provide guidance in strength training, dance, aerobics, yoga, balance, and martial arts. Levels from beginning to advanced are offered, and some products even can track fitness progress during the exercise session and over time. Wii Fit and other gaming consoles can be interfaced with a balance board, hand weights, push-up bars, boxing gloves, and resistance bands that contain game controls. Add-on fitness programs are available, such as NFL Training Camp, Zumba Fitness, Yoga and Pilates, and the popular Biggest Loser workouts, thereby providing a variety of workout types.
Even the older generation, which typically avoids newer gaming technologies, is getting in on the action. The Wii has become quite popular in older adult communities, where Wii bowling, golf, and tennis tournaments have replaced bingo and board games. The new Xbox Kinect offers interactive tai chi, which has been shown to prevent falls and reduce arthritis pain in older adults. With these options, seniors who can't or don't want to travel to a class, bowling alley, or golf course can get the health benefits without leaving home. Medical researchers also are collaborating with gaming manufacturers to modify dance-based fitness games to be more appealing to older adults by incorporating swing, ballroom, and oldies music styles and slowing down the dance steps.
Benefits
The ACE also correctly predicted that research studies would offer insights into the fitness benefits of exergaming. Since 2009, more than 50 studies have been published in peer-reviewed medical journals. Exergaming isn't only being studied for its weight-loss and fitness benefits in children who are overweight or obese but also for increasing physical activity in adults of all ages. It's improving balance in older adults and providing overall wellness benefits for individuals with certain medical conditions.
In early 2011, a science panel convened by the American Heart Association examined the influence of exergaming on improving health, enhancing self-esteem, and motivating positive changes in health-related behavior. While the panel concluded that more research is needed, it did propose that exergaming can serve as a gateway to motivate previously inactive video game players to increase the amount and intensity of daily physical activity.1
Exergames may not allow players to reach the intensity of the actual sport or deliver the recommended daily amount of exercise, but there's no doubt they're motivating sedentary gamers to move and, in some cases, inspiring them to try the live version of a virtual sport. Practicing a sport or fitness activity at home on a gaming system may allow children to develop basic skills and knowledge without fearing ridicule and give them enough confidence to join a team or sign up for a fitness class.
Recent Research
Below, I've summarized the results of some of the most interesting recently published studies on exergaming and Wii Fit, the most popular system for exergaming. Readers interested in more studies can visit the PubMed database and use the search terms "active play video game," "exergaming," and/or "Wii Fit."
General
A systematic review of 27 studies evaluating energy expenditure during active video game participation concluded that exergaming increased energy expenditure up to 300% above resting levels. And moderate-intensity physical activity, as defined by American College of Sports Medicine (ASCM) guidelines, could be achieved with most exergames.2
A behavioral theory analysis of exergames for the PS3, Xbox 360, and Wii found that all games provided performance feedback and progress tracking, and most games also offered behavioral reinforcement, guided practice, behavior modeling, and social integration. The researchers concluded that the behavioral modification strategies used by exergames make them an "innovative platform for disseminating evidence-based behavioral weight-loss interventions."3
Children and Adolescents
• Urban elementary school children engaging in 30 minutes of exergaming three times weekly had significantly increased physical activity and positive attitudes toward exercise.4
• The authors of a study of dance-based exergaming for adolescents who were obese reported a significant, positive impact on psychological functioning and perceived competence in ability to continue exercising.5
• A community-based weight-loss intervention program using exergaming resulted in significant changes in average BMI, increased weekly exercise time, and improved self-worth in children aged 8 to 16 who were overweight or obese.6
Older Adults
• Prefrail older adults undergoing "Wii-hab" at home showed improvements in physical performance and balance confidence similar to those participating in community senior chair-based exercise classes.7
• A physiologic and metabolic study found that aerobic and balance Wii Fit games met ACSM guidelines for improving and maintaining cardiorespiratory fitness in middle-aged and older adults.8
Medical Conditions
• Use of the Wii Fit balance games for rehabilitation improved postural control in patients with leg injuries.9
• Researchers reported that the Wii Fit used for home exercise in women with lupus significantly reduced fatigue severity, body weight, anxiety level, and pain intensity.10
• One session of Dance Dance Revolution significantly decreased repetitive behaviors and improved memory performance immediately afterward in children with autism.11
Additional Studies
In addition to the studies above, several more are ongoing, according to ClinicalTrials.gov. Researchers are evaluating Wii Fit exercise for improvements in the following:
• immunological recovery and quality of life for pediatric cancer patients undergoing stem cell transplant treatments;
• rehabilitation for patients undergoing total knee replacement or following below-the-knee amputation;
• balance training for individuals with Parkinson's disease;
• therapy for chronic motor deficits following stroke; and
• quality of life for patients with schizophrenia, cerebral palsy, or COPD.
All this research indicates that Wii Fit and similar exergames certainly don't deserve the bad reputation associated with sedentary video games.
— Jennifer Van Pelt, MA, is a certified group fitness instructor and health care research analyst/consultant in the Reading, Pennsylvania, area.
References
1. Lieberman DA, Chamberlin B, Medina E Jr, et al. The power of play: innovations in Getting Active Summit 2011: a science panel proceedings report from the American Heart Association. Circulation. 2011;123(21):2507-2516.
2. Sween J, Wallington SF, Sheppard V, Taylor T, Llanos AA, Adams-Campbell LL. The role of exergaming in improving physical activity: a review. J Phys Act Health. 2013;Epub ahead of print.
3. Lyons EJ, Hatkevich C. Prevalence of behavior changing strategies in fitness video games: theory-based content analysis. J Med Internet Res. 2013;15(5):e81.
4. Gao Z, Xiang P. Effects of exergaming based exercise on urban children's physical activity participation and body composition. J Phys Act Health. 2013;Epub ahead of print.
5. Wagener TL, Fedele DA, Mignogna MR, Hester CN, Gillaspy SR. Psychological effects of dance-based group exergaming in obese adolescents. Pediatr Obes. 2012;7(5):e68-74.
6. Christison A, Khan HA. Exergaming for health: a community-based pediatric weight management program using active video gaming. Clin Pediatr (Phila). 2012;51(4):382-388.
7. Daniel K. Wii-hab for pre-frail older adults. Rehabil Nurs. 2012;37(4):195-201.
8. Guderian B, Borreson LA, Sletten LE, et al. The cardiovascular and metabolic responses to Wii Fit video game playing in middle-aged and older adults. J Sports Med Phys Fitness. 2010;50(4):436-442.
9. Sims J, Cosby N, Saliba EN, Hertel J, Saliba SA. Exergaming and static postural control in individuals with a history of lower limb injury. J Athl Train. 2013;48(3):314-325.
10. Yuen HK, Holthaus K, Kamen DL, Sword DO, Breland HL. Using Wii Fit to reduce fatigue among African American women with systemic lupus erythematosus: a pilot study. Lupus. 2011;20(12):1293-1299.
11. Anderson-Hanley C, Tureck K, Schneiderman RL. Autism and exergaming: effects on repetitive behaviors and cognition. Psychol Res Behav Manag. 2011;4:129-137.