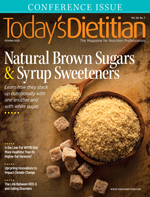 Upcycling Innovations
By Mindy Hermann, MBA, RDN
Today's Dietitian
Vol. 24 No. 7 P. 28
Companies are using upcycled ingredients to impact food waste and climate change, and a new upcycled certification program is validating their efforts and bolstering the movement.
Dietitians working to promote the importance of sustainable diets, ensure the development of sustainable food systems, and reduce food waste, probably have heard of the term "upcycling" to help achieve these ends.
Upcycling is a relatively new concept. Also known as creative reuse, upcycling is the process of transforming byproducts, waste materials, and useless or unwanted products into new materials or products perceived to be of greater quality and environmental value. Unlike recycling, which gives a second life to finished products such as plastic bottles, upcycling diverts waste products into new uses. Launches of foods and beverages containing upcycled ingredients saw a 122% compound annual growth rate in the five years ending third-quarter 2021, according to a report from Netherlands-based Innova Market Insights.
Upcycled materials can include unused parts of edible plants, for example, orange peels, vegetable stems, and cocoa pods. They also are generated during the production process for ingredients and foods such as potato starch (upcycled ingredients include potato protein and potato starch), soy milk (upcycled soy pulp), and yogurt (upcycled whey).
Upcycling offers several environmental and economic benefits. The Food Loss and Waste Protocol, a waste management service in Washington, D.C., notes that energy is better utilized when upcycling avoids food waste destinations like incinerators, animal feed, landfills, or anaerobic digestors. Upcycled foods and beverages also are value-added products with the potential to capture a portion of the $1 trillion cost globally of wasted or lost food. Upcycled food and beverage products offer consumers a way to impact sustainability at a tangible, everyday level and do their part to help slow climate change.
Upcycled Foods Association Elevates Upcycling
Although companies such as Renewal Mill began exploring upcycling as a sustainable food waste solution several years ago, the upcycling movement began in earnest in early 2020, when a team of experts from Harvard Law School, Drexel University, World Wildlife Fund, Natural Resources Defense Council, ReFED, and others ratified the official definition of "upcycled food" for use in policy, research, and other settings. The Upcycled Food Association (UFA), headquartered in Greenwood Village, Colorado, says that upcycled foods and beverages use ingredients that wouldn't otherwise have been consumed, procured, and produced using verifiable supply chains, and have a positive impact on the environment. This definition supports the UFA mission to reduce food waste by growing the upcycled food economy. The association, a third-party certification program, focuses on attracting investments to the upcycled industry, improving the upcycled business network and the upcycled supply chain, and increasing consumer demand for upcycled products.
The launching of the Upcycled Food Association Upcycled Certification mark in June 2021 sparked growing interest and activity in upcycling. The Upcycled Certification Program Standard, scheduled to be updated in 2022, requires that upcycled certified ingredients contain at least 95% of food originally produced for human consumption and that upcycled certified food and beverage products for humans or pets contain at least 10% upcycled ingredients. The organization Where Food Comes From serves as the Association's certifying body. Steps toward certification include submitting a form expressing interest, submitting fees and documentation, signing a license agreement, and being reviewed for compliance with the Standard. The certification process can take up to six months. Upcycled Certified fees start at approximately $1,800 per product for Association members and about $2,600 for nonmembers. As of mid-June 2022, up to 400 products were certified or in the process of being certified.
Generating Upcycled Ingredients From Production Waste Streams
Renewal Mill, in Oakland, California, has been a leader in upcycling from production waste streams for many years. The upcycling aha-moment for cofounder Claire Schlemme arose when she realized how much food waste was created by her Boston-based organic juice company. Schlemme founded Renewal Mill in 2016. She soon partnered with Hodo Foods, an Oakland-based manufacturer of soymilk and tofu that generated more than seven tons weekly of okara, the soy residue that remains after soybeans are pureed and filtered to make soymilk. Renewal Mill installed proprietary dehydration equipment in the Hodo Foods manufacturing plant to dry the okara in preparation for milling into soy flour. High-protein, high-fiber okara flour can be used in baked goods and baking mixes, for thickening, and in other applications calling for grain flour.
The growing use of potato protein in vegan cheese is a direct result of upcycling. The extraction of potato starch from whole potatoes leaves behind protein, which can be isolated and used to improve the nutrition profile of plant-based cheeses. In the United Kingdom, potato supplier Branston partnered with technology provider Root Extracts to develop a potato protein ingredient for vegan and vegetarian food formulations. Solnul, based in Manitoba, Canada, extracts the resistant starch that comes from soaking potatoes for sale as a functional ingredient in supplements and foods.
Manufacturers continue to explore starch-protein synergies. Minneapolis-based Puris uses upcycling to capture and repurpose pea starch from its pea protein extraction process. Puris' pea starch is used in pasta, gluten-free baked foods, confectionery, and other types of foods. SunOpta, with headquarters in Minnesota, diverts insoluble oat solids from the production of oatbase for oat milk to generate an ingredient with more protein and fiber than traditional oat flour.
Global flavor supplier IFF, with headquarters in New York City, markets 10 products that are Upcycled Certified. Its rosemary-smoked sunflower oil is flavored with upcycled spent rosemary biomass from another product line. The biomass sidestream otherwise would have been incinerated or discarded. IFF obtains orange oil from partner PeelPioneers, which produces an orange oil emulsion from discarded fresh orange peels. It also taps waste streams from imperfect produce, farm overproduction, blueberry and cranberry pulp and residue after juice extraction, and harvest byproducts.
CrushDynamics, based in British Columbia, Canada, turns pomace from winemaking into a protein ingredient by fermenting the pomace to reduce its bitterness. The company promotes its two pomace puree products for boosting nutrition, acting as a natural preservative, or increasing umami flavor.
Using More Parts of the Plant
In addition to the use of starch protein, the upcycling movement has sparked use of plant parts that previously were discarded or diverted into other uses. Cacao fruit is a leading example. According to the UFA, nearly three-quarters of cacao fruit remains after harvesting the cocoa beans. The UFA estimates that using the entire fruit could reduce the same amount of CO2 as planting 3.5 billion trees per year. Chocolate maker Barry Callebaut began using upcycled cacao fruit in 2021. The Chicago-based company Xoca markets a prebiotic soda made from naturally fermented cacao fruit juice; the product offers an additional revenue stream to Ecuadorian chocolate makers and reduces run-off into local waterways. Snacks by CaPao, in Los Angeles, feature cacao fruit pulp combined with nuts, seeds, and other fruits. CaPao is a start-up snack brand created by SnackFutures, Mondel¯ez International's innovation and venture hub.
Similarly, coffee fruit is a target for upcycling. The pulp and skin of the fruit, called cascara, can be dried and packaged for steeping like loose leaf tea or tea bags. The company Riff, based in Bend, Oregon, markets an energy drink made from upcycled cascara. Wize Monkey, located in Vancouver, British Columbia, Canada, offers a tea from upcycled coffee leaves.
Rescuing Waste From Food and Beverage Production
The production of craft beer generates tons of food waste in the form of spent grains, which numerous companies have used in upcycling innovation including San Francisco-based ReGrained; its upcycled SuperGrain+ can replace a portion of wheat flour in products such as pasta, baked goods, and snack mixes. St. Louis-based EverGrain Ingredients processes spent grains from Anheuser-Busch InBev beer production into its EverPro barley isolates and EverVita barley ingredients. EverGrain's barley products also are used in alternative protein production since spent grains are higher in protein than their native sources.
Take Two Foods, in Portland, Oregon, uses spent barley and markets its nondairy barleymilk with messaging around taste, nutrition, and affordability, as well as food waste, dependence on animals for food, and greenhouse gas emissions. Take Two Foods' packaging states that each 32-oz container saves nearly 3/4 lb of spent grain, avoids nearly 2 lbs of greenhouse gas emissions, and conserves more than 70 gallons of water. Grain 4 Grain, based in San Antonio, Texas, dries and mills brewers spent grain into a low-carb, high-protein flour that's featured in its pancake and waffle mixes.
Renewal Mill describes itself as an upcycled food company that fights climate change and global food loss by upcycling byproducts from food manufacturing into superfood ingredients and premium, plant-based pantry staples. It continues to expand its production and use of upcycled ingredients. The company used its experience with soymilk production byproducts to venture into upcycling waste from the manufacturing of oat milk. Renewal Mill positions its okara flour as a keto-friendly alternative to coconut flour; its oat milk flour has more than 31 g of plant-based protein per 1/2-cup serving. The company's gluten-free baking flour is made from okara flour, plus rice flour, starches, and xanthan gum. A recent partnership with renowned chef Alice Medrich resulted in three new mixes (dark chocolate brownie, oat chocolate chip cookie, and sugar cookie) that are vegan, gluten-free, and easy to prepare by adding oil and water. Leveraging the power of partnerships for new collaboration opportunities for brands, Renewal Mill is working with Miyoko's Creamery to incorporate Miyoko's end-of-production-run vegan butter as a fat source in its vegan, upcycled salted peanut butter and chocolate chip cookies. Renewal Mill also does joint PR and marketing with other companies in the upcycling space, noting that partnering raises awareness among consumers and calls attention to the link between upcycling and sustainability.
Large food companies are reducing their environmental footprint by incorporating waste stream ingredients into new products. In late 2021, Del Monte Foods in Walnut Creek, California, launched two canned bean SKUs with upcycled beans that would have been discarded because they were too short or miscut. It also introduced two Fruit Infusions cups with upcycled pineapple juice from other canned items. Dole Specialty Ingredients, a new Dole division based in Singapore, markets proteolytic enzymes, pineapple fiber, green banana powder, and papaya seed oil that are upcycled from other Dole business areas.
Dairy product manufacturing generates more than one type of usable waste stream, depending on the finished product. SuperFrau, in Williston, Vermont, infuses natural flavors into the whey-rich liquid from yogurt and cheese production. GoodSport, in Chicago, captures and upcycles a deproteinized milk byproduct from milk ultrafiltration into an electrolyte-rich sports drink with dairy carbohydrates.
Moreover, upcycling opportunities are sparking creative uses of waste products. Lost & Found Distillery, in Vista, California, claims to be the first distillery in the world to make ethanol, vodka, and vanilla extract from excess baked goods. Hidden Gems Beverage, in Philadelphia, recently released its Reveal brewed beverage made with upcycled avocado seeds. The Temecula, California–based Avocado Tea Co. produces tea from avocado leaves. Kazoo Snacks, in Dallas, includes upcycled corn germ in its corn tortilla chips. Several suppliers, including Ocean Spray, in Plymouth County, Massachusetts, sell berry seeds leftover from its juice operations for addition to baked goods and smoothies. Matriark Foods, in New York City, produces a vegetable broth concentrate from upcycled, fresh-cut vegetable remnants; the label on an 18-oz carton declares diversion of 0.9 lbs of vegetables from a landfill and 2.2 lbs of greenhouse gases. Pulp Pantry, in Los Angeles, combines the pulp from fresh cold-pressed vegetable juice with soy okara flour in its chips and other snacks. Helsinki, Finland-based food tech start-up SuperGround upcycles, grinds, and incorporates chicken bones into poultry-based foods.
What's on the Horizon?
Consumers will continue to see these ongoing innovations in upcycling as companies use precision fermentation and other technologies to further repurpose food waste. Chicago-based startup company Hyfé Foods plans to use wasted sugar water from food and beverage manufacturers as a substrate to grow mycelium for conversion into mycelium flour. The company describes its flour products as affordable, high protein, low-carb, and allergen-free alternatives to wheat flour. Fooditive, with headquarters in the Netherlands, produces a new sweetener, 5-D-Keto-Fructose, through fermentation from sidestream, ugly, or third-grade apples, pears, and other fruits and vegetables. The "plant-based, zero-calorie, allergen-free, GMO-free sweetener with the same taste and functionality as sugar" is pending Novel Food certification from the European Food Safety Authority. Change Foods, a San Francisco–based US-Australian food tech company using precision fermentation to produce animal-free cheese, recently received a $1 million grant to convert Queensland, Australia, sugarcane fiber into feedstock for microbes used to create animal-free casein for cheesemaking. Change Foods expects to launch its first animal-free cheese products in 2024.
Impact on Consumers
Consumers recognize their role in reducing food waste. Nearly one-half of those surveyed by Innova Market Insight in its 2021 Lifestyle & Attitude Survey said they're actively trying to cut food waste, while more than 60% said they're willing to pay more for food and beverage products that are dedicated to stopping food waste. Products displaying the Upcycled Certification offer consumers an easy path to reducing wasted food.
"Packaged foods with upcycled ingredients contain surplus ingredients that otherwise would have been wasted," says Rosanne Rust, MS, RDN, author of Zero Waste Cooking for Dummies. "Keep in mind, however, that packaged foods almost always cost more than their raw ingredients. So while a banana bread bought in a bakery may make use of ripe bananas, reducing food waste, the banana bread you can make with your own ripe bananas in your kitchen also is reducing food waste, and will cost less money."
— Mindy Hermann, MBA, RDN, is a food and beverage communications consultant based in metro New York.