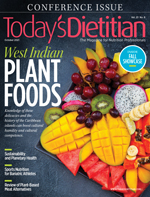 October 2021 Issue
Editor's Spot: West Indian Foodways
By Judith Riddle
Today's Dietitian
Vol. 23, No. 8, P. 6
Throughout my childhood and midteenage years, I spent many summer vacations with family and friends in Barbados, where my dad was born and raised. Barbados was where I learned about my West Indian heritage. It was where I developed my love of jet skiing, boating, swimming in crystal clear/blue ocean water, and basking in the sun. And it was where I learned to enjoy some of the local foods familiar to my dad and family, such as broiled flying fish, sardines, mackerel, and red snapper; pigeon peas and rice; steamed okra and plantains; fresh coconut milk, coconut water, and cashews; and mangoes and papaya.
On many occasions, my best childhood friend's mother would make roti and curry and cou cou for dinner. Roti is a soft tortilla-like flat bread popular in the West Indies and Southern Asia. We'd take the roti and sop up the curry sauce, eat it, and be in roti heaven. Cou cou is a dish consisting mainly of cornmeal (corn flour) and okra—although some make it without okra.
Dietitians who have joined the movement to achieve greater cultural competence, cultural humility, and diversity in dietetics are probably enjoying their quest to learn about different food cultures and culinary traditions. Embarking on this journey helps RDs counsel clients from various countries and cultures more effectively, ultimately improving overall patient care.
RDs are learning about different behavior patterns, belief systems, languages, values, and customs of various populations to become more culturally competent. And they're taking one giant step further to begin a lifelong learning process involving continuous self-reflection and self-critique to evaluate their own core beliefs, values, assumptions, biases, and cultural identities so they can walk in true cultural humility.
Those who have clients from the West Indies will discover that the islands' foodways are as diverse as their rich histories. To understand their foodways, dietitians must first learn and appreciate each island's historical context. That way, they'll be better able to counsel these clients with greater skill and success.
Today's Dietitian delves deeper into the various food traditions of the Caribbean islands in the article "West Indian Plant Foods" on page 26. The article discusses the historical background of some of the islands, their diverse diet patterns, and the plethora of plant foods (nutrient content included) used in traditional Caribbean cuisine—plus resources to explore.
Also in this issue are articles on sustainability and planetary health, plant-based meat alternatives, sports nutrition for bariatric athletes, and strategies for helping participants in the Supplemental Nutrition Assistance Program make healthful food choices. Please enjoy the issue!
— Judith Riddle, Editor
TDeditor@gvpub.com