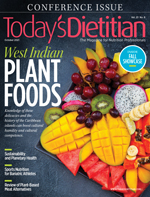 October 2021 Issue
Gluten-Free Goodness: Gluten-Free Product Innovations
By Mindy Hermann, MBA, RDN
Today's Dietitian
Vol. 23, No. 8, P. 22
Nearly every food and beverage category continues to unleash creative new options.
The gluten-free marketplace is hotter than ever, with the continued introduction of new selections in a wider variety of food categories and new formulations of product staples that now can claim gluten-free status.
Gluten-free once was a niche claim that helped those with celiac disease and nonceliac gluten sensitivity identify products without wheat, barley, and rye, the three primary grains that contain the protein gluten. However, for the past several years, wheat in general and gluten specifically have been under attack by some as purported causes of abdominal discomfort, weight gain, fluctuations in mental clarity, and other health-related conditions. As greater numbers of consumers have begun seeking out gluten-free foods, manufacturers have expanded their product lines accordingly. Today, nearly every food and beverage category, including those that almost never contain gluten ingredients, offers gluten-free options.
Trends in Gluten-Free
According to a 2020 report by Facts & Factors, the global gluten-free products market is predicted to increase by approximately two-thirds between 2019 and 2026.1,2 The gluten-free marketplace features products from companies of all sizes—large multinationals, small and mid-size global and regional companies, and private labels.
A report by Grand View Research names bakery as the largest and fastest growing product segment in the gluten-free space.3 This isn't surprising given the widespread use of wheat flour in bakery products. The second-largest product segment in the report, dairy and dairy alternatives, may be unexpected, as dairy products and dairy alternatives typically don't feature gluten-containing ingredients. However, these products are being formulated, manufactured, and packaged with a suite of "clean label" claims, including gluten-free, non-GMO, no additives and preservatives, dairy-free, and soy-free.
The perception of clean foods and beverages also drives consumer interest in gluten-free products. The International Food Information Council June 2021 survey "From 'Chemical-Sounding' to 'Clean': Consumer Perspectives on Food Ingredients" verifies the appeal of clean label products. More than one-half of consumers surveyed say they try to choose foods and beverages with clean ingredients when grocery shopping in person, and nearly one-half try to select products with clean ingredients when shopping online. One-third of respondents describe themselves as clean eaters. Health also is a driver, as one-quarter of those surveyed by the Council say they choose foods and beverages with clean ingredients for health benefits.4
Labeling Regulations
The FDA permits use of a gluten-free claim on products that meet the following criteria5:
• The product and all ingredients don't naturally contain gluten.
• The product doesn't contain a whole or processed grain that naturally contains gluten.
• The product may include a derivative of a gluten-containing grain that has been processed to remove gluten down to <20 ppm. (Some third-party certification programs set a threshold of <10 ppm.)
• The final product has <20 ppm of gluten.
Category Spotlight
According to data from Innova Market Insights on new product launches in 2021, sauces and seasonings is the top category in North America for new products with gluten-free claims, followed by snacks and then bakery. The following category snapshots are presented in rank order from data collected by Innova. (See the table on page 25 for product examples from most of these categories.)
Sauces and Seasonings
The percentage of new launches of gluten-free sauces and seasonings has risen steadily over the past five years. Many product types, such as pasta sauce, rarely, if ever, contained gluten. Others that may have used small amounts of wheat-derived ingredients as thickeners switched to ingredients derived from roots or other grains—for example, potato starch, tapioca starch, or rice. Soy sauce often contains soy and wheat, so gluten-free soy sauce and condiments made with soy sauce eliminate the wheat and use just soy.
Snacks
Gluten-free snacks encompass an exciting array of products, such as chips, crackers, and snack mixes, made with gluten-free grains including corn and rice, cassava and other root flours, flours made from nuts and seeds, and bases of fruits and vegetables. A significant and steady percentage of new snack launches are gluten-free.
Bakery
Launches of gluten-free bakery products, led by breads and baking mixes, are on the rise after several steady years. This category is the most challenging because the functional properties of wheat in baked goods are hard to replicate. Breakthroughs in ingredient combinations of gluten-free grains, starches, and gums have led to new products that better resemble their gluten-containing counterparts. Some new products are specifically positioned for followers of the keto diet.
"Although processed rice flour is the mainstay of many gluten-free products, the move toward using ingredients such as quinoa, amaranth, cassava, nut, and bean flours boosts nutrition and fiber," says Kate Scarlata, MPH, RDN, a Boston-based dietitian who specializes in digestive health. "Also, the explosion of diets that exclude grains has resulted in more gluten-free products."
Dairy and Dairy Alternatives
New launches of gluten-free dairy products and dairy alternatives such as milk and yogurt are inching up in 2021, particularly in dairy alternative drinks with a suite of "clean label" claims.
Soft Drinks
Gluten-free claims are slowly becoming more popular on soft drinks, including sparkling waters, kombucha, and meal replacement beverages. These claims often appear side by side with vegan, plant-based, and organic labeling. As with dairy and dairy alternatives, soft drink ingredients typically don't contain gluten.
Confectionery
Gluten-free confectionery products, such as pastries and wafers, often replace wheat-containing textural ingredients with gluten-free alternatives. Some well-known candy brands with new gluten-free claims may not have undergone reformulation but instead are taking the opportunity to call out their lack of gluten as part of new packaging or a new product flavor.
Cereals and Cereal Bars
As with bakery items, ready-to-eat cereals and cereal bars often require reformulation to remove wheat and other gluten-containing ingredients. A steady one-half of cereal and cereal bar launches are gluten-free. Much of the activity in this category is in the form of gluten-free granolas and cereal bars. Several new products also are grain-free.
Sports Nutrition
Gluten-free claims are decreasing in sports nutrition product launches. Most of the products with a gluten-free claim are drink mixes and protein powders that typically don't contain ingredients with gluten. Gluten-free often appears with other "clean label" claims that include non-GMO, no additives and preservatives, and vegan.
Meats, Meat Alternatives, Fish, and Eggs
Gluten-free launches in this category include products that comprise exclusively animal protein, products such as meatballs and hot dogs that may have gluten-containing fillers and plant-based meat substitutes that may include grain ingredients. Approximately one-third of new launches in this category include a gluten-free claim.
Ready Meals and Side Dishes
Gluten-free products are becoming more common in ready meals and side dishes, supported in part by growth in gluten-free pastas and alternatives to traditional pizza crust. Gluten-free main and side dishes show cultural diversity, particularly in Asian, Latinx, and Italian cuisines.
Guidance for Consumers
Dietetics professionals play an essential role in helping consumers and patients interpret labeling claims, gluten-free certifications, and ingredient lists based on how strictly they need to follow a gluten-free diet. Those with celiac disease require adherence to strict gluten-free standards. Consumers with inflammatory bowel disease, however, may need to limit certain gluten-free ingredients. "Bean, amaranth, and coconut flours are rich in rapidly fermentable FODMAP carbohydrates that could worsen [irritable bowel syndrome] symptoms," Scarlata cautions. "Additionally, additives such as gums can trigger [gastrointestinal] distress when overconsumed."
Guidance on food shopping can help consumers find gluten-free products in their local market. Annette Maggi, MS, RD, LD, FAND, a retail nutrition consultant and president of Annette Maggi & Associates, Inc, in Minneapolis, says that "some retailers have integrated gluten-free products into the conventional aisles but may group them into their own section and identify them with a shelf tag or display. The retail chain Hy-Vee has HealthMarkets, a store-within-a-store concept showcasing items positioned around various health considerations." Maggi adds that some e-commerce retailers are creating dietitian-curated product bundles around a specific nutrition need such as gluten-free.
Clients and patients, particularly those needing to follow a strict gluten-free diet, also can benefit from guidance on dining. "A restaurant with an open kitchen presents an almost unavoidable risk of some cross-contact with gluten from airborne flour particles," says Deanne Brandstetter, MBA, RDN, CDN, FAND, vice president of nutrition and wellness at Compass Group North America, a foodservice company headquartered in Charlotte, North Carolina. Compass facilities provide prepackaged, sealed, manufacturer-labeled, Certified Gluten-Free items for guests with severe celiac disease while also providing items prepared in the common kitchens without gluten-containing ingredients for those who choose to limit the number of gluten-containing foods they consume. "Clients need to assess their risk tolerance and what options would be most appropriate for them."
— Mindy Hermann, MBA, RDN, is a food and nutrition communications consultant in metro New York. She writes market research reports for Innova Market Insights.

References
1. Gluten free products market (bakery products, dairy/ dairy alternatives, meats/ meats alternatives, condiments, seasonings, spreads, desserts & ice-creams, prepared foods, pasta and rice and others) and by distribution channel (grocery stores, mass merchandiser, independent natural or health food store, club stores, drug stores and others): global industry perspective, market size, statistical research, market intelligence, comprehensive analysis, historical trends, and forecasts, 2019–2026. Facts & Factors website. https://www.fnfresearch.com/gluten-free-products-market-by-product-bakery-products. Published February 2020.
2. Global gluten free products (food) market size will reach USD 36 billion by 2026: Facts & Factors. Intrado GlobeNewswire website. https://www.globenewswire.com/news-release/2020/11/09/2122635/0/en/Global-Gluten-Free-Products-Food-Market-Size-Will-Reach-USD-36-Billion-by-2026-Facts-Factors.html. Published November 9, 2020.
3. Gluten-free products market size worth $43.65 billion by 2027. Grand View Research website.
https://www.grandviewresearch.com/press-release/global-gluten-free-products-market.  Published February 2020.
4. IFIC survey: from "chemical-sounding" to "clean": consumer perspectives on food ingredients. Food Insight website. https://foodinsight.org/ific-survey-from-chemical-sounding-to-clean-consumer-perspectives-on-food-ingredients/. Published June 17, 2021.
5. Questions and answers on the gluten-free food labeling final rule. US Food & Drug Administration website. https://www.fda.gov/food/food-labeling-nutrition/questions-and-answers-gluten-free-food-labeling-final-rule. Updated August 13, 2020.