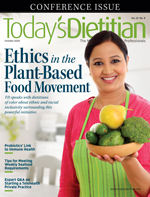 October 2020 Issue
Focus on Fitness: Group Fitness Adjusts to a New World
By Judith Riddle
Today's Dietitian
Vol. 22, No. 8, P. 58
In late 2019, the American College of Sports Medicine (ACSM) published its top trends for the fitness industry in 2020. After experiencing a resurgence in popularity over the last several years fueled by new class formats, such as various types of dance fitness and high-intensity interval training, group fitness was ranked at No. 3.1
For many gyms and boutique fitness studios, group fitness class fees and memberships are a substantial source of revenue. While the increasing availability of on-demand online classes has helped boost popularity, the long-lasting popularity of group fitness classes—and the willingness of participants to spend money on them—is due to the energy from the instructor and participants, feelings of camaraderie, socialization, and motivation associated with in-person classes.
The ACSM couldn't have predicted the coronavirus pandemic, nor that fitness would be one of the most impacted industries. With mandatory shutdowns for months, many fitness facilities have faced revenue losses that will affect future operations. So what has been the effect of the pandemic on group fitness? And, is it safe to go back to in-person fitness classes while there's still no proven treatment or vaccine for COVID-19?
An Evolving Business Model
When closed, many facilities that relied on group fitness introduced live streaming or recorded their most popular instructors and classes for home workouts. However, numerous workouts already are available for free online, and group fitness instructors and facilities charging fees for online participation face strong competition. Participants who are committed to socializing with other class members and loyal to their favorite instructors have driven the creation of live online classes using platforms such as Zoom and WebEx, designed primarily for business and traditional education, not fitness. Necessity drives invention, though. The pandemic has created innovation in the group fitness industry with new apps and platforms for instructors and facilities to run online workouts and track participation and revenue. In online instructor support groups, many instructors have reported success with maintaining their class attendance, especially those who serve higher-risk participants such as older adults, who see online classes as safer and more convenient to attend.
In the United States, in early summer, gyms in many states had reopened, but resuming group fitness classes varied widely among facilities and geographic areas. Some facilities were offering only outdoor classes; others were offering indoor classes, but only with significantly reduced class sizes due to distancing requirements. The future of gym workouts, and especially group fitness classes, which typically involve many participants packed into one room, is uncertain due to the contagiousness of SARS-CoV-2 and the high numbers of cases in many states.
A late June 2020 poll of 2,000 American adults who exercised at gyms at least twice per week showed that gym and group fitness class participation may be negatively affected in the following ways for at least the near future2:
• About one-quarter of respondents replied that they won't be returning to the gym at all.
• One-third said they'll keep their membership but will go less frequently than they did before the pandemic.
• About one-half of respondents planned to wait four to five weeks before returning to gyms.
An overwhelming 83% of respondents said they'd feel more comfortable at a gym that requires everyone to wear masks (most gyms are requiring masks to be worn when not exercising, but very few require masks be worn during exercise). While the primary deterrent for returning to gyms was risk of infection, about 40% of respondents said they now prefer their home gym equipment and at-home class exercise options over gym workouts.2
In areas where gyms have reopened, is it even safe to exercise indoors in a group fitness setting? Fitness settings haven't been well researched in terms of virus transmission. One study published in August 2020 by South Korean researchers reported significant virus spread early in the pandemic as a result of an instructor fitness training workshop in February. Of 27 instructors attending a four-hour dance fitness instructor training, eight tested positive for COVID-19 a few days after the workshop; all were asymptomatic on the day of training. Contact tracing by the researchers identified 112 subsequent COVID-19 cases spread by the instructors who taught the week after the workshop, some with mild virus symptoms (eg, coughing). Instructors and students had contact only during 50-minute classes twice weekly. Approximately 50% of the cases were transmitted by instructors to students, who then transmitted the virus to family members (34% of cases). Infected family members then transmitted the virus to coworkers or friends (15% of cases).3
Other findings and conclusions from the researchers include the following3:
• Large, high-intensity classes held in small rooms likely contributed to virus spread via exhaled respiratory droplets.
• No cases were found among students in smaller, less intense yoga and Pilates classes held in a different room in the same facility at the same time as the dance fitness classes. The researchers speculated that lower-intensity exercise with less heavy breathing among a smaller class didn't provide conditions as ideal for viral spread.
The Way Forward
This research, coupled with the expertise of infectious disease professionals, has led to the following recommendations for gym goers and group fitness participants who want to return to prepandemic exercise routines at fitness facilities:

• Group fitness participants should base decisions on their individual risk of complications from COVID-19. Anyone at greater risk of severe complications should limit exercise to outdoor settings or their home.
• Indoor gyms and classes have the potential to easily spread the virus to multiple individuals, depending on the number of exercisers, intensity of exercise, and ventilation.
• Likelihood of infection from a gym or class workout is greater in areas with higher community spread of SARS-CoV-2. The more people in the community who have tested positive, the greater the likelihood of encountering those who are asymptomatic and presymptomatic and being exposed to the virus.
• The lowest-risk group fitness setting is outdoor classes with participants at least six feet apart who use their own equipment. Larger classes and shared equipment increase risk, even outside.
• Risk in indoor classes depends on room size, number of participants, physical distancing, masking, and ventilation. Although wearing masks during high-intensity exercise can be uncomfortable, it decreases the risk of spreading and inhaling infected respiratory droplets. Facilities that have frequent air exchange with fresh outside air also reduce the risk of lingering virus particles in the air.
Before the pandemic, group fitness was on track to experience rapid growth. For the time being, any growth is likely to be in online and outdoor classes (where weather permits). Future growth will depend on the development of effective treatments and vaccines.
— Jennifer Van Pelt, MA, is a certified group fitness instructor and health care researcher in the Lancaster, Pennsylvania, area.

References
1. Thompson WR. Worldwide survey of fitness trends for 2020. ACSMs Health Fit J. 2019;23(6):10-18.
2. Roshgadol J. Quarter of gym-goers don't expect they'll ever return to fitness clubs thanks to coronavirus. Study Finds website. https://www.studyfinds.org/quarter-of-gym-goers-dont-expect-theyll-ever-return-to-fitness-clubs-thanks-to-coronavirus/. Published June 30, 2020.
3. Jang S, Han SH, Rhee JY. Cluster of coronavirus disease associated with fitness dance classes, South Korea. Emerg Infect Dis. 2020;26(8):1917-1920.