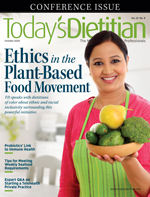 October 2020 Issue
Improving School Wellness
By Christen Cupples Cooper, EdD, RDN
Today's Dietitian
Vol. 22, No. 8, P. 44
From the cafeteria to the schoolyard, innovative programs are helping kids to eat more healthfully and become more physically active.
The Healthy, Hunger-Free Kids Act (HHFKA) of 2010 required schools participating in the National School Breakfast and Lunch Programs to increase offerings of whole grains, fruits, and vegetables, limit milk to lower-fat varieties, and serve meals within specific calorie ranges. HHFKA brought school meals in line with the Dietary Guidelines for Americans for the first time in more than 30 years. Offering more healthful choices is a large step toward helping children to eat healthfully at school.
A study by Terry-McElrath and colleagues published in JAMA Pediatrics in January 2015 analyzed data from a national cohort and found that offering fruits and vegetables and only fat-free or low-fat milk, and actively working to improve school nutrition environments were associated with lower risk of overweight and obesity among high school students. In addition, findings from a study by Anderson and colleagues published in the Journal of Public Economics in December 2018 suggest that the more healthful the food at schools serving lower-income students, the higher the students' test scores. Students eating high-quality school food scored 40% higher than students eating lower-quality school food.
Dudley and colleagues published a systematic review and meta-analysis on effective interventions to increase children's healthful food intake at primary schools in The International Journal of Behavioral Nutrition and Physical Activity in February 2015. Their findings suggested that the most effective strategies to increase intake of healthful foods such as fruits and vegetables involved experiential learning approaches such as gardening, enhanced curricula, and cross-curricular integration of nutrition education. Other strategies, such as parental involvement, also showed promise.
Graziose and Ang performed a review, published in Preventing Chronic Disease in May 2018, of 49 studies on factors influencing elementary children's school day fruit and vegetable intake. They found that several factors had consistent, positive associations with fruit and vegetable consumption at lunch across two or more studies: sliced instead of whole fruits, serving vegetables before other foods, allowing more time for eating, using incentives and social marketing and/or nutrition education curricula, and serving meals that adhered to the HHFKA standards.
According to the Centers for Disease Control and Prevention's (CDC) 2019 report "Comprehensive Framework for Addressing the School Nutrition Environment and Services," "Schools play an important role in helping students establish healthy eating behaviors by providing nutritious and appealing foods and beverages, consistent and accurate messages about good nutrition, and ways to learn about and practice healthy eating. Nutrition education is a vital part of a comprehensive health education program and empowers children with knowledge and skills to make healthy food and beverage choices."1
The report promotes implementing nutrition education using a wide range of learning activities that go beyond the cafeteria experience to include school gardening, classroom learning, farm-to-school programs, and events involving parents and the community. It brings together research on several strategies that have promoted healthful food options: encouraging children to taste food they've grown, including verbal prompts from school nutrition staff, taste tests, nutrition signage, and displaying student artwork that depicts healthful foods.
Still, despite several federal-level school-based programs moving into many schools in the past decade—including the USDA Fresh Fruit and Vegetable Program, Chefs Move to Schools Program, Salad Bars to Schools Program, and the Farms to Schools Grant Program—the Produce for Better Health Foundation State of the Plate Reports from 2010 to 2015 found that there hasn't been a significant increase in school fruit and vegetable consumption over the years. Thus, the time is ripe for innovation and alternative approaches for increasing healthful food intake in the nation's schools.
FoodCorps
The nonprofit organization FoodCorps boasts innovative solutions that connect children to healthful foods in schools across the country. Curt Ellis, cocreator of the documentary King Corn, founded FoodCorps in 2010 to help children "discover what they love to eat rather than telling them what they should eat," as he states in a New York Times article published January 3, 2020.
Ellis stresses the importance of working in the school environment to promote healthful, whole foods because "it's incredibly important to give kids the tools and the skills they need to build their own relationship with healthful food, and our job is to support them in that."
To understand how kids perceive school food and school food environments, FoodCorps interviewed 400 students, teachers, school food workers, and other staff representing nine diverse schools. Some children complained about the lack of flavor in foods. Others wished to see more meals that reflected their cultural preferences. Still other students noted that school cafeterias often are windowless and cramped and that they have too little time to consume their meals.
FoodCorps developed a program to change the whole school meal experience. As described in the New York Times article, FoodCorps responded with its "Reimagining School Cafeterias" project, which added plants and natural lighting to eating spaces. In addition, its "Tasty Challenge" invited kids to try vegetables prepared in different ways. The kids voted on their favorites, which afforded them a sense of power over their food choices. FoodCorps also introduced "flavor bars" where students can add seasonings such as hot sauce, adobo, and garlic to their dishes. FoodCorps also worked to provide tasty, sustainable greens with its $1 million, two-year partnership with Sweetgreen, a fast-casual dining franchise launched in 2007. The partnership, "Sweetgreen in Schools," began in 2010 and has reached 9,000 students, bringing curriculum-based nutrition and sustainability education to fourth- and fifth-graders.
Another FoodCorps project is "Our School Cafeteria," which, in 2019–2020, involved 15 pilot schools across the country, calling on kids to brainstorm ways to update their school cafeteria layouts to make them more pleasant and easier to navigate. FoodCorps hopes to take the program to 50 schools in 2020–2021.
The Tisch Center for Food and Education Policy at Teachers College, Columbia University in New York City, performed an evaluation of FoodCorps in 20 schools across the country. It found that more than 75% of schools participating in FoodCorps had measurably more healthful school food environments after one year of participation.2 Students at schools that engaged in the most hands-on learning experiences ate three times more fruits and vegetables than students who had fewer of these experiences. In addition, the more time FoodCorps service members spent in schools and the more FoodCorps resources that were present at a school, the more healthful the school environment.
The Tisch Center used a tool to measure the health of the school environment that took many factors into account, including foods served, the ambiance of the cafeteria, signage, and other aspects.
"Schools have so much they need to accomplish, and while food and nutrition education and good school meal experiences are something almost everyone in schools thinks are good ideas, it can be hard to have the time, experience, and attention to devote to food," says Pam Koch, EdD, RDN, executive director at the Tisch Center for Food and Education Policy, and an associate professor of research at Teachers College, Columbia University. "I think this will become even more challenging with the real struggles schools face in the COVID-19 environment and will continue to face as we recover from the impact of the pandemic."
State of School Physical Activity
According to the Department of Health and Human Services' "National Physical Activity Plan" (NPAP), published in 2016 by the NPAP Alliance, only 21% of US children aged 6 to 11 meet physical activity guidelines. The plan also states that only 1 in 3 children engages in physical activity daily and yet children should engage in vigorous activity and "muscle- and bone-strengthening activities" at least three days per week.
Regular physical activity not only helps children grow and develop physically but also confers many other benefits. There's evidence that regular physical activity has immediate and long-term impacts on academic performance,3 including improved grades, higher scores on academic achievement tests, and increased time on tasks.4
Physical activity also has been shown to increase classroom attentiveness and offers psychological benefits to children, such as increased self-confidence, self-esteem, and stress management.5,6 Finally, physical activity provides social benefits, as children regularly interact when they're active together.7
On the flip side, not being active as a young person can lead to health harms. Physical inactivity has contributed to our nation's rise in obesity among children and adolescents, which rose from 7% to 18% between 1980 and 2014.8
Because children spend a large portion of their days at school, this venue provides unique opportunities for encouraging physical activity in several ways, such as informally at recess, in physical education classes, in the classroom, and during after-school programs. The CDC report concludes that recess is a crucial part of students' school experience. The Shape of the Nation report, published by the Society of Health and Physical Educators in 2016, shows that only eight states have policies requiring daily recess in schools, and many schools enable students to replace recess with substitute content.
Recess, the CDC reports, contributes to normal growth and development; increases social skills, such as cooperation, following rules, problem solving, and communication; and improves engagement in classroom activities, such as being on task. It also enhances cognitive performance, especially attention and memory.5
In an article published in the International Journal of Behavioral Nutrition and Physical Activity in February 2004, Baranowski asserts that nutrition and physical activity are complementary when it comes to improving the overall school wellness environment. He states that "the behavioral science components of these two disciplines face similar problems and can learn from the advances made by the other in the areas of measurement, correlates, and intervention. By working together, knowledge will be enhanced from uncovering complementary and interactive relationships between diet and physical activity, and in relation to disease risks, that may result in designing more effective and efficient interventions and policies."
Wellness in the Schools
One organization that has adopted a broader, inclusive view of wellness, combining nutrition with physical activity, is Wellness in the Schools (WITS), a national nonprofit that inspires healthful eating, environmental awareness, and fitness as a way of life for kids in public schools.
WITS started in 2005 with the vision of Nancy Easton, a New York City public school teacher who was concerned about unappealing, unhealthful school food and a lack of school-based nutrition education. Renowned chefs such as Bill Telepan, executive chef at the elite Oceana restaurant on New York's Upper West Side, joined the effort in its first year and other chefs followed.
Today, WITS reaches more than 95,000 students in over 190 public schools. In 13 years of operation, WITS has provided more than 11 million school meals and led more than 54,000 hours of guided play. Funded by public-private partnerships, WITS works with schools to provide healthful, scratch-cooked meals, active recess periods, and fitness and nutrition education. The organization aims to drive systemic, long-term change, transforming the entire wellness culture of schools with its programs, which include the following:
• Cook for Kids ensures that whole, real foods, rather than processed and packaged foods, are served at mealtimes. The program uses WITS chefs who are trained culinary graduates and work to improve cafeteria menus, provide training on the changes, educate school staff, and offer nutrition education to students.
• Coach for Kids brings WITS coaches, who are trained fitness professionals, to schools to reinvent recess, train school staff, and provide fitness education to students. The coaches lead group activities during recess on the playground or, during inclement weather, in indoor spaces.
• Green for Kids brings gardening into the classroom and cafeteria, combining hands-on edible gardening and interactive, accessible environmental education for schools.
The Tisch Center has studied WITS. A study by Priya Khorana, EdD, and a research team that included Koch, involved a quasi-experimental matched-controlled design with seven WITS intervention schools and seven matched-controlled schools to measure two outcomes: students' physical activity level and physical activity type. Outcomes were measured in second- and third-graders before the introduction of the WITS program and then one school year after program introduction. They studied both outdoor and indoor recess.
Their findings, published in December 2019 in Physical Activity and Health, found that the WITS intervention increased physical activity during indoor recess. They also found that a higher percentage of WITS girls and boys were vigorously active, a lower percentage were sedentary, and overall recess physical activity levels at WITS schools were higher. In addition, they found that ball-like activity participation by both boys and girls during outdoor recess was higher at WITS schools.
"My experience working with WITS was awe-inspiring," Khorana says. "We were immersed in schools for a year and learning about the students was humbling and exciting. WITS is an organization that pulled on my heart strings, as they not only teach the students the importance of healthful living but also involve the entire community surrounding the school. Parents, teachers, and staff all get to be involved in collectively offering the students the best chance at life by instilling healthful eating and behavioral practices at such a young age."
Koch, who headed the Tisch Center's evaluations of FoodCorps and WITS, says such programs bring unique opportunities to RDs to do important, creative work in schools. "All RDNs can work alongside teachers, principals, and school foodservice staff at their local schools to provide students with great hands-on experiences with food through gardening, cooking, food justice work, food system analysis, media literacy, and positive school meal experiences," Koch says.
She also emphasizes how such programs afford dietitians opportunities not only to participate in changing school food and physical activity but also engage in research and evaluation. "What I really loved," Koch continues, "was that I could bring all of my research design, data collection, and analysis skills to organizations that are on the ground doing this important programming."
— Christen Cupples Cooper, EdD, RDN, is founding chair and an assistant professor of nutrition and dietetics at Pace University in Pleasantville, New York.

References
1. Meiklejohn S, Ryan L, Palermo C. A systematic review of the impact of multi-strategy nutrition education programs on health and nutrition of adolescents. J Nutr Educ Behav. 2016;48:631-646.
2. Tisch Center for Food and Education Policy, Teachers College, Columbia University. FoodCorps: creating healthy school environments. https://foodcorps.org/cms/assets/uploads/2016/06/FoodCorps-Creating-Healthy-School-Environments-Teachers-College.pdf. Published February 2017.
3. Castelli DM, Centeio EE, Beighle AE, Carson RL, Nicksic HM. Physical literacy and comprehensive school physical activity programs. Prev Med. 2014;66:95-100.
4. Castelli DM, Glowacki E, Barcelona JM, Calvert HG, Hwang J. Active education: Growing evidence on physical activity and academic performance. https://activelivingresearch.org/sites/activelivingresearch.org/files/ALR_Brief_ActiveEducation_Jan2015.pdf. Published January 2015.
5. Centers for Disease Control and Prevention. The association between school-based physical activity, including physical education, and academic performance. https://www.cdc.gov/healthyyouth/health_and_academics/pdf/pa-pe_paper.pdf. Published July 2010.
6. Biddle SJ, Asare M. Physical activity and mental health in children and adolescents: a review of reviews. Br J Sports Med. 2011;45(11):886-895.
7. Khorana P, Koch PA, Trent R, Gray HL, Wolf RL, Contento IR. The effects of Wellness in The Schools (WITS) on physical activity during recess in New York City public schools. Phys Act Health. 2019;3(1):117-126.
8. Katzmarzyk PT, Denstel KD, Beals K, et al. Results from the United States of America's 2016 Report Card on Physical Activity for Children and Youth. J Phys Act Health. 2016;13(11 Suppl 2):S307-S313.