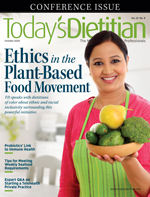 October 2020 Issue
Telehealth in Private Practice
By Kristi Coughlin, MS, RD
Today's Dietitian
Vol. 22, No. 8, P. 38
Dietetics experts discuss the key components of starting and maintaining a virtual nutrition business.
In the midst of the COVID-19 pandemic, more health care practitioners than ever before have turned to telehealth to continue providing medical care to patients—and dietitians are no exception.
Telehealth, a technological platform used to provide clinical services, has been a growing trend within the health care profession for many years.1 Also known as telemedicine, telehealth is a catch-all term that includes elements of virtual health care services and health information technology, as well as the administrative functions of electronic health records (EHRs), such as charting, client intake forms, file sharing, and video chatting.2
In a private practice setting, dietitians use telehealth to conduct online nutrition counseling services, communicate with clients in between sessions, and maintain EHRs. By implementing telehealth, dietitians have the ability to reach clients outside of their geographic area, improve accessibility to and communication with clients, and streamline administrative functions such as charting and document sharing.
According to the Academy of Nutrition and Dietetics (the Academy), 30% of dietitians reported using telehealth services with clients in 2015. More dietitians have become interested in telehealth, but many are hesitant to implement it in their practices due to the inconsistency of licensure from one state to the next, lack of knowledge of how to implement telehealth into a private practice setting, and a gap in understanding of insurance coverage of telehealth services. In fact, 70% of dietitians aren't versed in legal matters surrounding telehealth services across state lines.3
While there are legal issues to learn and understand, it's imperative dietitians become familiar with their state's regulations. For logistical matters, the use of a telehealth platform can ease the transition into working online. Despite the lack of knowledge preventing dietitians from embracing telehealth, the COVID-19 pandemic has prompted many to try it and stick with it.
When implementing telehealth in a private practice setting, there are four steps to take: 1) learn about legal matters such as licensure, HIPAA, and liability insurance; 2) determine the services you want to provide; 3) select a telehealth platform best suited for your practice; and 4) develop a marketing strategy.
To help dietitians learn more about telehealth, Today's Dietitian (TD) sits down with six dietetics professionals to ask them what's involved with implementing the platform, what are the benefits, and what are the legal issues to consider.
Alissa Rumsey, MS, RD, CSCS, is founder of Alissa Rumsey Nutrition and Wellness, a virtual weight-inclusive private practice specializing in intuitive eating, disordered eating, and body image healing in New York City.
Melissa Groves Azzaro, RDN, LD, is owner of Avocado Grove Nutrition, an integrative nutrition practice for women in Portsmouth, New Hampshire.
Amber Gourley, MS, RDN, LD, CDCES, PCC, is owner and founder of Heal U, LLC, a private practice group specializing in women's health and wellness in Northeast Tennessee.
Angela Lemond, RD, is owner of Lemond Nutrition, a medical and wellness nutrition private practice based in Plano, Texas.
KC Wright, MS, RDN, is a research dietitian at Dartmouth-Hitchcock Health in Lebanon, New Hampshire.
Whitney Bateson, MPH, RD, is owner of Whitney Bateson Digital Strategy, a digital marketing agency based in Washington, D.C.
TD: What criteria should dietitians use to decide when it's appropriate to offer telehealth in a private practice?
Wright first considers whether her clients can operate a computer and are familiar with the internet. If they're not tech-savvy, she determines whether they have the ability to learn about technology along the way. Before providing telehealth services, Rumsey decides whether it's best to work with a client online or in person based on the client's medical issues. For example, she says telehealth appointments may not be appropriate for clients with eating disorders because it's easier for them to hide body language during virtual counseling sessions, presenting a challenge for dietitians attempting to interpret what they're trying to communicate or not communicate. Rumsey adds that an online relationship also may make it difficult for dietitians working with clients with comorbidities to address all of their underlying health issues.
Gourley says it's appropriate to offer telehealth services if a dietitian can't start a business in a physical location due to financial constraints. "Dietitians should take into account their financial limitations and their own preferences and desires for running a private practice. If you're limited financially, creating a home office and offering telehealth services can provide a low-cost start," she says.
Gourley adds that dietitians should think about the type of work they like to do and be aware that working with clients strictly online can be draining because clients tend to withhold information, forcing dietitians to read their body language and draw out answers.
TD: How do dietitians and clients alike benefit from the use of telehealth?
According to the RDs interviewed, the most significant benefit of telehealth is the ability to counsel clients no matter where they're located. Groves Azzaro says telehealth particularly is helpful for her and other dietitians who provide highly specialized services, adding that since she lives in a small town in New Hampshire and counsels clients with PCOS and infertility, she needs to extend her geographical reach to boost her client base. Similarly, when clients are seeking a specialist, they have more options.
Rumsey says the convenience of offering telehealth services has resulted in few no-shows—online counseling eliminates drive time for clients to and from sessions. She says the few cancellations also may be attributed to "clients being able to participate in sessions on their lunch break or at their office before commuting home. In addition, clients who travel regularly can attend sessions when out of town for business."
What's more, offering telehealth services allows for flexible work hours and low overhead costs, and enables dietitians to write chart notes while speaking with patients, which is difficult to do during in-person sessions, Groves Azzaro says.
TD: What should dietitians be concerned about when implementing telehealth in a private practice?
Because technology can malfunction at any moment and cause an RD to lose the connection with a client, Wright says dietitians should be mindful of internet reliability. To avoid this problem, Wright suggests RDs have a backup plan such as immediately switching to a traditional phone call when internet signals are weak or lost. And dietitians should make sure their devices are adequately charged before online sessions.
According to Lemond, it's important for RDs to adhere to confidentiality protocols. "Telehealth sessions must be done confidentially without any family members or people around," she says. This applies to the physical area the dietitian and client are occupying during counseling sessions. The dietitian and client must be in a secure location where no one else can hear their conversations.
"This prevents clients from being distracted and enables them to engage with you during the session," Lemond says.
Rumsey says it's important for RDs to develop no-show policies and keep their clients' credit cards on file to uphold cancellation fees. Another aspect of telehealth dietitians should be concerned about is ensuring services are covered by liability insurance. Groves Azzaro says professional liability insurance protects business owners and companies from malpractice claims, such as negligence, omissions, and errors. She says having liability insurance is important to protect personal and business assets from lawsuits.
TD: What legal issues do you need to consider when starting a private practice and using telehealth as a tool?
According to Groves Azzaro, dietitians need to stay abreast of ever-changing state licensure and federal laws that can differ from state to state. Licensure is based on the client's state of residence.
Groves Azzaro says RDs should learn about the laws in every state in which they operate since each state is responsible for implementing and enforcing its own laws pertaining to licensure. As a reference, the Academy has published a state-by-state list of licensure laws.4
Gourley agrees, adding that federal guidelines often are outdated. "At times, they don't mention telehealth specifically, leaving providers to interpret the laws for themselves," she says.
Gourley is hopeful that federal guidelines will be updated since the use of telehealth services has increased because of the COVID-19 pandemic. She adds that RDs may require clients to sign an informed consent document or verbally agree to its terms regarding the benefits and risks associated with telehealth services.
Rumsey says that while many states have licensure laws, states such as New York don't. And there are different levels of licensure. For example, the title "registered dietitian" is protected in California, but the state doesn't have any other regulations. Conversely, some states have stringent licensure laws outlining and limiting scope of practice for dietitians and other health care professionals.
Wright says dietitians also must abide by HIPAA regulations to comply with Department of Health and Human Services requirements, which is outlined in greater detail in the following section.
TD: How do you remain HIPAA compliant when operating an online private practice?
Gourley says RDs must communicate with clients using HIPAA-compliant tools. By using a telehealth platform, such as Healthie, Practice Better, or Kalix, dietitians can ensure the tasks completed on the platform are secure. Gourley says it's essential to keep client information on the platform, meaning don't send e-mails or text messages or use other forms of external communication. Lemond adds, "Computers and systems must follow the strictest of protection for clients and patients."
In cases of private practices with multiple providers, HIPAA training is critical.
Rumsey says it's vital for dietitians in private practice who accept insurance to be HIPAA compliant, a requirement of the Department of Health and Human Services. However, providers who don't accept insurance may not fall under the regulations of HIPAA.5 Rumsey suggests RDs do their research, adding that HIPAA compliance is considered a best practice.
In accordance with HIPAA guidelines, a business associate agreement (BAA) needs to be on file with the company providing the technology service. A BAA between the technology company and a business, in this case the private practice, notifies the technology company that it will have access to protected health information. By having a BAA on file, it satisfies HIPAA regulations by ensuring sensitive information shared through the technology company will be protected. Examples of when a BAA is needed include the use of a telehealth platform, when using G-Suite or other e-mail providers, or in the case of an internet phone number.
Groves Azzaro agrees that it's important to ensure confidentiality of sensitive health information. Clients need to be aware their personal information won't be shared via unsecure forms of communication, such as e-mail, text, and social media. She reminds her social media followers not to share personal health information in post comments or via direct message.
TD: What services do insurance companies consider reimbursable when using telehealth in practice?
Gourley says insurance reimbursement varies from one insurance company to another. "Providers are encouraged to contact insurance companies directly, as coverage can differ considerably between states, even within the same company," she says. In some cases, telehealth services are covered only after an initial in-person consultation, while other insurance companies cover all telehealth sessions without that stipulation.
Medicare historically has limited the use of telehealth services to clients residing in rural areas and stipulated that providers may participate in sessions only while located in an approved setting, such as a medical facility or a doctor's office. Therefore, due to the variations in policies, it's difficult to answer specific questions about insurance coverage and reimbursement. Nevertheless, it's anticipated that telehealth services will be more widely covered by insurance companies moving forward due to the COVID-19 pandemic.
The process for submitting claims for insurance reimbursement is fairly straightforward, Gourley says. "Practices that contract with insurance companies may submit and process paperwork for reimbursement through the telehealth platform," she says. "In some instances, providers submit insurance claims in the same manner they do for traditional private practices, using an insurance clearinghouse."
Reimbursement isn't a concern for cash-pay private practices, but credit card payment processing still is necessary, Rumsey says. Many telehealth platforms include payment processing via credit cards, so RDs may not have to seek out such a service.
TD: What type of services can telehealth provide?
One-on-one sessions with patients are the most common services dietitians offer, Rumsey says. However, "most dietitian services offered in person also can be offered online," such as group sessions, self-paced online courses, meal support for eating disorders, cooking demonstrations, and telemonitoring.
According to Gourley, telemonitoring involves reviewing data collected by Bluetooth-enabled devices, including the Apple Watch, blood pressure cuffs, glucometers, and activity trackers such as FitBit, to monitor clients' health and provide intervention as needed between sessions. For example, telemonitoring enables dietitians working with clients with diabetes to remotely view their blood sugar levels and identify trends. The information gathered can be used during or in between sessions to adjust eating patterns to help stabilize blood sugar.
Groves Azzaro adds that when dietitians structure their nutrition counseling services, they should consider doing so in packages. This enables RDs to have more predictable income as clients are contracted for a set number of sessions included in the package.
TD: What should dietitians look for when deciding on the best telehealth platform to use in private practice?
Rumsey suggests RDs first consider which platform features their practice needs. For example, does their practice need only video chat capabilities and an EHR, or will they use paper charting? She says the more common telehealth platforms have similar features, such as video chat, messaging capabilities, and charting.
From there, Rumsey says dietitians should consider the nice-to-have features, including group services and self-paced online courses. She also says there's value in using free trials from different platforms to determine which one "best suits the way your brain works."
In addition, dietitians should ensure the platform is user-friendly for clients and take into account whether or not the telehealth company offers tech support, Wright says. Otherwise, RDs will need time to troubleshoot computer issues with clients.
Gourley suggests RDs consider their budget and the price of the platform. Pricing for telehealth platforms can range from $27 to more than $149 per month, depending on the desired features selected and the number of clients or providers within the practice using the software.
TD: What is the best way to market telehealth services?
For RDs operating an insurance-based practice, Gourley suggests contacting referral coordinators at doctor's offices to get referrals from the doctor. Referrals also can come directly from the insurance company through clients searching the insurance company's internal directory.
Groves Azzaro says word-of-mouth referrals from friends and family are a good place to start when launching a new private practice. She first began receiving referrals from other dietitians and providers working in similar specialties but now credits social media as her primary source of new clients.
Bateson suggests dietitians use their websites as business cards to promote their private practices. She says dietitians must know their niche to ensure they target the right patients. This will enable them to develop clear messaging on their websites that will resonate with potential clients and prompt them to book a discovery call. Bateson also suggests RDs upload a short video about their practice and the services they offer on their website's homepage. Their personalities will emanate and possibly start a working relationship with potential clients.
Rumsey agrees, adding she gets the majority of her clients through her website from Google searches, taking full advantage of search engine optimization. Other means of generating new clients can come from aggregate websites, such as the Academy of Nutrition and Dietetics' Find an Expert, Health Profs, and Nutritionist Near Me.
Gourley recommends "picking a couple of different marketing techniques, such as short-term (doctor's referrals) and long-term (social media) strategies." This ensures the practice has multiple streams for acquiring new clients, which is important for long-term success.
TD: If you could give dietitians one piece of advice for starting or transitioning to an online private practice, what would it be?
Wright suggests focusing on motivational interviewing skills to make sessions more effective, adding that there's value when focusing on SMART (specific, measureable, attainable, realistic, and time-bound) goals, especially when working with long-term clients. By providing SMART goals, clients are set up for greater success.
Groves Azzaro simply says, "Do it!"
And Gourley agrees, saying, "Don't be afraid to pivot. I started my practice 100% online and decided to start seeing clients in person as well."
TD: How has COVID-19 impacted your practice and how you provide nutrition counseling services?
In the face of the COVID-19 pandemic, Medicare made the unprecedented decision to expand reimbursement for health care services provided by phone or video chat, Gourley says. Medicare is no longer limiting these services to rural regions or certain locations. While this means Gourley potentially can see more clients, she has noticed a decrease in client referrals from other medical providers. However, when Gourley stopped in-person counseling, all but three of her clients agreed to continue with telehealth.
Groves Azzaro and Rumsey always have provided telehealth-only services, so their workloads haven't changed much since the pandemic began. While they continue business as usual, Rumsey says now is the time to evaluate creative payment options, such as adjusting the frequency of payments to help make services more affordable. She also suggests dietitians consider offering tiered services with varying levels of care or group sessions with different price points to give clients choice.
Due to COVID-19, Lemond's practice has shifted from an entirely in-person nutrition business to a 100% virtual practice. While she was initially apprehensive to move to a virtual practice, she believes incorporating telehealth into her business will be a lucrative shift.
Gourley asks her clients questions about food safety and offers ways to optimize nutrition status to support their overall health to help them limit the transmission of the virus.
Because of their business models, Groves Azzaro's and Rumsey's private practices initially weren't impacted by COVID-19. They both contracted with clients for three months of services and often with fees paid upfront.
Without a doubt, the COVID-19 pandemic has ramped up the use of telehealth, and its increased use is expected to remain long after the pandemic resolves and life returns to some sense of normalcy.6 Lemond says, "Telehealth services [are] a way dietitians can stand out as nutrition experts and really start having an impact on our health system."
— Kristi Coughlin, MS, RD, is a former telehealth private practitioner turned creator of an inspirational products business based in Bend, Oregon.

References
1.Telehealth basics. American Telemedicine Association website. https://www.americantelemed.org/resource/why-telemedicine. Accessed July 30, 2020.
2. About telehealth. Center for Connected Health Policy website. https://www.cchpca.org/about/about-telehealth. Accessed May 11, 2020.
3. Telehealth practice survey 2015 executive summary. Academy of Nutrition and Dietetics website. http://www.eatrightpro.org/~/media/eatrightpro%20files/practice/telehealth/telehealth_practice_survey-2015-executive_summary.ashx. Published June 2016. Accessed May 11, 2020.
4. Licensure guidelines by state. Academy of Nutrition and Dietetics website. https://www.eatrightpro.org/-/media/eatrightpro-files/coronavirus/licensure-guidance---dietetics-practice---emergency---cross-border-and-telehealth-(2).pdf?update1&la=en&hash=B4F3033F585F60906C0F471C9CE84C617D1D0F37. Updated March 26, 2020. Accessed May 11, 2020.
5. Covered entities and business associates. Department of Health and Human Services website. https://www.hhs.gov/hipaa/for-professionals/covered-entities. Published June 16, 2017. Accessed May 11, 2020.
6. COVID-19 makes telemedicine mainstream. Will it stay that way? American Medical Association website. https://www.ama-assn.org/practice-management/digital/covid-19-makes-telemedicine-mainstream-will-it-stay-way. Published April 29, 2020. Accessed May 11, 2020.