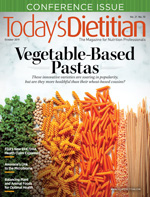 October 2019 Issue
Culinary Corner: Simplify Family Meals
By Jessica Ivey, RDN, LDN
Today's Dietitian
Vol. 21, No. 10, P. 66
October is Eat Better, Eat Together Month, and there are numerous studies that demonstrate the benefits of eating with others, particularly for families with children and teens (eg, kids' lower risk of obesity, substance abuse, teen pregnancy, eating disorders, and depression).1 That said, several barriers prevent many families from eating together as often as they'd like. According to a 2017 survey, one of the top three barriers to dinners at home with family is a lack of time to prepare meals.2 Other obstacles include difficulty finding a recipe everyone likes and a lack of cooking skills. As dietitians, we can encourage clients in these areas.
First, educate clients on time-saving tips in the kitchen. These can include sheet pan suppers, which involve cooking a protein, starch, and/or vegetable all on the same pan. Leftovers generally reheat well for a "cook once, eat twice" approach. Batch cooking is another effective strategy for busy individuals; help clients create a list of nutrient-rich meal components that can be prepared in advance and refrigerated or frozen for future use. Cooked whole grains, such as quinoa and farro, freeze well, and cooked meats and vegetables can be refrigerated and reheated. Leftovers can be used to make "power bowls" with a serving of vegetables, protein, and grains all in one dish.
We also can ease the burden of meal preparation by helping clients identify family-friendly recipes that mesh with their health goals. Work with each client to identify small changes that are doable, such as making ingredient substitutions, practicing more healthful cooking methods, serving reasonable portion sizes, and focusing on family favorites.
In addition, since many Americans lack basic cooking skills and often feel overwhelmed with the idea of cooking more meals at home, encourage clients to attend hands-on cooking classes to help boost their confidence in the kitchen.
This sheet pan dinner features a short ingredient list and simple techniques. Cooking the chicken with the skin on and removing it before eating keeps it moist with relatively the same calorie and fat content as skinless chicken.3
— Jessica Ivey, RDN, LDN, is a dietitian and chef with a passion for teaching people to eat healthfully for a happy and delicious life. Ivey offers approachable healthful living tips, from fast recipes to meal prep guides and ways to enjoy exercise on her website, JessicaIveyRDN.com.

References
1. Benefits of family dinners. The Family Dinner Project website. https://thefamilydinnerproject.org/about-us/benefits-of-family-dinners/
2. Food Marketing Institute. U.S. Grocery Shopper Trends 2017. https://www.fmi.org/forms/store/ProductFormPublic/u-s-grocery-shopper-trends-2017. Published 2017.
3. Atyeo K, Cook D; Chicken Farmers of Canada. Nutrient analysis report: executive summary. https://www.chicken.ca/assets/Health/Nutrient-Analysis-Report-Chicken-Farmers-of-Canada-ENG.pdf. Published April 2014. Accessed July 12, 2019.
Recipe
Sheet Pan Rosemary Chicken and Fall Vegetables
Serves 4 (1/2 chicken breast and 1 1/3 cups vegetables)
Ingredients
2 T olive oil, divided
1 1/2 tsp chopped fresh or dried rosemary, divided
1/2 tsp salt, divided
1/2 tsp pepper, divided
2 12-oz bone-in chicken breasts
1 lb Brussels sprouts, trimmed and halved
1 large sweet potato, cut into 3/4-inch pieces
1 medium-sized red onion, cut into large chunks
Directions
1. Preheat oven to 400° F.
2. Stir together 1 T olive oil, 1/2 tsp rosemary, 1/4 tsp salt, and 1/4 tsp pepper in a small bowl. Use your finger to gently loosen chicken skin from meat, being careful not to tear skin. Rub oil mixture over breast meat under skin. Place one chicken breast each on two large rimmed baking sheets.
3. Toss together Brussels sprouts, sweet potato, onion, 1 T olive oil, 1 tsp rosemary, 1/4 tsp salt, and 1/4 tsp pepper in a large bowl. Spread vegetable mixture around chicken breasts on both baking sheets.
4. Bake 23 to 25 minutes or until a thermometer inserted into the thickest part of the chicken registers 165° F and vegetables are tender and browned, rotating pans halfway through cooking time. If the chicken is done before vegetables, remove chicken from baking sheets and place on a plate covered with foil, and return vegetables to oven.
5. Remove skin from chicken. Slice meat, and serve with vegetables.
Note: Use the convection setting on your oven, if available, and if not, switch the pans halfway through the cooking time.
Nutrient Analysis per serving
Calories: 300; Total fat: 10 g; Sat fat: 2 g; Cholesterol: 70 mg; Sodium: 410 mg; Total carbohydrate: 24 g; Dietary fiber: 6 g; Sugars: 6 g; Protein: 29 g