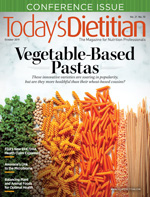 October 2019 Issue
Senior Wellness: Wellness at Any Age
By Becky Dorner, RDN, LD, FAND, and Liz Friedrich, MPH, RDN, CSG, LDN, FAND, NWCC
Today's Dietitian
Vol. 21, No. 10, P. 16
The RD's Role in the Medicare Initial Preventive and Annual Wellness Visit
Wellness is defined by Merriam-Webster as "the quality or state of being in good health, especially as an actively sought goal." The concept of wellness applies to all people, including older adults. Most experts agree it's never too late in life to implement small changes directed at improving health and quality of life.
Healthy People 2020, a science-based set of national objectives for improving the health of Americans, has a goal for older adults to "improve the health, function, and quality of life."1
Medicare Initial Preventive and Annual Wellness Visits
Beginning in 2011, the Patient Protection and Affordable Care Act (PL 111-148 Sec 4103) recognized the importance of "wellness" to those older than age 65 by providing Medicare Part B coverage for some preventive services.2 Medicare Part B participants can now receive a "Welcome to Medicare" preventive visit once within the first 12 months of enrolling in Part B, as well as an annual wellness visit (AWV). Copays and deductibles are waived for initial wellness visits and AWVs, so they're free to beneficiaries.
These visits are meant to improve the health of older adults and reduce costs by focusing on prevention and access to preventive services. Unfortunately, most older adults don't take advantage of wellness visits; a Centers for Medicare & Medicaid Services (CMS) publication states that less than 20% of eligible beneficiaries participate.3
Wellness visits aren't a "hands-on" physical examination, but instead they involve gathering pertinent information; providing referrals for follow-up screening, education, or counseling services; and, if appropriate, advance care planning (see sidebar for a complete list of the recommended services to be provided in an initial wellness visit).
AWVs are similar to the initial visit but involve gathering updated information and providing appropriate referrals based on new information available.
Medicare Part B covers a variety of screening services that may be recommended at wellness visits, including but not limited to screenings for diabetes, cancer, CVD, and HIV, as well as mammograms and prostate screenings. Fees may apply to other screening services along with follow-up and counseling services.
Service Providers Include Dietitians
Delivery of initial and annual wellness isn't limited to physicians; nurse practitioners and physician assistants also can serve as providers. Other medical professionals, including dietitians, health educators, and other licensed professionals (such as nurses and pharmacists), can conduct the visits under the direct supervision of a physician.
Direct supervision is defined by CMS as follows: "The physician must be present in the office suite and immediately available to furnish assistance and direction throughout the performance of the procedure." It's important to note that RDs can't directly bill Medicare for the initial wellness visits or AWV because it must be provided under direct supervision of the physician.2
Benefits of AWVs
AWVs have the potential to improve health care quality and reduce costs; several studies have shown that these visits improved utilization of preventive services.4-7 Studies also have found that AWVs can be effective in providing referrals for lifestyle changes (eg, diet and physical activity), but those studies didn't evaluate whether participants followed through with recommendations.3
The AWV represents an exciting opportunity to encourage the delivery of preventive care to older adults and increase our knowledge of effective strategies to promote healthy aging. An additional benefit may be earlier detection and/or treatment of serious medical problems, although that outcome hasn't been evaluated.
Of Interest to RDs
Many RDs may not know that they can perform initial wellness visits and AWVs, and that these services could have the potential to make an important impact on the health of older adults. RDs in private practice can build relationships with physician practices and develop a business arrangement to provide AWVs and follow-up services. Wellness visits can provide a "strategic touchpoint" in the health care system that could include more referrals to RDs and result in an expansion of nutrition services in their communities.3
Nutrition services covered by Medicare include intensive behavioral counseling for obesity for those with a BMI ≥30 kg/m2, if provided as auxiliary personnel in a primary care setting. RDs and other practitioners can be covered by Medicare for this service.2
MNT provided exclusively by RDs for diabetes or renal disease also can be covered by Medicare when specific criteria are met. To be a provider of MNT services through Medicare, RDs must enroll as Medicare providers.8 The Academy of Nutrition and Dietetics offers extensive information on enrolling, coding, and billing for services at www.eatrightpro.org/payment.

Perhaps one underrecognized benefit of RDs delivering initial wellness visits and AWVs is their unique knowledge of nutrition programs and services that contribute to the health and wellness of older adults. Medicare beneficiaries who meet the criteria for participation can be referred to a variety of federal programs, including home-delivered meals and congregate meal programs funded through the Older Americans Act (https://acl.gov/programs/health-wellness/nutrition-services). The USDA funds the Senior Farmers' Market Nutrition Program, Commodity Supplemental Food Program, and Supplemental Nutrition Assistance Program (www.usda.gov/media/press-releases/2015/07/13/fact-sheet-usda-support-older-americans).

Older adults also can access RDs in private practice, in physicians' offices, and outpatient and local health department clinics, although fees usually apply. RDs also may be available to residents of senior living communities and postacute care settings such as assisted living and long term care facilities. Because of their focus on food and nutrition, RDs may be more likely than other providers of AWVs to refer Medicare beneficiaries to these programs and services.
Wellness Visits and RDs: The Bottom Line
Medicare's initial wellness visits and AWVs can serve to help older adults achieve "wellness at any age." RDs can and should be an important piece of the wellness puzzle for this demographic by serving as providers of initial wellness visits and AWVs, providers of follow-up services, and by referring patients to appropriate nutrition programs that can help them improve health and quality of life.
— Becky Dorner, RDN, LD, FAND, is widely known as one of the nation's leading experts on nutrition and long term health care. Her company, Becky Dorner & Associates, Inc, has a variety of continuing professional education programs that focus on older adults, including Nutrition Care of the Older Adult and Nutrition for the Older Adult. Both can be accessed at www.beckydorner.com/product-category/courses/page/2.
— Liz Friedrich, MPH, RDN, CSG, LDN, FAND, NWCC, is president of Friedrich Nutrition Consulting, which specializes in nutrition care for older adults and education of their care providers.
 
References
1. Older adults. Healthy People 2020 website. https://www.healthypeople.gov/2020/topics-objectives/topic/older-adults. Accessed July 2, 2019.
2. Medicare preventive services. Academy of Nutrition and Dietetics website. https://www.eatrightpro.org/payment/medicare/providing-service-and-billing/medicare-preventive-services. Accessed July 17, 2019.
3. Simpson VL, Kovich M. Outcomes of primary care-based Medicare annual wellness visits with older adults: a scoping review [published online June 27, 2019]. Geriatr Nurs. doi: 10.1016/j.gerinurse.2019.06.001.
4. Beckman AL, Becerra AZ, Marcus A, et al. Medicare annual wellness visit association with healthcare quality and costs. Am J Manag Care. 2019;25(3):e76-e82.
5. Jiang M, Hughes DR, Wang W. The effect of Medicare's annual wellness visit on preventive care for the elderly. Prev Med. 2018;116:126-133.
6. Chung S, Romanelli RJ, Stutts CD, Luft HS. Preventive visit among older adults with Medicare's introduction of annual wellness visit: closing gaps in underutilization. Prev Med. 2018;115:110-118.
7. Galvin SL, Grandy R, Woodall T, Parlier AB, Thach S, Landis SE. Improved utilization of preventive services among patients following team-based annual wellness visits. N C Med J. 2017;78(5):287-295.
8. Medicare provider enrollment. Academy of Nutrition and Dietetics website. https://www.eatrightpro.org/payment/medicare/medicare-provider-enrollment. Accessed July 23, 2019.
COMPONENTS OF AN INITIAL WELLNESS VISIT
1. Perform a health risk assessment that includes demographic data, self-assessment of health status, psychosocial risks, behavioral risks, activities of daily living, and instrumental activities of daily living (eg, balancing a checkbook, using a phone).
2. Establish the individual's medical and family history.
3. Establish a list of current medical providers and suppliers.
4. Measure height, weight, and blood pressure and determine BMI. Consider other routine measurements as deemed appropriate based on medical and family history.
5. Assess cognitive function using direct observation, concerns raised by family members, and/or cognitive assessment tools.
6. Review potential risk factors for depression, including current or past experiences, using an appropriate screening tool.
7. Review functional ability and level of safety, using direct observation or screening questionnaires.
8. Establish a written screening schedule.
9. Develop a list of risk factors and conditions for which primary, secondary, or tertiary interventions are recommended or in process.
10. Furnish personalized health advice and appropriate referrals to preventive counseling services or programs, including nutrition, physical activity, and fall prevention.
11. Provide advance care planning services (at the beneficiary's discretion), including the need for future care decisions and advance directive discussions.
— Source: Centers for Medicare & Medicaid Services