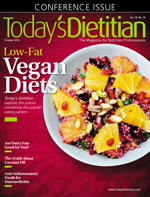 October 2016 Issue
Culinary Corner: Apples
By Jessica Fishman Levinson, MS, RDN, CDN
Today's Dietitian
Vol. 18, No. 10, P. 74
Take Them From Ordinary to Extraordinary
The fall season is full of fun activities for kids and adults alike, and one of my favorites is apple picking. It's a great way to get some exercise and to show my girls how apples grow and what they taste like straight from the tree. With our filled bags of freshly picked apples, we head home ready to begin cooking with them in the kitchen. While apples are great to snack on straight out of hand, there are many more ways to enjoy them.
Clients can use apples to make homemade applesauce, sauté with purple cabbage for a delicious side dish next to fish or chicken, bake apples for a low-calorie dessert, make dried apple chips, chop and stir into morning oatmeal, or try the Baked Apple French Toast recipe here.
Nutritionally, apples are known for their fiber content, as they're a good source of both soluble and insoluble fiber. The majority of the fiber is soluble, which has cholesterol-lowering benefits. A smaller portion of the fiber is insoluble and is found in the skin of the apple. Insoluble fiber is responsible for moving food more quickly through the digestive tract and preventing constipation. Apples also are a good source of vitamin C and are rich in the antioxidant quercetin, which may help reduce the risk of gout and certain cancers and improve lung function.1-4 The familiar saying "An apple a day keeps the doctor away" really has some basis in truth!
Clients may ask about the need to buy organic apples, as this fruit has been on the top of the Environmental Working Group's (EWG) "Dirty Dozen" list for many years.5 Some research shows that the exposure to pesticides on produce from the "Dirty Dozen" list pose negligible risks and that substituting organic for conventional produce doesn't necessarily result in any appreciable risk reduction. In addition, one study found that the EWG's methods for ranking produce may not be evidence based.6 Clients also can rest assured that eating conventional apples is OK given the findings of The Alliance for Food and Farming, a nonprofit organization comprising both organic and conventional farmers. They found that a woman could consume 850 servings of conventional apples in one day without any adverse effect—defined for this study as "a change in … an organism which results in impairment of functional capacity … or increase in susceptibility to the harmful influences of other environmental influences"—even if the apples had the highest pesticide residue recorded for apples by the USDA.7,8
— Jessica Fishman Levinson, MS, RDN, CDN, is a New York-based nutrition consultant, writer, and recipe developer, and the founder of Nutritioulicious (www.nutritioulicious.com). She is a member of the U.S. Farmers & Ranchers Alliance's Digital Voices Council.

References
1. US Department of Agriculture, Agricultural Research Service, National Agricultural Library. National Nutrient Database for Standard Reference, Release 28. https://ndb.nal.usda.gov/ndb/foods/show/2122?manu=&fgcd=. Updated May 17, 2016. Accessed August 2, 2016.
2. Shi Y, Williamson G. Quercetin lowers plasma uric acid in pre-hyperuricaemic males: a randomised, double-blinded, placebo-controlled, cross-over trial. Br J Nutr. 2016;115(5):800-806.
3. Fabiani R, Minelli L, Rosignoli P. Apple intake and cancer risk: a systematic review and meta-analysis of observational studies [published online March 22, 2016]. Public Health Nutr. doi: 10.1017/S136898001600032X.
4. Butland BK, Fehily AM, Elwood PC. Diet, lung function, and lung function decline in a cohort of 2512 middle aged men. Thorax. 2000;55(2):102-108.
5. Dirty dozen: EWG's 2016 shopper's guide to pesticides in produce. Environmental Working Group website. https://www.ewg.org/foodnews/dirty_dozen_list.php. Accessed August 2, 2016.
6. Winter CK, Katz JM. Dietary exposure to pesticide residues from commodities alleged to contain the highest contamination levels. J Toxicol. 2011;2011:589674.
7. Pesticide residue calculator. The Alliance for Food and Farming website. http://safefruitsandveggies.com/pesticide-calculator. Accessed August 2, 2016.
8. Safe produce calculator FAQ. The Alliance for Food and Farming website. http://safefruitsandveggies.com/faq/safe-produce-calculator. Accessed August 14, 2016.
---
Recipe
Baked Apple French Toast
Caramelized apples top whole grain challah bread soaked in a cinnamon- and nutmeg-spiced egg wash and baked in the oven for a delicious weekend breakfast the whole family will enjoy. Serve with pure maple syrup and low-fat plain yogurt for a protein boost.
Serves 8
Ingredients
Cooking spray
8 1-inch slices whole wheat challah or brioche bread
6 large eggs
11/2 cups nonfat milk
3/4 tsp ground cinnamon, divided
1/4 tsp ground nutmeg
1 T unsalted butter or vegan butter substitute
3 apples, cored and sliced thin
2 T water
3 T packed dark brown sugar, divided
Directions
1. Preheat oven to bake at 375° F. Coat a 9- X 13-inch baking pan with cooking spray and set aside.
2. Arrange challah slices as tightly as possible in a single layer in baking pan. It's okay if they overlap a little.
3. In a medium mixing bowl, whisk together eggs, milk, 1/2 tsp cinnamon, and nutmeg. Pour over bread and use a spatula to push the bread down to soak up the liquid. Set aside.
4. In a large skillet with a cover, melt butter over medium heat. Add sliced apples, remaining 1/4 tsp cinnamon, and 2 T water. Stir together to coat, and cover skillet.
5. Cook covered, stirring occasionally, about 5 minutes until the apples are tender and starting to caramelize. Remove cover and continue cooking about 3 to 4 minutes more until apples are fully caramelized and soft but not mushy. Remove from heat.
6. While the apples are cooking, check the bread and push down to ensure all pieces are wet. Sprinkle with 1 T brown sugar.
7. Spread cooked apples over the bread and sprinkle with remaining 2 T brown sugar.
8. Bake for 40 minutes until golden brown on top and egg mixture is fully cooked. Cut into eight slices and serve hot.
Nutrient Analysis per serving
Calories: 233; Total fat: 7 g; Sat fat: 3 g; Trans fat: 0 g; Cholesterol: 164 mg; Sodium: 227 mg; Total carbohydrate: 32 g; Dietary fiber: 3 g; Sugars: 16 g; Protein: 11 g