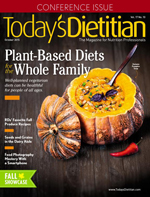 October 2015 Issue
Culinary Corner: Soup's On
By Jessica Fishman Levinson, MS, RDN, CDN
Today's Dietitian
Vol. 17 No. 10 P. 82
Savor a hearty bowl that's bursting with flavor.
Soup is one of those meals that's comforting no matter the time of year, but it's especially so as the weather gets cooler, as it warms you from the inside out. I'm a huge fan of soup and so are my 3-year-old twin girls, which makes it easy to prepare one-pot meals and ensure they get their vegetables. Plus, the soup alone fills them up.
The effect of soup on fullness and weight maintenance is well known. Studies have shown that after eating soup, people experience increased satiety and reduced hunger, comparable to solid foods. As a result, total calorie intake on soup-eating days is lower than on solid food-eating days. And when soup is eaten at the start of a meal, subsequent food and calorie intake from a meal are reduced.1,2 A recent study showed a positive relationship between soup consumption and improved diet quality.3 But while soup may enhance diet quality, dietitians should remind clients of the high sodium content in packaged and canned soup varieties and suggest they choose reduced sodium options or make it themselves.
When making soup at home, clients have control over the salt content and can use other flavor-enhancing ingredients, such as low-sodium broths and fresh or dried herbs. Allium vegetables such as garlic, onions, and leeks impart much flavor without the added sodium and calories; they're rich in flavonols and have been shown to decrease the risk of certain types of cancer.4
The following Tuscan White Bean Soup is a filling meal for lunch or dinner thanks to the fibrous cannellini beans and a mix of carrots, celery, and onions. Clients can keep the soup broth-based or use a hand-held immersion blender to achieve a velvety smooth creaminess. Just make sure to leave some vegetable chunks; this enhances the texture and satiety factor of this soup.
— Jessica Fishman Levinson, MS, RDN, CDN, is a New York-based nutrition consultant, writer, and recipe developer, and the founder of Nutritioulicious (http://www.nutritioulicious.com).
References
1. Mattes R. Soup and satiety. Physiol Behav. 2005;83(5):739-747.
2. Flood JE, Rolls BJ. Soup preloads in a variety of forms reduce meal energy intake. Appetite. 2007;49(3):626-634.
3. Zhu Y, Hollis JH. Soup consumption is associated with a lower dietary energy density and a better diet quality in US adults. Br J Nutr. 2014;111(8):1474-1480.
4. Sengupta A, Ghosh S, Bhattacharjee S. Allium vegetables in cancer prevention: an overview. Asian Pac J Cancer Prev. 2004;5(3):237-245.
Tuscan White Bean Soup
Velvety smooth soup dotted with chunks of carrots, celery, spinach, and white beans make this recipe filling and satisfying while keeping calories low. Serve topped with shaved Parmesan and a piece of hearty whole grain bread.
Serves 12
Ingredients
1 T olive oil
11/2 cups chopped onion
1 cup chopped celery
2 cups chopped carrots
3 large cloves garlic, minced
1 T fresh thyme
1 T chopped fresh rosemary
2 quarts low-sodium vegetable broth, divided
3 15-oz cans no-salt added cannellini beans, drained and rinsed, divided
1 to 2 bay leaves
2 cups baby spinach
Juice of 1 lemon
1 T white wine vinegar
1 tsp kosher salt
Freshly ground pepper
Crushed red pepper flakes (optional)
Shaved Parmesan cheese (optional)
Directions
1. Heat oil in a Dutch oven or soup pot over medium-high heat. Sauté onions for two minutes. Add celery, carrots, and garlic; sauté four to five minutes. Add thyme, rosemary, 11/2 quarts broth, two cans of beans, and bay leaves. Bring to a boil, and then reduce to simmer until vegetables are tender, about 15 minutes. Remove from heat and let cool slightly.
2. Using an immersion blender, partially purée the soup, leaving some chunks of vegetables. Return to medium heat and add the remaining broth, remaining beans, baby spinach, lemon juice, white wine vinegar, salt, and pepper. Heat until the spinach is wilted and the flavors have melded. Taste and adjust seasonings as desired. Serve topped with red pepper flakes and Parmesan cheese if desired.
Nutrient Analysis per serving [11/2 cups, not including red pepper flakes and Parmesan]
Calories: 123; Total fat: 2 g; Sat fat: 0 g; Trans fat: 0 g; Cholesterol: 0 mg; Sodium: 311 mg; Total carbohydrate: 21 g; Dietary fiber: 6 g; Sugar: 4 g; Protein: 5.5 g