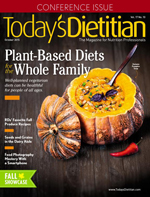 October 2015 Issue
Dietitians on Social Media: Promoting and Protecting Your Work
By Neva Cochran, MS, RDN, LD, FAND, and Debra King, MS, RDN, LD, FAND
Today's Dietitian
Vol. 17 No. 10 P. 50
Knowing the rules gives you a professional edge in the cyberspace marketplace.
Social media has become a mainstay in American society over the past decade. When LinkedIn launched in 2003 and was followed in quick succession by YouTube, Facebook, Twitter, Instagram, Pinterest, Snapchat, and, more recently, Periscope, social media changed the way people communicate, receive news, promote brands, and debate topics.
And dietitians are no exception, having harnessed the power of social media to communicate food and nutrition information and promote their businesses. The most recent figures show that there are 64,973 dietitians on LinkedIn in the United States and 863 RD bloggers on the Nutrition Blog Network; 194,729 users have liked the Academy of Nutrition & Dietetics Eat Right Nutrition Facebook page; and Twitter accounts @eatright and @eatrightPRO have 51,977 and 21,962 followers, respectively.
Along with individual dietitians, the Academy of Nutrition and Dietetics (the Academy), its local and state affiliates, and dietetic practice groups all have a presence on a variety of social media channels to facilitate sharing and discussion of food and nutrition information, organization news, and continuing education opportunities. Taking advantage of this growing phenomenon offers RDs another way to promote science-based information, address and correct food and nutrition misinformation, provide practical food and nutrition advice, and market their businesses.
Harness the Power
According to Leah McGrath, RDN, corporate dietitian for Ingles Markets in Asheville, North Carolina, and an active social media user as an individual dietitian and on behalf of Ingles Markets, "Social media gives dietitians visibility and recognition as the nutrition experts. There are many individuals without nutrition education or credentials actively providing nutrition advice on social media, so we need to be in this space to balance the conversation and provide evidence-based information."
Melissa Joy Dobbins, MS, RDN, CDE, owner of Sound Bites, Inc, in Chicago, became involved with social media as a way to monitor nutrition news and trends as well as to promote her own brand and food philosophy, and other RDs. "Sometimes the loudest voices in the media aren't the most credible, so dietitians really need to get their voices out there," she says. "RDs are uniquely qualified to translate nutrition science into meaningful sound bites for the public. If we aren't part of the conversation, we can't be part of the solution."
"Social media is a phenomenal way to communicate nutrition information directly to the people you want to read it," explains Angela Lemond, RDN, CSP, LD, owner of Lemond Nutrition, in Plano, Texas. "That's powerful because in the past it was primarily controlled by the media that interviewed us."
Great Way to Form Connections
Social media also can help dietitians connect with other influencers and expand their professional networks. This, in turn, can strengthen the profession as a whole and build the reputations of RDs as food and nutrition experts. "As I started to build my brand, getting the exposure and connecting with other RDs was my goal and motivation," Dobbins says.
As one of the 30 official spokespersons for the Academy, Lemond describes social media as a core piece of their communication, sharing the Academy's messages through Twitter accounts Eat Right, Eat Right Pro, and Kids Eat Right, and Food & Nutrition Magazine for maximum reach. "As people enjoy reading the articles the spokespeople are quoted in, they follow us and we can highlight our colleagues, so the impact for our profession continues to grow," she says.
Joining social media as a clinical dietitian in 2009, Amber Pankonin, MS, RDN, of Lincoln, Nebraska, discovered that it's an excellent way to build a community with dietitians outside of clinical dietetics. "I built relationships not only with dietitians but also with members of my local community, including the media, and established myself as a local expert," she says. It opened doors she never imagined and helped her create a career as a nutrition communications consultant to the food and agriculture industry.
McGrath launched the Build Up Dietitians Facebook group and Twitter account (@BuildUpRDNs) in 2014 as a way for dietitians to promote and support each other, share information, and acknowledge the good work of the Academy. More recently, McGrath and Pankonin started another Facebook group called Dietitians Do Science on the Blog, a place for RDs to alert colleagues to science-based blogs they might want to share on social media.  
Selecting the Appropriate Platform
Which social media channels do dietitians like to use? Lemond prefers Twitter for sharing food and nutrition information with colleagues, other health professionals, and the media. For her private practice, she typically uses her company Facebook, YouTube, and Pinterest accounts. While her Instagram site is primarily personal, she allows anyone to follow her. "If you want a glimpse into my personal wellness, follow me on Instagram," she says.
Pinterest is a favorite of Orlando-based dietitian Susan Mitchell, PhD, RDN, LDN, FAND, co-owner of Food Fit Fabulous, where she blogs and creates videos and podcasts. "It's a perfect fit for RDs as food, images of food, recipes, and nutrition are all very popular," she explains. "We use it not only to share pins from others but also to share and brand our podcasts, videos, and blogs."
As a media trainer, Dobbins encourages dietitians to embrace nontraditional media such as YouTube videos and radio podcasting to promote their brands and messages to the public. "Videos are an effective and compelling way to get credible nutrition information out to the public," Dobbins says. She uses videos such as Food & Props 101 as a tool to complement her media coaching and training workshops for dietitians.
Pankonin advises dietitians to find the platform they enjoy the most rather than dabbling in all of them. She likes Twitter because she can exchange information quickly and connect with people she's never met in person. Periscope is her new favorite because she can take viewers along for the ride when doing media interviews, learning about agriculture, or working on projects.
Promote Science-Based Information
Social media has brought about a proliferation of nutrition misinformation by pseudoexperts. This places an even greater responsibility on RDs as science-based professionals, to make sure they're disseminating accurate information. This can be challenging with the abbreviated formats of some social media outlets, such as Twitter's 140-character limit.
A big mistake Pankonin sees is dietitians who repost or share articles without reading them first. While they may assume an article written by an RD is true, she says they should take the time to read it before sharing to make sure the information is science-based. "Don't be afraid to be a skeptic," she advises. "It's healthy to challenge information that isn't based on evidence." When she disagrees with colleagues, she prefers to talk with them personally offline so they don't feel attacked.
Legal and Ethical Standards
With all the good social media offers dietitians professionally, it's essential to be informed about the ethics and risks of being creative in its fast-paced world. Dietitians should abide by the Code of Ethics for the Profession of Dietetics in all aspects of professional practice, including social media communication. This includes ensuring that posts are accurate and science-based, and that copyright laws are observed.
RDs need to understand copyright protection and the ethical responsibility it requires. Douglas Halijan, JD, an attorney specializing in intellectual property law in Memphis, Tennessee, confirms that copyrights attach to all works of original expression fixed in a tangible medium. "The same copyright concepts apply to copyrightable works published on the Internet via social media sites, just as if they appeared in print," he says.
So what you write, photograph, or video is copyright protected when created, which respects the ownership of original works and honors the intellectual efforts. This protection gives the creator the right to make copies for sale or distribution, create derivatives, and display it as they choose. But if you're not the original writer, photographer, or videographer, it's critical to ask for permission and cite your sources, which maintains your integrity and boosts your credibility.  
Copyright Original Work
"The basic process to register content published on the Internet is the same as with works published in hard copy form," Halijan explains. "In addition, you wouldn't be registering the blog itself, but rather the individual content or entries published there. You aren't required to register your copyright at all, as your rights attach from the moment of creation. But if someone infringes on your work, then registration is a prerequisite to maintaining an infringement action against them."
While registering copyright isn't mandatory, Halijan suggests posting a copyright notice on all of your content. This at least puts others on notice that you claim a copyright interest in the work at issue. One of the following notices can be used at the end of an article or blog; in photography, it can be in small print at the bottom of the picture, and in videography, it can be included with the title.
• © 2015 Name/Business
• Copyright 2015 Name/Business
• Copr. 2015 Name/Business
If you do experience an issue with copyright infringement, register using the online process with the United States Copyright Office at www.copyright.gov.
Using Internet Information Legally
While it can be tempting to copy and paste a short line of text or a photograph from a website into your own blog or online newsletter, it's possible you're infringing on someone's copyright. Even if there's no copyright notice, the act of writing a blog or taking a picture provides copyright protection. Asking permission to use what belongs to someone else is included in the Code of Ethics.1
The following table offers examples of situations that would and would not be considered copyright infringement.
When Copy and Paste Risks Copyright Infringement
When I copy and paste…
…Is it copyright infringement?
A copyrighted comic strip in a slide presentation
Yes, unless you requested permission and most likely paid a fee for each time it's used in a presentation.
A copyrighted comic strip in a slide presentation for a college nutrition class
No, using a limited amount of copyrighted material for the specific purpose of education is allowed for the classroom presentation. Note: The copyrighted comic strip cannot be included in an online presentation.
A quote from an RDN's blog into my blog
No, short attributed quotations generally are considered fair use.
A picture from a food manufacturer's website into a blog about healthful snacks
Not always. Using a commercial food product picture for nonpromotional editorial use generally is considered fair use.
A picture and recipe from Facebook linked to a tweet
No, but remember to give credit to the author/photographer.
A MyPlate graphic on my website
No, all works created by the US Government or its agencies are considered public domain, and the use of graphics, text, photos, video, and more is free.
Facts from a newspaper article
No, reporting a reasonable amount of attributed facts found in print or electronic media usually is considered fair use.
An idea from another RD's blog post
No, ideas cannot be copyrighted. Copyright protects how the idea is articulated with words and structure.
Sources: Neva Cochran, MS, RDN, LD, FAND, and Debra King, MS, RDN, LD, FAND
Protection from Infringement
If someone wanted to copy and paste a blog you wrote into their blog or even in a printed newsletter, they should ask permission and give you credit, according to Halijan. He says that when writing and posting a blog, "copyright law protects against someone else copying that content and republishing it anywhere, even with attribution, without your permission." But how would you know if someone stole your original work?
Chris Rosenbloom, PhD, RDN, CSSD, of Chris Rosenbloom Food & Nutrition Services in Hartwell, Georgia, shares her experience with copyright theft.
"I wrote an article for Food & Nutrition Magazine on dietitians working with the Olympics for the 2012 London games. I even interviewed the US Olympic Committee (USOC) RDNs and the article was posted online. A couple of days later while on the Internet, I saw a headline, "Why Dietitians Are Important for the US Olympic Team." Initially I was excited to see the article being shared. When I pressed the link I was in shock—another RDN was listed as the author with very similar wording, plus it included all my quotes from the USOC RDNs. 
"I immediately tried to contact the author and couldn't, so I contacted the editor of the website. I was very angry by the response of, 'We'll look into it.' My next step was to e-mail the editor of Food & Nutrition Magazine, who'd hired me to write the story. She immediately contacted the website editor and claimed copyright infringement, which resulted in the article being removed from the website. The sad part is, I never got an apology from either the author or the editor."
After experiencing another author's name appearing on something she wrote, Rosenbloom offers the same guidance as attorney Halijan: "Include a copyright notice on everything you create." In addition, she now monitors what she writes by typing a line from her articles into an Internet search engine, such as Google, to see if any matches appear. It's time-consuming and can be frightening to find out that your content has been "borrowed" by others.
If you do find that someone has copied your content, first e-mail the author or editor to ask that it be removed. If it isn't removed, notify the site's Internet service provider who may, when shown the infringement, offer to close the website until the work is removed. The next step is more costly, which requires both registering the copyrighted work and finding a copyright lawyer who can assist you.
— Neva Cochran, MS, RDN, LD, FAND, is a nutrition communications consultant in Dallas, who works with a variety of food and nutrition industry clients for whom she does social media and blogging.
— Debra King, MS, RDN, LD, FAND, manages several social media venues as Web editor for the Vegetarian Nutrition Dietetic Practice Group, works with Meals on Wheels in Waco, Texas, and is an adjunct professor. Both she and Cochran have presented on legal and ethical issues related to social media at national, state, and district Academy and Dietetic Practice Group conferences and webinars.
Reference
1. American Dietetic Association/Commission on Dietetic Registration Code of Ethics for the Profession of Dietetics and Process for Consideration of Ethics Issues. J Acad Nutr Diet. 2009;109(8):1461-1467.
Resources
Peregrin T. Copyright clarity: what registered dietitian nutritionists need to know about the basics of copyright law. J Acad Nutr Diet. 2014;114(11):1718-1722.
Recipes and copyright laws. United States Copyright Office website. http://www.copyright.gov/fls/fl122.html. Updated February 6, 2012. Accessed July 26, 2015.
Fair use index. United States Copyright Office website. http://www.copyright.gov/fls/fl102.html. Updated June 2015. Accessed July 26, 2015.
Hawkins S. Copyright fair use and how it works for online images. Social Media Examiner. November 23, 2011. http://www.socialmediaexaminer.com/copyright-fair-use-and-how-it-works-for-online-images/. Published November 30, 2011. Accessed July 26, 2015.
Legal guide for bloggers. Electronic Frontier Foundation website. https://www.eff.org/issues/bloggers/legal/liability/IP. Accessed July 26, 2015.
Bailey J. Guide to registering online content with the US Copyright Office. Food & Nutrition Magazine. July 19, 2012.
http://www.foodandnutrition.org/Summer-2012/Guide-to-Registering-Online-Content-with-the-U.S.-Copyright-Office/. Published July 19, 2012. Accessed July 26, 2015.
LINKS TO COPYRIGHT-FREE PHOTOS
• USDA photo library: www.ars.usda.gov/is/graphics/photos/foodimages.htm    
• Academy of Nutrition and Dietetics stock photos for members: www.eatrightpro.org/resource/career/career-development/promotional-resources/stock-photo-library  
• National Cancer Institute Visuals Online: http://visualsonline.cancer.gov/browseaction.cfm?topicid=58  
• Food and Health Newsletter: www.foodandhealth.com/clipart.php 
• Pixabay: www.pixabay.com  
• Public Domain Images: www.public-domain-image.com
• MyPlate images: www.choosemyplate.gov