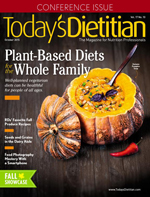 October 2015 Issue
RDs' Favorite Fall Produce Recipes
By Sharon Palmer, RDN
Today's Dietitian
Vol. 17 No. 10 P. 40
Encourage clients to enjoy the bounty of fall produce to promote their health and the health of the planet.
As the days turn cooler and the leaves turn from emerald to amber and scarlet, the temptations of summer's bountiful produce may fade away. Alas, you'll find no more luscious watermelons at the farmers' markets or local ripe, juicy peaches at the supermarket.
But just because fall is upon us, it doesn't mean that fresh, local produce is beyond your clients' reach. Skip imported, out-of-season produce and enjoy an array of fall fruits and vegetables, which usually are available in many regions across the country. An added incentive: By eating foods grown seasonally and locally, clients can reduce the number of miles from farm to table. Plus, they can enjoy foods at their tastiest and ripest and increase the number of fruits and vegetable servings on their plates.
"Eating with the seasons gives rhythm to your meals and recipes throughout the year," says McKenzie Hall, RDN, dietitian for the nutrition communications company NourishRDs. "For example, it's exciting to see the variety of pears available in the fall. By eating with what's available and local to you, you provide your body with a variety of nutrients and your taste buds with a variety of flavors. Plus, it encourages a bit more experimentation with produce in the kitchen."

"Enjoying seasonal produce all but guarantees you take in a wide variety of nutrients that nourish, satisfy, and promote good health," adds Heather A. Goesch, MPH, RDN, LDN, of Heather Goesch Nutrition, based in North Carolina. "Not to mention these seasonal ingredients are more delicious and often less expensive than some summer produce. This autumn, do your taste buds and body a favor and take full advantage of the yellows, oranges, reds, whites, and deep greens that Mother Nature has to offer."
What's Available
A variety of autumn produce awaits your clients in the kitchen. "After summer's beautiful bounty wanes, it's time to enjoy some fabulous fall fruits and veggies. Favorites like butternut squash, sweet potatoes, and parsnips make fantastic baked fries," says Lauren Harris-Pincus, MS, RDN, nutrition communications specialist at Nutrition Starring YOU, based in New York.
Janice Newell Bissex, MS, RD, cofounder of Meal Makeover Moms, says, "Many people think that when summer winds down the availability of fresh, local produce diminishes as well." But she reminds people that many fall favorites are available, such as Brussels sprouts, turnips, and cauliflower. Goesch recommends exploring local farmers' markets or grocery stores for a variety of colorful, cooler-weather offerings, such as cabbages, root vegetables, dark leafy greens, pears, apples, persimmons, pomegranates, and nuts.
According to the Produce for Better Health Foundation, the following produce is readily available during the fall season:
• apples;
• Belgian endive;
• broccoli;
• Brussels sprouts;
• butter lettuce;
• cauliflower;
• garlic;
• grapes;
• kohlrabi;
• kumquats;
• mushrooms;
• pears;
• persimmons;
• pomegranates;
• pumpkins;
• radicchio;
• sweet potatoes;
• Swiss chard;
• turnips; and
• winter squashes, such as butternut, acorn, and spaghetti.
Dietitians can inspire clients to enjoy more healthful seasonal produce all year long with a few of the following tips.
• Don't skip salads. "During fall months, we encourage individuals to take advantage of seasonal, nutrient-rich ingredients for delicious salads. Full meal salads don't have to be reserved only for summertime," says Lisa Samuel, MBA, RDN, a dietitian who works with NourishRDs. Combine seasonal greens, such as endive, radicchio, and chard with fall-forward fruits and vegetables, such as apple and pear slices, persimmons, grapes, and cauliflower. Clients can even stir in roasted squash, sweet potatoes, and broccoli for extra flavor.
• Pumpkin beyond pie. Harris-Pincus suggests, "Add pumpkin to oatmeal, smoothies, and baked goods. It's also delicious as an add-in for salad dressings, soups, and sauces."
• Roast them up. Bissex suggests roasting fall veggies to bring out their natural flavors through caramelization. This works for a number of vegetables, including squash, turnips, sweet potatoes, Brussels sprouts, and cauliflower.
• Load up on apples. Fall also signals the coming of apples, as well as apple pie. Use the time-honored pairing of apples and cinnamon to flavor more healthful dishes, such as oatmeal, salads, and baked fruit. The same goes for pears.
• Put squash on the menu. It's time to dig into those beautiful winter squashes—each with their own unique flavor, color, and texture. Butternut squash works especially well in soups, purees, or even roasted and added to salads. Spaghetti squash can be steamed and used as "pasta" with a vegetable-rich sauce. Best of all, squashes bake easily as a simple side-dish; just slice one open, scoop out the seeds (which also can be roasted as a healthful snack), season with a drizzle of olive oil and seasonings, and bake until golden and tender.
• Turn to reliable crucifers. Broccoli, cauliflower, and Brussels sprouts are available this time of year, and these nutrition powerhouses burst with flavor when they're oven-roasted with a drizzle of olive oil and a pinch of seasonings. Clients also can feature them in casseroles, salads, and curry dishes.
Today's Dietitian asked some of our dietitian bloggers to contribute their favorite fall recipes, perfect for inspiring plenty of seasonal produce-fueled meals for your clients and patients.
— Sharon Palmer, RDN, is the author of Plant-Powered for Life, editor of Environmental Nutrition, nutrition editor of Today's Dietitian, and nutrition advisor for Oldways Vegetarian Network.
---
Recipes
Orange Cauliflower Tex-Mex Casserole • Apple Quinoa Bake • Roasted Broccoli & Radicchio Winter Salad • Delicata Squash Soup With Chinese 5 Spice • Roasted Buttercup Squash
Orange Cauliflower Tex-Mex Casserole
Who could turn down cauliflower with a recipe like this one? If clients can't find orange cauliflower, they can use the regular white variety. It's still packed with nutritients.
Makes 6 to 8 servings (7-cup yield)
Ingredients
1 large head of orange cauliflower cut into 1-inch, bite-size florets (about 9 cups)
2 T extra virgin olive oil
4 green onions thinly sliced, white and light green parts
2 T all-purpose flour
11/2 cups 1% low-fat milk
1/2 tsp ground cumin
1/2 tsp chili powder
4 oz shredded reduced-fat cheddar cheese (1 cup)
Kosher salt and black pepper, to taste
1/4 cup Panko bread crumbs
1/4 cup grated Parmesan cheese
Directions
1. Preheat the oven to 350° F. Pour 1/2-inch of water into the bottom of a medium-size saucepan. Cover and bring to a boil. Place the cauliflower in a steamer basket and lower into the pot. Reduce the heat to a low boil, replace the lid, and steam the cauliflower until crisp tender, about eight minutes. Transfer to a 7 x 11-inch baking dish and set aside.
2. Carefully empty the water from the saucepan and wipe away excess moisture with a paper towel. Place the oil in the saucepan, and heat over medium heat. Add the green onions and cook, stirring frequently, until golden, about five minutes. Add the flour and whisk constantly until smooth, one to two minutes.
3. Whisk the milk, cumin, and chili powder slowly into the flour mixture. Raise the heat and bring to a low boil, stirring constantly. Reduce the heat and continue to simmer and stir gently until the mixture thickens, about three minutes.
4. Remove from the heat and stir in the cheddar cheese. Season with salt and pepper, to taste. Pour the sauce evenly over the cauliflower. Stir together the bread crumbs and Parmesan cheese in a bowl and sprinkle evenly over the top. Place in the oven and bake until the cheese bubbles, about 15 minutes. Remove from oven. Reposition rack in upper third of oven and preheat broiler. Place casserole back in oven and broil until lightly browned, 1 to 2 minutes.
Nutrient Analysis per serving (about 1 cup)
Calories: 170; Total fat: 8 g; Sat fat: 3 g; Sodium: 230 mg; Carbohydrate: 15 g; Dietary fiber: 3 g; Protein: 11 g
— RECIPE COURTESY OF JANICE NEWELL BISSEX, MS, RD, AND LIZ WEISS, MS, RD, OF THE MEAL MAKEOVER MOMS, WWW.MEALMAKEOVERMOMS.COM.
---
Apple Quinoa Bake
This Apple Quinoa Bake recipe is vegan, gluten-free, and contains no added sugar. Enjoy it for breakfast or lunch with Greek yogurt or cottage cheese for extra protein, or as a snack or dessert.
Serves 4
Ingredients
1/4 cup raisins, packed
3 medium-large Gala or Fuji apples, cored and sliced with peel on (approx 15 to18 slices per apple)
1 tsp cinnamon
1/4 cup sunflower seeds
2 T uncooked quinoa
1/2 cup water
Directions
1. Preheat oven to 350º F. Spray a 9 x 9-inch brownie pan with cooking spray.
2. Spread one-half the raisins on bottom of brownie pan.
3. Add apple slices and spread evenly over pan.
4. Sprinkle cinnamon over apples.
5. Add remainder of raisins and sunflower seeds.
6. Sprinkle on the quinoa.
7. Pour water into corner of pan so it coats the bottom; don't pour over apples.
8. Bake 50 to 60 minutes, taking care not to burn the raisins.
Nutrient Analysis per serving
Calories: 160; Total fat: 4 g; Sat fat: <1 g; Sodium: 35 mg; Fiber: 6 g; Sugar: 18 g; Protein: 3 g
— RECIPE COURTESY OF LAUREN HARRIS-PINCUS, MS, RDN, OWNER OF NUTRITION STARRING YOU; WWW.NUTRITIONSTARRINGYOU.COM.
---
Roasted Broccoli & Radicchio Winter Salad
Here's a recipe to help clients create a signature winter salad. In general, we like a salad that stimulates and balances the senses and tastes—something sweet, savory, and bitter; something soft and something crunchy. This winter salad is that perfect combination.
Serves 6
Ingredients
1 head broccoli, cut in small florets
8 T extra virgin olive oil, divided
Sea salt and freshly ground black pepper, to taste
3 T sherry vinegar
1 T maple syrup
3 small radicchio, cored and very thinly sliced
1/2 cup toasted pecans, chopped
1/2 cup pomegranate seeds
6 oz feta cheese, crumbled (optional)
Directions
1. Preheat oven to 450º F.
2. Place broccoli florets on a large sheet pan. Sprinkle with 2 tablespoons of extra virgin olive oil and season with sea salt and freshly ground black pepper, to taste. Place in the oven and roast for about 20 to 25 minutes, or until the broccoli is caramelized and cooked through. Remove from oven and set aside to cool.
3. To make the dressing, whisk together the sherry vinegar, maple syrup, and 6 tablespoons extra virgin olive oil. Season with sea salt and freshly ground pepper, to taste.
4. In a large bowl, toss together the cooled broccoli florets, sliced radicchio, chopped pecans, pomegranate seeds, and feta cheese (if using). Pour over the vinaigrette and toss to combine. This salad can be made up to 12 hours ahead.
Nutrient Analysis per serving
Calories: 304; Total fat: 27 g; Sat fat: 4 g; Sodium: 42 mg; Carbohydrate: 17 g; Dietary fiber: 5 g; Sugar: 6 g; Protein: 6 g
— RECIPE COURTESY OF LISA SAMUEL, RDN, MBA, AND MCKENZIE HALL, RDN, AT NOURISHRDS
---
Delicata Squash Soup With Chinese 5 Spice
For a plant-based soup, I pair Delicata squash with the warm spiciness of Chinese 5 spice, which is a mixture of star anise, cloves, Chinese cinnamon, Szechuan pepper, and fennel seeds. Clients may not be familiar with this spice, which is used in many traditional Asian dishes, but it offers the perfect amount of sweet and savory for fall dishes, stir-fries, curries, and even baked goods.
Serves 4
Ingredients
2 Delicata squash
1 T extra virgin olive oil
1/2 onion, chopped
1 clove garlic, minced
11/2 cups almond (or soy) milk, plain, unsweetened
1 tsp Chinese 5 spice
Salt and pepper, to taste
1/4 cup almonds, chopped
Directions
1. Slice the squash in half horizontally, scoop out seeds, and slice into large pieces. Place in a large pot of boiling water, cover, and cook for about 15 minutes, until it pierces easily with a fork but is still firm.
2. Meanwhile, heat olive oil in a small skillet or sauté pan and sauté onion and garlic for about nine minutes, until tender.
3. Transfer onions and garlic to a one-quart blender container. Add almond milk and Chinese 5 spice.
4. When squash is tender, drain pot into a strainer and cool squash slightly. Scoop out cooked squash with a spoon, removing from peel, and place in the blender container.
5. Process blender for a minute or two until mixture is smooth and creamy.
6. Pour blended soup into the pot and reheat for a few minutes until bubbly. Season with salt and pepper as desired.
7. Pour into soup bowls and garnish with chopped almonds and additional Chinese 5 spice, if desired.
Nutrient Analysis per serving
Calories: 97; Total fat: 5 g; Sat fat: <1 g; Sodium: 55 mg; Carbohydrate: 9 g; Dietary fiber: 2 g; Sugar: 5 g; Protein: 2 g
— RECIPE COURTESY OF SHARON PALMER, RDN, THE PLANT-POWERED DIETITIAN, WWW.SHARONPALMER.COM.
---
Roasted Buttercup Squash
A warm and nourishing salad of roasted squash, cinnamon-y apples, and creamy feta atop tender greens with a generous drizzle of aged balsamic vinegar. Fits the bill for a light entree, or can fit in well with a larger meal.
Serves 4
Ingredients
1 small buttercup squash (or butternut or acorn), peeled, seeded, and cut into 1/4- to 1/2-inch thick wedges (about 11/2 cups)
4 tsp olive oil, divided
Salt and freshly cracked black pepper, to taste
2 small red apples, cut into rounds without skinning or coring, seeds removed
1 lemon, zested and juiced
1/2 tsp cinnamon
4 cups (about 4 big handfuls) mixed baby greens and/or baby spinach
Good quality extra virgin olive oil, to finish
3 T coarsely chopped fresh flat-leaf parsley
3 T coarsely chopped fresh chives (or 1 T dried chives)
3/4 cup (about 4 oz) creamy feta
Aged balsamic vinegar, to finish
Directions
1. Preheat oven to 395° F, and set a rack in the lower third.
2. Divide squash wedges between two large rimmed baking trays. Toss with 2 tsp olive oil, and a sprinkling each of salt and black pepper. Roast 30 minutes, or until the squash is tender and golden.
3. In the meantime, heat a large cast iron or other heavy-bottomed skillet over medium heat, and sauté the apple slices in 2 tsp olive oil until golden on both sides. Add the lemon zest, lemon juice, and cinnamon, and give the pan a good swirl. Immediately remove the skillet from the heat; set aside.
4. Divide the greens between four plates or pile them onto one large serving platter. Drizzle lightly with the extra virgin olive oil, and add a sprinkling of salt and black pepper. Arrange the warm squash wedges and apple slices on top of the dressed greens, and scatter over the parsley and chives. Garnish with the feta, and finish with a good drizzle of aged balsamic vinegar. Serve immediately.
Nutrient Analysis per serving
Calories: 219; Total fat: 15 g; Carbohydrates: 18 g; Sugar: 10 g; Sodium: 287 mg; Protein: 6 g
— RECIPE COURTESY OF HEATHER GOESCH, MPH, RDN, LDN, AT HEATHER GOESCH NUTRITION, WWW.HEATHERGNUTRITION.COM.