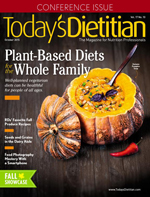 October 2015 Issue
Editor's Spot: Advanced-Level Practice Dietitians
By Judy Riddle
Today's Dietitian
Vol. 17 No. 10 P. 4
For the first time beginning next month, the Commission on Dietetic Registration (CDR) will be offering an Advanced Practice Certification in Clinical Nutrition for well-accomplished dietitians who, according to a study in the April 2015 issue of the Journal of the Academy of Nutrition and Dietetics, "have the knowledge and skill required to autonomously apply the nutrition care process at an optimal level of accuracy and efficiency." To receive the new certification, clinical dietitians must pass a five-hour examination, after which they'll receive the RD-AP or RDN-AP credential. The certification period lasts five years.
This is exciting news for clinical care dietitians because the credential will set them apart from their entry-level colleagues and those involved in specialist practice. According to the study, there's strong demand for advanced practice clinical RDs among physicians, administrators, and other health care professionals who work with, hire, and supervise dietitians. It's believed that an advanced practice certification will benefit patients, clients, and employers, and could increase the visibility of the clinical dietitian's expertise, as well as provide greater career opportunities.
Dietitians who will hold the credential have the ability to manage clients and patients using current research-based practices, lead interdisciplinary health care teams, and direct initiatives to design, develop, or evaluate nutrition care systems or protocols.
To be eligible to sit for the exam, candidates with graduate degrees from a United States regionally accredited college or university or foreign equivalent must be RD/RDNs for a minimum of four years; document 8,000 hours of clinical nutrition practice within the past 15 years; and must complete 800 of those hours within the past two years. Clinical dietitians without graduate degrees must meet these requirements in addition to other criteria for eligibility. The CDR is offering the exam from November 2 to 20 in various states across the country. For more information, visit www.cdrnet.org.
In this issue, Today's Dietitian features articles on seasonal fall produce, plant-based diets for the whole family, dietitians on social media, food photography with a smartphone, seeds and grains in dairy products, and dealing with information overload among clients and patients. As always, please enjoy the issue!
Judith Riddle
Editor
TDeditor@gvpub.com