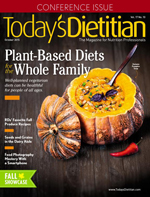 October 2015 Issue
Seeds and Grains in the Dairy Aisle
By Juliann Schaeffer
Today's Dietitian
Vol. 17 No. 10 P. 36
Suggest clients look for them in Greek yogurt, beverages, and more.
The dairy aisle is the latest section in the supermarket being infiltrated by whole grains such as oats, amaranth, buckwheat, and quinoa as well as seeds including chia and flax. Whether it's yogurt with oats mixed in or beverages made with chia, grocery stores are offering more of these types of options.
"More and more people are discovering and loving ancient grains and seeds not only on their own but also as delicious mix-ins and add-ons to other foods," says Peggy O'Shea Kochenbach, MBA, RDN, LDN, a dietitian and vice president of Eone Communications in Boston. "I've seen these grains and seeds added into a host of different types of products, from boxed, seasoned preparations to inclusion in salad kits, cereals cold and hot, yogurts, breads, and even crackers and cookies. I think consumers are looking for these new and interesting foods any way they can get them."
Consumers' appetite for health in the way of ancient grains and the more familiar whole grains, such as barley, corn, and brown rice, has soared in recent years. According to a 2014 Food Marketing Institute survey, almost one-half (48%) of consumers seek whole-grain claims on food products. Cereals, snacks, bread, and baked goods were among the first places where new inclusions of these in-vogue ingredients started popping up. Even Cheerios recently debuted its own Cheerios + Ancient Grains cereal.
One of the more prominent places where seeds and grains can be found is in yogurt. And according to Kochenbach, they make a great pairing. "Seeds and grains are a great partner for yogurt," she says. "They add texture, variety, taste, and an added nutrient punch."
What's behind this latest trend? And how much is hype vs health? Today's Dietitian takes a look at the nutritional benefits of these grain and seed add-ins and provides some of the latest products gracing store shelves.
What's Behind the Trend?
So why are shoppers starting to spot grains and seeds in a variety of dairy products, from yogurts to beverages? There's hardly ever one single component fueling any given trend, but according to Sylvia E. Klinger, MS, RD, a nutrition and culinary consultant who works with the Grain Foods Foundation, the United States' melting pot of cultures could play a role in Americans' newfound interest in previously unfamiliar grains and seeds.
"The many cultures that surround our communities today have opened the doors for restaurants to offer dishes that have great appeal to many different ethnic groups and Americans enjoying our melting pot population," she says. "This new diversity has given birth to interest in the different grains, bold flavors, and unique combinations we're seeing today."
Of course, food marketing likely plays a part, too. As Rebecca Shenkman, MPH, RDN, LDN, director of the MacDonald Center for Obesity Prevention and Education at Villanova University's College of Nursing, explains, adding in certain grains or seeds to a product may impact labeling as companies try to cash in on particular health buzzwords or ingredients—which in turn could draw in more customers who see "source of omega-3s" or other labels that weren't there before.
"One main benefit [for companies to incorporate] grains and seeds into products is the marketing claims companies can make due to the addition of a particular grain," Shenkman says. "For example, flaxseed is an excellent source of omega-3 fatty acids (alpha-linolenic acid, or ALA), lignans, fiber, and contains vitamin B6, folate, phosphorous, potassium, and manganese. When added to baked goods or a mix for yogurt, products with flaxseed can likely claim they're a good source of omega-3s and fiber, which could entice more individuals to try those products."
Julie Miller Jones, PhD, CNS, CFS, a licensed nutritionist and a Grain Foods Foundation Scientific Advisory Board member, says that anything unfamiliar always has the potential to take on a lure of the "exotic," which may be a factor. "Throughout history, consumers had the belief that there's something magical in the exotic," she explains.
Just as spices imported during the Renaissance were commonly believed to have untold medicinal properties, Jones says many of today's ancient grains take on that same exotic perception. This can lead some people to believe that ancient grains have some nutritional powers lacking in other grains, she adds.
Seeds also are seeing more of the limelight in today's food marketplaces, says Michelle Dudash, RDN, Cordon Bleu-certified chef and author of Dish with Dudash, a clean eating column. "Seeds are hot among bloggers and chefs, and now consumers are getting a lot of attention in the media," she says. "Seeds are gluten-free, too, so this factor also may contribute as more consumers seek out gluten-free products."
According to Shenkman, it's a win-win—for consumers who are seeking more healthful options and for companies who want to market the benefits of a product, in this case whole grains and seeds.
Nutritional Goodness
Many of the ancient grains and seeds included in dairy products today have a variety of nutritional attributes that consumers can cheer about, Kochenbach says. "First, they have nutrients that make them a great addition to any diet. They have a great nutrition profile, many containing lots of vitamins, minerals, and more protein than most traditional grains. But they also generally have a hearty texture and great flavor."
Here's a sampling of some of the grains and seeds showing up in (and outside) the dairy aisle—as well as product examples dietitians can share with clients and patients.
Quinoa
One Greek yogurt containing grains is Stonyfield. Its Organic Super Grains Greek and Super Seeds Greek yogurts launched earlier in 2015, exclusively for Target's Made to Matter line. The Super Grains single-serving cups (roughly 5 oz) mix Greek nonfat yogurt with quinoa and buckwheat in three flavors: strawberry, maple, and vanilla. At 140 kcal, the vanilla variety offers 13 g protein and 17 g sugar.
"Quinoa has somewhat more protein than many cereal grains [1/2 cup cooked offers 4 g] and delivers branched-chain essential amino acids, more often associated with foods such as whey and other animal products," Jones says. "It has lysine (which is limited in many cereals) but is low in methionine, which is found in many cereals," she notes.
"The thing that really sets quinoa apart and in my opinion really jumpstarted the interest in ancient grains is that quinoa is a great protein source," Kochenbach says.
Amy Klassman, RDN, staff nutritionist at The Clare, a retirement residence located in Chicago, says fiber is one of quinoa's biggest selling points, with close to 3 g per 1/2 cup cooked. It's also gluten-free, and has 8% DV iron and 10% DV folate per serving.
Chia
The days of being relegated to health food stores is over for this seed. Chia is enjoying a surge in popularity in recent years, and today can be found in yogurt or blended into beverages. The Epic Seed Greek Yogurt brand, sold at Whole Foods Markets and various other select grocery stores nationwide, is mixed with chia seeds. The yogurt boasts 850 mg of plant-based omega-3s in each 150-kcal serving. With 17 g protein and 14 g sugar (for the peach flavor), this yogurt also offers 3 g fiber per serving. Chobani's Oats with Ancient Grain Blend contains chia seeds, quinoa, buckwheat, and amaranth. One serving of the Oats Apricot Ancient Grains offers 10 g protein, 16 g sugar, and 3 g fiber.
Even smoothie chains are hearing the calls of consumers for grains and seeds. "Our local Smoothie King promotes the 'Super Grain' enhancer that includes a mixture of chia, quinoa, and flax, plus teff, amaranth, buckwheat, and millet," says Janet Colson, PhD, RD, a professor at Middle Tennessee State University. "Smoothies have long been a popular option, but with new grains, seeds, and nuts gaining in popularity, smoothies are taking on a whole new look," Kochenbach says. "Seeds and nuts are easily added to smoothies for an added nutrient punch and interesting taste."
Chia Pod, touted as "the perfect energy boosting breakfast," consists of one full serving of chia seeds mixed with fruit and coconut milk. Sold in various flavors, its 6 oz coffee variety contains 190 kcal, 4 g protein, 6 g fiber, and 14 g sugar. The combination of plant-based omega-3s from the chia seeds and the saturated fat from the coconut milk result in a higher fat product, Colson says, so clients should consider this when planning their meals and snacks for the rest of their day.
One ounce of chia seeds (about 2 tablespoons) contains approximately 140 kcal, 11 g fiber, and 4 g protein. Packed with plant-based omega-3 fatty acids as well as minerals and phytochemicals, Kochenbach calls chia a nutrient powerhouse.
"One of the few plant-based sources of this particular essential fatty acid type, one ounce of chia seeds contains 42% of your recommended daily intake of fiber," says Klassman, adding that chia seeds also are a good source of calcium and protein. "This is a great way for vegetarians and vegans to reach their protein needs without resorting to dairy, legumes, or beans," she adds.
Jones says that chia's potential health benefits warrant looking into, such as its ability to maintain healthy serum lipid levels, since current in vivo and clinical studies on the efficacy of chia seeds are still limited.
Flax
Another seed that's making the rounds in the dairy aisle is flax, which also offers plant-based omega-3s as well as lignans and fiber. Available as either ground flax or whole flaxseeds, it's also a source of protein, vitamin B6, folate, thiamin, phosphorous, potassium, iron, calcium, and magnesium.
Stonyfield's Super Seeds line mixes nonfat Greek yogurt with softened whole flaxseeds in three flavors: orange cranberry, blueberry, and coconut. The orange cranberry contains 140 kcal, 13 g protein, and 18 g sugar.
"Just 1 tablespoon of flaxseeds supplies the daily recommended amount of omega-3 ALAs," Dudash says. "One tablespoon of whole [or ground] flaxseed also contains nearly 3 g of fiber—both insoluble and soluble—so it's really concentrated." Dudash likes to tell clients that flax is better absorbed in the form of meal (ground flaxseeds), since the whole seeds can be difficult for the body to digest.
"Flax also contains mucilage gums, which can help with firming up stools," Klassman says. "This mucilage factor is also why it's a great egg replacer within vegan baked goods." Mixing 1 tablespoon of ground flaxseed (or ground chia) with 3 tablespoons of water (for each egg) is a common egg replacement in baked goods.
Oats
Chobani has a Chobani Oats line, Greek yogurt made with steel-cut oats. Consumers can choose from peach raisin and brown sugar, apple cinnamon, banana maple, blueberry, and cranberry flavors. Colson says oats in particular are a great fit for yogurt because of the fiber and other nutrients they contain. "One benefit of combining oats with yogurt is that the oats provide the prebiotics that the bacteria (or probiotics) found in yogurt need to eat," Colson says. "In other words, oats are the food source of the bacteria in yogurt."
Evidence suggests oats may help lower bad cholesterol, improve insulin sensitivity, and boost the nutrition profile of gluten-free diets, Shenkman says. "Oats are a great source of soluble fiber, which helps with satiety, and are linked to lower blood cholesterol. Oats also contain high amounts of insoluble fiber, which adds bulk to your stool and helps with gastric motility." And they contain beta-glucan, another type of fiber that helps control blood glucose and blood cholesterol.
Oats are now found in a variety of beverages. Slingshot Foods, for example, makes a "yogurt protein drink with a crunchy shot." The Simply Plain variety comes with a shot of rolled oats, chia seeds, and toasted almond bits that, when mixed in with the drink (consumers decide whether and when to mix the crunchy bits), provides 20 g protein, 3 g fiber, and 600 mg plant-based omega-3s. The 12 fl-oz container has nearly 200 to 250 kcal, so it may be better as a breakfast addition or a snack. Moreover, clients may want to stick to the Simply Plain variety, as the flavored options contain a fair amount of sugar (although there's some sugar found naturally in the milk and fruit included on the label). Slingshot Foods' strawberry flavor has 34 g sugar in 12 fl oz and 249 kcal.
Pumpkin Seeds
Enjoyed by many as a fall snack when pumpkins are in season, pumpkin seeds can offer even more nutritional goodness when added to yogurt. Consumers can find pumpkin seeds in Yoplait's new Plenti line, consisting of Greek yogurt with whole grain oats, flaxseeds, and pumpkin seeds mixed in. In a variety of flavors, such as strawberry, blueberry, and spiced apple, each serving size averages less than 150 kcal, with 12 g protein and 12 g sugar.
Jones recommends including a variety of seeds in the diet, and says pumpkin seeds are a great option to add, as they're a plant source of squalene, a sterol that promotes heart health.
One ounce of pumpkin seeds offers 1 g fiber and 7 g protein. It's also a source of vitamin K, iron, zinc, copper, and magnesium.
Takeaway Message
While Kochenbach says the increasing popularity of ancient grains and seeds is great overall, she always reminds consumers to make sure they're looking at the overall nutrition profile of any product rather than just the simple addition of ancient grains or seeds before making a choice.
"Ancient grains (and to a lesser extent seeds as well) are a hot topic and buzzword these days, and many products are adding them in to capitalize on the trend," she says. "There are many great products out there that incorporate ancient grains and seeds in an easy and beneficial way and that makes them excellent options. But make sure to look at each product from a nutrient profile overall as you would any other food—not just because it touts the addition of ancient grains."
Dudash agrees and says this is yet another case that calls for moderation: "Products containing whole grains and seeds can offer a wide range of nutrients and bring new textures and flavors to your favorite foods. Whole grains and seeds can add a good boost of fiber and iron to foods, as well as good fats. But like most foods, consider portion size and moderation."
— Juliann Schaeffer is a freelance writer and editor based in Alburtis, Pennsylvania, and a frequent contributor to Today's Dietitian.